I am amazed by how many people are looking for answers to various questions about commercial real estate. Obviously there are a lot of people with questions and very little in the way of answers.
One of the commercial real estate subjects I touched upon in April 2009 was the Moodys/REAL Commercial Property Price Index. According to the MIT Center for Real Estate, the CPPI "is designed to track same-property realized round-trip price changes based purely on the documented prices in completed, contemporary property transactions. The index uses no appraisal valuations." There are actually a number of indices and sub-indices in the CPPI. I have reproduced the monthly national index below, which aggregates data from each of the four major property type sectors (office, apartment, industrial and retail) across a broad cross-section of metropolitan areas. Sub-indices track trends in different sectors and in different geographies.
Note that in the national index below, the bounce in the index from earlier in the year has been reversing since April. Looking at the sectors (not shown), the only area of continued strength in the commercial real estate market has been apartments. The office sector is rebounding weakly, the industrial sector appears to be wavering and the retail sector continues to decline sharply.
Going forward, I intend to feature more posts on the commercial real estate market. (Click to enlarge)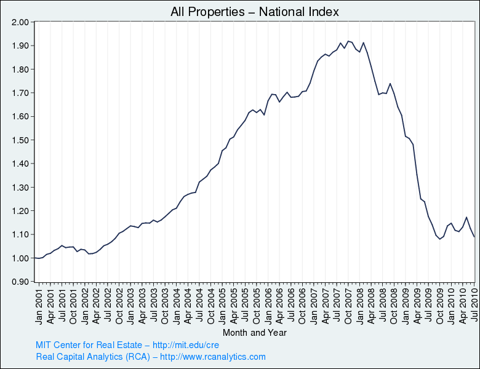 [source: MIT Center for Real Estate, Real Capital Analytics]
Disclosure: None