DryShips (NASDAQ:DRYS) is a company that I've followed with the ebb and flow of shipping rates over the last couple of years. I've looked at ducking in and out of DryShips trades and, thus far, my record on the name has been pretty good. Today, aside from mulling over the shipping rates like we usually do, I also want to look at why someone long DryShips would also want to own Baltic Trading (NYSE:BALT), as well.
As you likely already know, spot rates of dry bulk shipping are listed on the Baltic Dry Index, which you can find on DryShips' website, where they list the daily shipping rates. This offers us a little dynamic insight into the company in between disclosures. We know that if spot rates rise significantly, we may recognize higher revenue for the quarter in which spot rate vessels are in use.
Here are the current shipping rates: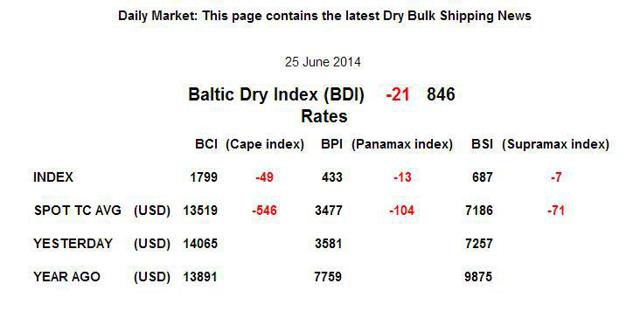 And here are those rates graphed out by vessel size. From this chart, you can see that capesize spot rates are easily the most volatile of the three. Capesize rates have exposure to iron ore transports into and out of China, which makes the rates rocket back and forth. Argus Media notes:
After a slow first half of 2013, dry bulk freight rates improved dramatically for both large and smaller vessels. Capesize time charter averages jumped from $4,864/d at the start of January 2013 to $40,005/d in September - the highest level this year - and around $38,000/d in early December before slowly decreasing again as the end of the year approached.

Both in September and December, the increase in Capesize rates was driven by iron imports into China. The unexpected September rally was led by Brazilian iron ore exports, which are usually a fourth quarter feature, while the November-December spike was spurred by exports from west coast Australia, accentuating the change in traditional dry bulk trade patterns.

Chinese iron ore imports increased by 10.8pc in the first 11 months of 2013, compared to the same period last year, according to shipping industry association Bimco. "With 17.8pc year-on-year growth between July and November, the last five months have been exceptional for the Capesize market," Bimco said.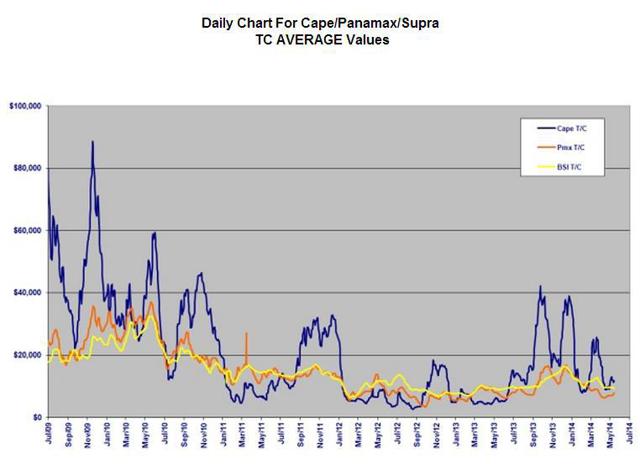 Which is what brings me to suggest that you may want to own Baltic Trading, as well as DryShips, if you want some exposure to dry shipping.
You may remember the addition of two capesize vessels to Baltic's fleet from December 2013: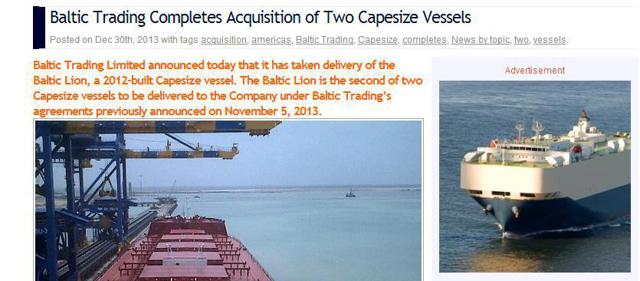 Which inadvertently led me to some confusion when I came upon Baltic Trading's website this morning, where it continues to only have two vessels listed:

You might want to get on that, guys. It was later correctly confirmed in the company's latest press release that it does, in fact have four capesize vessels:
We make capital expenditures from time to time in connection with vessel acquisitions. Currently, our fleet consists of four Capesize, four Supramax, and five Handysize vessels with an aggregate capacity of approximately 1,095,000 dwt. After the expected delivery of the four Ultramax newbuildings that Baltic Trading has agreed to acquire, we will own 17 drybulk vessels, consisting of four Capesize, four Ultramax, four Supramax and five Handysize vessels with a total carrying capacity of approximately 1,351,000 dwt.
So, what's the big deal - that's not a huge number of capesize vessels - why not just go with my capesize exposure in DryShips?
You're right, it isn't a huge number.
It is, however, a large percentage of their fleet - capesize vessels are 30.7% of Baltic's fleet. DryShips currently has 12 capesize vessels, which represent 28.5% of their fleet - but they're all locked into fixed rate long-term contracts that will not be able to take advantage of capesize rates, should they move higher. DryShips' primary spot rate ships are of the Panamax size, where rates have continually been gloomy looking.
Baltic Trading's capesize vessels get to take advantage of a spike in spot rates, thus making them a "must own" if you want exposure to dry shipping as a whole and are already a DryShips owner.
Best of luck to all investors.
Disclosure: The author has no positions in any stocks mentioned, and no plans to initiate any positions within the next 72 hours. The author wrote this article themselves, and it expresses their own opinions. The author is not receiving compensation for it (other than from Seeking Alpha). The author has no business relationship with any company whose stock is mentioned in this article.