Yesterday we saw the fast money come out of the momentum trade taking place in the energy names which caused a few to pause and question what was going on. We were quite interested to see how today would play out, but with news hitting the market that the Obama Administration has granted two producers in the Eagle Ford shale the right to export unrefined oil products the data is now skewed. This is big news, no doubt, but we think that it will play out very slowly and much slower than some of the conservative estimates out there. The spigot has not been turned on quite yet and once the industry gets the green light we suspect that there will be considerable hurdles and numerous regulations that energy producers will have to navigate through.
Chart of the Day:
All oil E&P names got hit yesterday and when the big companies take a hit of roughly 2% each, it is worth taking notice. Right now we are strictly buyers of value and compelling growth companies on general market dips. We are still bullish, but want to keep a measured pace to purchases.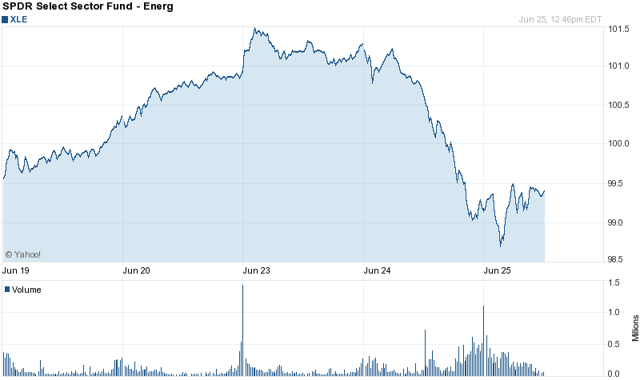 Source: Yahoo Finance
Commodity prices are as follows (at time of submission):
Gold: $1,322.60/ounce, up by $1.30/ounce
Silver: $21.085/ounce, up by $0.042/ounce
Oil: $106.28/barrel, up by $0.25/barrel
RBOB Gas: $3.0934/gallon, down by $0.0324/gallon
Natural Gas: $4.549/MMbtu, up by $0.014/MMbtu
Copper: $3.1615/pound, up by $0.0105/pound
Platinum: $1,472.30/ounce, up by $0.40/ounce
The Oil Patch
Yesterday saw oil E&P names get hammered during the session as investors looked to book gains and seek shelter in order to avoid potential losses. As we look at the situation it appears to us that there was an awful lot of fast money in the energy names and most certainly not enough strong hands. A pullback like this increases the sway that the long-term investors have but it could slow the momentum trade for the entire sector.
Whether this is a short-term move lower or the market setting us up for a breather, we are buyers on pullbacks. Not of the sector as a whole but in names which either have value or a strong outlook for production growth of NGLs, condensate or oil. With that said we think that both Gulfport Energy (NASDAQ:GPOR) and PDC Energy (NASDAQ:PDCE) are buys at these levels with Gulfport having a bit more upside due to the added risk (with the added risk being a result of the new CEO's strategy).
Oil Exports To Flow From US?
Over the past couple of years we have discussed the need for certain types of energy to be allowed to be exported abroad in order to keep domestic markets from being flooded by new production from shale formations. Natural gas has been impacted the most and gets most of the attention from the news media. The NGLs and condensate markets have also been negatively impacted with shale drilling and if one were to go look at each shale formation with liquids the trend is that over time these prices come down as production floods local markets.
Today the news is that the US government has decided to allow Pioneer Natural Resources (NYSE:PXD) and Enterprise Products Partners, LP (NYSE:EPD) to export condensate, a light crude product which trades at a discount to crude, which is produced from the Eagle Ford shale in Texas. This is big news because in the past the only exports allowed were refined energy products which meant that the only companies which could profit from international markets were refiners.
Investors are right to be worried about what oil exports could mean for the refiners, but in the short-term the move today in Valero could be overdone. We are not bears or bulls when it comes to the refiners, but would not be surprised at all if this knee jerk reaction proves to be too harsh in the trading sessions ahead.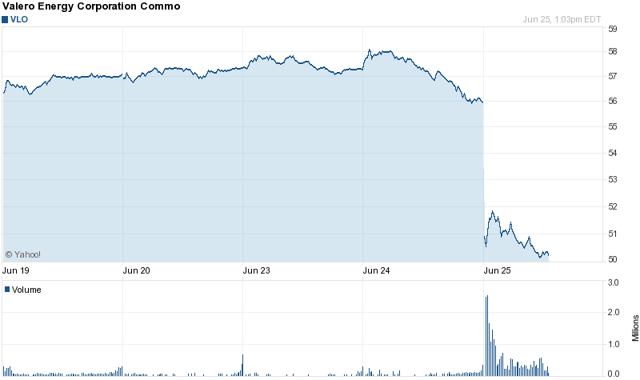 Source: Yahoo Finance
As one can imagine, Valero (NYSE:VLO) and Marathon Petroleum Corporation (NYSE:MPC) are lower on the news as the thinking is that exports will drive up domestic prices of condensate and thus eat into the refiners' margins on the refined products they sell domestically and internationally.
Disclosure: The author is long GPOR, PDCE. The author wrote this article themselves, and it expresses their own opinions. The author is not receiving compensation for it (other than from Seeking Alpha). The author has no business relationship with any company whose stock is mentioned in this article.