I received some kudos for my article on Customers Bancorp (NYSE:CUBI) back at the beginning of the year when the stock saw some gains. The stock has seen slightly more mixed results in the past couple of months. Is the fast-growing retail bank still a good long-term value?
I believe the fundamentals are still there for solid upside. CUBI is still trading at just 1.2 times book value, as opposed to a 1.6 average ratio for its peers. The management team, led by CEO Jay Sidhu, is largely the same that built Sovereign Bank from a small community outfit into the 16th largest bank in the country. Said team has not incurred any loan losses since the bank was restructured in 2009. In addition, management is pursuing a more stable strategy than the M&A fueled rise of Sovereign that made some more risk-averse investors wary of the same management team.
"Organic growth," was the party line when I spoke with management back in January, and that seems to be the case still. As of the first quarter results, loans and deposits grew 26% on a non-annualized basis, due largely to multifamily products in New York City. This is included in a diversified pool that includes consumer, mortgages, and commercial real estate loans as well. The company has geographic diversity throughout New Jersey, Pennsylvania and New England in addition to NYC. In addition, CUBI's loan portfolio maintains low interest rate risk. 40% of outstanding loans have an average life of 3.8 years, 20% of deposits are non-interest-bearing and over half of the portfolio will re-price within the next twelve months. In addition, the company holds $150 million in forward starting swaps as a hedge
Another key aspect of the company's strategy is its mobile banking platform. Targeting younger consumers who prefer to digitize as many of their tasks as possible, CUBI offers a platform where branches never need to be visited. According to management, they have the first mobile banking application offered in the US where account opening and all other services can be accomplished without ever visiting a branch. This also leads to significant cost savings for customers, where American banks charge $32 billion annually in overdraft fees, partially due to branch access issues.
The company has raised over $200 million in equity over the last fifteen months, and has a strong capital base for future expansion. CUBI has also stated that it will only use tier 2 capital to fund growth and is well capitalized with 9% tier 1 leverage ratios and 11% total risk based capital. In addition the company's assets have grown from 350 million in 2009, to 4.2 billion at the end of 2013, a number management hopes to increase to 5 billion by the end of 2014. This was supported by full-year growth in net interest income of 43.8% in 2013.
While the stock has seen some losses over the past 3 months, it has been a difficult period for many peer companies. Comparing CUBI's performance over the past three months with ten similarly sized retail banks (an automatically generated comparables list from Capital IQ) yields the following chart: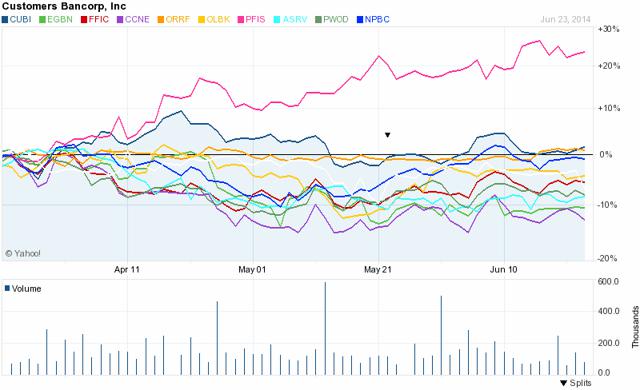 Source: Yahoo finance
Aside from PFIS, Customers' relatively flat performance over the past 3 months has nonetheless outpaced the nine other companies in the sample. Note that there was a 10% stock dividend in late May.
In addition, analyst coverage has noted some positive signs. Sandler O'Neill, while maintaining a hold rating, has nonetheless increased EPS estimates due to the aforementioned loan growth. Boenning & Scattergood affirmed a target price of $26 in its latest appraisal, while Sterne Agee & Leach increased EPS estimates in spite of its over-optimistic target for Q1.
Overall, Customers Bank still has upside in spite of some equity sputters. The fundamentals still support strong performance over the next couple of years and management has a proven track record in maintaining the gains CUBI has incurred.
Disclosure: The author has no positions in any stocks mentioned, and no plans to initiate any positions within the next 72 hours. The author wrote this article themselves, and it expresses their own opinions. The author is not receiving compensation for it. The author has no business relationship with any company whose stock is mentioned in this article.