After a September to remember, patent-licensing / intellectual property firm VirnetX (NYSEMKT:VHC) is starting off October with a bang.
It all began with a big jury verdict last March over Microsoft (NASDAQ:MSFT). The jury ruled that Microsoft infringed on VirnetX patents covering virtual private networks (VPNs) and awarded it $105 million. Instead of appealing, Microsoft settled and paid $200 million in total to resolve the dispute and license the patents.
It was a huge victory for VirnetX shareholders, who now see bright prospects for VirnetX to exact lucrative future licensing deals from scads of companies. VirnetX wasted no time in moving against its next targets. In August, it sued Aastra (OTC:AATSF), Apple (NASDAQ:AAPL), Cisco (NASDAQ:CSCO) and NEC.
I don't have a good grasp on the technology yet, but I understand that it involves the automated provisioning of secure domains (DNS), a feature some describe as essential for 4G/LTE wireless.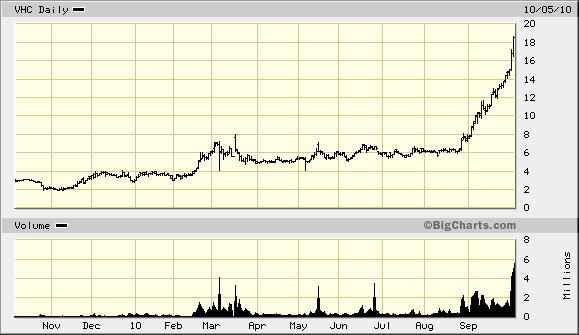 Whether or not VirnetX's GABRIEL technology will become a central feature of 4G networks remains to be seen — the company says it will move into production in 2011. Investors aren't waiting though. A rush of enthusiasm has tripled VHC share prices since the beginning of September with no real news in the interim.
The parabolic price movement of VirnetX reminds me of Patriot Scientific (PTSC.OB) in its heyday. During its brief run up, Patriot Scientific moved from around $.08 to over $2.00. During the run it also paid out numerous special dividends (as did VirnetX this summer). In aggregate, I think PTSC's special dividends probably reached about a dime per share. I was lucky enough to get in on the ground floor with PTSC, as did many readers, but I sold after a near-triple and missed most of the runup.
Many will point out that Patriot Scientific ended badly. That's true, as the chart below shows, but plenty of people got burned (or in my case missed most of the upside) by calling a premature top to the rally. I think the same is likely for VirnetX. Now is not the time to bet against VHC, even if you doubt the long-term prospects of its patents or business model.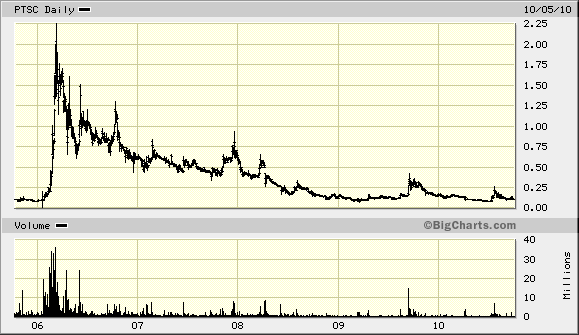 DISCLOSURE: No position