Introduction
Pretium Resources' (NYSE:PVG) Brucejack project looks to be one of the few worldwide projects that is extremely high in grade, contains a large amount of gold reserves, and has initial capital costs that are extremely low for its production potential.
Additionally, the company is run by industry veteran Robert Quartermain, the man who was involved with building Silver Standard Resources (NASDAQ:SSRI) from a $2 million dollar exploration company into a billion dollar major silver miner - so it is led by a man with experience.
Disagreements about the methodology used to develop Brucejack's mineral reserves have held the company's stock price back, but the company's new feasibility study show that it is one of the few projects that would offer good returns even at sub-$1000 gold. Finally, additional drilling done to expand the Valley of Kings zone may be the catalyst that convinces an on-the-fence acquirer to pounce.
Quick Overview of the Company
Pretium Resources' Brucejack project is one of the few gold projects from across the globe that is extremely high grade, contains a large amount of gold reserves, and has initial capital costs that are fairly low for the estimated production. Additionally, not many projects offer investors positive returns with gold prices well under $1000, but Brucejack is one of those that does and can be profitable when many other mines and projects are not, so it offers quite a bit of cushion if the gold price does drop further. Finally, the company is run by Robert Quartermain, the man who was involved with building Silver Standard Resources from a $2 million dollar exploration company into a billion dollar major silver miner - so it is led by a man with experience who has been there before.
As a quick review for new investors, the company owns both the Brucejack and Snowfield project, but their flagship property is the Brucejack project. That property consists of the majority of the value of Pretium; we think Snowfield is given little or no value by the market - and at this point we don't think that is entirely unjustified.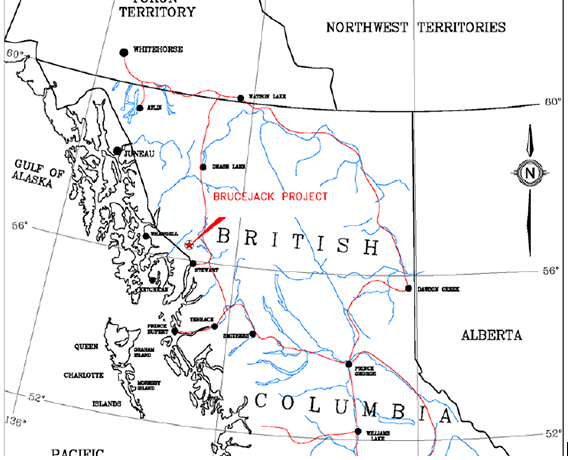 Mineral Reserves and Resources: Brucejack Stands Tall Amongst Gold Projects
Pretium recently updated its mineral reserves and resources, which hasn't changed significantly from the previous estimate except for the fact it has raised the "quality" of some reserves and resources.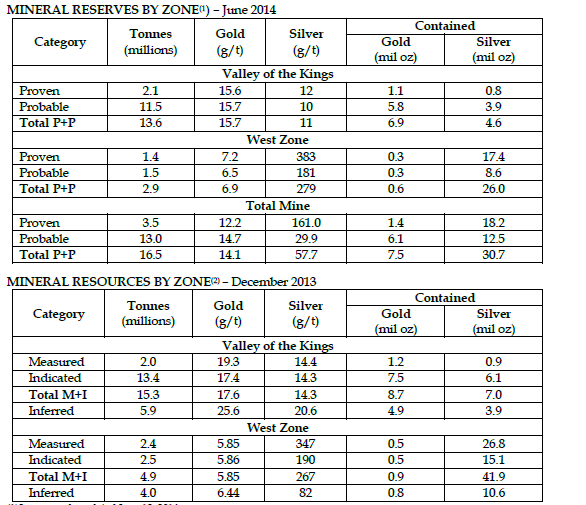 Investors should remember that "reserves" are much more desirable than "resources" when it comes to mineral classes (though this discussion is beyond the scope of this article) and reserves demonstrate economic viability - so any comparison with other explorer mineral estimates needs to take this into consideration.
The reserves and resources show that the true value of the Brucejack project lies in the high grade of the gold reserves and resources. Gold reserves total about 7.5 million ounces of gold at a 14.1 gram per tonne grade - which is exceptionally high for a reserve base of this size. Additionally, the Measured and Indicated resources (mostly from the "Valley of the Kings" zone) total an additional 9.6 million ounces of gold and close to 50 million ounces of silver.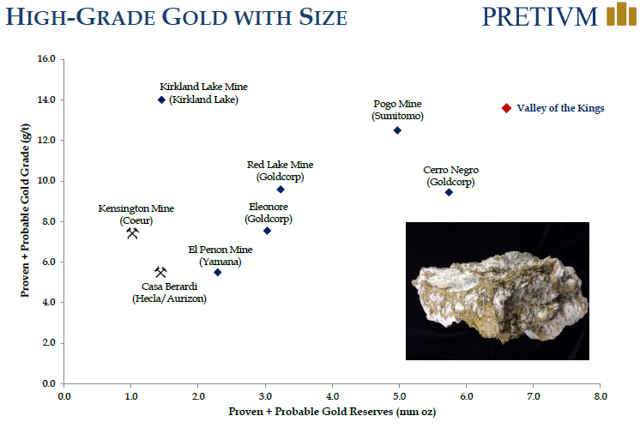 Source: Corporate Presentation
We do note that the above chart needs to be updated with the June 2014 resource estimate so it is a little bit dated, nevertheless the updated resource estimate should move Valley of the Kings up a bit and to the right. The point for investors would be the same - Brucejack's stands apart compared to other high-grade gold projects.
Pretium's Updated Feasibility Study Offers Investors Insight into Economics in the New Gold Environment
In June 2014, Pretium released its updated feasibility study which shows the economics of Brucejack under much lower gold price scenarios. Compared to its earlier feasibility study (released in June 2013), the average life of mine production increased from 321,500 ounces per year to 404,000, with the mine life decreasing to 18 years versus the previous 22 year mine life. The production totals have risen because of higher grades which have added gold reserves.
In terms of capital costs (a key variable in our eyes), Pretium saw its startup costs (including contingency) rise to $747 million - which was up around $80 million from the previous $664 million estimated in the earlier feasibility study. This was primarily due to a weaker Canadian dollar and costs related to the power and camp costs. We think the contingency used is a bit low and we prefer a contingency in the 20-25% range to better reflect what other miners forecast in PEA's, so we would prefer to raise it from $69 million to $90-$100 million - not a huge deal but much more reasonable in our eyes. Again, this is not a big deal for a multi-billion NPV project, but for investors that calculate some of the NPV and IRR estimates themselves it is worth noting.
In terms of the actual economic analysis, Pretium's updated feasibility study provides a good multiple case scenarios at prices around the current gold price.

Source: June Feasibility Study
As investors can see, all case studies above are at reasonable gold prices compared to the current price (around $1300), and the base case scenario of $1100 is truly a conservative price as we think gold will not fall close to that level.
At $1100 per ounce, the Brucejack project offers a $1.45 billion after-tax NPV using a 5% discount rate, but more importantly the after-tax IRR is an exceptional 28.5% - which leaves a lot of room for investors to profit even if things don't go as planned (which happens often between feasibility and production). Finally, the $800 case study shows Brucejack's truly exceptional nature as the project is still showing a mediocre 16.5% after-tax IRR - a scenario where most gold projects would be extremely unprofitable.
This is something very important to note because investors should remember that major mining companies (the possible acquirers of Pretium) have to plan for gold prices that could be higher OR lower. There are many large, low-grade projects that would be profitable at $1500, $1600, and $2000 gold - and they can be bought very cheap. But there are very few large projects that would be profitable at $1000 or $800 gold - those are very rare and Brucejack is one of them.
Finally, investors should remember that none of the "resources" (close to 9 million ounces of measured and indicated gold) have been included in the feasibility study, so there is obviously quite a bit of possible reserve growth that could add to the project's economics if management can do additional work to turn these resources into reserves.
The Debate about Brucejack
If Pretium's situation was as simple as the economics demonstrated in the feasibility study, we believe the stock price would be significantly higher, but unfortunately it is not. There is intense debate in the geological community about the interpretation of the drill data for Brucejack and the proper method of interpreting data from extremely heterogeneous deposits like Brucejack.
We've covered this previously, but in a nutshell Strathcona Mineral Services Ltd., one of the consultants preparing Pretium's feasibility study, resigned because it felt that the other consultant (Snowden Resources) had used an incorrect methodology to arrive at Brucejack's reserves. Thus all the previously disclosed reserves were invalid and the whole process needed to be done again using a different methodology. Management and Snowden Resources disagree with Strathcona's assessment and claimed Strathcona's methodology was incorrect for Brucejack.
The result is that there is quite a bit of uncertainty when it comes to Brucejack in the geological community and that is a major holdup when it comes to finding the resources to develop a mine that costs close to $1 billion dollars. To their credit, management has done its best to reassure investors and the community at large by doing a 10,000 tonne bulk sample (with extremely excellent results) and additional drill work to increase the confidence of the resources, but ultimately the questions regarding whose estimate is correct will not be answered until the mine is actually producing gold. That type of uncertainty with a deposit (which in themselves are inherently risky) will always put a discount in a company's share price - like it or not that is simply the way things are for Pretium.
This brings us to the next important question - what is the best way to bring Brucejack to production?
Is Brucejack a Buyout or a Buildout?
Pretium is in a much better situation than many other explorers because they are not stuck waiting for an acquisition, which is the case for many of the explorers because they simply cannot raise the money necessary to fulfill the capital requirements of building a mine.
We like to judge a company's ability to raise the capital needed to fund initial capital expenditures by comparing the amount needed to the company's market capitalization. The closer the CAPEX to the company's market capitalization the more feasible the funding would be out of internal resources. Thus a company trying to fund initial CAPEX below its market capitalization would probably not have a difficult time doing so. While a company trying to raise 5 or 10 times its market capitalization to fund the project's initial CAPEX, would have a much more difficult time especially when we are talking about expenditures in the hundreds of millions or even billion dollar ranges.
Pretium's market capitalization is currently a little over $850 million dollars, which is right around what the initial CAPEX would be to get Brucejack running. So in our opinion, even though it wouldn't be easy, raising the money to start Brucejack from internal sources would be feasible - they don't need to sell this project off to bring it to production. This is extremely important when considering the questions that some have towards the true nature of the reserves at Brucejack.
Additionally, let us not forget that Robert Quartermain (Pretium's CEO) did build Silver Standard Resources from a small explorer to a major silver producer. So the management experience to build Brucejack from the ground up is definitely there, which is an advantage Pretium has over the vast majority of explorers.
Having said that, we also think Pretium could be attractive to an acquirer even with the Brucejack controversy. Investors should remember that there are very few large deposits, and even fewer still that have high grades and low initial CAPEX and are located in a politically safe jurisdiction - Brucejack is one of a few of them.
The biggest challenge for an acquirer would be the size of the transaction that would be needed to acquire Pretium Resources. In a gold market that is still tight in terms of capital, there are very few companies with the means to shell out the $1.2 billion or more that would be needed to acquire Pretium. Then throw in the additional $800 million in CAPEX required to start mining Brucejack gold and the total capital requirements are close to $2 billion dollars - above and beyond the means of most mid-tier or even the majors.
In our opinion the most feasible acquirer is Goldcorp (NYSE:GG) as it is one of the few majors with ample liquidity to make the deal and bring the project to fruition. Additionally, Goldcorp's failed Osisko bid (which we covered a bit in an earlier article) show that the company has the financial means necessary (the Goldcorp Osisko bid was around $3.6 billion) and the desire to make Canadian acquisitions, since Osisko's Malartic mine is of course in Canada.
We're not sure if the recent feasibility study will be enough to convince a major to buy up the property - even though the economic numbers are extraordinarily good. Maybe it will re-emphasize the quality of the Brucejack deposit, but in general we don't feel it was significantly different than the previously issued feasibility study - if you liked Pretium before you will like them a tad more and if you didn't it wouldn't change your opinion.
But there is something that we believe could be enough to change the story.
Deep Exploration at the Valley of the Kings
There is a reason why the company continues to drill out the Valley of the Kings: there is the potential to significantly increase Brucejack's resources at depth.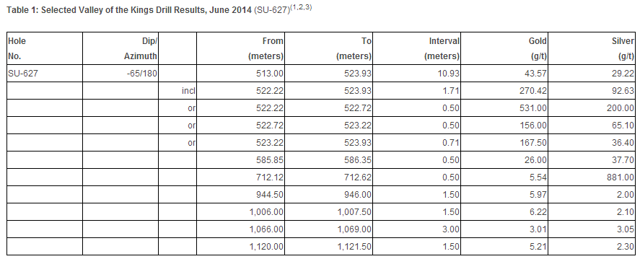 Source: Pretium Resources
As investors can see, Hole SU-627 confirms that gold mineralization continues at depth below the most recent resource estimate. In fact, the company believes that this may be the extension of the northern portion of the Valley of the Kings, and these hits are over 500 meters below the deepest intersections used in the December 2013 Valley of the Kings Mineral Resource estimate.
At this point in the Brucejack lifecycle, management wouldn't be spending the money to continue drilling unless (1) they believed that they could significantly increase the attractiveness of the deposit or (2) they were trying to fool investors into thinking the deposit had a future by doing something that sounds "geological".
We don't think Mr. Quartermain falls into the second category because he's a proven industry veteran, with large shareholdings in Pretium, and towards the end of his career - he would have little reason to keep a dead story going. Instead, we think that Pretium sees significant potential in these drilling efforts - enough to siphon off the money, effort, and time from focusing on the permitting and construction stage.
That for us is something to keep a very close eye upon - investors should pay particular attention to holes SU-628 and SU-629 that would give us more clues into the potential resource extension of these efforts.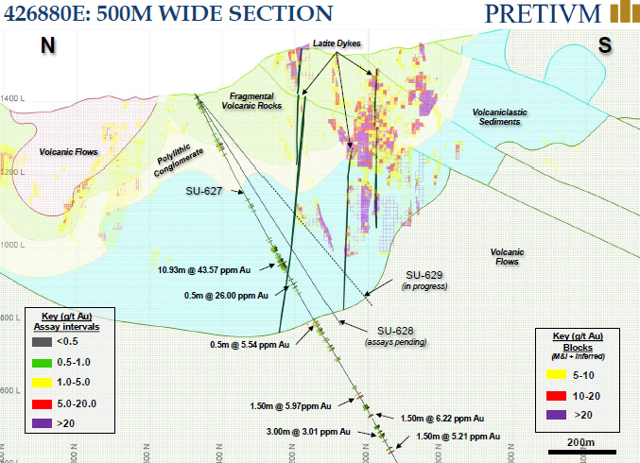 Source: Pretium Resources
We believe that if Pretium can show new significant resources at depth, it would be a game-changer and may be the push that an acquirer needs to pounce on Brucejack.
Conclusion for Investors
Pretium's new feasibility study emphasizes the profitability of the Brucejack deposit at gold prices far below the current price - after all not many deposits would be profitable at $800 gold. But we believe the geological debate concerning the methodology used to estimate Brucejack's resource are still hovering over the company's stock price and keeping it at a discount (to what we believe is fair value), and potentially keeping acquirers away.
But we believe it is opportunities like this that offer investors the chance to buy at a discount, especially as we believe management has done as much as it can to show that despite Brucejack's heterogeneous nature, gold can be recovered in extraordinary amounts - including a recent 10,000 tonne bulk sample that produced 6,000 ounces of gold and 5,000 ounces of silver (close to 18 grams of gold per tonne).
At this point, Pretium is planning to develop Brucejack by itself (and we believe it has the capability to do so alone) but continued drilling may be the catalyst that would convince an acquirer to snap up the company. If new drilling can demonstrate the potential to expand resources significantly at depth, then we think the likelihood would become very high for another company to make Pretium an offer - especially considering that there is still a good discount in the share price due to the Brucejack methodology disagreements.
After all, new resource potential would de-risk Brucejack further and there would be little reason to wait until Pretium has lined up financing, at which point the stock price would be much higher - thus investors should pay close attention to the upcoming drilling results.
Disclosure: The author is long PVG. The author wrote this article themselves, and it expresses their own opinions. The author is not receiving compensation for it (other than from Seeking Alpha). The author has no business relationship with any company whose stock is mentioned in this article.