BlackBerry's (BBRY) Q1 2015 earnings report has no doubt shown a bright future for the company. John Chen, the CEO of BBRY, has strengthened the company's balance sheet, pushing the stock above $10. The slew of positive news has had investors head over heels on the turn around. Since earnings, Seeking Alpha and other news sources have been inundated by optimistic investors claiming that the company will gain financial stability, be acquired, or even climb above $20. However, hype can cause investors to overlook possible limitations and shortcomings of a company. Like all companies, BBRY is a two-sided coin. You can jump on the bandwagon and ride the momentum, but be wary of possible problems that may surface in FY2015.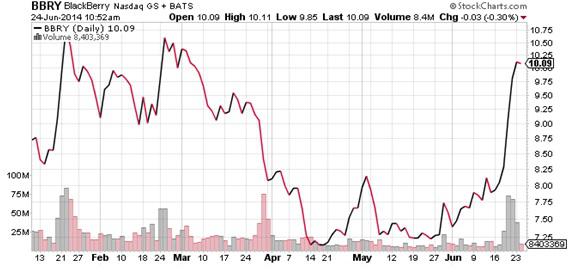 (StockCharts.com)
Cost cutting limitations
Chen strives to minimize bleeding, but the strategy is largely unsustainable given that these improvements have been primarily driven by cost cuts. His plan has relied on cutting jobs, moving manufacturing to cheaper overseas manufacturers (Foxconn) and selling assets. In BBRY's most recent earnings, excluding real estate sales and tax refunds, the company still bled $255 million this quarter. While it is an improvement compared to the $800 million deficit last quarter, the company remains in the red. Fundamentally, a company faces limitations on how much they can cut before facing operational drawbacks. BBRY is reaching this limit. Job cuts have only continued from the 4,500 lay offs in September 2013. Just today, 65 developer relations employees were laid off. The amount of sellable assets is also shrinking, shown by a decrease in PP&E of $411mm over the last quarter. It is no doubt that Chen is improving BBRY's cash balance, but the glass is already half empty. As venues of cost cutting are depleted, BBRY becomes increasingly reliant on revitalizing their business segments, which have yet to display solid results.
Unsure Future in Emerging Markets
BBRY sales have remained incredibly weak domestically with lackluster BB10 phone sales, but the company has attempted to expand into emerging markets. The Z3 recently launched in Indonesia and received a positive consumer response, selling out on the day of release. The product launched in Vietnam on June 18th, with launches in Malaysia and India planned shortly after. At $200, the Z3 circumvented higher-end domestic competition and effectively catered to price-sensitive international consumers. Consequently, Chen hopes to continue the Z3's success against alternative phones from Google (NASDAQ:GOOG) (NASDAQ:GOOGL), Nokia (NYSE:NOK), Apple (NASDAQ:AAPL) and Samsung (OTC:SSNLF) in emerging markets.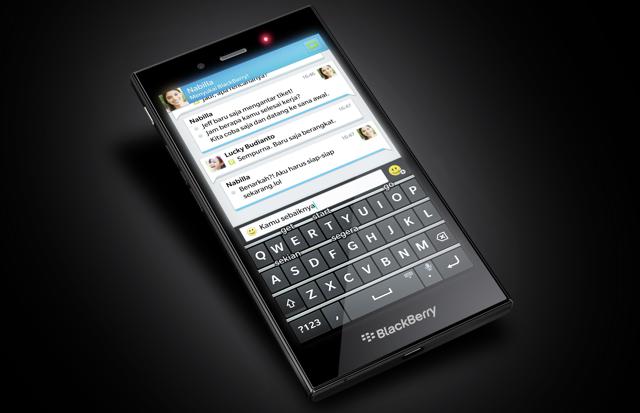 (Thenextweb.com)
BBRY's increasing market share and penetration abroad can be leveraged in the long term to further push out products, but in the scope of a few months, the comparatively low-margin phones may not turn enough of a profit to supplement the limited cost cuts. The same holds true for the 8 other countries that Chen hopes to expand into. Furthermore, the success in Indonesia is not indicative of performance in other emerging mar, especially where the aforementioned competitors hold a larger stake. Results abroad remain to be seen, but regardless, the lack of short-term benefits can put downward pressure on the stock in Q2 2015.
Amazon deal is not enough for BB10
One of the main reasons for the BB10 flop was due to the lack of apps and users. The user base itself was shrinking, with the global share of BBRY sales projected to fall to 0.8% by the end of 2014. As a result, many major companies also refused to develop apps and software for the unpopular and unsuccessful BB10 platform. These factors created an incredibly unfavorable environment for the product launch. However, BBRY recently announced a partnership with Amazon (NASDAQ:AMZN) to incorporate 240,000 apps into the BB10 platform. The partnership is positioned to attract more domestic users to use BBRY's phone, but it may not be effective. Comparatively, the 240,000 apps are miniscule against iOS and Android devices, which boast over 1 million apps. In the competitive landscape, it is increasingly difficult for companies to convince consumers to change from one platform to another. If BBRY does not have more to offer they simply cannot compete with much more established platforms. End users have not found BB10 appealing in the past and a handful of new apps will not sway them in favor of switching. The partnership will have little effect on sales unless BBRY brings more to the table.
Conclusion
BBRY's 2014 stock movement has been heavily influenced by earnings as a benchmark for the performance of Chen's business strategy. However, the limitations of cost cutting and unproven developments run the risk of generating subpar returns. Chen has taken on quite a feat by attempting to turn around BBRY and he has undoubtedly done a great job so far, but investors should remain cautious in their long positions. BBRY's YTD performance has been a roller-coaster and don't expect it to end just because of optimistic analyses and overly bullish remarks.
Disclosure: The author has no positions in any stocks mentioned, and no plans to initiate any positions within the next 72 hours. The author wrote this article themselves, and it expresses their own opinions. The author is not receiving compensation for it (other than from Seeking Alpha). The author has no business relationship with any company whose stock is mentioned in this article.