Is Coach (NYSE:COH) a 'Buy'? Coach has been falling precipitously over the last several weeks which is merely the continuation of a yearly trend. Should you buy now and get a good deal? Or, would you simply be catching a falling knife? The stock is going to continue falling, because of high debt, poor management, and most importantly the erosion of a strong competitive advantage.
The drop was most pronounced on Friday, June 20th, as over 15 analysts downgraded their price targets following the news release that earnings would be lower.
The trend for the analyst community is to continue dropping their price targets to ever lower levels as they attempt to catch up with the falling price of Coach. Josh Brown, from The Reformed Broker had a lively argument on CNBC concerning Coach. Josh won the debate on CNBC noting the debt situation as a primary factor for not buying.
However as we will see rather quickly from our SWOT analysis further below, the issue for Coach goes beyond debt management. Problems at Coach also involve brand dilution which has always been the 'Moat' for Coach, preventing competitors from easily encroaching upon its market space.
SWOT Analysis: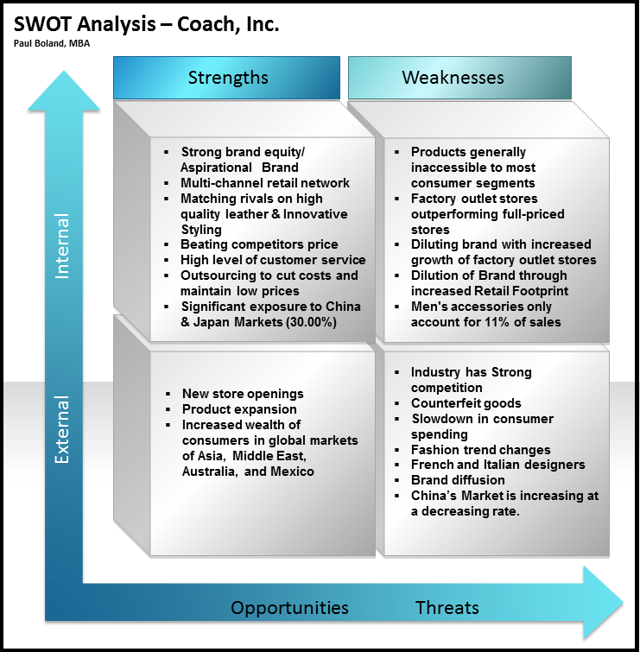 This diagram is an expansion of a SWOT analysis from 2010 found at Management Paradise, and updated per the 2013 Coach Performance Report.
Key Take-Aways From the SWOT of Coach:
A big problem with respect to the luxury goods market was revealed in the Bain & Company 2013 report on the subject:
The hypergrowth of recent years was destined to moderate," said Claudia D'Arpizio, a Bain partner in Milan and lead author of the study. "The silver lining for luxury brands is that they can now change their focus from keeping up with the present to planning for the future.
From this report it is clear that there is an overall decrease within the luxury goods market from the macro-economic perspective.
A primary feature of the bullish case for Coach is the expansion into China with the belief that this will result in a significant increase for the company down the road. Unfortunately, we really cannot expect this growth based on analysis such as the Bain & Company report. Generally speaking we have seen the economy of China begin to stop its forward momentum and we can probably continue to see a reduction in demand for luxury items in that region. Overall the China region is expected to grow by 4%.
Greater China's growth of 4% includes a split in performance between the Mainland, which will grow at 2.5%, and Hong Kong and Macau, which increasingly capture Chinese spending as the nearest-to-home touristic markets.
Unfortunately in Coach's case a strong amount of business is done in China and Japan.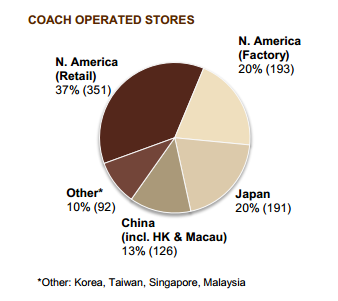 But, what should be of even greater concern for the Coach Bulls, is that the increasing footprint in China and the Asia Pacific will probably not yield the exponential benefits originally hoped for when the company initiated its market reach to that area. If the market for Coach products stops expanding within the Asia Pacific market, then Coach will have an increasingly difficult time producing greater revenue.
Brand Dilution - Coach has trouble with respect to brand dilution. While we have listed, in our SWOT above, that the lower price of goods in comparison with competitors is a Strength, this might in fact be a double edged sword for Coach as it causes less demand for Coach in other more high-end segments. At the Brand Channel this was discussed:
The recent trajectory of Coach is testament to the inherent dangers of diversification, as consumer loyalty is hard won, but easily lost when clarity and relevance are compromised.
As Brand Equity begins to slip away for Coach, we will begin to see bigger problems reflected in the financials. Coach is not simply a retailer, they must appeal to specific segments of the affluent and must gain that segment's approval in order to see an increase in sales.
With the global demand for Luxury goods growing at a decreasing rate, with the venture to Asia Pacific yielding less than originally expected, and with the Brand Dilution issue slowly eroding the 'Moat' or competitive advantage that has always been the strength of Coach, we are left wondering what the bullish case might be.
Financial Metrics:
Some of the positives for Coach are tied up in historical data and the financial metrics.
P/E Ratio - During the last year Coach's P/E Ratio has fallen much lower than others in the same industry as you can see below from our chart.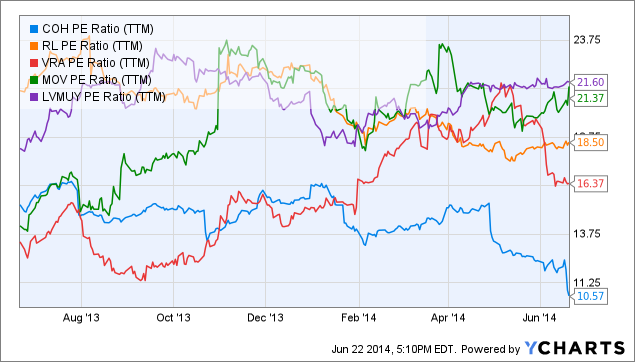 COH PE Ratio (NYSE:TTM) data by YCharts
The P/E Ratio for Coach comes out right above 10 easily beating its peers. This would therefore seem to indicate that the stock is a possible value play and currently trading at a discount with respect to earnings. However with Coach indicating that revenue is expected to decrease, we are left wondering what a P/E so heavily biased by past performance might really contribute to our understanding of the stock's value.
It is arguably better therefore to look at the 'snapshot' picture of Coach instead of time based performance metrics. In other words, we ought to consider the balance sheet metrics as opposed to the income statement metrics. If we look at the P/B Ratio, we will find that the perception of value with respect to Coach can be rather deceiving.
P/B Ratio - Price-To-Book Ratio. Generally, we would consider a P/B of roughly 1.00 - 2.00 to be good and with less than 1.00 to either be a bargain or a possible indication that the company is about to crash.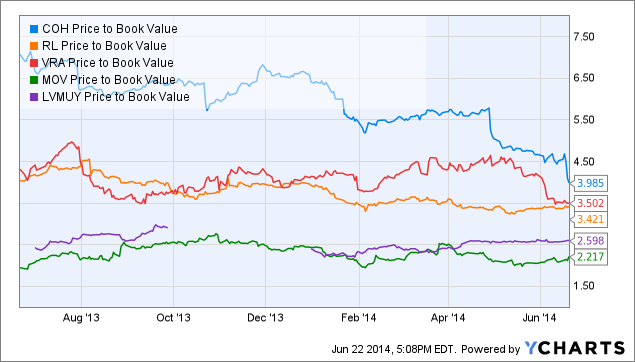 COH Price to Book Value data by YCharts
We can see from the chart above that Coach is not doing very well with respect to their P/B Ratio. A P/B of roughly 4.00 is rather high, and we can see that, when compared to its peer group, Coach is also currently trading at a price that is high. As the stock price comes down, the value indicated through this metric will go up. We can see that historically Coach was most likely overvalued with respect to this metric. At the current point in time, we can safely consider the P/B to show us that the stock is overvalued with respect to the balance sheet at the current point in time.
Management Effectiveness:
In retail, inventory management can provide a unique level of insight into the effectiveness of management. Retail is also all about the people, and generally any hint that management is overwhelmed can show us that the stock is not a strong potential investment. Items such as management and control with respect to the spatial dynamic of the store layout, square footage, etc... can often provide us with the most useful information for potential investment in a retail company.
Recently, on May 20th, Forbes released an article showing the companies with the highest revenue per square foot. Coach came out in 6th place (behind Michael Kors (NYSE:KORS)) at $1,532 per square foot. Not half bad. But, if Coach is doing so well with respect to its utilization of space, then why is it doing poorly and expecting a decline in revenue?
If we recall Accounting 101 (or possibly it's a more advanced Accounting course), we will remember that it is often better to look at an inventory based metric as opposed to revenue as it will not be skewed by the market's valuation of the inventory. By using a Cost of Goods sold metric to measure the speed of inventory turnover, we can obtain a more accurate appraisal of the actual flow of items through a store (or many stores).
Here is the Inventory Turnover rate for Coach and some comparables: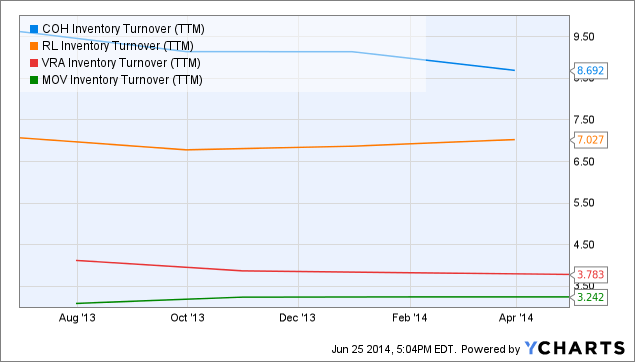 COH Inventory Turnover (TTM) data by YCharts
Generally a high rate of inventory turnover is a good thing. It suggests the possibility of a Just-In-Time inventory control as items speedily fly off the shelves at the various stores.
However we should consider the inventory rate in context of the debt-to-assets or debt level: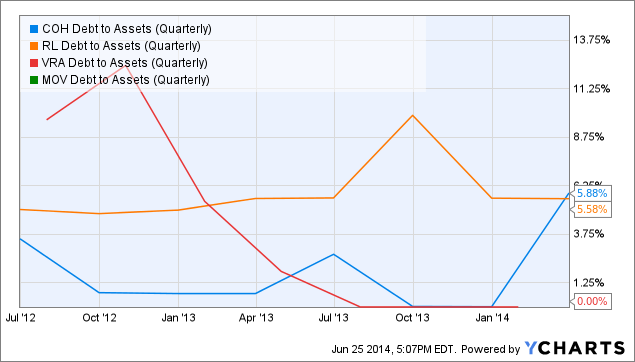 COH Debt to Assets (Quarterly) data by YCharts
Ralph Lauren (NYSE:RL) has a consistent rate of roughly 5.58% which has remained steady during the year. However the interesting problem here is that Coach is the only group which has suddenly risen from the range of Vera Bradley to the range of 5% - 6%. With this increase in debt level it is most likely that Coach is having issues stocking the shelves due to cash management issues.
If we remember our Accounting courses and the textbook definition for the inventory turnover ratio we will recall the following:
A higher inventory turnover ratio indicates that inventory does not languish in warehouses or on the shelves. On one hand, too little inventory in stock could lead to lost sales if products are not there to meet customer demand. This can also lead a company to be caught flat-footed if there is a sudden spike in demand.
As a rule of thumb, high debt levels show that management might have difficulty managing cash. If management is having difficulty managing cash, then often times it will also not invest in the necessary inventory to satisfy demand. It is possible, that Coach's management is suffering from the classic problem of a constrained cash situation and a low investment for inventory. If this is the case, then Coach is not investing heavily enough in inventory in order to satisfy the traffic flow through their stores. Since the overall picture for Coach is dismal, and since their own management is forecasting a poor revenue picture, we can surmise that this is the source of difficulty at Coach.
Conclusion:
Coach is currently not a strong company to consider for investment. The company has some key financial metrics that paint a deceptively positive picture. However upon closer analysis, and when considered in context, these metrics actually show a more negative picture.
Coach has issues with respect to Brand Dilution and its management has difficulty with inventory management. If Coach cannot bring its debt/cash management and inventory management under better control then we will continue to see the problems at Coach grow exponentially into the future.
At the current point in time, Coach is not a Buy.
Disclosure: The author has no positions in any stocks mentioned, and no plans to initiate any positions within the next 72 hours. The author wrote this article themselves, and it expresses their own opinions. The author is not receiving compensation for it (other than from Seeking Alpha). The author has no business relationship with any company whose stock is mentioned in this article.