Incorporated in Maryland in 2011, ZAIS Financial Corp. (NYSE:ZFC) is a Mortgage REIT that invests in a diversified portfolio of residential mortgage assets, other real estate-related securities and financial assets.
The company invests in non-Agency RMBS as well as Agency RMBS. They are externally managed and advised by ZAIS REIT Management.
ZFC completed its IPO in February 2013, raising $119 million. As of the end of the previous quarter, it had total investment portfolio of $659 million with 63% asset allocation and 67% equity allocation to residential mortgage loans. Current leverage ratio for ZFC is 2.90x.
Disappointing First Quarter Results
ZFC reported core earnings of $1.5 million or $0.17 per share for Q1 2014. The results were significantly below the Zacks Consensus Estimate of $0.39 per share. In the last four quarters, the company has managed to meet estimates only once and has missed in the three quarters with a negative quarterly surprise of 35.9%.
Interest income for the quarter was $9.5 million compared with $3.4 million for Q1 2013. The increase in interest income was mainly due to the deployment of capital raised in the IPO and issuance of 8% Notes. This was partially offset by a decrease in the average RMBS portfolio balance.
Interest expense for the quarter was $3.9 million compared with $0.5 million for the same quarter of 2013. The increase in interest expense was due to an increase in borrowings.
Downward Revisions
Due to disappointing results, quarterly and annual estimates have been revised sharply downwards in the past few weeks by analysts.
Zacks Consensus Estimates for the current and next year now stand at $1.42 per share and $1.82 per share, from $1.75 per share and $1.93 per share, 60 days ago.
The chart below shows the negative earnings momentum for ZFC. Declining estimates sent ZFC back to Zacks Rank # 5 (Strong Sell) last month.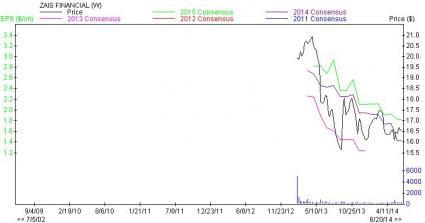 The Bottom Line
Since its public debut, the stock has traded below its IPO price of $21.25. A juicy dividend yield of 9.6% may tempt some investors to buy the stock but they should remember that the stock has been consistently and significantly underperforming the broader market and the chances of a turnaround are rather low.
Further, the interest rates are likely to start inching up sometime soon and will negatively impact the company's earnings.
Mortgage industry is currently ranked163 out of 265 (Bottom 31%) among Zacks industries.
Better Play in the Industry?
Investors could look at Capstead Mortgage Corp (NYSE:CMO)—a Zacks #1 (Strong Buy) stock. CMO manages a portfolio of adjustable-rate mortgage (ARM), issued and guaranteed by Fannie Mae, Freddie Mac or Ginnie Mae.