One of the advantages of buying a closed-end fund at a discount is the possibility that the discount will decrease. However, many funds have sold at large discounts for years. To improve the chances of benefiting from a funds discount decreasing it is useful to look at the funds relative discount.
The relative discount is the relationship between a funds current discount and it's historical discount. Here I have screened all the CEFs covered by CEFConnect looking for funds where:
6-month average discount - the current discount > 2.5%.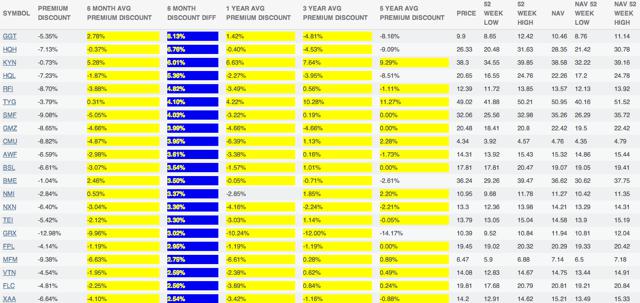 Data is from CEFConnect.
Passing Funds:
AllianceBernstein GLB High Inc (NYSE:AWF)
BlackRock Health Sciences(NYSE:BME)
Blackstone/GSO Senior Floating(NYSE:BSL)
MFS High Yield Municipal Trust (NYSE:CMU)
Flah&Crum Tot Return (NYSE:FLC)
First Trust New Opps MLP & En (NYSE:FPL)
Gabelli Multimedia(NYSE:GGT)
Goldman Sachs MLP Incomm Opps(NYSE:GMZ)
Gabelli Health & Wellness(NYSE:GRX)
H&Q Healthcare Investors (NYSE:HQH)
H&Q Life (NYSE:HQL)
Kayne Anderson MLP (NYSE:KYN)
MFS Municipal Income (NYSE:NMI)
Nuveen Municipal Income
Nuveen NY Select Tax Free (NYSE:NXN)
Cohen & Steers Tot Ret Realty (NYSE:RFI)
Salient MLP & Energy Infra (NYSE:SMF)
Templeton Emerging Mkts Income (NYSE:TEI)
Tortoise Energy Infrastructure(NYSE:TYG)
Invesco Trust NY Inv Gra Mn (NYSE:VTN)
American Municipal Income (XAA)
In addition to having discounts larger than their 6-month average discount, all the funds have discounts that are larger than their one-year and three-year average discounts, except NMI. NMI has a discount that almost exactly matches it's one-year average discount. Five of the funds: CGI, HQH, HQL, BME and GRX have discounts that are less than their 5-year average discount. While I believe comparing to the 6-month average discount is the best single data point I would not ignore the longer time periods and would be more inclined to believe that the funds that have discounts larger than their 1-year, 3-year and 5-year discount have a better chance of seeing their discount close.
The intent of this screen is to provide a starting point for finding funds whose discount will narrow. This screen is just a starting point and more due diligence is needed. From here I will provide more data on each of these funds with a few brief comments. This data is useful to get started on your due diligence. Although the data is provided in tables that make it easy to compare the funds to each other, it should be kept in mind that these funds invest in different sectors using different strategies so in most cases direct comparisons between the funds are less useful than when comparing funds that use similar strategies.
Basic Data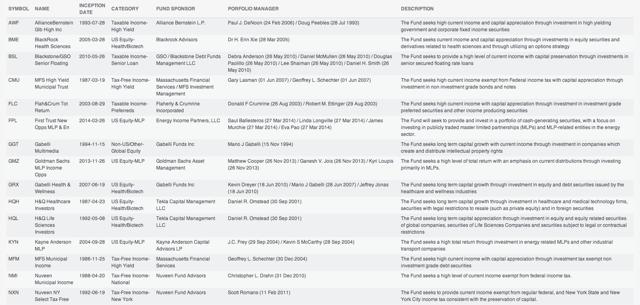 I prefer funds and fund managers that have been through at least one recession. BSL, FPL GMZ and SMF are relatively new funds having been created after 2008. My inclination would be to favor the funds with longer histories.
CEFConnect has four funds in the Health/Biotech category and they are all on this list. Health/Biotech is an interesting category that I may write an future article about. HQL and HQH are especially interesting. For more on these funds I suggest reading this article by Left Banker.
There are five funds that invest in MLPs, two Non-US equity funds, and the rest are non-equity funds (Taxable Bonds, Tax-Free Bonds and Senior Loans).
Total Return
Total Return on NAV

Total Return on Price

For most of these funds, total return on price over the last month has significantly trailed total return on NAV indicating that a lot of the widening of the discount has occurred over the last month.
Total Return NAV by Year
I included the above information because I like to see how funds performed during the great recession and how fast they recovered. When looking at this data is is important to note that the S&P lost 38% of its value in 2008.
Leverage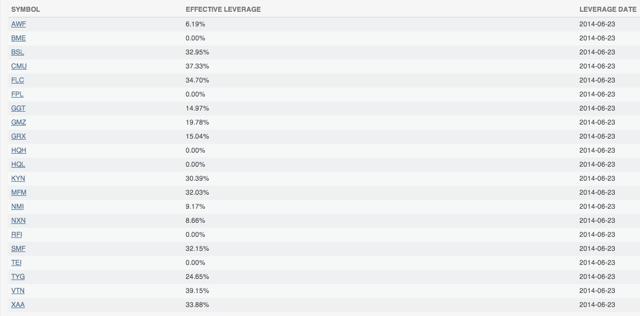 Distributions

Most Closed-End investors are investing for current income. One of the benefits of buying at a discount is you earn money on the entire NAV while paying only the discounted price. Most of these funds have distribution rates greater then 6%.
Expenses

I mostly pay attention to baseline expenses as interest expenses are the cost of leverage and most CEFs can borrow at low rates. There are a few funds with baseline expenses greater the 2%: BSL, KYN and SMF and I would lean towards avoiding them. FPL is too new and expense data is not available.
Portfolios




Data for FPL holding is not available. I did not list the holdings for the tax-free state funds.
Conclusion
Now that we have given the data for these CEFs let's narrowing down our list.
Based on the average discount over longer time periods I do not believe these CEFs are trading at bargain discounts: GGT, HQH, HQL, BME, NMI and GRX.
Based on their lack of track record I would not consider: BSL, FPL, GMZ and SMF.
Based on its high expenses I would not consider: KYN.
The remaining CEFs by category:
MLP - TYG
Taxable Income - AWF, FLC
Tax Free Income - CMU, MFM, NMI, NXN, VTN, XAA
Real Estate - RFI - For more information on RFI I suggest reading this recent article by Illuminati Investments.
Emerging Market Income - TEI
CEFs trading at a larger discount then normal are a great place to look for bargains. Discounts alone do not make a CEF a good buy, but it's a nice place to start. This article listed all the CEFs trading at large discounts to their historical norm and provides enough data points to get started on your due diligence. Good luck with your bargain hunting.
For more on information on buying CEFs at a discount I suggest reading this article by John Cole Scott.
I encourage all investors to do their own due diligence and please share your findings. I strongly feel the best thing about Seeking Alpha is the sharing of ideas. Please comment. Divergent opinions are welcome.
Disclosure: The author has no positions in any stocks mentioned, and no plans to initiate any positions within the next 72 hours. The author wrote this article themselves, and it expresses their own opinions. The author is not receiving compensation for it (other than from Seeking Alpha). The author has no business relationship with any company whose stock is mentioned in this article.
Additional disclosure: I will continue to investigate the funds mentioned in this article and may purchase some of the funds within the next few weeks.