Executive Thesis:
Crossroads Systems (NASDAQ:CRDS) is a global provider of data protection storage solutions. Despite having a history of challenging fundamentals, a multitude of positive changes in both the company's corporate and business structure are making Crossroads very intriguing. With 80% gross margins, a promising new data storage solution, large distribution partners, valuable intellectual property, an activist investor, and management forecasting a profitable quarter in the latter half of FY 2014, there certainly appears to be an exciting opportunity present at Crossroads.
Background:
It has certainly been a rough history for Crossroads, as the company has never had a profitable year. A comprehensive analysis of the company's past can be seen in Valuable Insights' article several months back. In short, Mr. Robert Sims, a weak and incapable CEO, lacked the initiative to launch an adequate licensing campaign for Crossroads' IP. In addition, Sims's team did a terrible job in marketing previous data solutions.
Nonetheless, one good thing came out of the company's challenging past. Crossroads has federal NOLs totaling approximately $130 million. Recently, the company announced that it would be adopting a tax benefit preservation plan to protect its net operating loss carryforwards. CEO Richard Coleman explained the implications of this plan looking ahead:
The Board took this prudent step to protect Crossroads' significant NOL asset. The ability to utilize these NOLs is an integral part of our previously announced business plans. We want to be able to utilize this valuable NOL-related tax asset to offset the tax liabilities that would be created from future net income, including product revenue, intellectual property royalty revenue, and revenue from litigation settlements or awards at trial.
Investment Thesis:
Crossroads Systems is significantly different than any other company that we have analyzed in the past. Since opportunities exist in more than just Crossroads' core hardware business, we will need to explore them in greater detail to get a better feel for the company.
StrongBox
Crossroad Systems recently launched the StrongBox, a new product geared toward storing data safely over the long run in a cost effective manner. The company has invested tens of millions of dollars into the product, and we believe that these investments will quickly bear fruit. Now, before you lose interest because you think that StrongBox is a solution in the commoditized, low margin, and low data storage market, wait just a second.
StrongBox is a solution oriented for storing large amounts of data, at far cheaper prices than competitors. The aim of the StrongBox is to reduce the total cost of storage ownership [TCO]. StrongBox is an NAS [Network Attached Storage] appliance that attaches to a local network, delivering shared access to stored data. IT budgets are not increasing enough to keep up with fast-growing storage requirements, creating a gap between the storage capacity needed and the available budget. StrongBox closes this gap by pairing a disk cache with a Linear Tape Filing System [LTFS]. Due to the fact that StrongBox is an onsite filing system, the long-term protection of business critical data is ensured. No sacrifices are made when it comes to data availability, since the data is never offline. In addition, StrongBox writes data in a non-proprietary format, never making modifications to the files stored on the server. More importantly, StrongBox prevents the troubles of vendor lock-in, as the data read by the StrongBox can be in any format and from any company.
At a minute scale, data storage is actually far cheaper than one would think. But as the amount of data that needs to be stored increases, the cost begins to increase exponentially. StrongBox has three models, with the top tier model, the T30, capable of storing up to 39 petabytes of data (1 petabyte = 1000 terabytes).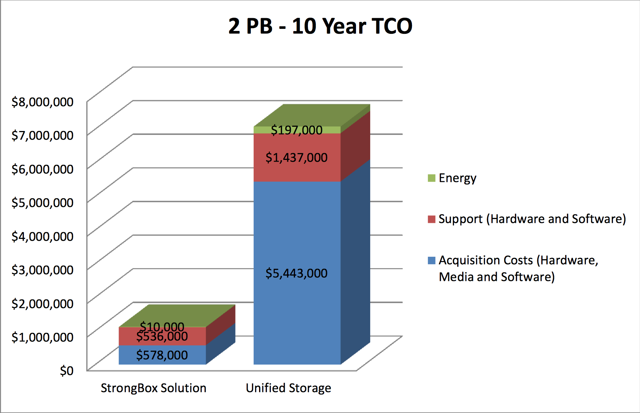 Source: Crossroads Systems
As one can easily see, the StrongBox solution is much more cost effective than traditional unified storage. Because StrongBox is a linear tape filing system, [LTFS] it uses the latest generation of a technology called linear tape open [LTO 6]. Linear tape runs much more efficiently, as disk breaks down far easier and must be replaced, creating complexities over time. Also, the energy costs are far lower with linear tape. While disk-based storage has hit a wall in recent years, linear tape continues to make large advancements in storage capacity, seamlessness, and overall capability. Altogether, the StrongBox solution greatly reduces the TCO in comparison to conventional storage systems. What costs a firm $7 million with a unified storage solution, Crossroads is able to provide for $1.1 million.
Even better is when one looks at the comparisons of when larger amounts of data are being stored.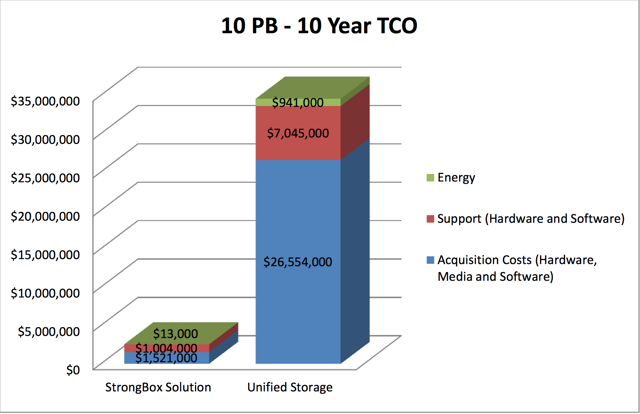 Source: Crossroads Systems
Over 10 years for 10 petabytes of data, the cost savings are even more impressive. The greater amount of data that is being stored, the faster the disk will break down, and as such, a firm using unified storage can expect to have far higher acquisition costs than one using a StrongBox. In this example, what costs nearly $35 million with a unified storage solution costs a mere $2.5 million with a StrongBox.
Research firm Global Industry Analysts recently published a report estimating the NAS market to reach $7 billion by 2017. Currently, the NAS market is valued at around $5 billion. Given the strong positioning Crossroads has in the space, we certainly believe that StrongBox is well positioned to capture market share in the space. StrongBox is also leaps ahead of other firms in the NAS (and big data storage) space. Coleman put it best on the company's most recent conference call:
We are now ready to offer our hybrid disk tape based NAS solution that costs dramatically less than traditional disk based NAS, but with the reliability and performance customers require. This is a game changer. We see no one positioned the way we are to take all the price sensitive NAS market with a clearly lower cost solution for customers with large datasets.
We expect sales of StrongBox to have a steep adoption curve, starting off small and then showing explosive signs of growth. This is due to the idea that in technology a product (especially in big data storage) needs to be tested by the market first. Nonetheless, StrongBox revenue growth in the most recent quarter was nothing short of excellent, increasing a whopping 145% over the same quarter the previous year.
In light of the nature of StrongBox, we believe that Crossroads has an expanding moat based upon two factors: A cost advantage and switching costs.
Cost advantage
Seeing that Crossroads is a low cost provider in the big data storage market, customers automatically tend to gravitate towards the StrongBox solution as they are lured by the unusually low cost. The best part is that not only is the StrongBox a cost effective solution, but it is a quality one as well. With IT budgets in a trend of decline, the demand for StrongBox is even greater than ever.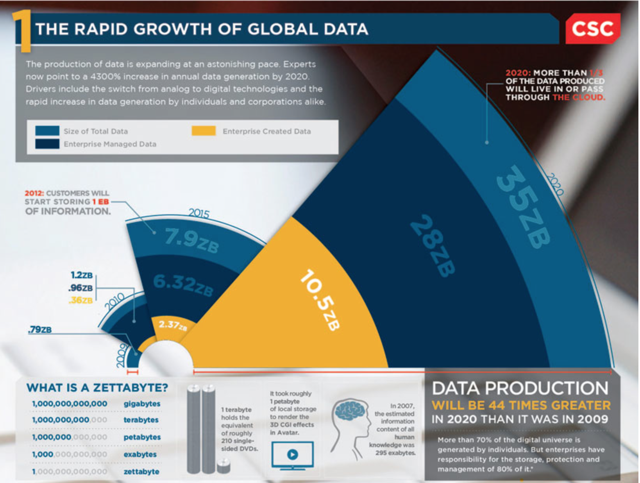 Source: CSC
Analysts expect data to grow at a CAGR of 42% through 2020, and IDC forecasts that the world's data will increase 50 fold in the next decade. What matters more is that by late 2014, 31% of large enterprises expect to manage more than 1 petabyte, and StrongBox is a viable solution for each of these businesses. Also, relatively soon, large enterprises will have far more than 1 petabyte of data to store, and as such, the demand for StrongBox will increase significantly. Nonetheless, the important thing to grasp out of all of this is that Crossroads is at the helm of benefiting from the trend of declining IT budgets and a strong, unmet need for cost effective, big data storage. With Crossroads enabling users up to an 84% reduction in TCO (as shown in the models above), the firm is poised to gain market share.
Switching Costs
After speaking to the Crossroads management team and Mr. Richard Coleman in particular, we began to get a better feel for the customer base Crossroads is pursuing. Although the firm is happy to provide the StrongBox to any company needing to employ it as a low cost solution, we've found that Crossroads could have large success particularly in the media and entertainment industry. Since businesses in media and entertainment have an asset base comprised of their data, should their data be compromised, it would be an utter catastrophe for the business. Once all of a firm's data is stored on a Crossroads StrongBox, another company would have to offer a far cheaper and better product for a StrongBox client to even consider switching. Granted, in the world of technology, cheaper and better are two trends that never seem to go away with new innovations, however, Crossroads happens to be the current low cost provider, greatly strengthening its competitive position in the big data storage market.
As mentioned above, many companies within media and entertainment use StrongBox. A question that arose for us was what stopped these companies from using the cloud. The answer is that because the data is so mission critical, clients of StrongBox do not want to take on the risk of having their data breached or compromised. Some of Crossroads' StrongBox clients include The Ellen Degeneres Show, PBS, Fotokem, Texas Rangers, and Lionsgate.
Intellectual Property
972 Portfolio
Crossroads has two distinct intellectual property portfolios. The first is called the 972 portfolio, and it has generated over $61 million in revenue and is the focus of the company's recent patent infringement lawsuits. Crossroads has filed lawsuits against Oracle, NetApp, Cisco, Quantum, Huawei, Dell and Dot Hill. By going after the largest infringers, Crossroads is priming itself for abundant potential gains. Coleman said that the royalty rates on patent awards depend on many factors, including the possibility of cross licensing patents. In a prior case against Dot Hill in the Western District Court of Texas, Crossroads was awarded 3% and 5% royalties on two different infringing products. In addition, Coleman stated that for products that are found to infringe in litigation, awards primarily hinge on the amount of revenue generated from the infringing products. Companies with the highest infringing sales generally represent the highest potential value for Crossroads. By going after larger firms, however, some may worry that legal fees may give difficulties to Crossroads. The truth of the matter is that Crossroads has a contingency deal with their lawyers, allowing them to pay a percentage of any wins, versus costly upfront payments.
Non-972 Portfolio
The non-972 portfolio consists of 117 patents and patents pending that have not been the target of a licensing campaign. After understanding the potential that the 972 portfolio had in royalty revenue with large companies, management felt it necessary to seek out opportunities in the non-972 patent portfolio. They hired a professional patent valuation team to analyze this. What the team found was shocking. On the most recent conference call, Coleman said:
After all the downward adjustments, the third party valuation team estimates the Crossroads may be entitled to a share of over $82 billion in estimated industry sales over the life of our patents. In other words, past and projected revenues of products that may infringe our patents are estimated to be over $82 billion. Investors may question how this number could possibly be so high? The answer to that is partly in the rapid growth of the industry and partly in the fact that in some cases, our patents anticipated the evolution of industry standards by a period of years. This means that years before the industry agreed upon a particular solution to a particular problem, Crossroads was already focused on this problem and have conceived of that very solution. Quoting the analysis report, the company did this not once, not twice, but three independent times and continuing to quote. Crossroads is probably the most innovative company in the entire SAM, or storage area networking market.
Since the average remaining life of the patents is 11.3 years, Coleman's disclosure is greatly supported. In the event that these patent infringements are proven in court, the revenues derived from the IP of Crossroads are likely to be large since the companies selling the technology are so huge. Obviously, the larger the revenues, the more meaningful a potential royalty would be. Given Crossroads' current market cap of $45 million, a minimal recovery rate on even a small portion of the revenue could easily dwarf the market cap. Both Tom Shaughnessy and Markman Advisors have written comprehensive pieces particularly on Crossroads' IP, and their articles can be viewed here and here.
Signs of confidence
Distribution Partners
Crossroads recently announced an OEM partnership with Fujifilm (OTCPK:FUJIY) last August, and also has a distribution partnership with Hitachi (OTCPK:HTHIY) for the StrongBox. Fujifilm now has the ability to private label the StrongBox, and Hitachi is marketing the StrongBox under the Crossroads name. It's certainly interesting that both of these large firms (Fujifilm is a $13 billion market cap firm and Hitachi has a $33 billion market cap) are actually willing to market the data solution from a small, $45 million company if they truly didn't see real value in the StrongBox product. Their willingness to market the StrongBox reaffirms the idea that the StrongBox is a force to be reckoned with in the big data storage space.
A new activist investor
Jeff Eberwein is a hedge fund manager with over 20 years of experience on Wall Street. After leaving Soros Fund Management in late 2011, Eberwein founded Lone Star Value Management earlier last year. He has a long track record of finding troubled, undervalued companies, with actual intrinsic value and turning them around in order to create shareholder value. He has done so in cases such as On Track Innovations, Digirad, and NTS. At OTIV, Eberwein launched a proxy battle to capture 8 out of 10 board seats, claiming that despite the company having valuable patents, the management team was terrible. He entered the company at $1.50, and shares currently trade at $2.46. At DRAD, Eberwein became chairman in February 2013, and instituted a successful restructuring plan, that has sent the shares from $1.85 to $3.60. At NTS, Eberwein was able to strike a deal with a private equity firm Tower Three, selling NTS to them at $2.00 after entering the stock at $1.00.
In the case of Crossroads Systems, Eberwein recently bought 1.3 million shares at the end of March, bringing his total position in Crossroads to around 2.2 million shares. Eberwein is currently Crossroads' Chairman, and he certainly seems to be seeing plenty of value in the firm's prospects. He made his first purchase 6 months after becoming Chairman, suggesting that he understands the story well and knows what he's getting into.
Source: Yahoo! Finance
On June 17th, Eberwein filed a 10b5-1 to buy shares of Crossroads for Lone Star. The purchase plan becomes effective June 27th, 2014, and ends June 30th, 2015. Under the purchase plan, a broker will periodically buy the company's common stock at the prevailing market price. With shares of Crossroads currently trading around $3, Eberwein himself clearly sees great value in the company right now, despite the stock's recent run.
Source: SEC Filings
Asymmetrical risk/reward
Risks:
1. Crossroads is trying to gain market share in the NAS market, and is a very small company competing head to head with large, dominant firms such as EMC and IBM. Despite having superior technology, Crossroads remains a victim to larger competitors as they could easily outspend them.
2. Technology is a constantly changing space, and it can be difficult to predict what new device will someday compete with the StrongBox. Should the price of unified storage become more competitive with LTO, Crossroads' ability to gain market share would be reduced.
3. Although Crossroads has had a very successful history of protecting its intellectual property, they are entering a different ball game by going after large companies. Each company that Crossroads has launched a licensing campaign against has far more available resources (particularly cash), and will put up quite a fight in the courtroom. As such, IP victories for Crossroads in their most recent licensing campaign are no guarantee, but a favorable outcome is likely probable.
4. The large amount of warrants and options approved has the potential to significantly increase the share count, however, should these warrants be exercised, the company's balance sheet would be significantly strengthened by the $15+ million cash raising.
5. Should Crossroads happen to go bankrupt, the patent portfolios are extremely valuable given their history of being monetized and their potential for future monetization. The 972 patent portfolio could be liquidated to pay back equity shareholders, something that greatly limits loss of capital.
Reward:
Crossroads has yet to release an exact figure of how much they could be entitled to regarding IP infringement on the 972 portfolio. As such, it makes it difficult to assess a specific amount of money that could be recovered from this licensing campaign in particular. Nonetheless, Tom Shaughnessy explains some of the potential victories Crossroads could win, such as the multi-billion dollar Cisco MDS 9000 series. Should Cisco be found to infringe upon Crossroads' IP, the 972 portfolio would be entitled to a portion of this revenue. Shaughnessy explained that the Dell opportunity is even larger:
Dell's reported revenue from Enterprise Storage Solutions is $1.7B each year and $10- $12B for servers, peripherals and other networking. With a 2.5% historical rate against Dot-Hill this sets a ballpark area for which to assert against Dell. This is an award that can yield hundreds of millions of dollars.
Management has been more informative regarding the non-972 portfolio licensing campaign, as it represents a potential $82 billion opportunity. As mentioned above, even a modest recovery rate on a small portion of the infringed revenues would likely result in an immediate double or triple for the stock. A mere 2.5% on 10% of the infringed revenues would mean a whopping $205 million settlement for Crossroads, quintupling the share price.
The opportunities with StrongBox also remain abundant as well, seeing that the product is a prime choice for any firm interested in reducing TCO. Gaining NAS market share within the next year really shouldn't be too hard for Crossroads, and when a firm with 80% gross margins penetrates a $7 billion market, one can only expect good things to happen.
Since growth in StrongBox market share is easier to reflect in terms of valuation, we constructed a DCF model forecasting Crossroads' gain of NAS market share. Keep in mind that a variety of growth scenarios can occur for Crossroads in the NAS space, and believe it or not, the assumptions made in the DCF template were quite conservative given the size of the NAS market and the strong likelihood Crossroads has in getting a piece of it. The DCF model presented below suggests that Crossroads captures around 8% of 2017 global NAS market share. Also, we used a 13% discount rate and a 2% perpetuity growth rate, given the constantly changing technological space.

In aggregate, this reflects a price per share of $83.08, or current upside of 2724%, as shares currently trade at $3.05. Don't forget that this only represents Crossroads' StrongBox segment, and completely leaves out the potential gains from the company's IP division.
Regardless of what happens, we believe that the market is inefficiently valuing Crossroads and the opportunities that the firm presents through both its hardware and IP divisions. Admittedly, the stock has rallied 30% since the most recent conference call, however, we see an additional near-term 50% upside as the market grows to realize the opportunities presented. Also, these opportunities suggest a dramatic increase in intrinsic value, something that ought to attract a value oriented investor base as well.
Conclusion:
Once a company on the verge of collapse, the situation at Crossroads has already begun to improve. By looking at the company as a business and not a stock, we believe that the company presents a tremendous opportunity due to the well positioned StrongBox and the lucrative IP. In addition, huge signs of confidence have been expressed by the newest clients and distributors of StrongBox, along with continued share purchases by an activist investor. Despite a rough past, Crossroads now offers an asymmetrical case of risk/reward, even as the market continues to make new highs. We are confident that Crossroads will prove to be a successful turnaround and post a profitable quarter in the latter half of this year. For these reasons, Crossroads is our top stock pick for 2014.
Disclosure: The author is long CRDS. The author wrote this article themselves, and it expresses their own opinions. The author is not receiving compensation for it (other than from Seeking Alpha). The author has no business relationship with any company whose stock is mentioned in this article.
Editor's Note: This article covers one or more stocks trading at less than $1 per share and/or with less than a $100 million market cap. Please be aware of the risks associated with these stocks.