Craig L. Israelsen, Ph.D., is an Associate Professor at Brigham Young University in Provo, Utah where he teaches Personal and Family Finance to over 1,200 students each year. The Israelsen Seven Equally Weighted is aimed to protect the portfolio against losses.
The portfolio has seven different asset classes and twelve different funds. Each fund has the same weight 8.3% so each asset class has a different weighting. The table below provides the weightings for each asset class, the funds that will be used to review performance and the ETF equivalent.
The highly diversified portfolio with low aggregate correlation avoids losses effectively, reducing the standard deviation of return, maximum portfolio drawdown in any single year and frequency of losses.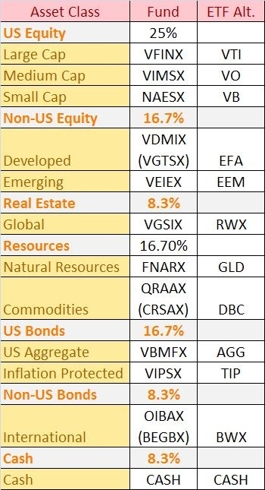 The original portfolio calls for annual rebalancing. The historical returns will be compared with three similar portfolios
The same portfolio with tactical asset management

The same portfolio with monthly strategic asset management with the ability to shift funds in each class

A six asset ETF portfolio with tactical asset management

With a well diversified non correlated portfolio, we expect to see good returns with low volatility from the original portfolio. The low volatility is certainly delivered but the returns are lower than would be hoped. The strategic asset allocation has a rich set of funds and while the overall asset class weights remain constant, the ability to move weights in the styles shows significant benefits at the cost of some volatility.
The tactical asset allocation portfolios fare better. As in a previous article where the lighter 6SIB outperformed a rich set of funds, the movement towards reducing risk curtailed returns while reducing volatility
Takeaways
Having a well diversified non correlated set of funds is key to good returns with low risk

Tactical Asset Allocation reduces downside risk and that wins in the current uncertain environment

ETFs perform very well against any other portfolio with the benefits of low cost and flexibility
Disclosure: No positions