Tuesday's market performance was nothing short of spectacular...for bulls that is.
You could point to the Bank of Japan's "surprise" move in which they cut interest rates and set up a fund a la "QE".
And you could point to Moody's (NYSE:MCO) announcing that they may cut the credit rating of Ireland as a contra-indicator implying that by the time our credit rating agencies announce such plans, the main action is behind us (maybe not, though, in the case of Ireland and its funding issues over bank bailouts of Anglo Irish and Allied Irish).
But when the annals of history record yesterday's price action, the bold face print will fall on the release of the September 2010 Non-Manufacturing ISM data.
the Composite that rose to 53.2 from 51.5 in August,
New Orders that rose to 54.9 from 52.4 and
Employment that rose to 50.2 from 48.2.
Sounds great, and does in fact explain a positive market response. But let's put things into perspective. Have a look at the Composite's history over the past 2 years (Source: ChartFacts.com). Tuesday's euphoria was driven by that small uptick line on the far right.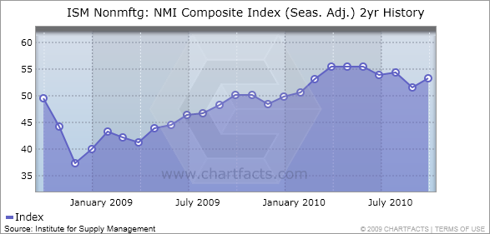 Now consider the other elements in yesterday's report over the same time period (New Orders and Employment). Also, look for the small uptick lines on the far right: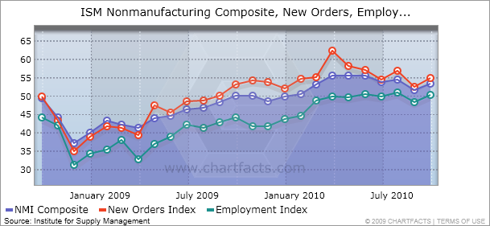 Now, how does the S&P 500 fit into this history?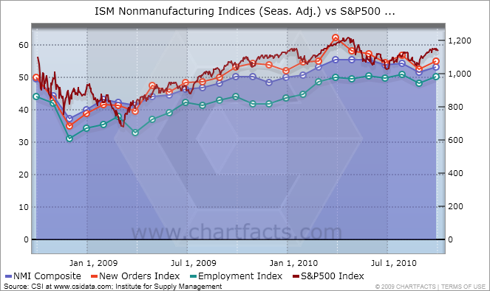 In most of the graph above, it appears that the S&P had already moved in the direction that the data implied when it was subsequently released.
Meaning? It's not so clear why the markets would treat this factoid with the respect of a meaningful forward looking indicator....or based on yesterday's price action....the respect of THE forward looking indicator.
Puzzling.
Furthermore, for those interested in some additional tidbits from the ISM report, note the following taken from the section entitled "What Respondents are Saying":
"General state of the business has not changed in the last three months. The market is still soft for new sales due to financing requirements." (Construction)

"Business seems to be flat from last month." (Finance & Insurance)

"Signs that the economy may be improving, but our sector is still flat or declining." (Professional, Scientific & Technical Services)

"Business activity is generally stable — slightly better than last year." (Accommodation & Food Services)

"Third quarter is looking profitable with improving confidence and expectations in the economy. Capital expenditures are being approved." (Wholesale Trade)
Point made.
Were there other things driving markets higher Tuesday? You couldn't really point to the PMI Services data out in Europe, where other than in the UK, it was lower both in the broader Eurozone and in Germany. Retail sales in the Eurozone also slipped.
So what was it?
You might turn to the Aluminum Association's report of higher shipments in August which put some wind in the sails of resource and metal stocks and stoked the flames of hope for real economic improvement in the US. Metals soared and the USD fell. Some would argue that the causal effect was the other way, meaning, that the USD fell so metals surged. Maybe, but the good news from the AA is generally taken as solid news.
But, the greater wind in the sails of the overall markets might be better found by going back to what we stated at the outset....the BOJ's move overnight. It did seem to take the markets by surprise, despite the view of some (me included) that "political will" continues to manifest itself in order to keep economies humming along. (See: The Market's "Scarlet Pimpernel": Political Will). The hope for a global response to economic weakness was certainly lifted by the BOJ's move. Those who wait anxiously for the FED to launch QE2 also were emboldened and must have raised the likelihood factor of that stimulative event.
Tuesday's robust performance in US equities can't be ignored. Perhaps the markets are recognizing value in equities, especially relative to fixed income securities where yields in many cases are asymptotically approaching zero or at least historic lows.
But with Non Farm Payrolls due out on Friday, unless one expects a dramatic turnaround in the employment picture, and even if one doesn't expect that but is still relatively bullish in the medium and longer term, it just might be advisable in the short term to remember the good 'ol saying: caveat emptor.
Disclaimer: Soos Global Capital Advisors, LLC ("Soos Global") is a New York state registered investment adviser located in Harrison, New York. Soos Global may only transact business in those states in which it is registered, or qualifies for an exemption or exclusion from registration requirements. The publication of Soos Global's opinions on the Internet should not be construed by any consumer and/or prospective client as Soos Global's solicitation to effect, or attempt to effect transactions in securities, or the rendering of personalized investment advice for compensation, over the Internet. Any subsequent, direct communication by Soos Global with a prospective client shall be conducted by a representative that is either registered or qualifies for an exemption or exclusion from registration in the state where the prospective client resides. For information pertaining to the registration status of Soos Global, please contact the state securities regulators for those states in which Soos Global maintains a registration filing. A copy of Soos Global's current written disclosure statement discussing Soos Global's business operations, services, and fees is available from Soos Global upon written request. Soos Global does not make any representations or warranties as to the accuracy, timeliness, suitability, completeness, or relevance of any information prepared by any unaffiliated third party, whether linked to Soos Global's opinions or incorporated herein, and takes no responsibility therefor. All such information is provided solely for convenience purposes only and all users thereof should be guided accordingly. Past performance may not be indicative of future results. Therefore, no current or prospective client should assume that future performance of any specific investment or investment strategy (including the investments and/or investment strategies recommended or undertaken by Soos Global) made reference to directly or indirectly by Soos Global in its opinion, or indirectly via a link to an unaffiliated third party web site, will be profitable or equal the corresponding indicated performance level(s). Different types of investments involve varying degrees of risk, and there can be no assurance that any specific investment will either be suitable or profitable for a client or prospective client's investment portfolio. Historical performance results for investment indices and/or categories generally do not reflect the deduction of transaction and/or custodial charges, the deduction of an investment management fee, nor the impact of taxes, the incurrence of which would have the effect of decreasing historical performance results. Please remember that different types of investments involve varying degrees of risk, and there can be no assurance that the future performance of any specific investment or investment strategy (including those undertaken or recommended by Soos Global), will be profitable or equal any historical performance level(s).
Disclosure: Long AA and other metal stocks. Long many stocks within SPX. Long ETFs in Europe and Asia ex-Japan. Long EWG, FXI, EWA, EWC, BRXX, EWZ.