Quepasa.com, owned and operated by Quepasa Corp (QPSA.OB), is the second fastest growing social network in Latin American, third fastest in the world. Interestingly enough Quepasa.com is the only publicly traded social network. Quepasa.com eclipsed the 20 million member mark, adding 2 million new members in the month of September. With Facebook being valued at $50-60 per member and lesser known social networks valued between $20-30 per member (based off of venture capital funding and M&A activity), there is a growing valuation gap between the shares of QPSA and its private peer group. Social network valuations can be made up of a myriad of things including:
1. Growth Rate
2. Overall size of membership base
3. Retention, Unique views, eyeballs, time on site
4. Profitability-Monetization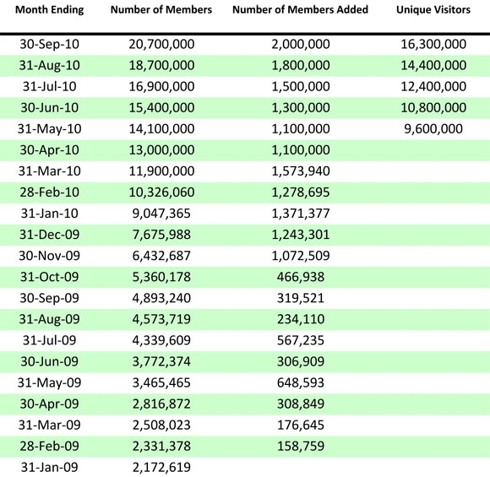 Quepasa.com has grown from 7.7 million members at year end 2009, to 20.7 million members just 9 months later. An important industry metric is the 20 million member mark, which QPSA just passed in September. Unique views have been increasing as the network grows in size. For a comparable, MySpace.com is supposedly growing at 100,000 new members a day and has ~100-115 million members. MySpace had 95 million unique views for the month of September. Quepasa.com averaged 66,000 new members a day in September, has 20.7 million total members, with just over 16 million unique visitors for the month. So Quepasa's growth rate as compared to their membership base is much better. Much of this new growth most recently is coming from Brazil with 534,000 new members coming from Brazil in September. Brazil is important because they dominate the social networking scene in Latin/South America. 86% of internet users in Brazil regularly visit social networks. Even the behemoth Facebook only has ~5 million Brazil members and added 800k for the month, while Quepasa.com with a smaller base (1.4 million) added over 500k Brazilians. My point being Quepasa.com is growing very quickly given it overall membership base and has a retention rate on par with most other networks.
Profitability has always been more easily said than done in social networking. The proposition is simple, if you can just get $1-2 per member per year a social network is enormously profitable. The fact of the matter is that most social networks aren't profitable. Quepasa.com started producing revenues in Q1 2010 and expects to be cash flow positive by Q4 2010. QPSA is rolling out several other monetization hooks throughout the remainder of 2010:
1. Distributed Social Media (DSM) Advertising: Quepasa's Distributed Social Media Platform is a viral advertising and contest platform which allows advertisers to have Quepasa's members spread their brand message throughout the Web, creating word-of-mouth marketing. The plan is for Quepasa to maintain a contest platform, hosted on quepasa.com, which awards prizes for users who create campaigns and share the advertiser's message across quepasa.com and other social networking sites such as Twitter and Facebook. The company has signed up $7.4 Million in DSM contracts since January and expects DSM alone to keep the company at cash flow positive levels. The company is looking to grow the DSM business through reseller agreements with large advertising companies in Latin/South America. I think this side of the business could double in size over the next 12 months.
2. Social Games: Quepasa.com launched social games in Q2 2010 and expects to launch more social game titles over the next several quarters. Social games on average will have an ARPU of $1-2 per active user per month. This is how Facebook is making money via Zynga.
3. Skill Based Games: Quepasa believes it will be the first social network to offer skill based games to its membership base. Online skill-based games are online games in which the outcome of the game is determined by the player's physical skill or mental skill. These games have ARPU's 5-10x more than normal social games. Quepasa expects to roll out skill based games starting in Q4 2010.
4. Online Dating: Quepasa's partnership with Zoosk is a rev share for anyone joining Zoosk via Quepasa.com.
Quepasa.com is adding the equivalent of Houston Texas each month to its membership base. The mind begins to wonder how profitable QPSA can become given this growth rate and legion of members. Time will tell us what that answer is but the funny thing about social networks is, profitability is only one metric of how to value a social network. Let's play with some numbers that we do have control over. As I stated in the beginning of this write-up, Facebook currently has a $50-60 per member valuation ($30-35 billion). M&A and venture capital funding in the space put values on less known social networks between $20-30 per member. Quepasa.com is currently being valued at $6.60 per member. Given its growth rate which is better than its peer group, I would guess that the stock deserves to be trading closer to $12-15 per member today. As Quepasa.com grows its membership from 20 million -30 million – 40 million -50 million over the next 12 months, the valuation should be closer to $20+ per member. I would also argue that whenever QPSA does hit the inflection point of profitability this likely raises valuations closer to the higher end of the peer group average (~$30+ per member). I created this valuation matrix (below) to illustrate stock performance based on value per member and overall membership base. These figures I represent may seem silly and farfetched but they really aren't when you think about it. If QPSA can average 1.75m new members per month over the next 15 months, Quepasa.com will have 47 million members by YE 2011. Peers that aren't' growing as fast and that are smaller are at $20 per member valuations, so where will QPSA be?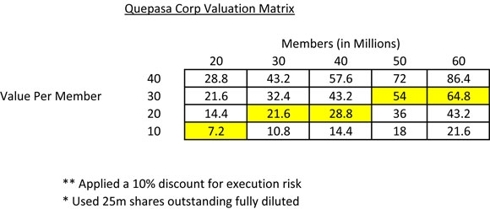 Venture capital, hedge funds, and tech investors can keep throwing money at Facebook at $60 per member or they can dip their toe in the water on an up and comer like Quepasa.com at $6.60 per member. Not to mention whenever Facebook does go public it will bring massive awareness to QPSA, thus most likely propelling its valuation up to $20 per member by default. I don't know where QPSA shares will be in a year, but I'm pretty sure it will be much higher.
Disclosure: Long QPSA