Which was is GBP/USD (NYSEARCA:FXB) going? Are Bank of England rates going up "sooner than markets currently expect" or is it that "increase in rates is likely to be limited and the process is likely to be gradual"? According to Carney, both.
Way back in August 2013, Carney said the Bank of England would not even consider increases until unemployment went below 7 percent - something he expected in 2016. Well that line has been crossed already.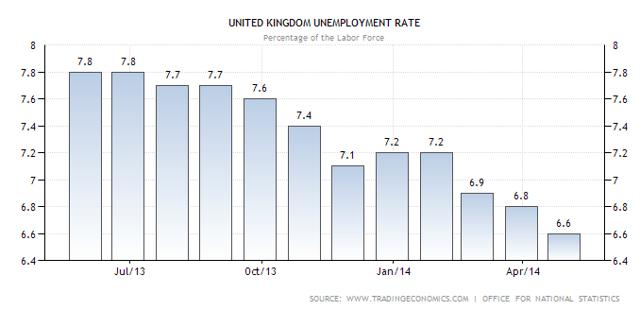 Combine that with the big April inflation number and we have all the data needed to signal impending rate hikes: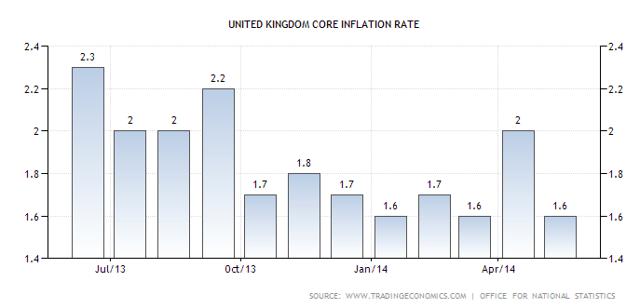 So on June 12, Carney was explicitly telling markets that the data say rates will increase sooner than he'd implied last year. This was meant as a wake up call to look back at the data again.
Then Carney seemed to reverse himself before parliament. The message became 'slow and gradual' again. It appears that he was looking further at the data himself. The big item is wages, which have been nearly flat for two years. It's very hard to get much inflation when no one has more money to spend. And while unemployment is down this year, long term unemployment is essentially unchanged from peak levels. This in particular leads to his testimony about significant 'slack'. In addition to the availability of short-term unemployed labor, there is another full percentage point of labor which could be absorbed in a growth cycle.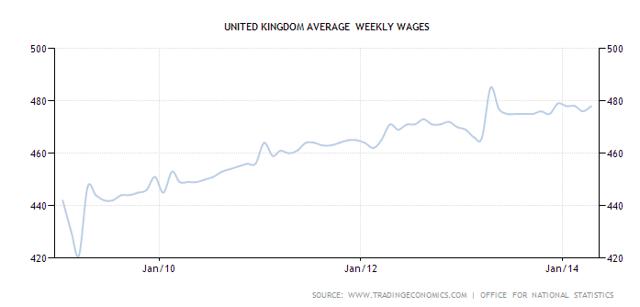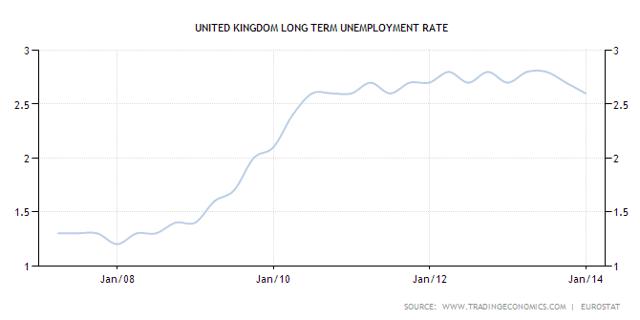 It appears that Carney realized England has the same issues that Chair Yellen discussed at the last Fed conference - namely that the headline unemployment figure is not as telling as it is during "normal" times. The weakness in long term unemployment, wages, part-time workers and so on mean that considerable hiring growth is possible without strong inflation pressures.
Another way to explain the whipsaw guidance is as a case of 'change your expectations' followed by 'I didn't mean by that much':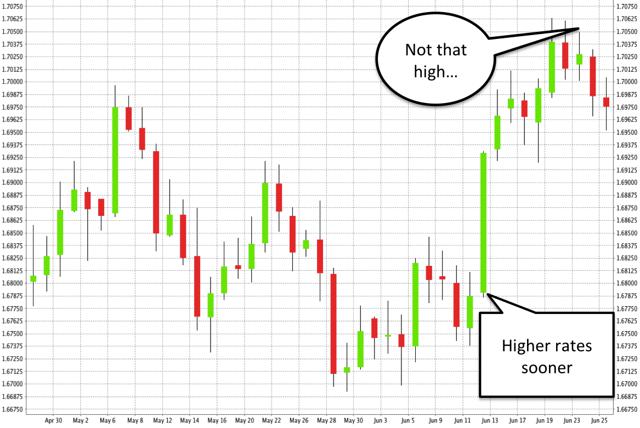 The Bank of England has another problem: housing price inflation is huge. How does a country control housing prices without raising investment costs and inducing deflation elsewhere? Sweden has decided to go with the blunt interest rate tool, leaving many economists shaking their heads in disbelief. However, England's economy is more fragile now and cannot afford the risk of killing off a recovery. Korea, Hong Kong, and recently Singapore have used "macroprudential tools" to limit housing prices, generally loan-to-value and limits on total debt. The Monetary Authority of Singapore has used LTV limits and limits on total debt service levels. After many rounds of measures, it was these debt limits that finally stopped the housing inflation in Singapore.
What does all this mean for British policy and GBP/USD? I expect loan limits in the very near term which will have very little impact on forex rates but are likely to weaken the outlook for British real estate. In the near term - 3 to 6 months - the Bank of England will keep rates the same and will keep an eye on wages and inflation. I expect continued signals that rate increases will start towards the end of the year. This is almost certain to happen faster than Fed rate increases and will make the pound stronger against the dollar (NYSEARCA:UDN).
I also like the EUR/GBP pair. The ECB will need to keep fighting for more inflation not in spite of Germany's stance, but because of it. This will hold EUR rates down lower, longer and with more 'extraordinary measures' than the pound. The only question is how much this view has already been priced in.
Disclosure: The author has no positions in any stocks mentioned, and no plans to initiate any positions within the next 72 hours. The author wrote this article themselves, and it expresses their own opinions. The author is not receiving compensation for it (other than from Seeking Alpha). The author has no business relationship with any company whose stock is mentioned in this article.
Additional disclosure: I am short GBP/SGD as part of my SGD currency strategy. I may enter a long GBP position at any time.