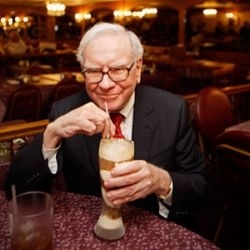 It is safe to say that when Warren Buffett talks people listen. And investment legend Warren Buffett said on Tuesday that buying bonds at this juncture may not be such a good idea. The Oracle of Omaha was quoted as saying Tuesday, "They're making a mistake, the ones that are buying bonds."
At the Fortune Most Powerful Women Conference in Washington, Buffett said:
It's quite clear that stocks are cheaper than bonds. I can't imagine anybody having bonds in their portfolio when they can own equities, a diversified group of equities. But people do because they… lack confidence. But that's what makes for the attractive prices. If they had their confidence back, they wouldn't be selling at these prices. And believe me, it will come back over time.
If you listen closely to the investment community, you will hear that Buffett isn't the only one suggesting that buying bonds isn't exactly a sound strategy right now. Treasury-bond bull and investment giant Goldman Sachs announced last Thursday that Treasury prices have reached their peak. Goldman's London chief interest-rate strategist, Francesco Garzarelli, said that, in his opinion, the 10-year note's yield has finally bottomed out around the 2.45% - 2.50% range.
Next, Pimco's Steve Rodosky concurs that bonds aren't the place to be, telling Dow Jones on Tuesday that "the best day in Treasury's is probably behind us."
And finally, respected institutional research firm Ned Davis Research was out with a note Tuesday saying that bond yields are clearly overvalued. NDR calculates that "fair value" on the 10-year currently at around 3.6%, making the current yield of 2.47% about 93% too low.
Yet the public (and the hedge fund community) continue their love affair with the bond market. In short, the public continues to pull money out of stock funds (Investment Company Institute counts sixteen straight months of net withdrawals in equity funds) in favor of buying bond funds. Bond fund inflows remain so strong that managers can't invest all the money – which is part of the reason bond yields have continued to fall.
However, what most investors don't understand is that unlike a bond, which has little risk other than of default if held to maturity, bond funds can lose value if (and when) bond yields rise. What could cause such an event? For starters, an improvement in the economy would most definitely cause yields to move northward. And then, perhaps more importantly, once the Fed decides to back away from their quantitative easing, the big buyers of bonds could very quickly disappear.
Therefore, investors buying bond funds in their portfolios and in their 401(k)'s could be in for a very rude awakening once the economy picks up because, unlike the hedge fund managers "playing" the bond market for a trade, the average investor isn't going to know when to exit their bond funds.
Listening to Goldman Sachs, one could argue that the time to bail on those bond funds is close at hand. With yields on the 10-year currently below 2.5%, this year's peak of 4.017% in April seems like a distant memory. Thus, it is easy to see that yields have fallen a long way (meaning that prices have risen a great deal).
Recall that investors worried over the US economic outlook and eurozone debt crisis fled to Treasuries in droves during the summer, driving prices to what some analysts call bubble-worthy levels, and yields down near 2008 financial crisis levels.
In recent weeks, anticipation and/or speculation that the Fed will engage in another round of quantitative easing has pushed bond prices higher (yields lower) with the 10-year note falling to a yield 2.474% on Tuesday.
Economic intuition would seem to suggest that the Fed purchasing more treasuries – Goldman estimates that the Fed will purchase roughly $1 trillion in assets in the months to come – would drive yields lower still. This is a large part of the argument for the present yield being nowhere near a bottom. However, Garzarelli argues that a lot of the quantitative easing measures and expectations have already been priced into the Treasury market.
It is important to recognize that Treasury Bonds are currently a big "momentum trade" amongst the hedge fund community. Whereas hedge funds only accounted for something on the order of 5% of the Treasury market as little as two years ago, we've now seen reports showing the Hedgies now responsible for 26% of the US Treasury market.
So, ask yourself a few questions. What happens to Treasury prices when the hedgies start to sell? What happens to bond prices when the Fed steps away? And what happens to those bond funds when the economy recovers and inflation crops back up? The answer to all of these question is easy – nothing good.
The Fed's second helping of quantitative easing will also likely restore some investor confidence toward riskier assets, as it has become generally accepted that the Fed is not ready to give up the fight, and will do everything in its power to make sure the US economy doesn't take a second turn for the worse.
Many analysts also argue that QE 2 and the Administration's current spending spree will be inflationary. While the QE2 effort is likely to spur some inflation, Goldman's Garzarelli notes that the more important implication is that investors can push the risk of deflation off to the side for the time being - a good thing for the economy but not so hot for bond prices.
Garzarelli expects the 10-year note's yield will trade around 2.5% for the rest of 2010, and rise to a range of 2.75% - 3% in 2011, as demand for riskier assets causes investors to move away from bonds.
Continuing to look ahead, Garzarelli, like Buffett, thinks that stocks are the way to go. "Equity offers a much better return opportunity than bonds going forward," he said. Just this past September, the Dow Jones Industrial Average pumped out a return of roughly 8%, while Treasuries broke even and 10+ year bonds posted losses.
So, if you own bond funds it might be time to start looking for the exits. Remember, trees (even trees that get government assistance) don't grow to the sky. But if you insist on sticking around, a move above 2.82% on the 10-year may bring in some selling from the institutions, and might make a nice stop.
Disclosure: No positions