Prospect Capital (NASDAQ:PSEC) sure has had an active Q2 2014. The stock has faced several major hurdles and hassles, adding unusual amounts of volatility to this typically stable income-oriented stock. However, through it all, Prospect has remained strong, paying its robust 11 cent monthly dividend, good for a yield of close to 13%.
A recap of Prospect's wild quarter
In early May, Prospect faced an SEC request for it to consolidate its holding companies, sending shares sharply lower due to fears of a dividend cut and/or restatement of prior results. Indeed, shares of Prospect even experienced a flash crash, trading as low as $9.17 during a 35-minute window on May 13. However, this issue has been largely resolved in Prospect's favor.
Earlier this month (June 13), Prospect suffered a minor setback, when its proposal to buy out Nicholas Financial (NASDAQ:NICK) failed. However, this event was much more of a negative for NICK compared to Prospect, with shares of that company down nearly 10%.
To be frank, the failure of the purchase was likely a result of market timing, with NICK still trying to sell itself, even alluding to Prospect as a potential candidate.
Finally, on June 16, news broke that New Century Transportation, a Prospect portfolio company, had filed for Chapter 7 bankruptcy. Shares of Prospect fell as much as 3% on the news, before largely recovering over the next few days.
The loan's fair value as of last quarter was $35.9 million, representing a 0.59% loss, based on Prospect's $6.00 billion portfolio; and a $0.105, or 1%, loss on the March 2014 NAV of $10.68 per share.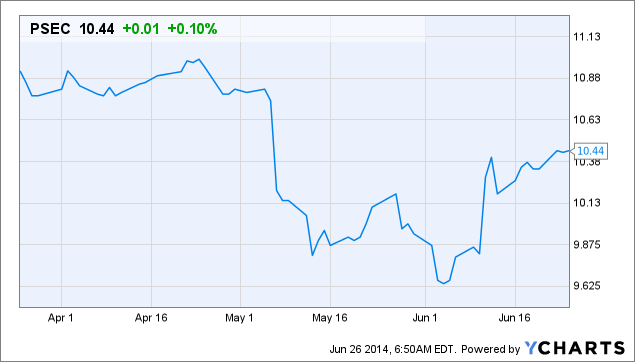 PSEC data by YCharts
Law firms dismiss complaints against Prospect
On June 25, Prospect announced the following:
Prospect Capital Corporation ("Prospect") today announced that all putative securities class action complaints against Prospect, John F. Barry III and Brian H. Oswald relating to Prospect's historical accounting have been voluntarily dismissed.
As many may be aware of, several class actions lawsuits were filed against Prospect in response to concerns regarding the SEC and the possible restatement of prior-period financial results. The company disagreed with the finding, and was planning an appeal.
Make no mistake, a restatement was likely to have impacted Prospect greatly, though the company maintained that its dividend-paying capacity would not be affected.
However, based on discussions it had with the SEC, Prospect will not be required to restate its prior-period financial statements, and instead, will make some changes to its accounting via the adoption of FASB accounting standard ASU 2013-08.
As the possible restatement was the main issue raised by the lawsuits, they have subsequently been voluntarily dismissed without prejudice.
While hardly surprising, this news should be considered a positive event for Prospect.
Selling pressure from ETFs should decline after reconstitution
Over the past few months, ETFs have been major sellers of BDCs, including Prospect. The main issue here is expenses.
Under a 1940 SEC rule, "Acquired fund fees and expenses", ETFs are required to add the cost structure of BDCs to their own, inflating the reported expense ratios.
Vanguard explains this rule as follows:
"Acquired Fund Fees and Expenses" are expenses incurred indirectly by the Fund through its ownership of shares in other investment companies, such as business development companies. These expenses are similar to the expenses paid by any operating company held by the Fund. They are not direct costs paid by Fund shareholders and are not used to calculate the Fund's net asset value. They have no impact on the costs associated with fund operations. Acquired Fund Fees and Expenses are not included in the Fund's financial statements, which provide a clearer picture of a fund's actual operating costs."
As a result, the Russell has announced plans to remove BDCs from their index membership with the June 2014 reconstitution. This reconstitution will occur on June 27, and will affect most of the Russell-linked ETFs. This move was also repeated earlier in the year by the S&P Dow Jones.
Conclusion
Each recent decline in Prospect's share price has turned out to be a buying opportunity. It is easy to see why, too, with the stock offering a compelling 13% yield, "locked in" through the end of the year.
In addition, I expect the broader BDC sector, including Prospect, to rebound now that the Russell reconstitution is upon us. These ETFs own up to 8% of some BDCs' shares outstanding, adding much increased selling pressure, which will now no longer be a factor.
Disclaimer: The opinions in this article are for informational purposes only and should not be construed as a recommendation to buy or sell the stocks mentioned. Please do your own due diligence before making any investment decision.
Disclosure: The author is long PSEC. The author wrote this article themselves, and it expresses their own opinions. The author is not receiving compensation for it (other than from Seeking Alpha). The author has no business relationship with any company whose stock is mentioned in this article.