Founded in 2004, Bohai Pharmaceuticals Group (OTC:BOPH) is a manufacturer of traditional medicines in China. Bohai fits with the modern, growing China - a more affluent middle class, while maintaining deep roots in a medical tradition lasting 2000 years. Bohai medicines are sold in over 6000 Chinese hospitals and clinics, along with 1500 drug stores. Their products address common health problems such as rheumatoid arthritis, viral infections, gynecological diseases, cardiovascular problems and respiratory diseases.
Since listing in the US in 2010, Bohai shares fell pretty much into an abyss. The Company has recently committed to a re-emergence in the U.S. and other world markets. This effort is just beginning.
We believe the shares are undervalued compared to any benchmark.
The 3-year bear market in Chinese stocks may be about over with the upcoming Alibaba IPO (ABABA).

In this report we will present additional evidence as to the quality and character of Bohai and why we believe a Company with proprietary, patented products in the world's fastest growing pharmaceutical market deserves a valuation of a least 9X earnings (and even considering the "China discount") which equates to a price of $11 per share, a potential 700% increase.
Our argument as to why investors should put Bohai high on their radar, therefore, is that unlike most stocks, where investors assume risk that the anticipated growth will materialize, with Bohai, both earnings and growth are already here.
Trading at nearly 1X earnings, the "risk" is simply that the Company actually exists.
It does.
Bohai has patented, proprietary products: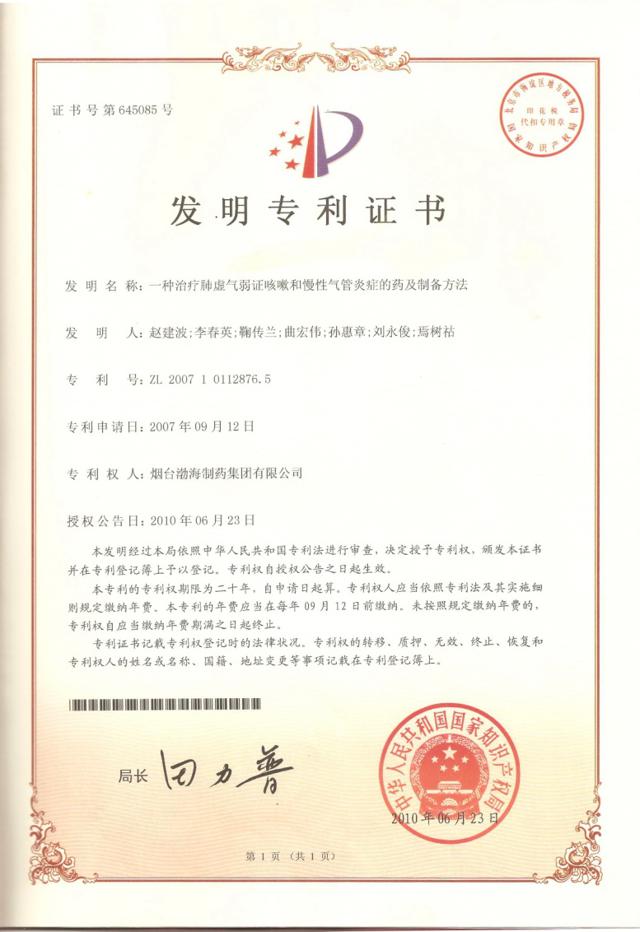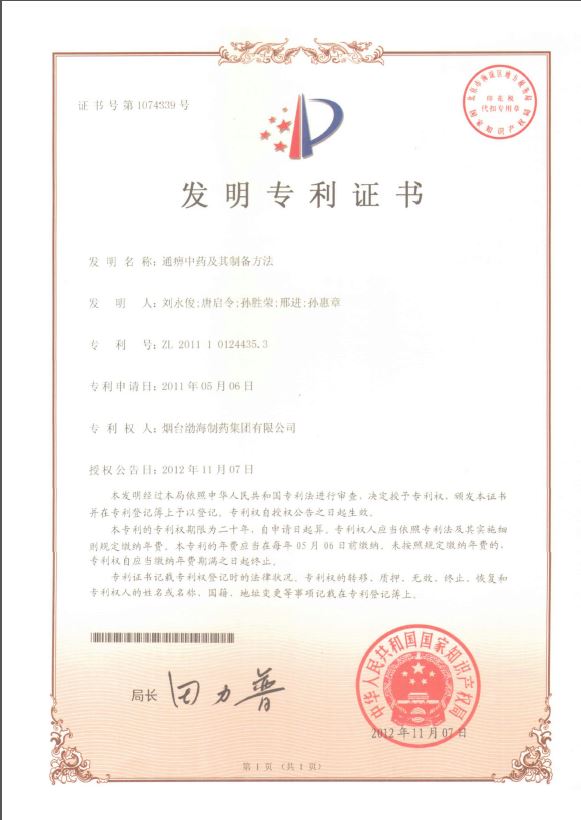 Copies of official Chinese government patents (source: Bohai)
Of course, this is in Chinese - we are putting forward the information as it exists. We have our own translation sources (and the greater Fincom Investment Partners family does have a native Chinese speaker who is also U.S. CPA certified).
This following link is for SDA, The China Food and Drug Administration, where one can see the products listed, with the relevant screen shots below: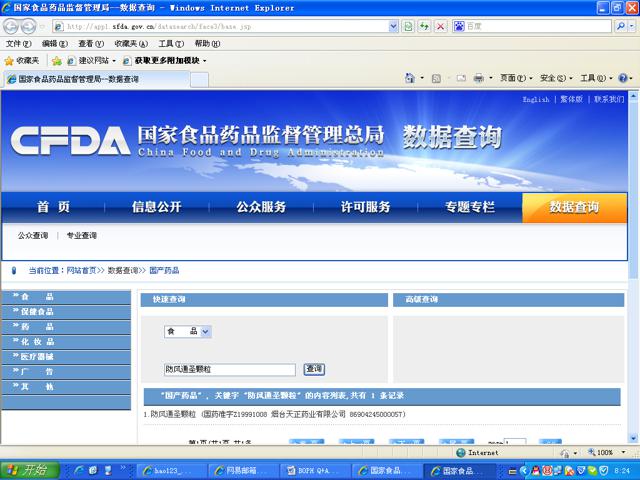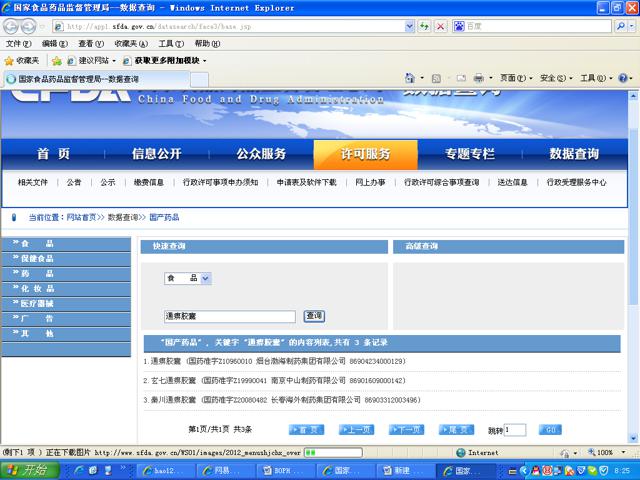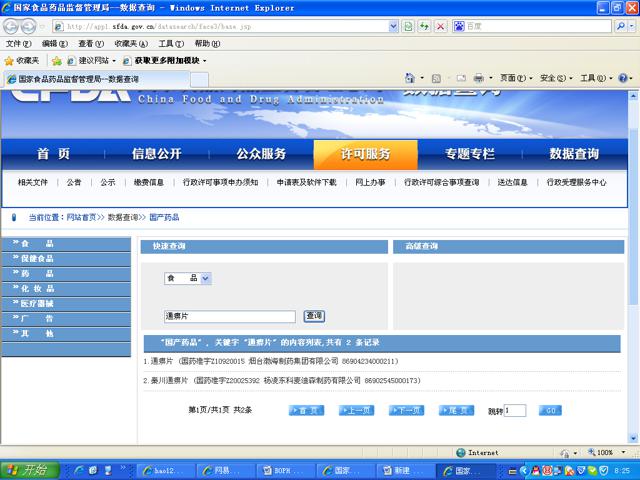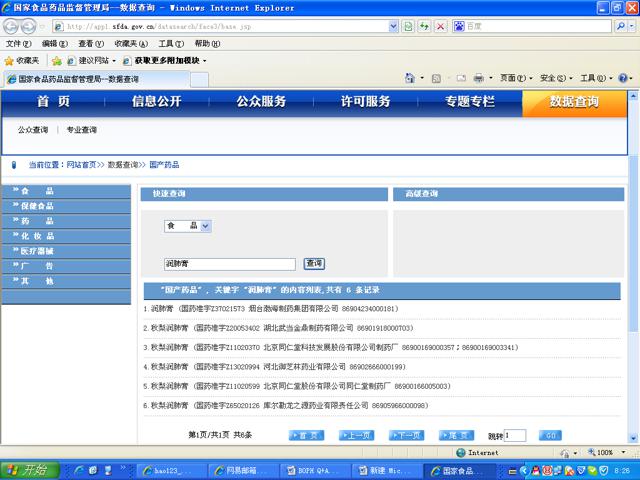 Sources: sfda.gov.ca
Don't forget: TCM Pharma in China is hot, growing and a defensive market
Most of Big Pharma now have partnerships for research and development in the Eastern traditions known as TCM (traditional Chinese medicine) - even Coca-Cola (KO) is growing their Asian market sales with an array of herbal beverages containing Bai He, Ji Gua Cao, Xia Ku Cao, Bai Mu Er, Xi Yang Shen, and Hong Zao (source: healthcmi.com)
Nestle has two botanical drugs in the pipeline with Hutchison Chi-Med (OTC:HNCMF). Hong-Kong based Hutchison, which trades at 122X 2013 earnings, also has additional oncology and inflammation (which were TCM in origin) drug partnerships with Lilly, AstraZeneca and Janssen (J&J).

Giants like Pfizer have not altogether missed this market. According to Dr Chong Chew Lan, medical director at Pfizer's clinical research unit in Singapore, "There is a growing middle class who can afford these medications." "My grandparents would prefer to use traditional Chinese medicine, but with my own parents, I have seen that change," she adds. "Now, they are more likely to use a combination of both. They go for Western medicine for a quick relief, while they use traditional Chinese medicine for an improvement of general health." (Source)
Consulting titan McKinsey & Company notes: "China's health-care sector continues to develop at an astonishing rate: spending is projected to grow from $357 billion in 2011 to $1 trillion in 2020." "China remains among the world's most attractive markets, and by far the fastest-growing of all the large emerging ones. It is not surprising that multinationals are flocking to take advantage of the opportunities." (Source)
McKinsey also notes "Twelve of the top 15 multinational pharma companies derive more than half of their sales in China from drugs on the current National Reimbursement Drug List". We wish investors note that Bohai has 11 medicines on this same list!
Recent merger activity illustrates Bohai's low valuation
In February 2014, Bayer (OTCPK:BAYZF) said it would buy privately held Dihon Pharmaceutical Group, a maker of traditional herbal Chinese medicines. With 2013 sales of $168 mm, Dihon is very similar in size to Bohai and (as reported by Reuters, Feb. 27th) was purchased for $680 million, or 4X sales.
Dihon's products include dandruff treatments, antifungal creams and medicine against gynecological conditions, thus roughly similar with Bohai's TCM in both products and revenues. We note the reported purchase price was over 4X sales, while a mere 1X Bohai's sales equates to a fully diluted share price of $7.23.
Bayer's entry into the TCM business has been intentional: Dr. Marijn Dekkers, CEO of Bayer AG, said, "This acquisition moves us into a leading position amongst multinationals in the OTC industry in China."
From Dr. Olivier Brandicourt, CEO of Bayer HealthCare, "Equally important is the foothold we will gain in TCM (traditional Chinese medicine) which makes up about half of the OTC segment in China and is a well-accepted and sought after line of natural science-based alternative therapies for consumers looking for trusted solutions for their healthcare needs."
Additionally, in November 2013, Hunan Hansen Pharmaceutical bought an 80 percent stake in Yunnan Yongzitang Pharmaceutical for $44.8 million. Yunnan specializes in TCM - and earned around $2 mm in 2013 (source: biospectrumasia) so this equates to a valuation of over 20X earnings.
Another Chinese healthcare provider, and also U.S. listed, Chindex (CHDX) just went private (announced April 2014) for a $461 mm valuation. In 2013, Chindex lost $6 mm on sales of $179 mm, so even ignoring the lack of earnings, Chindex sold for 2.5X sales - a valuation metric that values Bohai at $19 per share.
So why on Earth is Bohai selling at 1X earnings when Pharma trades at 14X ????
As investors are well aware, in 2011 several Chinese Companies were exposed as having misled investors, and some were delisted - sort of like Bernie Madoff, or Enron, although the China problems were mere "child's play" compared to those "pros".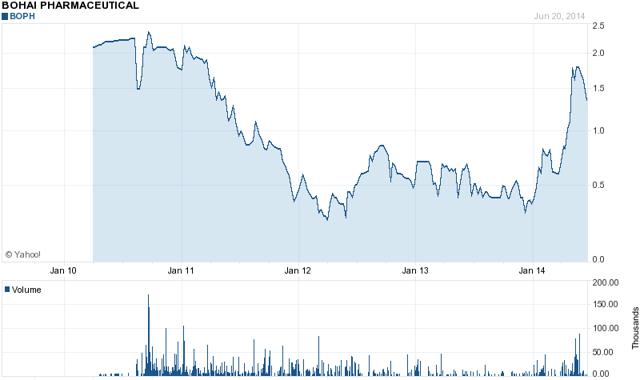 Source: Yahoo
Nevertheless, most Chinese stocks cratered in 2011, Bohai among them. Since then Bohai shares have languished and have just begun to "wake up" (please recall that since 2010 Bohai's sales and earnings are up nearly 200%).
It is an unfortunate situation when a few bad apples impact an entire country so deeply. Certainly China has not stopped growing, and areas like pharma and e-commerce are inarguably "red-hot" - we note the upcoming Alibaba IPO will be among the largest in history, if not the largest - not bad for a two bit 3rd world country.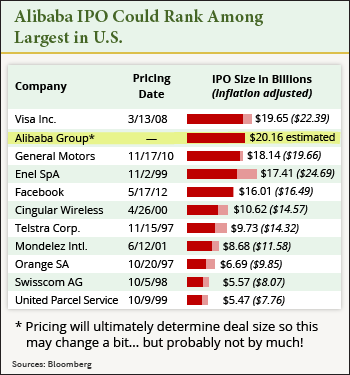 What China crash? (Source: Bloomberg)
Down to the "nitty gritty"
We all know that Chinese stocks have been beaten up over the past three years, but audit practices have since been tightened. Either way, China is still alive and kickin'. Just like Enron and MCI scandals of the late 1990s led to Sarbanes-Oxley reforms in 2002, and Bre-X led to the NI 43-101 as a new level of compliance for Canadian mining stocks, changes have been made and life moves on. The vast majority of all Companies worldwide are honest in their dealings, yet everyone has to suffer with the new, frequently onerous regulations. That is the way it goes.
A similar case is happening in China.
In Bohai's case, however, a bit a bad luck on the timing has helped create the current situation (or interesting opportunity, depending how you look at it).
In 2010, Bohai listed their shares in the U.S. as part of a $12 million convertible debenture, which was sold to U.S. investors. This was a 2-year note, issued at $2 principle, along with a 3-year warrant at $2.40 per share (the warrants have since expired).
Everything went fine, Bohai paid back interest on the debt and the convertible shares were allowed to be converted (under rule 144) and thus the underlying shares could be subsequently freely traded in the U.S. markets. In fact, $1.55 million of the notes were converted into common shares.
Then... several China stocks crashed in 2011, taking down the market. Although Bohai has never been accused by any government agency of any wrong doing, the shares plunged and all the shareholders were also 'punished'.
The 8-K summary is here.
We wish to again point out that the convertible notes could have been freely converted into common shares after the 2010 listing, and some investors did. Bohai met its obligations, and at this moment all Bohai note holders have a free choice to convert their shares into common stock.
The Bohai notes are freely convertible into common shares and eligible for sale under rule 144. Any inference that no possible exit exists is simply not true.
Frankly, we are surprised at the noise surrounding this issue. We have seen plenty of these convertibles issued from both public and non-public Companies over the past 30 years, and they always involve exit risk.
Usually, Companies issue these types of short term (2-year) notes as part of a "pre-IPO" offering (in our experience) and in this case, Bohai and the I. Bankers, delivered, the shares are public.
It was only after other Chinese stock problems took down the market in 2011 that problems arose.
Any sour grapes only come from those 2-year note holders who chose not to exercise their rights, even when the shares were trading at a profit. In other words, the Bohai note holders had a fair opportunity to sell at a premium, which security lawyers tell us is an established legal precedent.
We have about the same level of sympathy for those who chose not to convert as we do with internet stock investors of the late 1990s - markets change - only with Bohai, investors will get a second chance.
This is important:
When the Chinese stock scandals broke out in 2011, suddenly everybody, including the SEC, began paying microscopic attention to the all publicly-listed shares, and market changes occurred.
First, all investors know the Chinese Renminbi is not a freely-convertible currency. There are some exceptions, but restrictions are tight. Individuals, for example, are only allowed to take out $50,000 per year.
Yes, we do think a 2-year note was not the best structure in the first place - usually convertible notes are for a 5-year duration - with which we believe investors will agree, especially for a foreign issuer - which also means none of these issues would have yet occurred. So be it.
So here is what they did:
Starting in 2011, and with the SEC and everybody else looking at Chinese companies with new vigor, what had been a 'winked' at practice suddenly became a problem. That is, the "off the record" shifting of funds abroad, thus making the full and timely repayment of the 2-year note impossible. This led to a note restructuring, and several subsequent, as both the Company and its note representatives have tried to find a solution.
Frankly, we doubt any big time Wall Street banks would have made the effort (in our experience, they just walk away and move on to the next deal) - but in 2012, and with several adjustments since, Bohai and Banker Euro Pacific set up an escrow account for the remaining $7.6 million at Yantai Rural Commercial Bank Co., Ltd. Address: No. 27 Yinhai Road, Laishan District, Yantai City, Shandong Province, China.
Thus in summary, Bohai has paid down $2.83 mm on principal so far (out of the $10.45 mm that was not converted) PLUS interest of $1.45mm since Jan 2012 (original maturity date) for a sum total of $4.28 million, in addition to prior interest up to the original maturity date of Jan 2012 as well.
Below is the official receipt from the bank for the escrowed funds, which are 47,700,000 CNY: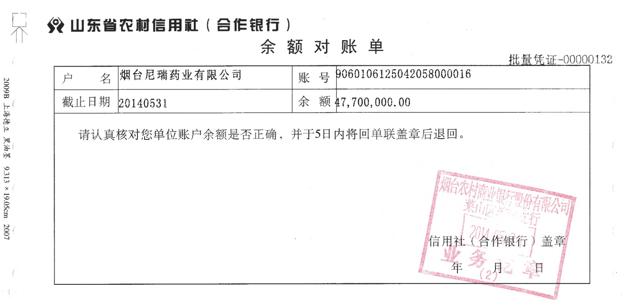 Source: Company
We really, really, really, really do not want to hear from anybody claiming this 47 million Yuan number and account are made up. This has been audited by Marcum Bernstein & Pinchuk LLP, a well-respected auditor who specializes in small to mid cap stocks.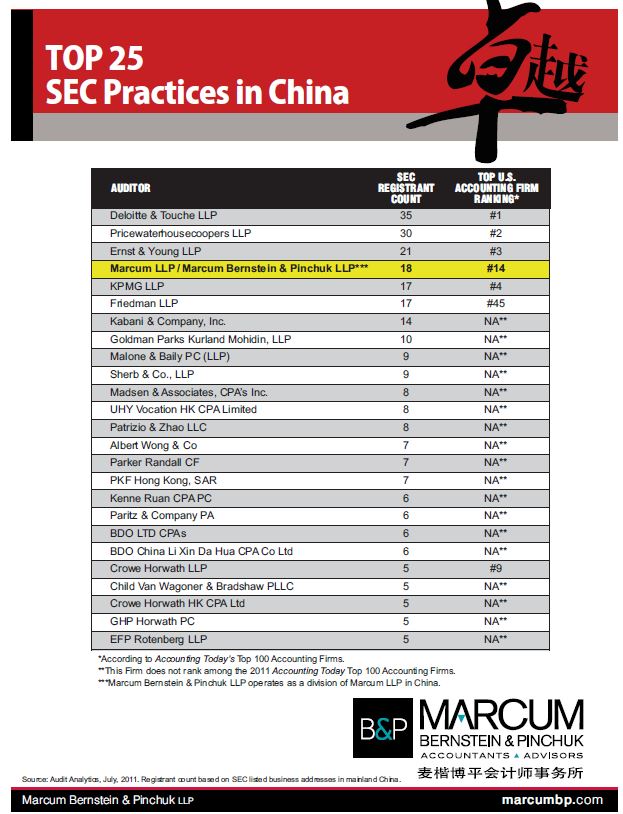 The Bohai conundrum
While we are certain there are ways to get debt money out of China, as experienced investors we also know that the costs of hiring high-priced lawyers and operating in the "shadow banking" world is not cheap. One way it is done (which we have heard about, but only anecdotally) is to buy copper and place it as loan security in some convoluted manner where the ultimate "lender" gets the cash from a sale, or something such; but we also understand these "loans" cost up to 20%.
In fact, the legal and "shadow banking" costs would probably eat significantly into the $7.6 million - this would not matter for a larger Company, but it does for Bohai and its shareholders since 1) we would expect the note holders to squawk about their principle eroded due to transaction costs, but also 2) if the majority of Bohai shareholders, who are not note holders (like us) were to be "stuck" with a large bill, that would eat into the bottom line, i.e. our net earnings.
We are also certain investors are aware that the Chinese government has been handily cracking down on corruption and the SEC also has a right to de-list any Company they believe is breaking the law, hence the conundrum, and why Bohai acted in a fair and reasonable manner in placing the note balance in an escrow account, when conditions changed.
The Official reply
We asked Bohai to reply to this matter. We think it is fair that investors "hear" their side (as follows) and we are somewhat miffed that some "experts", who probably have never even visited China, and certainly are not familiar with the vast myriad of various, ever-changing regulations, in both the U.S. and China, seem to pass swift judgment (please note the source and translation in the following quote comes directly from Bohai, via e-mail, and we have not edited it):
"The fund of Convertible note came into China by form of registered capital. According to "Regulations on the Foreign Exchange System of the People's Republic of China" term 22 (see this govt site link) the registered capital can go out of China unless the company goes into Liquidation. Thus, if Bohai wants to do this in a legal way and get the RMB converted into USD and wire the fund out of China, then we need to liquidate the WOFE which will affect our VIE structure, this is not a possible option for Bohai. If Bohai does this in an illegal way, according to the regulation chapter 7, Bohai will be charged for breach of law and will be fined."
We can only imagine how the hard-working people at Bohai must feel seeing their sales and earnings take off while their good name, and life savings in their shares, gets dragged into the mud due to circumstances beyond their control.
Bohai is not General Motors (NYSE:GM) and this was its first ever foray into the capital markets. They have not walked away from their obligations and are actively seeking to move forward.
There is a way to make everybody happy
What perked our interest into Bohai, besides the great earnings, rapid growth and favorable business segment, is that in the April 21, 2014 8-K, there is mention of an additional Financing, and also a forced conversion for the note holders at $2, under certain conditions.
In our opinion, a plan is underway (which will take a number of months to play out) where the note holders will be "taken out" in some sort of secondary placement.
The reasons why we think this is optimal:
Even at $3, a full NASDAQ-listed Bohai is still trades only at a PE of 2.4 - there are so many institutional small cap funds looking for growth and value in today's market, we believe the appetite for any available shares will be enormous. The "problem" Bohai faces is that they simply do not need money and really do not wish to sell additional shares at such a low price (can you blame them?) Fully converted, the share count for Bohai is only 22 million shares!
Therefore, all this note noise turns into a plus since most funds want a fair size of shares, and the low volume has been the biggest struggle to get institutions involved.
So why should you care?
The only reason we have taken our precious time to spell out the situation at Bohai is because we believe the Company is for real, and now moving forward, thus making Bohai's shares the "cheapest" we have ever seen.
Bohai is hiring an exec in the U.S., planning a new website and more visible presence in the investment community. The Company has stated their intention to list on a U.S. exchange, which is important to attract more investors.
At that point, we believe Bohai's shares will hit every value screening program on planet earth. The sales, earnings, margins, market sector, tangible book value ($5.60 per share) - in fact just about everything - is about as "under-valued" as you will ever find.
The numbers do sing:
On April 14th, Bohai released its 8-K guiding for 3rd quarter revenues of $35 million and net earnings of $3.2 million - note the 2014 fiscal year ends on June 30th.
Furthermore, Bohai intends to increase its hospital distribution by 4000 over the next 3 years, which would expand sales and earnings significantly, making this both a Deep Value AND growth story.
Income Statement (June 30; in millions)
| | | | | | | |
| --- | --- | --- | --- | --- | --- | --- |
| | 2010 | 2011 | 2012 | 2013 | 2014E | 2015E |
| Revenue | 59 | 81 | 137 | 151 | 170 | 220 |
| Gross Profit | 49 | 64 | 103 | 114 | 134 | 145 |
| Net Income | 9 | 14 | 9.6 | 19 | 24 | 29 |
| EPS | .55 | .75 | .54 | .91 | 1.22 | 1.47 |
(Estimates: Fincom Investment Partners)
Risk Factors
BOPH's shares are thinly traded. This is not a stock for flippers and may be subject to price swings. We look at Bohai as basically a private Company that is currently being re-priced for an eventual IPO, which will play out over the next 6-9 months. Please don't get caught up in the daily drama; stay focused on the big picture: A full U.S. listing and fair valuation. We suggest investors use limit orders and common sense when purchasing shares. We also suggest buying on dips.
The shares have appreciated by quite a large amount in percentage terms in 2014, about 200%, but we view the shares as just beginning to wake up.
Since the Company and its markets are presently entirely in China, problems such as language and culture may be experienced. All medicines have risks of recall or drug complications, although since Bohai's products are based on traditional formulas, this risk is low.
The Company is open to investor due diligence, including receiving visitors at the China facility (contact in advance).
Receivables are higher than we would like but this seems to be the norm in both Chinese and those Companies waiting insurance payment.
Since the Company's decision to "re-introduce" themselves to U.S. investors the shares have begun an ascent to "fair value". We expect this to continue.
We view healthcare as among the most stable, less volatile businesses, and a perfect, defensive market segment to ride China's growing middle class.
At 10X earnings, Bohai has the potential to grow into a $15 stock given our 2015 EPS estimate of $1.47.
Besides being unknown to U.S. investors, most likely the biggest issue as to why the shares are so cheap is due to the restructured 2-year note. In that regard, even serial defaulters like Donald Trump and Argentina get better treatment. We hope investors read carefully our step-by-step review of the situation and recall the Company has escrowed the full principle amount and consistently met their Public filing and audit obligations.
What makes this situation different: the strong (audited) sales and earnings growth. With a paltry float of only a couple million shares, we need the extra shares.
Bohai deserves a lot more respect. It is a worthwhile situation to have a few shekels in as ultimately, the truth comes out; and at under 2 X earnings, there's plenty of upside.
Disclosure: The author is long BOPH. The author wrote this article themselves, and it expresses their own opinions. The author is not receiving compensation for it. The author has no business relationship with any company whose stock is mentioned in this article.
Additional disclosure: This report is for informational purposes only and is not a solicitation of any security purchase or sale. Opinions expressed herein by the author are not an investment recommendation and are not meant to be relied upon in investment decisions. The information upon which this material is based was obtained from sources believed to be reliable, but has not been independently verified. Therefore, Fincom Investment Partners cannot guarantee its accuracy. Any opinions or estimates constitute our best judgment as of the date of publication, and are subject to change without notice. We recommend investors conduct thorough investment research of their own, including detailed review of the related Companies' SEC filings, and consult a qualified investment adviser.
Editor's Note: This article covers one or more stocks trading at less than $1 per share and/or with less than a $100 million market cap. Please be aware of the risks associated with these stocks.