It certainly has been a festival of letters this past week, hasn't it?
First, Des Walsh responds to Herbalife critic Brent Wilkes at LULAC with this gobbledygook. Then, Dr. William Keep, who is the closest thing to a definitive expert on the niche of pyramid schemes, weighed in on the situation with an open letter to SEC chair White regarding concerns of his about the MLM industry and, notably, Herbalife (NYSE:HLF).
If you don't know who occasional SA Contributor William Keep is, please allow me to introduce you to him. Mr. Keep is known as one of the foremost authorities and experts in multi-level marketing and pyramid schemes. He was used as an expert witness for the Department of Justice in U.S. vs. Gold Unlimited. In addition, he assisted the SEC in the largest pyramid scheme case ever prosecuted in 1998. Then, in 2002, he was published with Dr. Peter Vander Nat, who is the FTC's resident expert on pyramid schemes. You've no doubt heard Mr. Vander Nat's and Dr. Keep's piece referenced in many of the Herbalife articles on this site.
It would seem Mr. Keep knows a bit about business. Oh, yeah, and he's also the dean of the school of business at the College of New Jersey.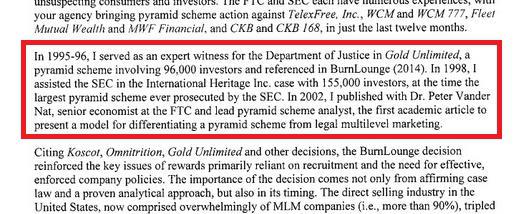 If you want to see how the precedents he's set have an effect on the MLM industry, you can check out Matt Stewart's latest, where he runs down the precedents set by the U.S. vs. Gold Unlimited decision. Mr. Keep seems to be extremely well respected by the fine folks in our regulatory offices, and it would seem that his voice would lend some credibility one way or the other to the ongoing Herbalife argument. As Matt Stewart would say, he has gravitas.
In addition to writing critical pieces like this one on Seeking Alpha, Mr. Keep also recently penned a letter to SEC Chair White, expressing his concern about the multi-level marketing industry and, more specifically, Herbalife. I wanted to take two or three of the key points made by Mr. Keep's open letter to the SEC, and draw a straight line back to some of the arguments shorts and skeptics have made in the past with regard to Herbalife.
The first paragraph of the below letter expresses concern about one of the major points that longs and distributors alike have used to defend the company. Despite the fact that one of Herbalife's current board members was one of the people who personally was suggesting "anyone" can make $100,000k/month being a distributor, Herbalife perpetually finds itself trying to distance itself from its distributors' actions.
In essentia, Herbalife has come out and said the following:
"Yes, we understand that some distributors are making ridiculous false medical claims and exaggerated claims of wealth, but those are distributors completely independent of the company - we have nothing to do with that."
While that's certainly a fair amount of muck polishing, it's simply untrue. Herbalife holds its top distributors, like Doran Andry and Leslie Stanford, extremely close to the vest; inviting them to speak at Herbalife sponsored events and helping them tout their success stories to hundreds of thousands of marks. Err, I mean "recruits."
Here is one such example, sourced from herbalifepyramidscheme.com, that shows Andry, Stanford, Tartol, et. al being touted for the upcoming Chairman's Club Tour.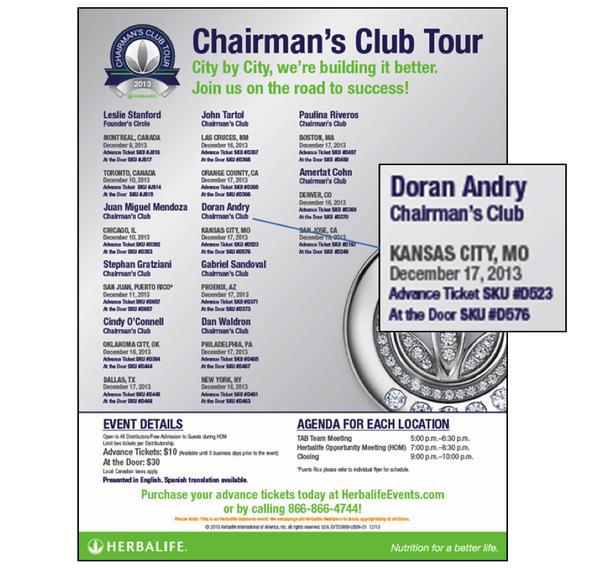 And another touting this year's extravaganza in Chicago - coming in just days. I wonder what QTR is doing 21 days from now? I'll have to check the calendar.
- herbalifeextravaganza.com)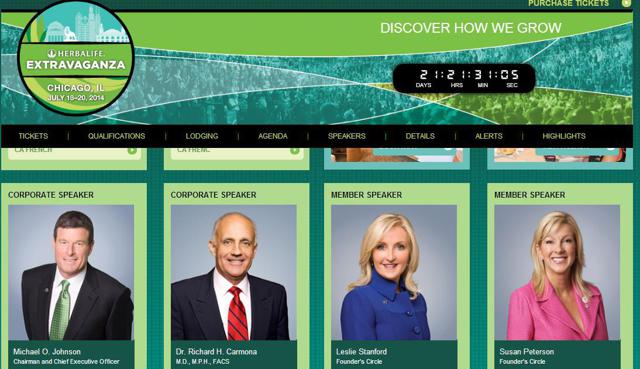 Mr. Keep has obviously noted the company trying to separate themselves from the bad things their distributors do, while still trying to tout the good money they're making. They want to have their cake and eat it, too. In his due diligence of the Herbalife case, Mr. Keep points out the company's "CYA" line in their last nine annual reports: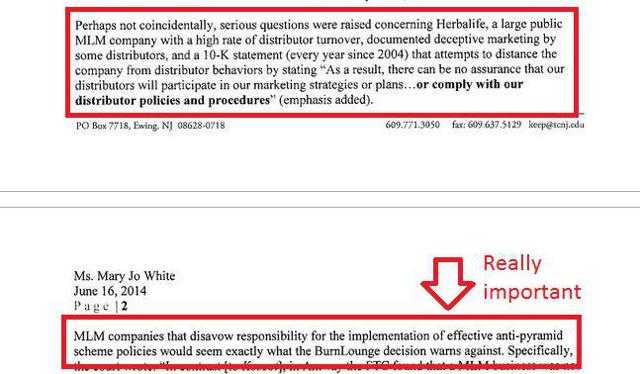 What Mr. Keep goes on to point out is really important, however.
The BurnLounge decision warned specifically against companies that distance themselves from their distributors and claim no liability as to what they do. At the very, very, very least - if Herbalife is forced to bridge that gap and be responsible for the bilge that comes out of the mouth of distributors, we're going to be looking at an entirely different company.
I'm hoping the SEC/FTC notes the gross abuse of this disclaimer thus far, however, and simply decides "enough is enough," and that we'd all be better off with the company shut down in the U.S.
Mr. Keep then continues to touch on another vital argument that longs perpetually hide behind - the Amway precedent set in 1979. As I've stated a few times, there are some massive, material differences between Amway and Herbalife. Yes, they're both multi-level marketing companies, but that's where a lot of the similarities stop. This would be like calling Ryan Leaf and Adrian Peterson the same, because they're both football players. One was a quarterback, the other a running back. One was a disgrace, the other, a class act record setter. Sure, Herbalife and Amway are in the same genus, but at the end of the day, they're two completely different animals.
The differences, as Mr. Keep notes, are intrinsic.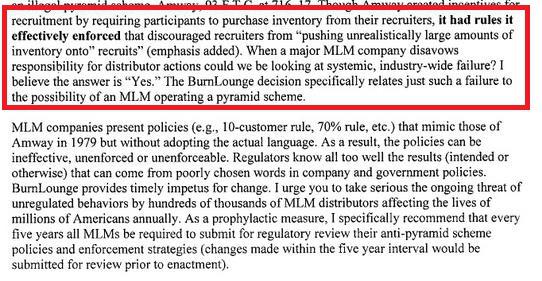 Tupperware and Amway have rules in place that are nowhere near as lax as Herbalife's rules (i.e. Tupperware knows exactly how much retail product is sold outside their distributor network, as delivered from the COO directly to the CEO, every single week). Herbalife "has access to this data," but chooses not to collect and/or use it. Even though it could completely exonerate them today from pyramid scheme allegations.
Right.
Additionally, Herbalife has rules like the 70% rule, where if they were to enforce it in practice, they'd wind up wiping out a good portion of their own distributor network. And that makes recruiting more SUPERVISORS extremely difficult.
Hiding behind the Amway precedent is old news for two reasons:
1. The entire MLM industry needs an overhaul and, in doing so, this precedent is likely to be revisited and revised.
2. Herbalife's rules and regulations are nowhere near as strict as Amway's and are seemingly set up to give the impression of a set of rules, without actually enforcing anything.
Certainly Mr. Keep's voice is going to have to be heard from some point in the SEC pecking order. Mr. Keep is obviously held in high regard at the SEC, whom he also holds in high regard himself.

As another day passes in the saga, we can tack on another respected PhD (who happens to be the dean of a business college) to the pile of those critical of how Herbalife operates their business. The pile on the critical side of the Herbalife argument gets just a little bit bigger.
What side of the argument are you on?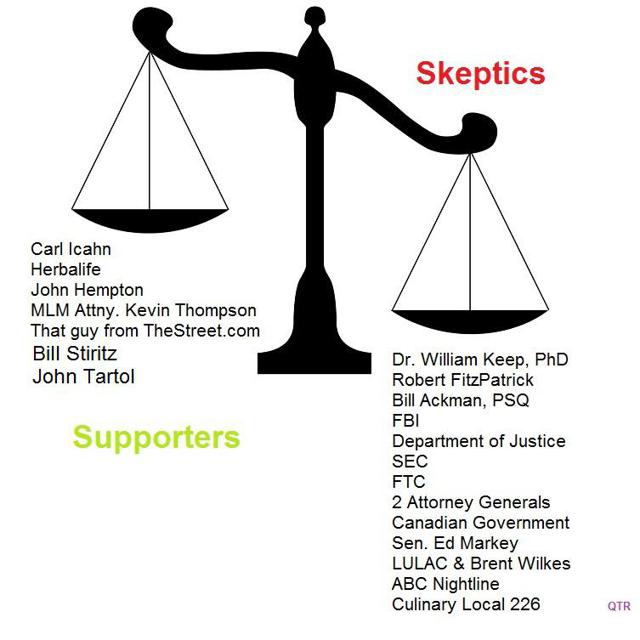 (h/t to ValueWalk, for supplying Mr. Keep's full letter, available here)
Disclosure: The author is short HLF. The author wrote this article themselves, and it expresses their own opinions. The author is not receiving compensation for it (other than from Seeking Alpha). The author has no business relationship with any company whose stock is mentioned in this article.