While the Apple (NASDAQ:AAPL) iPhone 6 is not expected to be released until this fall, the rumor mill is already churning and driving Wall Street analysts to model their projections based on certain assumptions. In a recent report from RBC Capital Markets, Amit Daryanani is predicting a "material upgrade cycle" this fall based on results of a survey of consumers conducted by the firm. One of the key presumptions of the survey is that the iPhone 6 will have a larger screen, at least as an option; this is clearly meaningful to potential buyers.
What Apple investors should take away from this is the real genius of the Apple marketing machine. While Google (NASDAQ:GOOG) (NASDAQ:GOOGL) Android phones, most notably the Galaxy line from Samsung (OTC:SSNLF), have offered this for several generations, it is not only noteworthy on an iPhone, it is grounds for raising price targets and improving the outlook for the company and the stock. The stories that are being written, and likely will be written, will focus on the accolades that Apple receives, not the fact that the device is an exercise in playing catch-up. The Apple nation will undoubtedly respond that Apple's genius is not in being first, but in being best. Whether you attribute this to true genius or simply an amazing ability to control its own story, this phenomenon should be understood by Apple investors and capitalized on when possible. Heading into the fall is one such opportunity.
The Report
As Barron's recently reported, Daryanani winds up with five critical takeaways:
1) nearly 50% of consumers who plan to upgrade their phone intend to purchase an iPhone within the next three months; 2) 35% of the users who don't expect to purchase an iPhone would do so should Apple offer a larger form factor (Android cannibalization with iPhone 6); 3) 26% of the consumers are willing to pay a $100 premium for a 5.5" screen size; 4) ~74% of the consumers are aware that AAPL will launch a new iPhone this year (airpocket in September guide?); and 5) what consumers most desire from a new iPhone is better battery life, followed by larger screen size.
The net result of these is that he moved his price target to $100 per share; other analysts have recently upped their price targets as well. Of these numbers two and three show the deep significance of a larger screen and how willing smartphone consumers are to overlook the lag in iPhone features that are already available from others. While this is certainly a testament to the loyalty of Apple's customer base, and the attractiveness of Apple's products, I believe it is important to look even deeper and see what a powerful statement this late-mover-sympathy represents. This is a strong buy indicator in my opinion and offers real upside.
Has Apple Come Too Far Too Fast?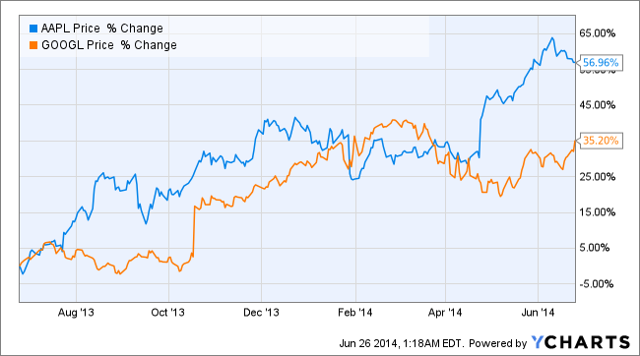 AAPL data by YCharts
Ever since Apple's stock effected a seven-for-one stock split, its value has been strong. The stock's strength quickly made it one of the most shorted stock on the NASDAQ, seeing short interest climb by 7% to nearly 126 million shares during the first two weeks of June. While Apple's volume means these positions could easily be closed, if the stock remains strong, the bears could easily break and create a small short squeeze to drive shares higher.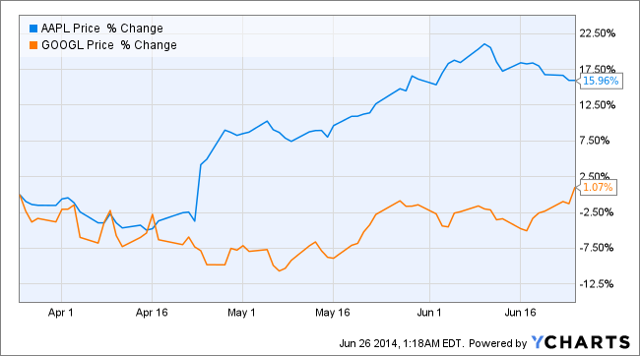 AAPL data by YCharts
There is a reasonable argument to wait for a pullback, given that shares are up roughly 17% in the last three months and nearly 60% in the last year. The moves in Apple compare to a 1% move in Google shares over the past three months and a roughly 35% move over the last year. When you consider, however, that Google shares carry twice the P/E of Apple at 30 relative to 15, Apple shares seem attractively priced. Ultimately, while the chance of a pullback is fair, Apple shares should rise from here and I would begin building a position at current levels.
Disclosure: The author has no positions in any stocks mentioned, and no plans to initiate any positions within the next 72 hours. The author wrote this article themselves, and it expresses their own opinions. The author is not receiving compensation for it (other than from Seeking Alpha). The author has no business relationship with any company whose stock is mentioned in this article.