Gold is particularly attractive since the Fed has cut interest rates essentially to zero. This makes gold is more attractive than money in the bank. You don't earn interest on either gold or cash, so by holding gold today you're not giving up interest, but you also don't give up the potential of gold's bull run. The Fed can keep printing cash. It can't print gold.
It seems that gold will need to consolidate before going higher. Once the correction is done, it's not out of question that the price of gold will reach $1,500. I seriously doubt that the recent run up is the final stage of the bull market. In fact, it seems that there are several more good years.

The new target level for gold has been set around $1,500. Please take a look at the long-term gold chart below: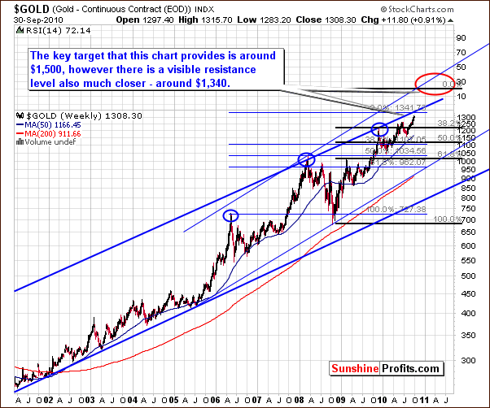 (Click to enlarge)
We obtain the $1,500 target by applying the 1.618 Phi number to previous local tops, specifically those seen in June of 2008 and June of 2010. This also coincides with the upper/steeper blue line in the above chart. Since it appears that we are indeed in the second stage of the bull market for gold, which began in 2008, the steeper rising trend channel seems the better choice for the long-term analysis at this time.

Before the lower, less steep line is surpassed, it is likely that gold will first reach a local top and then go through a quick consolidation. This will most likely result in a greater strength and increase the odds of a further rally being sustained.

(Our readers may notice that we often use Phi number to analyze tops and bottoms. This is not something random we have pulled out of a hat. The Phi number is also known as golden number, divine proportion, Latin sectio aurea and so on (read more about Phi here). This number is known for its wide use in art, mathematics, observation of nature and - of course – market analysis. Vladimir Lefebvre once demonstrated that humans exhibit positive and negative evaluations of the opinions they hold in a ratio that approaches Phi, with 61.8% positive and 38.2% negative. Assuming that changes in markets reflect human opinions, we can use Phi number in our analysis. Naturally, this goes much deeper than the quick sketch we just presented. The most important reason for applying the Phi number into market analysis is simply because it often works.)

To summarize, gold is likely to reach a local top very soon and then consolidate. It is likely that it will then rally further, perhaps to $1,500. Several retracement level factors yield the same conclusions when applied to previous highs and lows we have seen during the past four years. We also see further validation when studying gold from the perspective of other world currencies, including the Japanese yen.
Disclosure: No positions