On June 12, Tesla (NASDAQ:TSLA) announced that it would open its years of innovation and developments to competitors and not sue anyone who infringed on their 100s of patents. That means that anyone can use the technology that took Tesla years to create.
As pointed out by the Washington Post, Tesla's open source approach reminds us how our patent system needs reform. Patents only last a set amount of time (approximately 20 years), and often it costs more to enforce them than gained in a legal victory.
While there is plenty of reform needed to the legal world, Elon Musk is taking a stand to bring that debate to the forefront while revealing Tesla's plan. Tesla's patents in no way secured it a large lead over its competitors. In fact, competitors to Tesla have been emerging in recent months, including VIA Motors and Harley-Davidson (HOG).
Harley Davidson recently released an electric motorcycle, while VIA Motors is offering electric alternatives to vans and trucks. While these are not direct competitors to Tesla's sedans, they do show the shift in attention to electric vehicles. Combined with Chevrolet's Volt (GM) and the Nissan Leaf (OTCPK:NSANY), the electric vehicle market is becoming crowded behind Tesla. With the availability of Tesla's patents to other electric vehicle manufacturers (who have more resources than Tesla), the gap should continue to shrink.
Tesla should be able to expand from their current market share in the high-end vehicle segment, though I do have my doubts about the Model E. We now know that its release is roughly one year away, however the extent of its success remains unclear.
With another year of EV advancement, it remains unclear what the competition will bring. In my opinion, however, Tesla will gain from the advancement of its competitors.
There are two major approaches in the low emission vehicle market: the hydrogen powered fuel cells [as used by Toyota (TM)] and the batteries used by the likes of Tesla. The players have been set for the battle to ensue.
The main competitor to Tesla at the time is Hyundai (OTCPK:HYMTF), who is set to release a hydrogen powered vehicle in 2015 with a range of 265 miles (charged in just 10 minutes). Tesla's Model S is leased for approximately $90 less a month. However, with the same driving range on the upgraded models, as well as much longer charging times, the Model S only holds a slight advantage over its hydrogen competitors if any.
On its own, Tesla's $30B market cap and $2.4B in cash is no match for the combined $216B market cap of Toyota and Hyundai. Tesla must enlist the help of General Motors and Ford (F) to keep the fight going.
The creation of the Gigafactory is perhaps not just a strengthening of Tesla's production, but also a growth of the entire battery powered electric vehicle segment.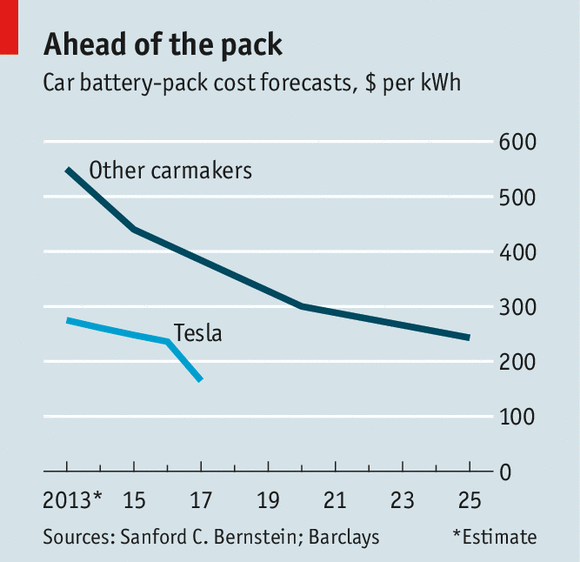 Tesla will be able to help increase the availability of Lithium-Ion batteries while reducing its costs.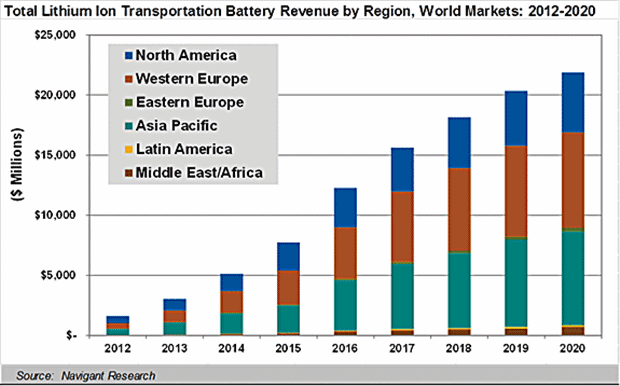 The problem I have with the Model E is that Tesla is forcing itself into the challenge of lower margins and more competition. Instead, Tesla could focus on the high end segment where they could continue to enjoy high margins, and then distribute their 100,000s of excess batteries to GM and Ford (and anyone else who wants them).
There are two main reasons for this: Tesla could continue to enjoy their high margins, and grow its brand and offerings throughout the world. The Gigafactory will allow Tesla to produce its batteries at a much better rate than the market, and the adoption of Lithium-Ion batteries will increase the number of vehicles that will need Tesla's superchargers.
If Tesla would be able to reach the 100,000 car mark by the time the Gigafactory opens (rising from 35,000 projected for 2014, though I am excluding the Model E), they would be able to supply an additional 400,000 vehicles a year with battery packs. Using the decreased costs of manufacturing the battery packs due to the Gigafactory, Tesla should be able to market and sell the packs for at least a 40% margin (as there is not a huge supply of Lithium-Ion batteries).
Tesla could generate upwards of $1.8B in operating profit annually from the resale of its batteries. Tesla could offer their supercharger networks to Chevy and Ford vehicles, charging them for around $15, which is also a value proposition compared to gasoline vehicles (you can see the math here).
If Tesla were, by 2020, to sell 100,000 cars, 400,000 battery packs for other car makers, and operate 500 superchargers (to mostly non-Tesla electric vehicles), the company could generate nearly $5.5B in operating profit.
I made a lot of assumptions, but as I outlined in my previous article, I believe that Tesla is acting on and monetizing its potential. Tesla in fact could generate more than $5.5B in operating profit with its execution of the Model E, however I believe that it is not practical for Tesla when they could just sell the batteries.
If they did create the Model E, they would need to expand their factories, staff, car services, showrooms, and more. Tesla could power its current evaluation on the track it's going by selling its batteries and becoming the largest producer of Lithium-Ion batteries. Tesla is already revolutionizing the EV market, so why not revolutionize the supply of batteries?
Disclosure: The author has no positions in any stocks mentioned, and no plans to initiate any positions within the next 72 hours. The author wrote this article themselves, and it expresses their own opinions. The author is not receiving compensation for it (other than from Seeking Alpha). The author has no business relationship with any company whose stock is mentioned in this article.
Editor's Note: This article discusses one or more securities that do not trade on a major U.S. exchange. Please be aware of the risks associated with these stocks.