Procter & Gamble (NYSE:PG) is one of the largest consumer goods companies in the world. The company boasts a number of brands that likely currently occupy shelf and drawer space in your home, such as Gillette razors, Crest toothpaste, Tide detergent, Duracell batteries, Charmin toilet paper and Pampers diapers, just to name a few. With such a strong product lineup, it's no wonder P&G has achieved an astounding dividend history dating back more than 120 years.
At current prices, P&G is yielding over 3% for income-seeking investors. Using our Dividend Safety scoring system, let's take a closer look at several important metrics about P&G's dividend safety.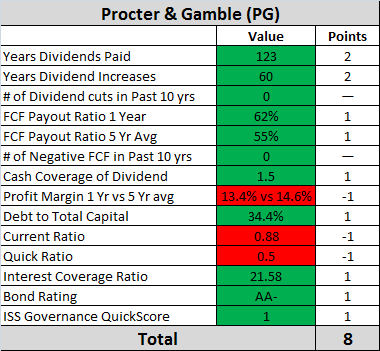 There are few companies in the world that can compete with P&G's dividend history. The company's free cash flow payout ratio is at a safe level, although it has grown compared to its five-year average. The cash on hand is enough to cover the company's current dividend for 18 months, and its debt-to-total capital remains low. P&G also enjoys a very high investment-grade bond rating, allowing it to borrow money at lower rates than most, and its ISS Governance QuickScore is the best score that can be achieved.
There are a few red flags that need to be looked at further. The company's quick and current ratio is below the ideal score of 1.0. For a company that is the size and scale of P&G, though, this is not a warning sign of liquidity issues as it may be for smaller companies. Like Target, P&G has the ability to dictate payment terms with its suppliers, which typically results in extending the time it has to pay its bills, which in turn, will decrease both of these ratios.
The only potential negative currently for P&G is its decreasing profit margin. The company had seen a consistent drop in its profit margin from 2009-2012, decreasing over that time from 16.8% to 12.9%. FY 2013 did show improvements, though, reporting an uptick to 13.4%, which is just below the company's 10-year average profit margin of 13.8%.
P&G's broad product portfolio, extensive distribution network and nearly unmatched dividend history makes it an easy pick for income investors. With a current yield just above its five-year average yield of 3.0%, now may be an opportune time to initiate or add to an existing position.
Disclosure: The author has no positions in any stocks mentioned, and no plans to initiate any positions within the next 72 hours. The author wrote this article themselves, and it expresses their own opinions. The author is not receiving compensation for it. The author has no business relationship with any company whose stock is mentioned in this article.
Additional disclosure: The 4% Portfolio Retirement Service currently has PG on its "watch list."