How Do You Say "Mexico" in Chinese?
The answer to this is Mòxīgē, and I bet you this word has been tossed around in many Chinese solar companies' boardrooms over the past months. But why would Chinese solar companies be interested in Mexico?
Background
The U.S. Department of Commerce recently made a preliminary decision: to impose tariffs on solar panels manufactured in China. After this announcement, we saw two (expected) reactions by SolarCity (SCTY) and Real Goods Solar (NASDAQ:RGSE). Although the tariff decision was probably just a catalyst, SolarCity announced its acquisition of Silevo and its plans to set up a manufacturing facility in the U.S.
Chinese solar producers have a few options in terms of their responses to the tariff decision. Let's review some of them.
The Mexican Option
The Mexican option is about building manufacturing facilities in Mexico. The Chinese could start setting up manufacturing facilities of their own in Mexico.
There are numerous benefits to producing in Mexico. The country is expected to see 30% lower labor costs than China by 2015. Moreover, Mexico has 44 free-trade agreements in place, which are far more than China's 18 agreements.
The Americas are growing to become a strong consumer of solar modules; therefore, getting production closer to end-consumers will lower shipment costs.
The Malaysian Option
Malaysia could turn out to be a quicker step to solving the tariff problem. Setting up shops in Malaysia, the Chinese will join First Solar and SunPower, both of which already base a great share of their manufacturing in the country.
Manufacturing in Malaysia will keep production focused in Asia while possibly solving the tariff problem. Another advantage of moving production to Malaysia would be that old production lines could be moved to the new facilities fairly easily to immediately start producing panels for the U.S.
The African Option
Africa is often taunted as the future base of global production, and since Africa's solar demand is rapidly growing, it would make sense to start producing in Africa.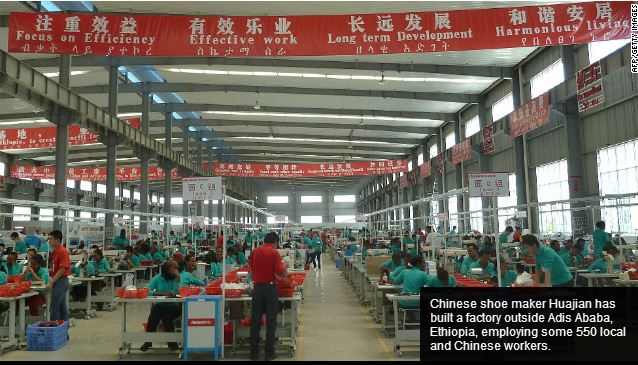 There are already several producers making panels in Africa, and we might see more of that going forward. Africa has abundant land available and very low labor costs. It is no secret that China is heavily investing in Africa, and 15.3% of its 2011 investments went toward manufacturing.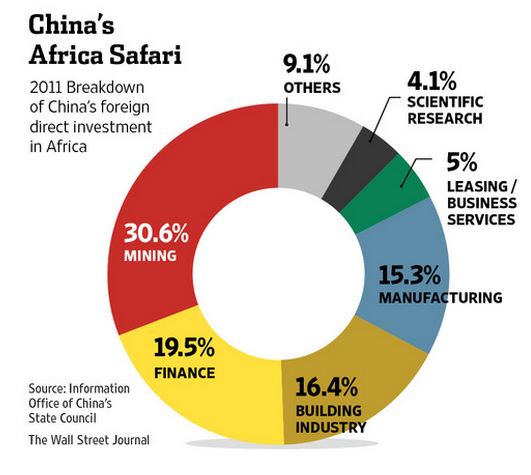 The ReneSola Option
This is my least favorable option. Pursuing the OEM production profile. ReneSola (NYSE:SOL) has secured about 1.1GW of OEM worldwide. The company has a network of 11 plants located throughout Europe, Africa, South Asia, and Asia-Pacific.
The OEM strategy has the worst cost implications. ReneSola reported that OEM made panels cost them about 20% more, or $0.60/watt instead of their in-house cost of $0.50/watt. I view this option as a short-term solution, as in the longer term, starting production bases in Mexico, Malaysia, or Africa would offer a lot more value.
Timing
The tariff decision just underlines the importance of the solar industry to diversify production into at least one other location. The timing could not have been better, as the industry is getting ready for its next expansion cycle.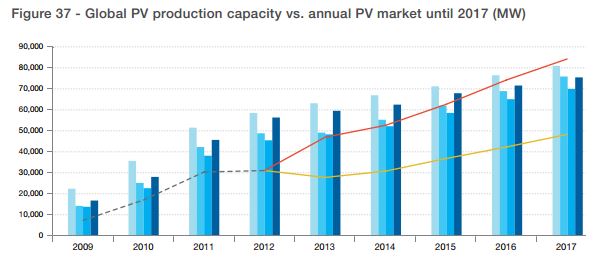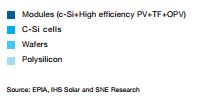 According to IHS, by the end of 2017, the industry will reach a 70GW annual shipment rate, which is almost 90% greater than 2013's level. Global capacity will need an additional 10GW-15GW of modules, and 20GW of cell and wafer capacity to supply demand.
As the Chinese weigh their capacity expansion plans, I expect that a part of it will include a build-out of tariff-free capacity outside of China. There do not have to be several GW facilities; a few hundred MW will do it for most companies for now.
GTM research had provided us with an informal summary of what each strategy means in actual prices per watt in the U.S.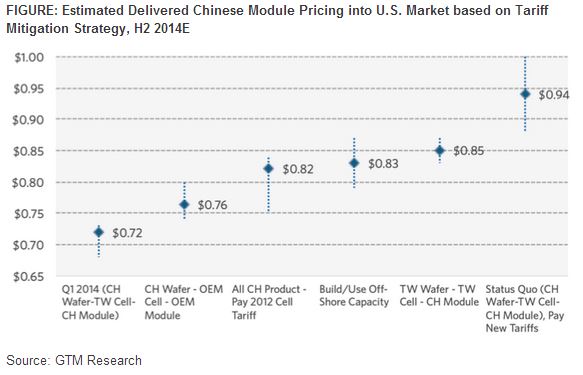 Conclusion
As we approach the second phase of capacity expansions in the industry (which are expected to start in 2015), we could see a smarter and more balanced capacity expansion.
A part of this will be divesting some of the capacity to locations outside of China, such as Africa, Malaysia, and Mexico.
Current supply and demand outlooks provide assurance that moving some of the production outside of China could fit right in with the general trend of expanding industry capacity. Given this information, the Chinese solar industry has plenty of ammunition to tackle its current trade war with the U.S.
This article was first published on SolarStockIdeas.com
Disclosure: The author has no positions in any stocks mentioned, and no plans to initiate any positions within the next 72 hours. The author wrote this article themselves, and it expresses their own opinions. The author is not receiving compensation for it. The author has no business relationship with any company whose stock is mentioned in this article.