Fidelity (FMR LLC), one of the world's largest money management firms has ample resources at hand to assist them prior to entering a market or an individual equity. One area Fidelity seems to be firmly placing its feet in is the Unified Communications (UC) sector. UC is the unification of multiple communication applications such as IP telephony, email, instant messaging and video conferencing among others. According to Infonetics, UC is estimated to grow from a $68 billion to an $88 billion market by 2018.
For the first time in many years the sector will witness long awaited growth as we see the convergence of cloud, Session Internet Protocol (SIP) trunking and mobile VoIP. As a result, I researched Fidelity's involvement in BroadSoft (NASDAQ:BSFT), Interactive Intelligence (NASDAQ:ININ), Sonus Networks (NASDAQ:SONS) and Polycom (NASDAQ:PLCM) all of which participate heavily in the global UC sector. Fidelity isn't alone as over the past 12 months, some of the world's largest and brightest institutional investors have accumulated impressive stakes in key UC stocks and I believe that Fidelity along with the other large funds will soon be adding AudioCodes (NASDAQ:AUDC) to their portfolios.
Here's why I believe Fidelity and other key funds will take a significant position in AudioCodes in the next 3-6 months:
BroadSoft:
Fidelity was one of the largest holders of Acme Packet (NASDAQ:APKT) the pure play session border controller (SBC), prior to Oracle (NYSE:ORCL) unexpectedly swooping in from 1,000 feet and scooping them up for $2.1 billion, or approximately 6 times revenues. At one time, when Acme Packet was one of the highest fliers in the market, Fidelity was its largest holder.
Acme Packet was a competitor of AudioCodes, but with its acquisition, AudioCodes has been able to replace it at one of its key partners. The partner is BroadSoft which is a key UC hosting player in the sector. Fidelity is a top 10 holder in BroadSoft.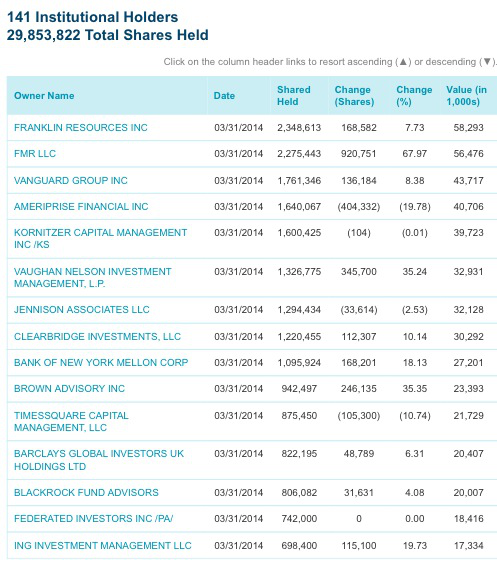 AudioCodes and BroadSoft have recently joined forces in AudioCodes' "One Voice for Hosted Services" program which provides a seamless approach to BroadSoft's sales process which caters to service providers (NASDAQ:SP) and their end users. AudioCodes is replicating its success with Microsoft (NASDAQ:MSFT) and its "One Voice for Microsoft Lync". Basically, "One Voice for Hosted Services" allows BroadSoft to sell a comprehensive package to the SPs simplifying the after sale process for the SP's end users.
BroadSoft does business with 19 out of the top 25 service providers in the world and in my opinion, these two parties could become one in the next 12 months if the "One Voice for Hosted Services" program sticks like AudioCodes' "One Voice for Microsoft Lync" program has begun to stick. In these partnerships AudioCodes provides all the SBCs, gateways, routers, IP phones and services throughout the relationship allowing the end user to have one point of contact and freeing the SP from any logistical nightmares.
Investors, privy to the William Blair Conference on June 10, 2014 heard a confident CEO talk very positively about its BroadSoft partnership. In a recent research note to clients, William Blair discussed the partnership stating that the relationship is building momentum. He noted that AudioCodes' sales leaders took part in BroadSoft's European launch of BroadCloud (BroadSoft's cloud based UC platform) and as result is poised to land contracts with Verizon (NYSE:VZ) and BT (NYSE:BT) in the near term.
Our findings suggest the analyst is being too soft on his analysis as we believe BroadSoft is walking AudioCodes into the top service providers in the world to allow it to sell its BroudCloud in a one stop way. We believe this will be the case because if you have followed our coverage of AudioCodes you will know that "One Voice for Microsoft Lync" was introduced in early 2013. The result of that relationship is that AudioCodes now has its biggest accounts in its 20 year history with Cargill (140k employees with 100+ offices around the globe), Amgen (NASDAQ:AMGN), Robert Half International (NYSE:RHI) and Ernst & Young using AudioCodes for Lync implementation.
AudioCodes is expecting 40% growth in its Microsoft Lync business based on the above customer wins. The company also believes that it holds an impressive 50% market share of the Microsoft Lync SBC and gateway market. We believe that AudioCodes will continue to bring fortune 500 companies into the fold in both the near and long term which will bring much higher contract values to company. In fact the CEO stated he believe the company can grow its Lync business near 35-40% through 2015.
Interactive Intelligence:
Another company that Fidelity is a top 5 holder in and that is partnered with AudioCodes is Interactive Intelligence a contact center hosting company.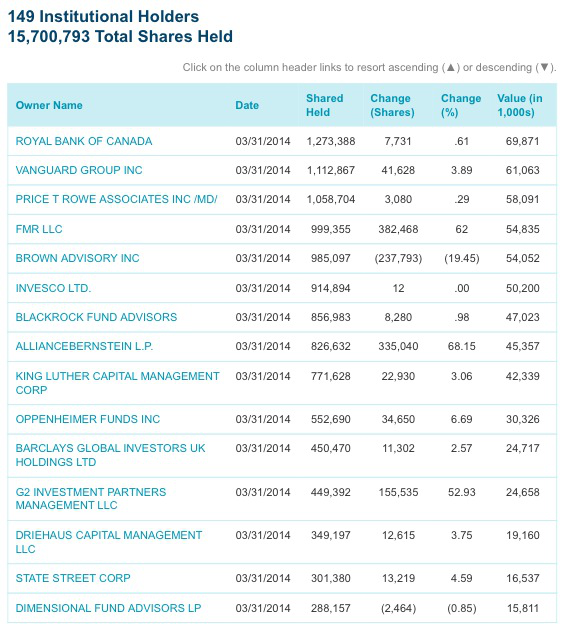 AudioCodes received a partner of the year award from Interactive Intelligence last year. The two companies seem positioned very favorably together. Again, AudioCodes makes the selling process much easier as its products and services make the installation process more of a plug and play with one direct contact, rather than a chaotic haywire mess.
At the William Blair conference the company was very positive on the Interactive Intelligence partnership. AudioCodes is believed to supply the bulk of E-SBCs with Oracle taking only the larger scale deployments (less than 10%) away from it. We view the contact call center market as a sleeper side of the business equation but AudioCodes is far from asleep when it comes to servicing its contact center partners.
Sonus Networks:
Fidelity is also a top 10 holder of AudioCodes competitor Sonus Networks. Fidelity owns approximately 7 million shares as of the last filing on March 31, 2014.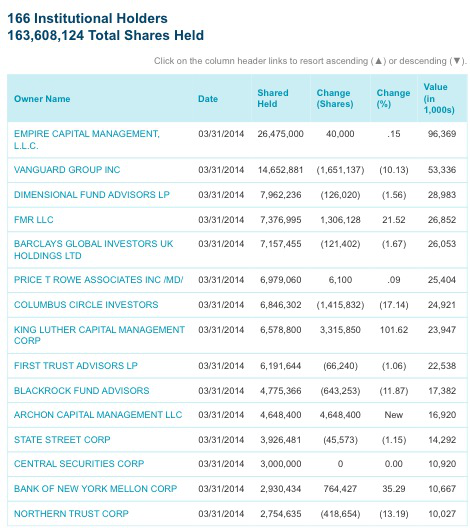 As many of the Seeking Alpha followers of AudioCodes now closing in on 2,000 up from the 139 when I first initiated a buy at $1.50 per share know, Sonus Networks has always traded at 2x or more the enterprise value of AudioCodes. In our devoted research we have tried to close that gap which AudioCodes did when it hit a 52 week high of $9.12 back in early March. We have no issues with Sonus Networks, actually we are long it here as we believe it is set to outperform as its new CFO has tightened the ship and the overall sector growth curve has set sail. In addition, the company has bought back an incredible 13-15% of it outstanding shares over the past 7 months. These actions have Sonus poised to breakout over $4.25 per share to 5 year highs.
Polycom:
A UC company where Fidelity is the number one holder, with over 16% of the shares is Polycom. In addition to Fidelity, recent filings revealed that legendary investor George Soros owns 9% of the company.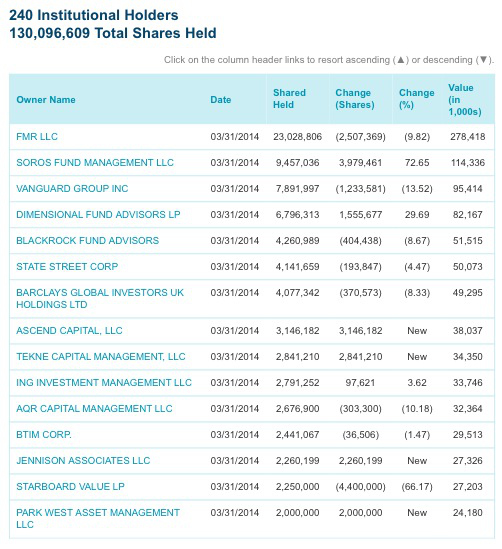 Polycom is a leader in teleconferencing and in IP phones. William Blair in its recent note reported that AudioCodes had been taking market share away from Polycom in the IP phone market as AudioCodes' IP phones are WebRTC ready while Polycom's are not. Polycom has been plagued by organizational turnover this past year as its CEO resigned after the board found "irregularities" in his expense submissions. As it tries to get back on track and regain market share with a net cash position of $350 million post a large repurchase program it would not be inconceivable for Polycom to make a bid for AudioCodes.
We can see Fidelity has its hands in the UC sector and that positions it very closely to AudioCodes both directly and indirectly with its investments in AudioCodes' partners and competitors. It is these direct and indirect investments that I believe will drive Fidelity to be a top 3-4 holder of AudioCodes in the near term as it has just finished up its first marketing efforts post its secondary offering to promote its recent successes, low valuation and future growth paths in a consolidating high growth sector.
On a valuation basis, William Blair finds AudioCodes highly attractive. It is trading at 1.2 times William Blair's 2015 sales estimate which is a significant discount to the UC peer group and it direct competitor Sonus, which is trading at 2.5 times. I must admit that I agree with the analyst on this point, but either William Blair has no following, like we do here on Seeking Alpha, or if it's just a lip service type of coverage. In fact, on the day William Blair initiated coverage the stock traded approximately 466,000 shares and then its follow up note post its conference saw only 143,000 shares traded. We believe our contacts served more than 10% of the volume on those days. As a result, I want to give my view on AudioCodes' position in its market and why its a must own for the 2,000 Seeking Alpha followers right here and why larger funds will come full force into the shares at much higher prices than $7-$9 per share.
Microsoft:
The fact that Microsoft is finally being discussed as a PBX replacement can be placed solely on AudioCodes and its One Voice strategy over the past 1.5 years. The results speak volumes as AudioCodes is serving up fortune 500 companies in numbers now. Microsoft is obviously very comfortable with these customer wins and the strategy has Lync as its fastest growing business segment.
China kicks off:
Last quarterly conference call AudioCodes' CEO announced it was going to enter the Chinese Microsoft Lync market. At the William Blair Conference he announced that it had landed a Chinese distributor named Digital China. This agreement will allow Digital China to resell its SBCs, routers, IP phones and gateways. Digital China has already landed one global multinational Chinese company which is implementing Lync and using AudioCodes' products. In addition, it landed another Chinese distributor, Dimension Data, which has started to resell AudioCodes' products. William Blair noted that the CEO said it's not factored into its guidance. This is big news to us as China alone could add $6-$10 million or 5% in additional revenue in 2015 that is not factored into the $163 million estimates.
Mobile:
The analyst from William Blair noted that AudioCodes now has 1 million subscribers and is generating about $1 million in revenue from its mobile over-the-top (OTT) product, VMAS (VoIP Mobile Access Solution). It further noted that it has the potential to greatly increase revenues through its ongoing deployments at Telefonica and UPC/Liberty Global (NASDAQ:LBTYA).
Despite these positive developments the analyst has decided to take a wait and see approach on its mobile strategy. The analyst believes that as a hardware vendor it could face difficulties selling software applications to carriers and in addition, its move to software could alienate or threaten its partners (Microsoft, BroadSoft, Alcatel-Lucent (ALU) and Avaya). Somehow I don't see Microsoft being threatened by AudioCodes earning $20-$30 million in software. The analyst is truly giving you a gift here, because if he really looked at this mobile opportunity considering the already discounted value of AudioCodes to its peers then the stock would be $8-$10 per share in a few weeks time.
I believe that the analyst is being too cautious. In a recent article, Alex Kinch, the CEO of Ziron argues that telcos must be willing to partner with OTT mobile VoIP providers or risk being left behind. He cited a recent Citi report where the analyst stated that he believes that in the future, if voice calls are conducted over the internet, then telcos could lose up to 97% of their voice revenues. He noted that this is becoming a reality with WhatsApp's announcement that its planning to add free voice-calling. I believe that this shows that AudioCodes is ahead of the curve with its partnerships with Telefonica and Liberty Global and as such deserves an increased multiple or valuation. AudioCodes doesn't need $20 million in mobility to jump start EPS they only need a small revenue bump of $3-$4 million per quarter to see $0.05-$0.07 in EPS per quarter as it carries software related margins of 90%. Mobility is my favorite part of investing in AudioCodes.
Unlike the William Blair analyst, I'm telling you mobility isn't about AudioCodes mobility of last year with its legacy MailVision revenues of $1 million per year. Mobility is about Mobility Plus a new enhanced cloud based platform that will allow AudioCodes' slew of new engineers to build new and exciting OTT applications for both the enterprise and consumer. These OTT applications can be sold directly to enterprises and consumers or thru white label by service providers. I foresee a Service provider like Telefonica and Liberty launching Mobility Plus with the opportunity to add new and exciting OTT applications that will increase its ARPU (average revenue per user).
What those apps are I don't know, but I do know where they will be developed. William Blair's analyst commented on the recent grant of $29 million that AudioCodes was awarded by the Israeli Office of the Chief Scientist (OCS). I did not hear any enthusiasm from the analyst as he felt that he was not able to quantify the savings the grant will generate. I believe that he and the other analysts are looking at it all wrong. The OCS grant isn't about saving money, it's about placing 100 Israeli engineers (William Blair noted that there are 30 engineers at the new facility including "highly skilled cloud experts") under one roof to come up with mobile apps for OTT and cloud based solutions for VoIP. Israel is a hot bed of innovation as Waze Mobile (acquired by Google (NASDAQ:GOOG)), Fring (acquired by Genband) and Viber (acquired by Rakuten) were all Israeli start-ups. The benefit from the OCS grant will be growth in 2015 and beyond.
Valuation:
| | |
| --- | --- |
| Market cap: | $290 million |
| Shares Outstanding: | 43 million |
| Float: | 28 - 30 million |
| Average Daily Volume: | 275000 |
| Short Position: | 875,000 (largest in 2 years) |
| Cash: | $94 million ($2.30 per share) |
| 2014 Revenues est.: | $150 million |
| 2015 Revenues est.: | $164 million |
| Multiple to 2015 Sales (less cash): | 1.26 |
| 2014 EPS | $0.20 |
| 2015 EPS | $0.28 |
Chart: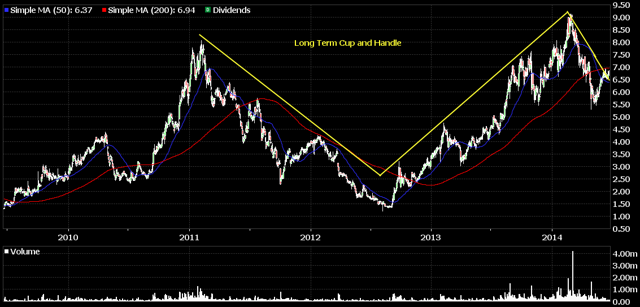 AudioCodes is making a long term cup and handle pattern and it recently broke through its down trendline and crossed above its 200 day moving average. I believe that we should start to see the 50 day moving average start to turn up soon which will set up a Golden Cross in approximately 30 -40 trading sessions. A Golden Cross is a very bullish technical indicator and buy signal that is generated when the 50 day moving average crosses above the 200 day moving average.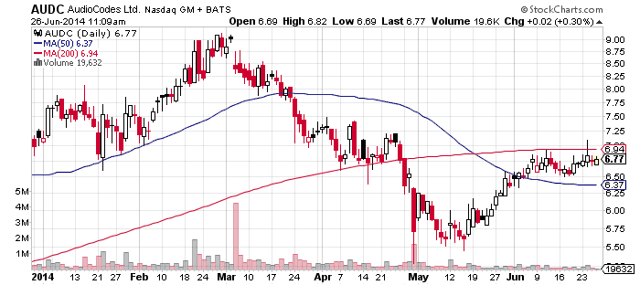 My short term price target is the previous high at $9.12. With the short position being close to the largest it has ever been my longer term target is $15 - $20.
Estimates will have to increase:
Analysts have AudioCodes growing its top line by 9% for both 2014 and 2015. Post the William Blair conference and its analyst's note this week, the estimates are way too low for 2015. I now believe AudioCodes will grow conservatively at 15% in 2015 or $172 million. This number could prove to be soft by 5-10% as One Voice is taking off at both Microsoft and BroadSoft, contact centers are embracing AudioCodes products, China begins to land customers equal to the top US wins and if mobility is half as sexy a product offering as I predict.
Analyst like to upgrade stocks after the fact, I understand that, but to the Seeking Alpha followers that have participated with some skin in the game or watched from the sidelines I urge you to take some risk here as I believe the AudioCodes story is stronger than ever as its customer base is larger and more diverse than ever. These large customer contracts bring large service contracts which brings higher predictability to forecasting forward guidance as service contracts are annuitized over x number of years. This is very big to institutional investors because it's also a higher gross margin business and it adds predictability to their revenue models. Wall Street loves a company that can be predictable on its model. Services bring that and I see services being a much bigger number to AudioCodes late this year and definitely next year.
Key Partnerships is leading to growth:
AudioCodes is undervalued and underappreciated on Wall Street buts it's quite the opposite in its markets. AudioCodes has more than 20 years experience in the VoIP world. It began as a chipset maker with aspirations and its now a global VoIP supplier with key partners. AudioCodes includes Microsoft, Dell, Hewlett Packard (NYSE:HPQ), Interactive Intelligence, BroadSoft, Alcatel-Lucent, Avaya, AT&T (NYSE:T), and BT amongst others as its key partners in its quest to deliver the best of breed products and services in the UC VoIP space. Many of these partnerships have been in place for over 5 years or more and many are recent additions as AudioCodes has improved its value and strategies in this complex field of UC. Its these partnerships that will one day not only fuel its financial growth in the markets it serves but it's one of these partners that could buy them out in totality as they provide more comprehensive coverage to larger enterprises around the globe. You see AudioCodes is providing not only the core product offerings to go to market with a next generation VoIP system but they're capable of sticking around and servicing the VoIP network for years to come. This is what you call stickiness and with stickiness comes attraction. To me, it's not if, but when and I believe the Fidelities of the world will get their first glimpse of that attractiveness next week and throughout the rest of the year. I remind investors, Fidelity used to be a big holder in AudioCodes in its big run to $70 per share and George Soros was the largest holder of its past convertible bond which has been retired. The largest names will be here if AudioCodes executes and brings excitement to the business model. The company is worth a lot more than 1.20 times next years revenues especially when over 1/3 of that value is cash.
Disclosure: The author is long AUDC, SONS. The author wrote this article themselves, and it expresses their own opinions. The author is not receiving compensation for it. The author has no business relationship with any company whose stock is mentioned in this article.