Nvidia (NASDAQ:NVDA) is up strongly this year on the back of solid results and improving prospects. The graphics chip maker's stock is up 15% so far in 2014, but a look at its results and prospects will make it clear why Nvidia should continue gaining in the future.
Robust results
Nvidia reported an upbeat quarter with total revenue amounting to $1.1 billion, up 16% year-over-year. Gross profit rose by 83% while EPS grew by 85% from last year. The gross margin was 55%, up 50 basis points from last year. Total operating expenses were $411 million, about $2 million less than estimates.
Analysts, for the second quarter, have estimated that total revenue will be $1.1 billion, plus or minus 2%. There's a 25% increase in the number of boards sold over the previous quarter, translating into a 200% increase from the same quarter last year. Nvidia's Tegra processor business grew to $139 million, which accounts for a large part of the company's business. Nvidia's core PC graphics processor segment reported a 14% increase in revenue, amounting to $898 million.
Tegra and GPUs to drive growth
Nvidia is getting into automobiles through its Tegra chips, which are being used to power entertainment and navigation systems in cars. The Tegra processor market has grown from the past year due to an increase in demand for mobile and auto infotainment systems. Tegra mobile sales touched a peak, led by a robust growth in smartphone SoCs and growth in the auto business.
High-end desktop manufacturing and GPUs are Nvidia's strength. The company is dominating the market with its GeForce GTX GPUs for desktops and notebooks, and with the newly launched GeForce GTX 750 series, its first ever Maxwell based GPUs, things could get better. Moreover, the company launched its best performing graphics card, the GeForce GTX TITAN Z.
Nvidia is also going to benefit from IBM (NYSE:IBM) which will use Nvidia's interconnect technology in its future POWER8 CPUs. The company also is talking up its notebook prospects due to the ever-growing demand for its advanced graphic chips.
The gross margin of Nvidia indicates growth in the average selling prices of higher margin GPUs like GTX and GeForce. The expected gross margins are approximately 54%.
Better times ahead
It is believed that if Nvidia continues to drive revenue at the rate of 10% in the next few years, and keeps on growing its Tegra market share, then it can compete effectively with companies like Qualcomm (NASDAQ:QCOM). The stock is trading at $18.43 per share, and is expected to touch a $20-$22 range over the next year, according to analysts.
Automotive prospects
Nvidia is also set to benefit from the car infotainment market. The company is in talks with numerous automakers to supply Tegra processors for over 100 car variants across the globe. Jen-Hsun Huang, Nvidia's CEO, said the company is no longer focusing on the smartphone and tablet market and is concentrating more on the automobile industry. He said,
"We're going to focus on car computers where visual computing and supercomputing technology is really important to the future of cars."
This strategy can prove fruitful for Nvidia because global sales of in-car auto infotainment systems were over $34 billion in 2012, and IHS Automotive predicts that it could double in the next five years.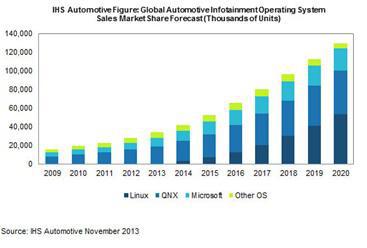 Earlier in 2014, Nvidia launched a new powerful chip called the Tegra K1. The Tegra K1 will not only help Nvidia gain traction in the in-car infotainment market, but it will also help the company to expand into the field of self-driving cars.
Nvidia claims that there are over 5 million vehicles on the road which use the company's processors, nearly 100% more than in 2012, and the automobile market has become the fastest-growing segment in the chipmaker's Tegra division. Thus, it's highly likely that the company will benefit from the powerful Tegra K1.
Conclusion
Nvidia is on track to benefit from several trends in technology. The company's Tegra chips have gained solid traction and are expected to drive solid growth in the long run. Also, the company's stock is expected to rise going forward as per analysts, so investors should definitely consider investing in Nvidia for the long run.
Disclosure: The author has no positions in any stocks mentioned, and no plans to initiate any positions within the next 72 hours. The author wrote this article themselves, and it expresses their own opinions. The author is not receiving compensation for it (other than from Seeking Alpha). The author has no business relationship with any company whose stock is mentioned in this article.