Mary Howitt wrote a famous Poem/Fable called The Spider and The Fly. In this cautionary tale the final stanza simply says:
And now, dear little children, who may this story read,
To idle, silly, flattering words, I pray you ne'er give heed;
Unto an evil counselor close heart, and ear, and eye,
And take a lesson from this tale of the Spider and the Fly.
There is also a book available on Amazon.com titled Amway: The Cult of Free Enterprise. In a section of the book titled "In For Life" a former Amway distributor describes the Amway experience as follows:
Little by little, the distributor sinks into the world of Amway. No spider is necessary to turn her over and over; she jumps in the web and wraps the strands around her own body. The initial investment is the first strand. No one told me, and I told none of my legs, that "retail profit" is a phantom, which, the harder pursued the more expensive it is to catch; as soon as I learned this lesson from experience I went on to the next stage, the effort to build a group; that is laying the web for others, so that I might get free of mine. Let them do the work, I would collect the bonuses. But to sponsor is only to go more deeply into the web…..Let us now trace step-by-step the process by which an otherwise lively and multidimensional human being (me in this case) turns himself into spider food.
By now every investor on the planet is aware that Herbalife (NYSE:HLF) is a recruiting juggernaut. 2.1 million people were recruited last year. 10 million people have been recruited since the beginning of 2008. Due to the velocity/churn in the company's distributor base the company now has 3.9 million distributors. This implies that over 6 million people have quit since 2008. In 2013 alone over 1.4 million people quit Herbalife.
How does the company replenish these people?
A. Recruiting
Why do people recruit?
A. The incentive system/compensation plan is a Pyramid Scheme (participants emphasize recruiting over retailing "in practice")
Q. What is the Herbalife life-cycle?
Pershing Square has the answer which can be found here.
Succinctly:
Herbalife builds its brand on income promises, even though the vast majority of Herbalife participants lose money.
For late entrants into the pay plan the cycle goes like this.
1. Recruitment
2. Indoctrination
3. Futility
4. Failure/Exit
Recruiters have perfected the Art of the Sale. Exaggerated income claims, amped-up testimonials, opportunity meetings, the sale of a mathematical fallacy and the proliferation of an endless chain are all symptomatic of Herbalife's approach to recruiting. Still, recruiting is only the first step in the Herbalife confidence game.
Step Two is Indoctrination. In this article I would like to discuss how Herbalife recruiters professionally and intentionally indoctrinate new recruits into the Herbalife world. David Brear refers to companies like Herbalife as "closed market swindles". Not only does a closed market apply to the chain of commerce that exists (sales between and among the network v. to people outside the network) but it also applies to the flow of information a new recruit receives. MLMs and pyramid schemes have been referred to as Cult-like for their unique ability to brainwash or indoctrinate participants with dogma that is as sinister as it is absurd. Herbalife is no exception.
There are 5 key things Herbalife recruiters do to indoctrinate their new recruits.
1. Convince them to shut out Outsiders/Impartial Opinions
Here are 5 of the "Ten Common Mistakes" Herbalife recruits can make.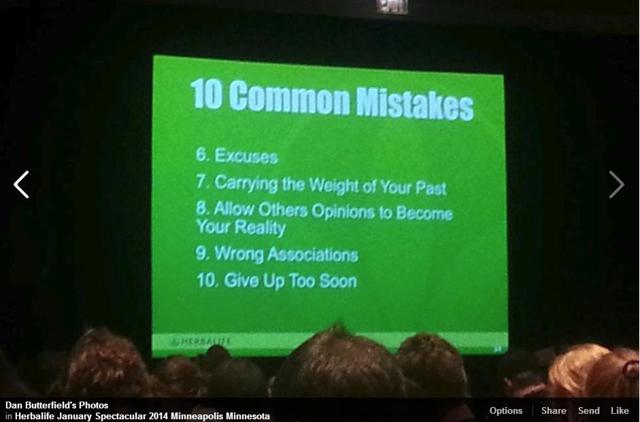 Check out this video of Michel Burton. At the 1 minute mark recruits are told only to listen to their mentors and to shut out outside advice.
Here's another slide that talks about shutting out outside noise.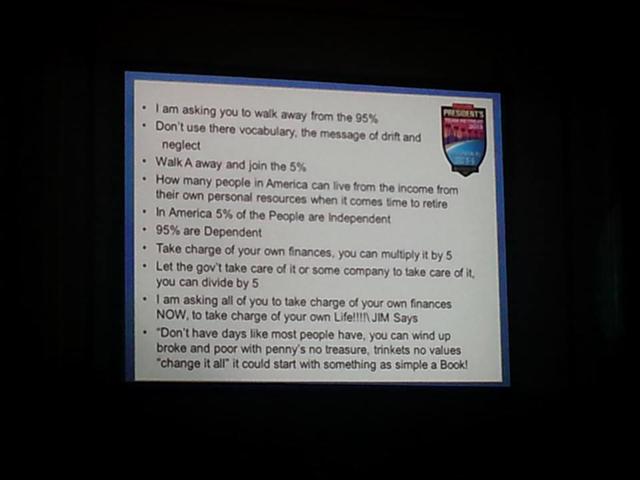 2. Convince them to consume the Product as a way to Advance in the Scheme
Here is a Video of Donte Andry taken at a Supervisor Training Workshop. Count how many times in the first Ten Minutes trainees are told to "Fall in Love With the Products" as a way to drive their incomes. So much for joining just for "Personal Consumption"
Ever wonder why very little product is returned?
Here's one potential answer as to why. Pres. Club Member Steve Combs has a unique application for some of his inventory.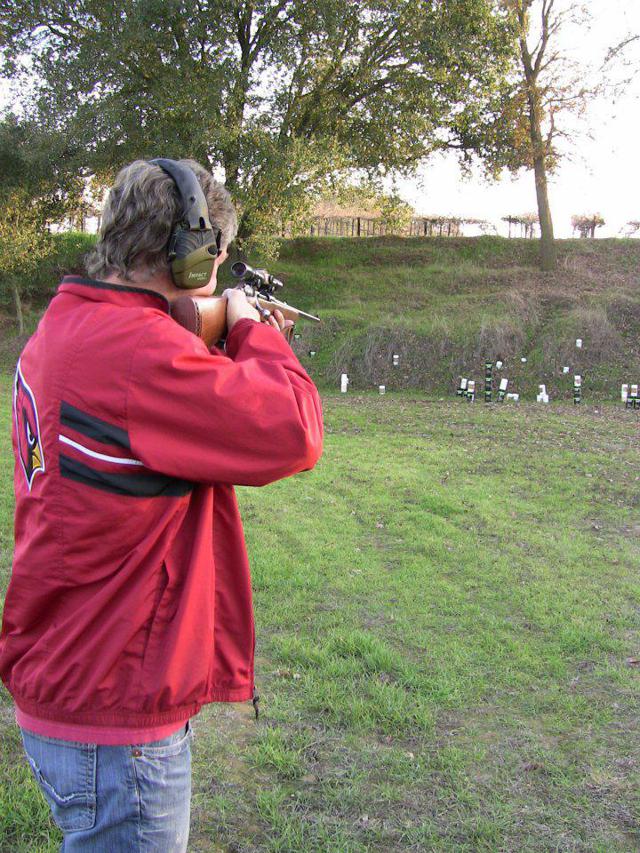 3. Convince them to Follow a Step by Step Process
Here is another video of Donte Andry peddling the Step by Step process one has to take to be successful. Sounds like a simple algorithm yes? Of course we all know that there is no Pot of Gold at the end of this rainbow unless your name is Des Walsh.
4. Constantly "Sell" Business Development Know How
Here's a slide from a Herbalife Extravaganza indoctrinating trainees to think like Mark Hughes. Sort of speaks for itself, yes?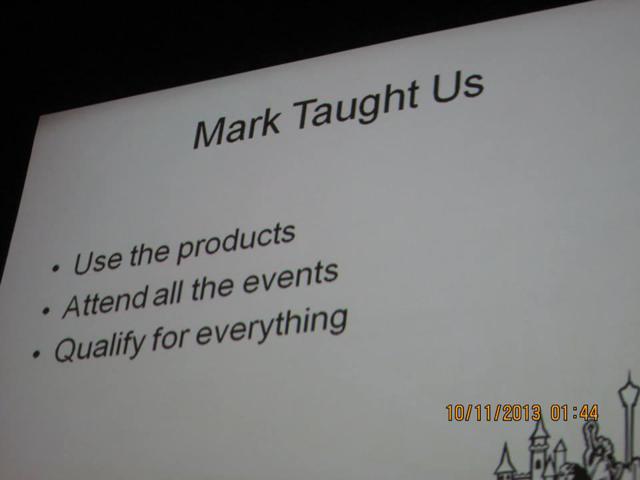 Say No More!
How are recruiters taught to work with their First Line Recruits?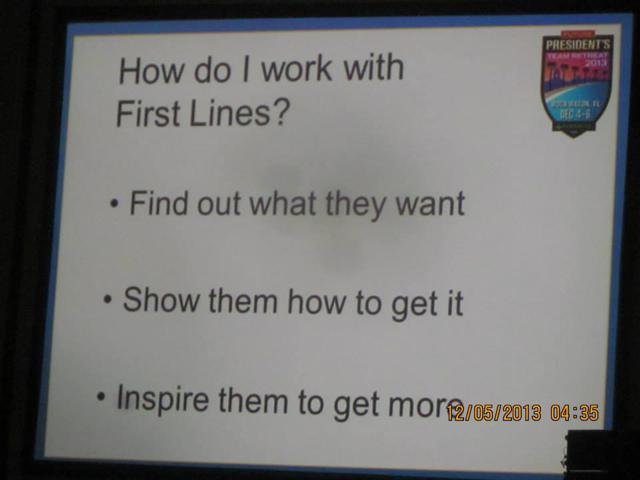 In this video Australian Distributor/Recruiter Andrea Williams talks at length about how to work the event calendar to make "Big Cash."
Q. What is the event calendar? Check out this slide to find out.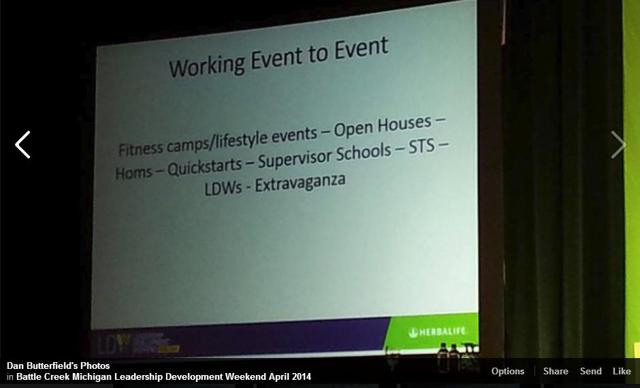 5. Encourage People to Never Give Up
Mistake #10 (see above) "GIVE UP TOO SOON"
As new recruits are indoctrinated, told to follow the "Step by Step" process, and driven deeper into the event web Herbalife constructs a fascinating thing happens to their wallets. Specifically, any money that resides in their wallets quickly becomes the property/domain of the upline sponsor. In exchange new Members end up as "Spider Food"
Regrettably, the third step in the Herbalife confidence game is Futility. New recruits begin to discover that even as they follow the Step By Step/Paint By Numbers program outlined by their "Mentors" there is no money to be made as a retailer of the product. As a result they either:
a) turn their efforts towards recruiting or
b) Fail and Exit the program.
Failure and Exit is Step 4 in the life-cycle. 6 million people have failed and exited since 2008 with empty downlines and broken dreams.
__________________
Imagine for a moment that you are a Martian.
You are looking down on Planet Earth through a giant telescope. You notice a giant pyramid shaped structure with a Herbalife logo on top. Over the course of a year you see 2 million human beings enter the front door of the pyramid. They are all told to think like this: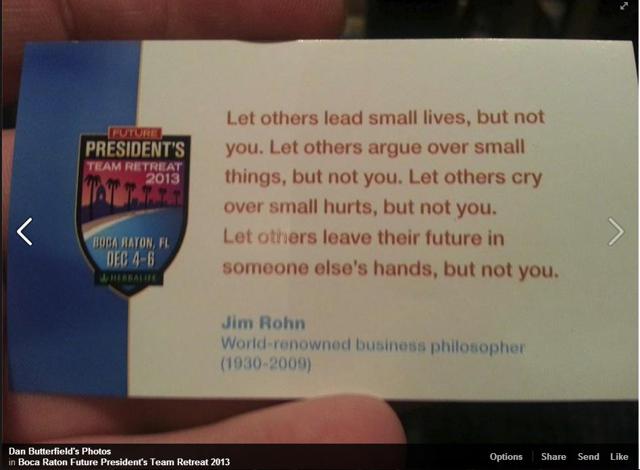 Then, over the same timeframe you see over 1.5 million people leave the back door, presumably as they start to finally think for themselves.
Q. What could possibly be going on you might ask?
A. Recruitment, Indoctrination, Futility and Failure.
This is how a Pyramid Scheme functions "in practice".
The examples in this article of how "Mentors" and "Sponsors" (read: Recruiters and Fraudsters)keep flies trapped in their web of deceit are just some of the ways Herbalifers are indoctrinated. There are surely more. Recruiting is only the first and most public step in the confidence game. Unfortunately, the con goes on from there as new recruits enter the sordid influence of HerbalWorld.
The point is simply this. New recruits are not left to their own devices to give the "business opportunity" a go. On the contrary, they are professionally and deliberately indoctrinated into the Herbalife web with dogma and propaganda.
The end result - even more capital is transferred up the chain in the Money Transfer Scheme. CEO Michael Johnson couldn't be more grateful.
Herbalife is a sophisticated Money Transfer Scheme that has perfected its techniques over a 34 year history.
"Will you walk into my parlour?" said the Spider to the Fly. Sadly, far too many flies accept the invitation.
Their collective fate is inevitable. They are not signing up for a "business opportunity", THEY ARE THE BUSINESS OPPORTUNITY!
That's why regulators need to intervene and shut it down; the sooner the better.
Disclosure: The author is short HLF. The author wrote this article themselves, and it expresses their own opinions. The author is not receiving compensation for it (other than from Seeking Alpha). The author has no business relationship with any company whose stock is mentioned in this article.