by Jack Sparrow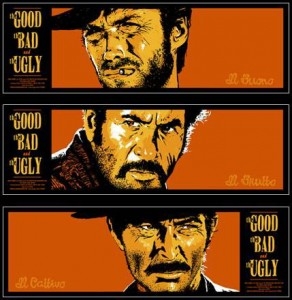 Japan has arguably fired the first shot in what many fear to be a new 'currency war', and a Federal Reserve official has made clear the U.S. has the biggest bazooka.
Meanwhile, the unfolding foreclosure debacle and robo-signer scandal have increased the odds of follow-on housing market collapse, even as consumers show signs of serious retrenchment.
All this has dramatically enhanced the case for precious metals and related equities, by way of underscoring the likelihood of extreme QE2 measures.

Current events (and the Fed's anticipated reaction to them) also potentially overwhelm the 'austerity effect' of a Republican resurgence and fiscal gridlock in Washington.
In response, we have increased our already substantial gold stock positions and hedged our opportunistic short retail plays with long side buys of high quality blue chip names. The ultimate outcome of "QE2″ efforts is still likely to be tragic for the U.S. economy.
"When the facts change, I change my mind. What do you do, sir?" – John Maynard Keynes
The facts on the ground have arguably changed — with the timetable for fiat debasement greatly accelerated — thanks to the surprise quantitative easing (QE) efforts of Japan and the reckless comments of a Federal Reserve official who fails to grasp the limits of monetary policy.
As the WSJ reports in "Central Banks Open Spigot,"

The developed world's central banks are moving—at varying speeds and intensity—to respond to a weak recovery, reduce the risks of a global deflation and restrain their currencies from rising against those of their trading partners.

On Tuesday, it was the Bank of Japan's move. Anticipating that the U.S. Federal Reserve will resume large-scale purchases of U.S. Treasury bonds and confronted with strong domestic political pressure to spur growth and restrain a rising yen, the Japanese central bank launched a bond-buying program. It said it would spend 5 trillion yen ($60 billion) to buy government bonds, corporate IOUs, real-estate investment trust funds and exchange-traded funds—the latter two a departure from past practice.

"If a central bank tries to seek greater impact from its monetary policy, there is no choice but to jump into such a world," said Masaaki Shirakawa, governor of the Bank of Japan.
The concern here is that the global competitive devaluation race may now have begun in earnest.
International Monetary Fund (IMF) Chief Dominique Strauss Kahn explicitly warned of potential currency war fallout as a result of Japan's move, telling the FT that "There is clearly the idea beginning to circulate that currencies can be used as a policy weapon."
Curiously, though Japan was the easer, the yen did not fall on Tuesday — the $USD did. This is perhaps because Japan still has a reputation for acting timidly, whereas the Federal Reserve has embraced a new attitude of boldness.
Consider this eye-opening statement from Charles Evans, President of the Federal Reserve Bank of Chicago (again via the WSJ):
"In the last several months I've stared at our unemployment forecast and come to the conclusion that it's just not coming down nearly as quickly as it should," Mr. Evans said Monday in an interview with The Wall Street Journal. "This is a far grimmer forecast than we ought to have," he added. As result, he said, he favors "much more [monetary] accommodation than we've put in place."

The comments are significant because Mr. Evans tends to reflect the broad center of gravity at the central bank. His prescription for aggressive action, though not uniformly held by his colleagues, suggests a shift in the mood at the Fed.
If accurate, these comments portray a frightening degree of cluelessness at the Federal Reserve. Why? Because there is no connection between QE and the ability to reduce unemployment!
QE is a means of juicing risk assets and attempting to raise the "animal spirits" of investors, in the naive hope that employment and the broader U.S. economy will revive as a trickle-down benefit.
As a means of helping Main Street (rather than just Wall Street), the stimulus and accomodation strategy has clearly failed.
QE has been a boon for paper assets and financial institutions (up to a point) but has done nothing to to address unemployment, and may even be making the consumer plight worse (by contributing to food and energy cost of living increases).
In trying to connect the dots between unemployment and further "accommodation," then, we see the Federal Reserve "pushing on a string" without realizing (or admitting) they are doing so.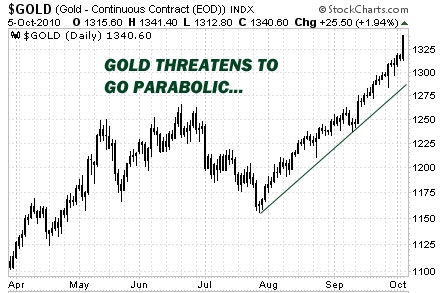 This news also comes on the heels of the European Central Bank (ECB) making new capital commitments to shoring up Ireland and Portugal via eurozone sovereign bond purchases. We are now three for three — euro, yen, $USD — in terms of fiat debasement efforts. No wonder gold is soaring.
In recent days there have been fresh calls for a gold top, with Dennis Gartman going so far as to call the metal "hyper-overbought."
In an October 2nd piece titled "Challenging Gartman on Gold," I questioned the logic of backing away from the yellow metal prematurely, based on a confluence of historic price patterns (the blowoff part of the move can be the most spectacular) and realities of the current environment.
What we may be seeing now, as precious metals accelerate their ramp-ups, is a psychological paradigm shift as it becomes clear the Western powers (and Japan) have no choice but to stimulate their currencies into managed oblivion.
Paradoxically, given the rip-roaring performance of U.S. equities on Tuesday, the outlook for the U.S. economy is NOT bullish at this point, and in fact is anything but.
We more or less agree with Jan Hatzius, the chief economist of Goldman Sachs, who classifies his two outlooks for the U.S. as a choice between "pretty bad" and "very bad."
Bad news is good news, though, when it comes to stimulus hopes, because the worse things get in the real economy, the greater the odds that the Fed will panic (and bring Congress along for the ride).
So, in that respect, the coming possibility of a second round of housing market collapse, as further fueled by foreclosure-gate and the robo-signer scandal, is very "good news" for stimulus seekers indeed.
Why? Because an event as serious as an all-but-guranteed double dip in housing means the Fed will almost certainly need to intervene in large size, with the "disaster avoidance" political cover to do so.
Here are some key coverage elements on the foreclosure story:
As with the unanticipated fallout of the Lehman bankruptcy, the major problems of foreclosure-gate are logistical. We don't know how easily, or how quickly, this mass-scale paperwork problem can be resolved. The net result could be a significant drying up of buyer interest for an already weak and declining housing market, which in turn threatens to debilitate the weak and frail recovery.
But again, if you're a QE lover, that's great news for stocks…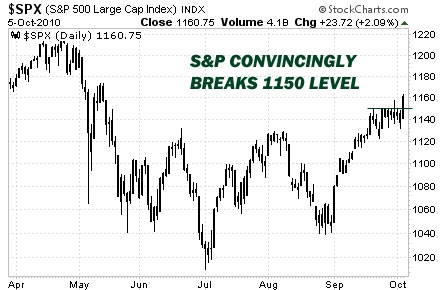 After a gloomy Monday, we saw the S&P (and the other major U.S. indices) surge convincingly above resistance levels, as traders took to heart David Tepper's assertion that the Fed, via QE, can make "everything" go up.
We participated in this upside breakout by way of purchasing a handful of high quality large cap blue chip names, of the sort aggressively favored by Jeremy Grantham and Howard Marks.
High quality large caps are seen by institutional investors as both a safe haven and a good store of value in the current environment, and as such they can be good vehicles for riding the broad trend higher, even as our selective short retail positions mostly tread water (with notable exceptions like American Express (NYSE:AXP), which has done very well).
Speaking of retail, this WSJ piece, "Middle Class Slams Brakes on Spending," was particularly noteworthy:
Middle-class Americans made their deepest spending cuts in more than two decades, slashing spending on such discretionary items as restaurant meals and alcohol during the recession.

Households in the middle fifth of the population sliced their average annual spending to $41,150 in 2009, the Labor Department said Tuesday in its annual spending breakdown. That was down 3.1% from 2007 and 3.5% from 2008, the steepest one-year drop since records began in 1984. The drop came even as those households' after-tax income remained relatively stable over the two years, at an average $45,199.

Meanwhile, the poorest Americans spent more as prices for necessities like food and rental housing climbed…

"What you're looking at here is people at the bottom trying to hang on," said Timothy Smeeding, public affairs professor and director of the Institute for Research on Poverty at the University of Wisconsin in Madison. "You can't go below a certain level."
In spite of QE2 and the naive hopes of spendthrift Fed officials, the picture for the U.S. consumer and the real U.S. economy (as opposed to the paper economy) continues to look grim. This is why we continue to favor opportunistic shorting opportunities in select retail names.
In a big enough windstorm, even turkeys can fly. But some of these turkeys will find themselves weighed down with lead — or otherwise shot out of the sky — by a sharply declining earnings outlook in keeping with the collapsing fortunes of the U.S. middle class.
In what looks more and more likely to be the onset of inflationary recession, with an incompetent Federal Reserve spinning its QE wheels a la Japan, there will be definitive winners and losers. We intend to profit substantially on both.
Disclosure: As active traders, authors may have positions long or short in any securities mentioned. Full disclaimer can be found here.