Over the last five fiscal years, Scotts Miracle-Gro (NYSE:SMG) has expanded revenues a grand total of 2.5% and earnings a regrettable 5.2%, while the stock price surged 32.5%. Most of that stock price growth came during 2013 when, egged on by the S&P 500 Index, the stock price rose more than 42% by year end despite very little revenue and earnings growth. The firm is highly dependent on sales to Home Depot (NYSE:HD), Lowe's (NYSE:LOW), and Wal-Mart (NYSE:WMT), who collectively account for 65% of the company's global consumer segment sales, with global consumer sales accounting for nearly 90% of total revenues.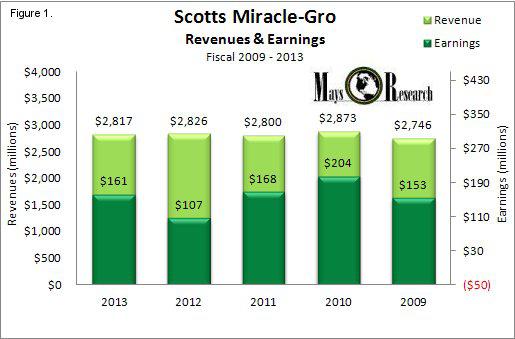 The long run relationship between Scotts Miracle-Gro and the S&P 500 Index is 0.47. That is, using the most recent 5 years of month end closing prices for both the stock and the S&P 500, the S&P 500 explains 47% of the company's stock price movement. During 2013, the relationship was even stronger, as the twelve month end closing returns from December 2012 to December 2013 between the index and the stock explained 85% of the stock's price movement.
Sometimes correlation does equal causation
The correlation argument actually makes more sense than a fundamental one as there was absolutely no reason for the stock of Scotts Miracle-Gro to rise 42% in 2013. All stocks have two components of return. One is company specific and the other reflects the stocks relationship with the market portfolio, for which the S&P 500 is the de facto proxy in U.S. markets. It's common for short-term correlations to move above and below their long-term trend over time. That is exactly what's happened in this case in my opinion.
Back to fundamentals
Understandably, sales were soft at the firm's main retail partners over the winter and into early spring. Home Depot reported negative comparable store sales for its outdoor garden and lumber product business during its fiscal 2014 first quarter. The company cited the impact of extreme winter weather and commodity price deflation. Lowe's said comparable sales in its outdoor product categories declined about 1.5% overall, with Lawn & Garden being one of the categories having experienced the greatest impact of unfavorable weather. Wal-Mart does not break out its outdoor living and horticulture numbers.
Warning Signs
One of the most important things an investor can do when performing due diligence is determining management's ability to actually deliver on its projections. In addition to the obvious, an investor can also glean insight into management's rationale for making the projections they make. Scotts Miracle-Gro has a relatively poor record in this regard. For 2014, the company predicts 2% to 3% annual sales growth.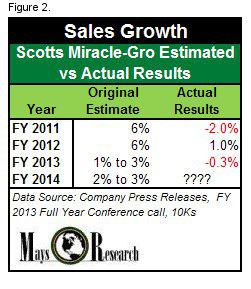 Whether or not they finally meet or exceed their own expectations in 2014 is open to debate. After reporting revenues that were 5% lower in its global consumer segment in the first quarter, global consumer segment sales rebounded in the second quarter, rising 9% and led to consolidated sales being up 6% year-over-year. What were the drivers of the increase? The company cited strong retailer support, pricing adjustments, and accretive earnings from a $60 million dollar acquisition of a rodent control business from Bell Laboratories.
First, in my opinion, retailer support sounds like they convinced Home Depot, Lowe's, & Wal-Mart to allow them to stuff the channel before the second quarter closed. If in fact, these retailers are not enjoying outstanding quarters in their respective outdoor categories, Scotts Miracle-Gro has merely shifted third quarter sales into the second.
Second, a $60 million dollar acquisition is unlikely to generate enough revenue to move the needle for a firm with $2.7 to $2.8 billion in annual revenues. In fact, the Tomcat acquisition has added $12.2 million, or 0.9% of total revenues, over the first six months of the company's fiscal year. In the second quarter, the $5.6 million total was about 0.5% of total revenues for the quarter.
Home Depot, Lowe's, and Wal-Mart all report earnings in mid-August, after Scotts Miracle-Gro reports its fiscal third-quarter earnings on August 4, 2014. Thus, we have no way of glimpsing into what the company's critical third quarter actual results might look like. In my opinion, the only way this stock is moving higher is if the S&P 500 takes it along for the ride.
Disclosure: The author has no positions in any stocks mentioned, and no plans to initiate any positions within the next 72 hours. The author wrote this article themselves, and it expresses their own opinions. The author is not receiving compensation for it (other than from Seeking Alpha). The author has no business relationship with any company whose stock is mentioned in this article.