What's Next For The Euro?
The validity of our previous warning calls to sell euro-denominated assets has been confirmed by the latest actions from the European Central Bank (ECB) in its recent decision to cut its bank deposit rate to -0.10% (from 0% previously). We have already seen some big moves in the currency this year but the policy stance that has been established at the ECB spells continued troubles for Euro-backed assets into the second half of this year.
The broader hope here for the ECB is that negative interest rates and cheaper long-term loans for banks can be used as a strategy to stimulate growth in region's stagnating economy. Many investors have moved on from their previous sovereign debt concerns that dominated the financial headlines after 2008. But the fact remains that chronic joblessness, deflationary conditions, and annual growth rates below 1% all point to an economy in disarray.
And, fortunately, the ECB is still aware of the long term risks that are involved when these negative factors combine to sour the outlook. So, for those of us that watch the underlying fundamentals, it is not entirely surprising to see the ECB gravitate toward measures that will start to correct some of these worrisome trends.
Strategy Aims
Cutting interest rates to negative will remove many of the incentives that are traditionally lead consumers to increase savings and keep their money secure in a bank. But without the opportunity to capture interest benefits from their cash holdings, consumers are much more likely to use available funds to make larger purchases. Loans for things like cars, heavy appliances, and homes are cheaper now in the eurozone -- and the ECB hopes these conditions will drive consumers to go out and spend money rather than holding it in a savings account. ECB decisions to reverse incentives for certain types of consumer practices are meant to generate new spending activities that will drive jobs creation in the region and provide economic tailwinds broader GDP figures.
Comparative Stances
Over time, this approach should prove to be positive for the eurozone as a whole. But the impact on the euro itself is a totally different story. There is still scope for the ECB to step up its activities in large-scale asset purchases and implement changes in its own version of quantitative easing. If this were to occur, it would mean that much higher currency volumes would be running through the eurozone economic at any given time. Traditional supply and demand lessons work for currency markets as well -- increased supply generally leads to lower market valuations. This remains the most likely scenario for the Euro, and forex traders are now positioning for sustained weakness in the shared currency relative to the US dollar.
For those with bullish exposure to the Guggenheim CurrencyShares Euro Trust (NYSEARCA:FXE), this can create major problems as the broader outlook is much more supportive for the PowerShares DB US Dollar Index Bullish ETF (NYSE:UUP) and other Dollar-denominated ETFs. Even for those looking to implement carry trading strategies, there is not much light on the horizon as holding long positions in the Euro offers limited benefit when compared to similar positions in the CurrencyShares Japanese Yen Trust ETF (NYSEARCA:FXY).
All combined, things are not looking good for the Euro. The ECB is clearly concerned with the regional economic data, and there is still a substantial possibility that additional stimulus measures will be taken in the months ahead. This spells continued declines in euro-denominated assets, as the comparative central bank stance favors other currencies. The Federal Reserve plans to end its QE programs before the end of this year and this forex news report shows that a similar stance is being taken at the Bank of Japan. All of this points to continued declines in the euro on a comparative basis.
Technical Analysis Outlook: EUR/USD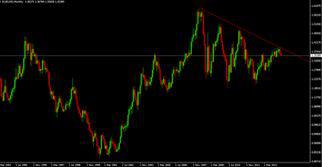 Chart Source: Orbex
Looking at the long term charts in the EUR/USD, the fundamental outlook is also supported by the price action. Specifically, we are caught in a descending triangle that could send prices into the lower 1.20s if we do not see breaking resistance levels soon. First level to watch is 1.35, an important psychological price point that could create further losses if broken.
Disclosure: The author has no positions in any stocks mentioned, and no plans to initiate any positions within the next 72 hours. The author wrote this article themselves, and it expresses their own opinions. The author is not receiving compensation for it. The author has no business relationship with any company whose stock is mentioned in this article.