So while I'm a contrarian, I don't blindly jump into everything that the betting public hates. There must be a significant asymmetrical risk reward profile for me to get interested and make a bet. I've been following RadioShack (NYSE:RSH) for the past several years. I took my first long position June 24 at $0.85, as evidenced by my StockTalk, which has gathered some interest among speculators. While the company is certainly in a tough position right now, I don't believe that the story is quite over yet.
Let's take a look at some recent headlines from the past few days in Yahoo! Finance: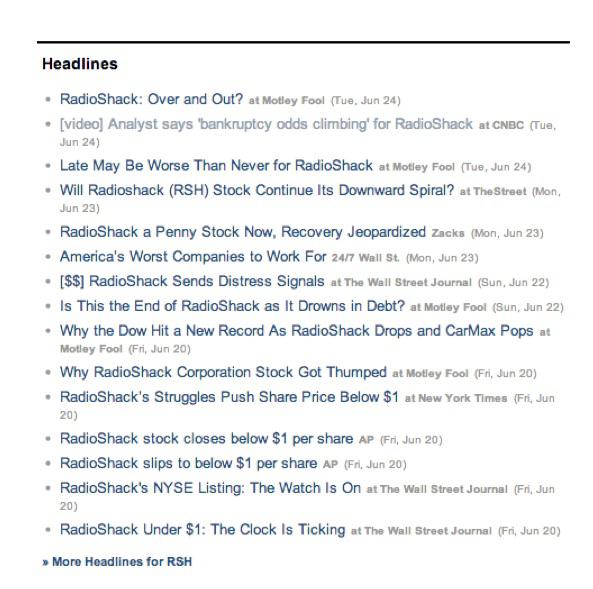 Even among the biggest dog stocks, it is rare to see such overwhelming pessimism, and that is what pushed me to take a shot with a speculative long position.
Earlier this month Scott Tilghman, an analyst with B. Riley & Co. caught a bunch of media hype by sticking a $0 price target on RSH. These sort of outlandish projections always gather attention. I remember a couple years of ago, another analyst named Gordon Johnson from Axiom Capital appearing on CNBC and calling First Solar (NASDAQ:FSLR) "essentially worthless" while citing irreversible warranty woes. Let's not forget that both B. Riley and Axiom Capital are both second or third tier research shops and often make outlandish calls to gain attention.
Like Tilghman's bold Radio Shack call, FSLR sold off 11% that day on this shocking downgrade and many were calling it the final nail in the coffin for this company. However it effectively called the bottom in the stock that has since rallied over 500% off its lows. Not bad for a "worthless" stock.
The moral of the story is that if you can ignore the doomsday scenarios for a minute, there is often a lot of money to be made going long. Investing in RadioShack carries a lot of risk, don't get me wrong. The chance of bankruptcy as a worst-case scenario is material, although from a strictly financial standpoint there are many companies in a far worse overall position that trade at lofty valuations.
For instance, I am quoting a comment made by SA Contributor Matthew Finston in response to a recent article by Achilles Research:
Here are some companies with a higher debt/equity ratio than RSH:

CHTR: 110.4
SBAC: 17.34
Verizon:8.64
RSH: 8.46
KATE: 5.97
ABBV: 5

Here are some companies that have a worse debt/FCF ratio

TAC: -102.70
AT: -40.23
AA: -25.42
CWT: -16.01
MANU: -12.76
KMP: -12.58
COP: -12.34
APP: -9.33
RSH: -8.85
XEL: -8.39
SBAC: -6.92

[Note: a low number means that the company will have a harder time covering its debts from its yearly cash flows.]

In fact, RSH has a better ratio of total assets/total current liabilities than AMZN.

RSH: 2.4
AMZN: 1.1
Furthermore, the balance sheet isn't so bad and the assets look to be very conservative. The stock trades pretty much at book value, and there are no red flags like any goodwill or intangibles. Essentially the value of the business by the market right now is "worthless," that is with over $3B in sales this year.
Considering that the company is in the midst of a turnaround, even a small shift in metrics that improve operational efficiency can put RadioShack on the road to profitability again. As Wall Street is forward looking, we only need to see these "green shoots" to realize an incredible gain in the share price. These are the type of bets that I like.
In reality and given the market comparisons indicated above, RadioShack is really not the unmitigated disaster that the overwhelming majority are making it out to be. The company has said on their recent quarterly earnings call that they have sufficient liquidity for the next 12 months and are on good terms with their creditors. They are closing unprofitable stores and cutting costs everywhere possible.
Certainly with bankruptcy as a worst-case scenario, the share price would drop from even these depressed levels. But compare this scenario to the potential upside of a successful turnaround like we have recently seen with similar retailer stories like Rite Aid (NYSE:RAD), Best Buy (NYSE:BBY), SuperValu (NYSE:SVU) to name only a few that have returned huge multiples to speculative investors. Also, even when companies go bankrupt, there is always some drama that ensues at some point that benefits the common stock holder.
I think that in the case of RadioShack and the net positive stockholder equity and acquisition rumors, there will certainly be some speculation of a positive outcome in bankruptcy. This could act similar to what recently transpired with American Airlines (NASDAQ:AAL), where common equity holders made out like bandits even after suffering through a worst-case bankruptcy scenario. This is speculation of course as the stock in the case of a bankruptcy could also go to a few cents per share and stay there before being de-listed and truly be deemed worthless.
Some other positives here include the strong insider buying of RSH at prices double and triple the current price. More specifically there were 100,000 shares purchased as recently as March 11 at $2.13 by RadioShack CFO John Feray. If anybody at the company knows the chances of a turnaround being successful it will be this guy. He will be the one in talks with lenders. I can't think of any instances where a public company CFO made a considerably large open market purchase right in front of a bankruptcy.
Furthermore, Jamie Zimmerman's Litespeed Management recently took a passive 8.1% stake in RadioShack. There is no indication that the hedge fund has since sold this position.
Finally, a couple of new RadioShack initiatives look interesting. One being the joint venture with PCH International to create a retail channel for hardware startups. Another unique initiative is the recent partnership with Quirky. Quirky develops "smart toys" and has a partnership with General Electric (NYSE:GE). While I'm not pinning any turnaround success on these yet to be proven new initiatives, I am certainly not writing them off as "worthless" just yet.
Disclosure: The author is long RSH. The author wrote this article themselves, and it expresses their own opinions. The author is not receiving compensation for it (other than from Seeking Alpha). The author has no business relationship with any company whose stock is mentioned in this article.
Editor's Note: This article covers one or more stocks trading at less than $1 per share and/or with less than a $100 million market cap. Please be aware of the risks associated with these stocks.