In light of competitive pressures and recent double-digit declines in comparable store sales in North America, Coach (NYSE:COH) has embarked on a bold turnaround strategy. As someone who has witnessed the Coach story since 2004, the troubles at the company are not a surprise. Over the last several years, Coach has focused on an aggressive expansion strategy, with the number of retail stores in North America more than doubling from 156 at the end of fiscal year 2003 to 351 at the end of fiscal year 2013. Factory outlets increased more than 2.5 times from 76 at the end of fiscal year 2003 to 193 at the end of fiscal year 2013. Through factory outlets, Coach targets value-oriented customers and prices are generally discounted from 10% to 50% below full retail prices. The company's strategy to aggressively grow factory outlet stores in North America has over time devalued the Coach brand. Factory outlets are a necessity for brands but for every 10 retail stores, Coach has about 6 factory outlets. The industry average is about 1 factory outlet for every 10 full price retail stores.
Coach North America Comparable Store Sales Growth %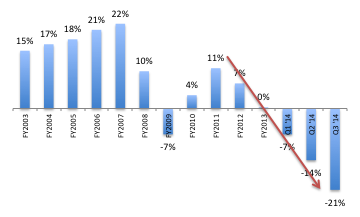 Source: Company filings
Note: Coach fiscal year ends June
After a decade of consistent growth, Coach is at a crossroad. It is clear that Coach had become too complacent and had significantly underinvested in the brand. On the June 19th analyst day, there was a clear recognition of the issues and the management highlighted a bold transformation strategy.
Investing in the brand and its positioning - "Modern Luxury" Lifestyle brand
The company is repositioning the brand from "Accessible Luxury" to a "Modern Luxury" lifestyle brand. Coach hopes to create a differentiated experience from the "Accessible Luxury" brands that are reliant on fashion and "Traditional Luxury" brands that are reliant on exclusivity. The company emphasizes its tradition and heritage as a house of leather built around quality, in an "Effortless New York Style." Coach defined the "Accessible Luxury" category over the last decade and now seeks to define "Modern Luxury." The brand transformation is being led by Stuart Vevers, who was previously the designer for high profile exclusive luxury brands at Loewe, Mulberry, and Bottega Veneta. The first glimpse of the brand transformation will be visible in fall 2014. Quoted in a recent Vogue article, Stuart Vevers said, "One of my proposals for Coach is this balance between utility and luxury. These elements, combined with the company's origins in New York City, can really differentiate it. I wanted to create a genuine, authentic alternative to a European luxury brand." The transformation to lifestyle "Modern Luxury" will require a multi-faceted approach across product, stores, and marketing and will likely be a multi-year journey.
Store closures, reducing promotions and optimizing multi-channel strategy
After years of aggressive new store openings, Coach is closing several of its under-performing retail and factory outlet stores in North America. The company plans to close 70 underperforming retail stores and is moving to a semi-annual sales model with limited marketing events, targeting its best customers. The company is also working to roll out its new retail concept and building a stronger flagship presence. At factory outlets, the company will have 5 net store closures, where it is focused on reducing discounts and creating an elevated store experience. At wholesale, Coach is focused on enhancing its store experience through fully branded displays, improved customer experience and wholesale exclusive products to address specific needs of the channel.
Attractive global market and international operations continues to be a bright spot
Coach operates in an attractive global market of mens and womens bags and accessories. Today, it's a $35 billion market, expected to exceed $50 billion by 2018. International markets represent 30% of the company's sales. Outside of North America, the two largest markets for Coach are China and Japan. Despite weakness in North America, the international business continues to be solid for Coach, with over 50% of incremental growth set to come from international markets over the next five years. The premium handbag and accessories market in Greater China and South East Asia is a $9 billion market combined, growing at 12% and 8%, respectively. The opportunity in China, along with the expansion of the US men's business and the focus on Europe, gives Coach early-stage growth stories to go with its mature domestic operations.
Global Premium Bags & Accessories Market (US$ Billion)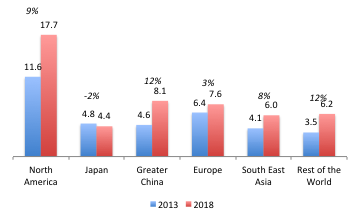 Source: Coach management presentation
The company continues to perform strongly in Greater China, with double-digit comparable store sales growth. Over the last few years, Coach has grown from the No. 8 brand in China to No.3. China represents the largest single market opportunity for Coach after North America. Today, Coach has only 16% unaided brand awareness in China versus 60+% in Japan. Coach management has stated its plans to grow China into a $1 billion business. However, Coach is not taking its success in China for granted and is also using this opportunity to reset the China business, where it indicated 10 China retail closures (147 current stores).
China Revenue Growth (US$ in millions)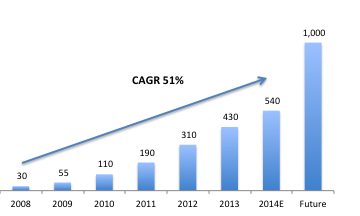 Source: Coach management presentation
Outside of China, Europe represents a strong growth market. Coach entered this market over 3 years ago. The company expects about $100 million of sales from Europe in fiscal year 2015, with the goal of reaching $500 million over the next few years. Coach hopes to capitalize on its differentiated New York fashion positioning in Europe.
Successful brand transformations have been done before - The J.Crew story
In the late 1990s after a period of over-expansion and over-discounting, J.Crew clothing became uninspiring. Mickey Drexler, the retail industry icon who is credited with Gap's (NYSE:GPS) rise during the 1990s, took charge of J.Crew in 2003. He put in place a turnaround plan that addressed J.Crew's brand, financial position and operations. In many ways J.Crew's situation was much worse than Coach. The company had breached its financial covenants and had negative operating profit. In 2002, J.Crew had operating losses of $40 million.
The main cause of the problem at J.Crew was the loss of its brand reputation, which stemmed from poor product quality and positioning. Mickey Drexler positioned J.Crew as a unique player in luxury retail with a differentiated lifestyle brand proposition, offering multi-tiered pricing.
Drexler's immediate task at J.Crew was fixing the product mix. He did away with trend-driven clothes, no matter how popular, and instead, reintroduced many of the preppy styles the company was best known for. He also brought in more luxurious pieces such as a cashmere line. While pricier than J. Crew's usual fare, they were significantly cheaper than other similar designer offerings.
J. Crew began pushing luxury still further. It started offering super-premium products in limited editions, sometimes no more than 100 pieces. Vogue market editor at that time commented, "Americans are mixing the high end with things that are more affordable. At J. Crew you can have the high-low moment in a one-stop-shopping experience." Limited edition products create the sense of scarcity. To encourage this mindset for J. Crew's entire product line, Drexler drastically tightened inventories.
Drexler's success at J. Crew is one of those rare examples where CEOs have learned from their past mistakes. After turning Gap into an apparel retail powerhouse in the '90s, Drexler became focused on aggressively opening new stores, which ultimately led to Gap's poor performance in the late '90s. In his first two years at J.Crew, he closed several underperforming stores. At Gap, he ensured that stores had adequate inventory, while at J. Crew he cultivated scarcity. At Gap, he spent aggressively on advertising, while at J. Crew he continued the tradition of not advertising. Most importantly, in his later years at Gap, he focused on trendy clothes, while at J. Crew, it was about the classics. Some of the issues facing Coach today are quite similar to those faced by J.Crew in 2003.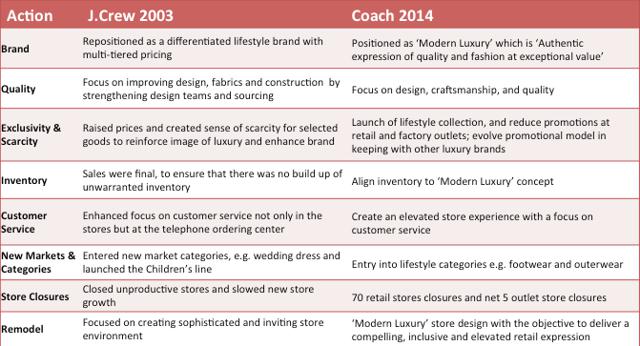 Source: Company filings and Coach management presentation
After spending over two years closing underperforming stores, J. Crew opened 6 stores in 2005. After three years of declining comparable store sales from 2001 through 2003, sales rose 16% in 2004 and 13% in 2005. Drexler raised prices and vastly improved the product quality, significantly improving margins.
Coach Financial Review
Coach's transformation requires significant investment, and fiscal year 2015 will be a year of focused execution. Growth is expected to return in fiscal year 2016 and accelerate in subsequent years. In the midst of slowing sales, investments in fiscal year 2015 will weigh significantly on financial performance. Coach expects revenue to be down low single digits, North America comparable store sales to decline high teens, and operating margins to drop to high teens. Major investments required to reset the business include:
Increase marketing spend by about

$50 million with half incurred in fiscal year 2015 and other half incurred in fiscal year 2016.

Cost to re-platform stores will be about

$570 million by fiscal year 2017.

Restructuring and transformation costs of about $250 million-300 million in fiscal year 2014 and 2015
Financial Outlook Summary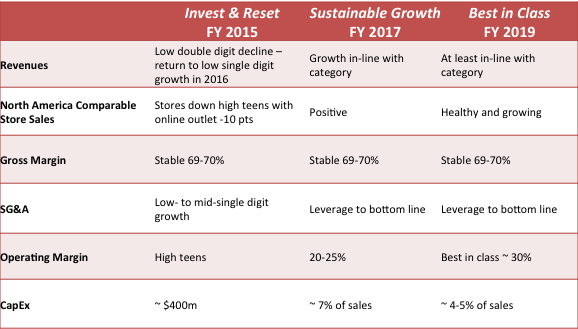 Source: Coach management presentation
Historical and Projected Financial Overview (US$ millions)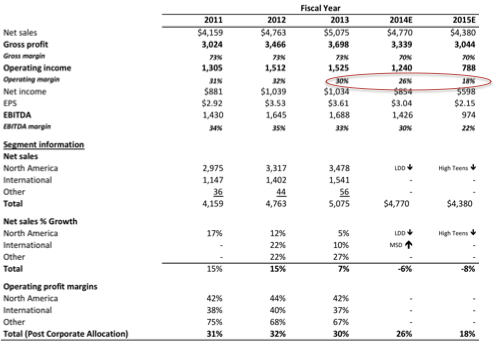 Source: Coach company filings
Note: LSD = Low Single Digits; MSD = Mid Single Digits
Despite the pressure on margins, most importantly, Coach has a strong balance sheet with about $1 billion in cash, high quality investments and minimal leverage. Furthermore, Coach remains committed to maintaining its dividends, with the yield currently at 3.9%.
Coach trades at 15.9x 12-month forward earnings, a small discount to its 5-year average valuation. The forward multiple is based on earnings that are significantly depressed, with margins expected to be down 800bps in fiscal year 2015. Coach trades at a roughly 30% discount to Michael Kors (NYSE:KORS) and over 75% discount to Kate Spade (NYSE:KATE). Given the lack of any catalysts in the near term, it is quite probable that shares trade down another 10-15% (share price in the late 20s to early 30s), which will represent a compelling entry point. In the longer term, I do believe that the company can return to industry growth and operating margins in the mid 20s versus the best in class operating margins of 30% highlighted by the company.
Leveraged buyout does not seem very likely
With M&A volumes picking up significantly, there has been some talk in the market about a potential private equity-led leveraged buyout. At this stage, leveraging the company with debt will take away some of the financial flexibility that exists today. In addition, with a current enterprise value of about $9 billion (a takeout will be at a premium of at least 25% to the share price), the takeout is less likely. Typically fashion and apparel transactions are of much smaller value. J.Crew's buyout by Texas Pacific Group (TPG) in 2010 was for $3 billion. With regard to a strategic takeover, a buyer is less obvious, unless of course, a "left field" Asian player emerges, perhaps teaming up with a private equity player. Earlier this year, J.Crew was in discussion about a sale to Japan's Fast Retailing, the owners of Uniqlo.
Conclusion - Ultimately, it's all about the brand re-positioning
Coach is embarking on a bold multi-year turnaround strategy. The share price has reacted negatively to the strategic initiatives announced on June 19th and several analysts have downgraded the stock. In my view, the strategic initiatives position the company significantly better to address issues relating to competitive pressures, brand positioning and channel strategy. Coach is demonstrating a commitment to driving fashion innovation. Coach is an iconic global brand with a strong 70-year heritage and the turnaround represents an opportunity for longer-term investors.
Risk of poor execution should not be ignored. Despite the solid brand equity of Coach, this multi-year transition process will be delicate as Coach tries to balance between "Modern Luxury" and a highly promotional strategy in a competitive environment. Furthermore, the turnaround assumes that the factory outlet consumer will spend more. Coach's strategy to reduce promotions in this channel is a big calculated gamble. Coach's product assortment, store experience and brand proposition will have to be elevated in the mind of the factory outlet shopper in order for this strategy to work.
Successful retail turnarounds have been done before as demonstrated through J.Crew, but will require time, strong execution and a multi-faceted approach across products, stores, and marketing. Despite the attractive dividend yield, investors should consider owning this stock if they believe in the strategy and the potential for a turnaround. Coach's valuation remains reasonably attractive. Should the shares trade down another 10-15%, the risk-reward becomes extremely compelling.
Sources: Coach company filings and management presentation, Fortune article - Mickey Drexler's Second Coming, nymag.com - Mickey Drexler's Redemption, J.Crew IPO prospectus, Vogue
Disclosure: The author is long COH. The author wrote this article themselves, and it expresses their own opinions. The author is not receiving compensation for it (other than from Seeking Alpha). The author has no business relationship with any company whose stock is mentioned in this article.