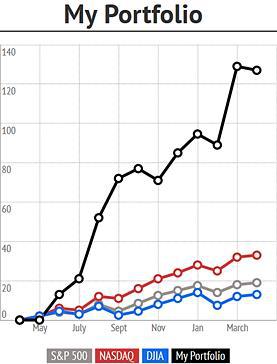 I started investing in the stock market at a very young age. Over the years, I learned some very important lessons. Yes, I made some mistakes along the way and got taken to the cleaners a few times, but overall, I've more than made up for it with some serious gains over the years.
Last year, I shared with investors in a SA article about which stocks I strongly believed would outperform the markets during this time frame (April 2013 - April 2014).
My conviction was right as my portfolio rewarded investors with gains of more than 128%. That averages out to more than 10.66% a month. Now who wouldn't want a return like that?
In the table below, you will see a breakdown of how each stock performed in my portfolio last year. Starting at the top, you will see my biggest winners, all the way down to my other winners.
| | |
| --- | --- |
| Company Name | Portfolio Performance |
| Vipshop | +434.87% |
| Dangdang | +254.59% |
| Pandora | +132.19% |
| NQ Mobile | +107.40% |
| Baidu | +82.86% |
| Priceline | +79.86% |
| Youku Tudou | +76.82% |
| Yandex | +37.75% |
| Apple | +26.29% |
| Vringo | +17.35% |
| Total = | 127.99% |
While my performance is quite impressive, I must admit that I wasn't the only one who was fortunate enough to be apart of the markets magnificent run last year. Stocks rallied across the board giving investors huge returns. So where are the markets headed this year and what do I have for an encore performance?
First, investors should not expect to see another run like we had last year. At the same time, this doesn't mean that its time to sell your shares and panic by any means.
Second, when looking at the global economy and factoring everything in, I believe the market indices (NASDAQ, S&P 500, DJIA) will continue to climb, but at a much lower rate than in previous years. This will make finding those great returns a little bit harder to come by, which is why choosing the right stocks now is so important.
While I concentrated for the most part on technology stocks last year, this year I will be incorporating a broader range of investments which include the Financial, Technology, Consumer Goods and Services departments.
Staying Diverse
Managing your money the right way is one of the most important things you can do for yourself and for your family. One of the best ways to do that is taking the necessary steps in order to protect yourself. While investing in the stock market can be a daunting task sometimes, staying diverse will help limits some off the bumps along the way.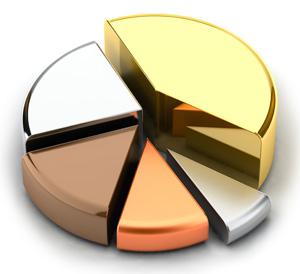 The picture on the right sums up diversification. By spreading your investments around (Cash, Real Estate, Stocks, Bonds, etc.) and investing in companies of different size, geography and economic status, you are essentially limiting your risk. Combining investments that do not move in the same direction will help reduce risk as well as some of the bumps along the way.
So with thousands of stocks available to buy and to short these days, which ones will give you that great return? That seems to be the million-dollar question that investors are constantly asking themselves.
Because the markets had one of their best years in more than a century last year, investors were rewarded with big returns. So what are you going to do with all of that extra cash now? Hopefully, you are going to re-invest those funds after coming home from all of your vacation trips. While this year is definitely not shaping up to be like last year, there is still lots of money to be made.
That is why I would like to show you 16 stocks that I believe will outperform the markets over the next twelve months. So whether you have a portfolio set up or are looking to set one up, these 16 stocks are definitely worth your time looking over.
Whether my picks turn out great or fall flat on their face, I will be checking in periodically to talk about my picks and to give updates on them as well. So don't worry, I won't be running away from these picks anytime soon. So what does my portfolio include? Well without further ado, here they are.
Stocks
| | | | | | |
| --- | --- | --- | --- | --- | --- |
| Name | Sector | Current Price* | My Target** | Target Potential | Portfolio Return To Date |
| Vringo Inc. (VRNG) | Services (Intellectual Property) | $3.31 | $10.00 | +203% | +6.43% |
| WidePoint Corporation (NYSEMKT:WYY) | Services (Cybersecurity) | $1.59 | $3.25 | +105% | +0.63% |
| E-House (NYSE:EJ) | Financial (Property Management) | $8.44 | $17.00 | +102% | -7.76% |
| Qihoo 360 Technology (NYSE:QIHU) | Technology (Internet & Mobile Security) | $91.52 | $145.00 | +59% | +4.18% |
| Dangdang (NYSE:DANG) | Services (E-Commerce) | $11.84 | $18.00 | +53% | +18.88% |
| YY (NASDAQ:YY) | Technology (Internet Information Provider) | $72.47 | $105.00 | +45% | +13.87% |
| Vipshop Holdings Limited (NYSE:VIPS) | Services (Online Discount Retailer) | $179.08 | $245.00 | +37% | +9.57% |
| Priceline.com Inc. (NASDAQ:PCLN) | Services (Travel) | $1,204.73 | $1,520 | +27% | -5.79% |
| MasterCard Inc. (NYSE:MA) | Financial (Credit Services) | $72.70 | $90.00 | +24% | -5.65% |
| Google Inc. (NASDAQ:GOOGL) | Technology (Internet Information Provider) | $572.54 | $700.00 | +23% | +1.45% |
| Yandex N.V. (NASDAQ:YNDX) | Technology (Search Engine) | $34.61 | $42.00 | +22% | +9.28% |
| Citigroup (NYSE:C) | Financial (Banking) | $47.81 | $58.00 | +22% | +0.10% |
| Baidu Inc. (NASDAQ:BIDU) | Technology (Search Engine) | $181.19 | $220.00 | +22% | +8.33% |
| Apple Inc. (NASDAQ:AAPL) | Consumer Goods (Electronics) | $90.28 | $110.00 | +22% | +0.52% |
| JetBlue Airwaves (NASDAQ:JBLU) | Services (Airlines) | $10.41 | $12.00 | +16% | +6.01% |
| Facebook Inc. (NASDAQ:FB) | Technology (Internet Information Provider) | $65.72 | $75.00 | +15% | +4.19% |
| Portfolio Gain/loss To Date |   |   |   |   | +3.97% |
| Future Portfolio Return |   |   |   | +49.81% |   |
* Current prices reflect June 24, 2014 closing prices
** Price targets reflect June 1, 2015 closing prices
For those of you that followed my picks last year, you probably noticed that I carried some stocks over from the prior year. Like I learned at an early age, "if it ain't broke, don't fix it". Stocks such as Baidu, Vipshop, Yandex, Apple and Priceline look to keep producing great returns thanks in large part to strong earnings and outlooks.
Right now I am looking for a total return of around 50%. While this might pale in comparison to the returns from last year, I fully expect the markets to be a bit rougher, which will make gains harder to come by this year.
While some of these companies are some of the biggest in the world, others are some of the smallest. Some of them are known throughout the world while others are not. So why am I investing in these companies? Here are the reasons why.
Apple
Apple and its wholly-owned subsidiaries design, manufacture, and market mobile communication and media devices, personal computers, and portable digital music players, among many other things worldwide. Apple was founded in 1977 and is headquartered in Cupertino, California.
When you think about Apple, you can't help but think about Steve Jobs and the innovation (iPods, iPhones, iPads, etc.) that he brought to the Company. These products have been the main drivers behind Apple's rise over the years.
It's been almost two years since Apple reached its all-time high. Since then, shares have struggled to find the momentum they once had just a couple of years ago. Are things finally starting to turn a corner? Yes, and here are a couple of reasons why.
Valuation, Valuation, Valuation
Looking at the fundamentals, one can make the case of just how undervalued Apple is. So how does Apple compare to other big names in the market? The table below shows just how cheap and undervalued Apple is to some of its peers.
| | | | | |
| --- | --- | --- | --- | --- |
|   | Apple | Google | Amazon | Microsoft |
| P/B | 4.56 | 4.22 | 14.58 | 3.97 |
| P/S | 3.11 | 6.22 | 1.93 | 4.16 |
| P/E | 15.15 | 30.00 | 505.71 | 15.64 |
| Forward P/E | 13.12 | 18.08 | 103.24 | 14.55 |
| PEG | 0.93 | 1.33 | 7.01 | 2.28 |
Apple's historical valuation is around 23-24 times earnings, but slower growth in recent years has put that multiple more in-line with the market average.
Looking at the current valuation right now, Apple is selling at 14 times this year's expected earnings, a discount to the overall market multiple of 16-17. That means that Apple is already trading at a nice discount. If Apple traded with the market multiple, shares would be well over $110 right now. This represents upside of more than 22%. Things only get better in 2015, as Apple is selling for just 13X projected earnings. As you can see, clearly there is a lot of upside potential left in Apple.
Not only is Apple rewarding shareholders with a nice dividend, but the Company is also currently buying back shares as part of its huge share buyback program. Certainly with all of this, Apple makes a fantastic case as to why investors should own or seriously consider holding this stock this year.
The Chart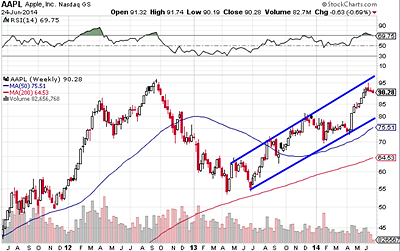 I'm no chart expert, but looking at the chart on the right, one can tell that Apple has officially broken out and is on the move once again.
Because of this, as well as the amount of cash that Apple currently holds and is giving back to its shareholders, I feel confident that Apple will surpass levels it saw before its fall from grace. I currently have a BUY rating on Apple with a price target of $110.
Baidu
Baidu, often called the Google of China, is one of China's biggest companies. The Company was founded in 2000 and is headquartered in Beijing, China.
Baidu currently dominates the search engine space in China with a market share of around 60%. Looking at the rankings on Alexa, Baidu is the number one most visited site in China and the fifth most visited website in the world.
With competition ever rising, Baidu stepped up its game in the acquisition department, as the Company purchased and partnered with multiple companies. Below is a table depicting Baidu's acquisitions over the last year.
| | |
| --- | --- |
| Acquired Companies | Impact these companies will have on Baidu |
| PPS | This bolsters Baidu's video platform and puts it in a position to challenge market leader Youku-Tudou. |
| Nuomi | Baidu enters the online shopping world with flash deals, e-commerce, etc. |
| 91 Wireless | Transforms Baidu into more of a mobile Company |
Early on, it was clear that Baidu was not well positioned in the mobile internet space like it was in the desktop arena. These acquisitions complemented and enhanced Baidu's status in the mobile ecosystem.
Adding it all up, I would say that Baidu spent close to $3B for its acquisitions within the last year. So has the move paid off? Absolutely! Baidu's daily mobile-search user numbers jumped 23% over the last two quarters (130M to 160M), signaling that the Company's strategy to invest heavily in mobile is paying off.
Robin Li, CEO of Baidu, told analysts during the latest earnings call that while it is not larger than PC traffic yet, the Company expects mobile to surpass PC sometime this year.
Last, but not least, during the latest quarterly report, Baidu surprised investors and analysts, as the Company easily topped expectations with a significant beat on the bottom line ($1.23 EPS vs $1.04 consensus).
Another highlight was mobile accounted for more than 25% in revenues (up 5% Q/Q). So much for shorts betting that Baidu was just a PC company. With internet expansion exploding in China and with a penetration rate still below 50%, Baidu has a very profitable future ahead as it captures the online growth in China. I like Baidu and currently have a BUY rating on the Company with a price target of $220.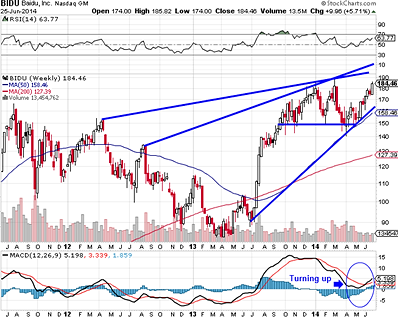 Citigroup
Citigroup is a diversified financial services holding company, provides various financial products and services to consumers, corporations, governments, and institutions. The Company was founded in 1812 and is based in New York, New York.
A couple of years ago, banks were one of the last things investors wanted to park there money. My oh my what a difference a couple of years can make. Over the last little bit, banks have become a hot commodity again now that the economy is beginning to stabilize. So why should investors look into Citigroup? Here are a couple of reasons why.
Great Earning Results
The banking giant beat analyst estimates on both the bottom and top lines. First-quarter revenue came in at $20.1B, which beat the average analyst estimate of $19.3B. What was even more impressive was the results on the bottom line. Citigroup achieved an EPS of $1.30 which easily topped the average analyst EPS estimate of $1.14.
Rotation, Rotation, Rotation
If you haven't already noticed by now, Citigroup has underperformed other financial institutions over the last couple of years. Companies such as Wells Fargo (NYSE:WFC), U.S. Bancorp (NYSE:USB), among many others, have left Citigroup in the dust as you can see in the graph below. Luckily for investors this should all change over the next couple of years as the banking giant continues to improve in major areas (cost cutting, paying off debt, etc.).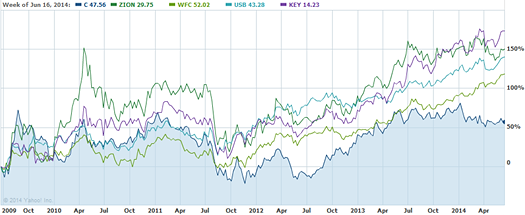 I like Citigroup for a number of reasons and one of those is because of how it has traded relatively to its peers. While other companies have soared, Citigroup has remained fairly flat. But this should all change as Citigroup makes its way back into the fold.
Everybody invests in the stock market to make money. Most do not invest simply because they have fallen in love with a particular company. Institutions and investors come in when shares are undervalued and exit when they reach the top. Once shares have rebounded, investors move onto the next big play. Based on recent developments and what has taken place with other banks, I strongly believe that next play is Citigroup. Like the saying goes, underperformers of today are often the outperformers of tomorrow.
Shares Are Undervalued
When looking for a stock to buy, most investors like to see how "expensive" or "cheap" shares are currently going for in a particular company. This helps us determine which companies are currently overvalued and which ones are undervalued. So how does Citigroup compare to its peers?
| | | | | | |
| --- | --- | --- | --- | --- | --- |
|   | C | BAC | JPM | USB | WFC |
| P/B | 0.73 | 0.75 | 1.08 | 2.14 | 1.74 |
| PEG | 0.86 | 1.87 | 2.14 | 2.19 | 1.27 |
| P/S | 2.11 | 1.92 | 2.34 | 4.55 | 3.41 |
| Fwd P/E | 8.85 | 10.26 | 9.62 | 12.85 | 12.24 |
| P/E | 11.00 | 20.12 | 14.23 | 14.43 | 13.06 |
As you can see, Citigroup is a very attractive company when pitted against others in its industry and sector. With shares trading at such a large discount to book value and with one of the lowest forward P/E ratios in the entire sector (8.8), Citigroup clearly is a great buy. Because of these reasons, I have a BUY rating and a $58 price target on the Company.
Dangdang Inc.
Dangdang is a leading business-to-consumer e-commerce company in China. The Company offers books, media products as well as other general merchandise (fashion and apparel, home and lifestyle, etc.,) to its customers. Dangdang is often times referred to as the Amazon of China because of its similarities. The company was founded in 2000 and is headquartered in Beijing.
Over the last year, shares of Dangdang have tripled thanks in large part to the Company's transition from an online bookstore to more of an online shopping mall. By focusing more on the bottom line and getting gross margins higher, Dangdang has significantly and successfully transitioned itself into a major growth and online player.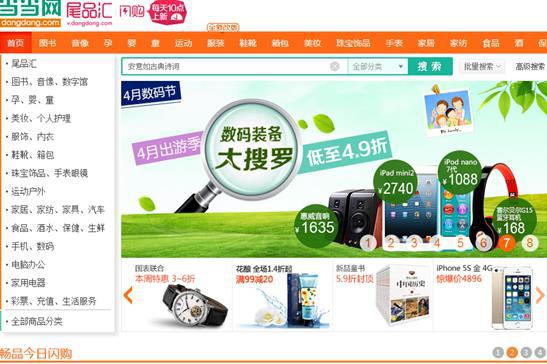 In March, Dangdang returned to profitability which was a huge achievement for the Company. Most analysts didn't anticipate the Company doing so until early next year. When news of profitability broke out, shares quickly doubled in just a two week span. So what did Dangdang have for an encore with its most recent quarter?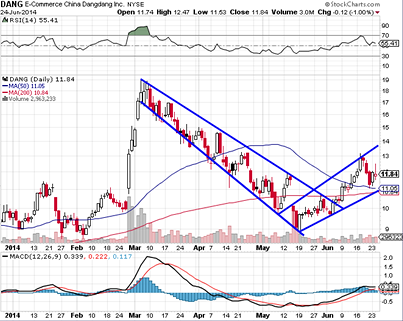 Unfortunately for investors, expectations were so high that while the Company posted a seemingly good earnings report, shares sharply sold-off. I believe the reaction was unwarranted and believe shares are even more undervalued now then they were just two months ago.
Earnings Highlights
Net Revenues - During the first quarter, revenue increased more than 30% from the corresponding period in 2013.
Gross Margins - Another positive note that I believe investors are overlooking is the fact that gross margins continued to climb. Margins came in at 18.2%, compared to 17.2% during the first quarter of 2013. Higher gross margins also helped the Company reach a second straight quarter of profitability. An impressive achievement for the Company which most analysts thought would take them another year to achieve.
Increasing Customers - Dangdang had approximately 8.6M active customers, including approximately 2.8M new customers in the first quarter of 2014, representing 16% and 17% increases, respectively, from the corresponding period in 2013. Total orders were approximately 16.4M, an 11% increase from the corresponding period in 2013.
Peggy Yu Yu, Executive Chairwoman of E-Commerce China Dangdang talked about the quarter saying;
"Dangdang continued its path to profitability in the first quarter of 2014. We began the year on a positive note, achieving strong top line year-over-year growth, the highest gross margin since the second quarter of 2011 and a second consecutive quarter of profitability."
Looking at the fundamentals and growth the Company, not to mention the cash the Company currently has (24% of the market cap), and you got yourself a very attractive investment. I have followed Dangdang since its IPO days and firmly believe in the Company and its strategies. That is why I'm keeping a BUY rating on shares and upping my price target to $18.00.
E-House Holdings
E-House is China's leading real estate services company with a nationwide network covering more than 250 cities. E-House offers a wide range of services to the real estate industry, including online e-commerce and advertising, primary sales agency, secondary brokerage and real estate investment management services. E-House was founded in 2000 and is headquartered in Shanghai.
Earnings
E-House blew out analyst expectations, as the Company reported a 40% year-over-year rise in revenue to $163.3M. This was well ahead of analysts' $138.7M consensus. The good news did not stop there as earnings per share ("EPS") came in at $0.08 versus $0.04 that analysts were expecting.
As a result of the strong quarter, E-House raised its full-year revenue guidance from $880M-$900M to $910M-$930M, which is well ahead of the $899.6M consensus that Wall Street expected.
On April 17, 2014, Leju Holdings (NYSE:LEJU), which is a spin off of E-house, went public. The Company raised close to $100M from its successful IPO. Last month, Leju also reported better-than-expected first-quarter earnings. Revenue came in at $78.5M, beating the consensus $66.8M. EPS was $0.06, which was double than what analysts expected. To top it off, Leju now expects revenue to grow 49-55% to $500-520M in 2014, higher than the consensus $467.7M. The best part for E-House is that it owns 75% of Leju.
The Valuation
Think about this for a moment. E-House's 75.5% ownership ($1.5B) of LEJU, plus its own net cash ($546M), is way beyond its own market cap (1.2B). If E-House liquidated its ownership of Leju, the Company would be sitting on $2B in cash. This means shares would have a minimum value of $14.50.
As you can see, E-House is severely mispriced and undervalued in my book. Looking at 2015 estimates, E-House is trading at just 7 times next year's earnings. For a company growing revenues by 22% next year and upping it revenue guidance, this is no doubt a gem in the market. You don't have to believe me, as analysts at Oppenheimer, Goldman as well as Brean Capital believe E-House is undervalued with tremendous upside. Based on 15 times next years earnings, I assign a BUY rating and a price target of $17.00.
Facebook Inc.
Facebook operates as a global social networking company. The Company's mission is to give people the power to share and make the world more open and connected as they stay connected with their friends and family. Facebook was founded in 2004 and is headquartered in Menlo Park, California.
When Facebook first IPO'd I thought shares were overpriced and would likely fall. I based this off of the Companies fundamentals (which were ridiculously high at the time), as well as knowing how other tech companies such as Groupon and Zynga had previously fared (not good), during this time frame.
When shares dropped 50% over the first couple of months, I thought for sure that Facebook had a great shot at becoming the next Myspace. Oh how quickly did I have to eat my words. A couple of years later and after shares tripled, Facebook still looks poised to keep climbing higher. Here are a couple of reasons why I believe Facebook still has plenty of room to go up.
1)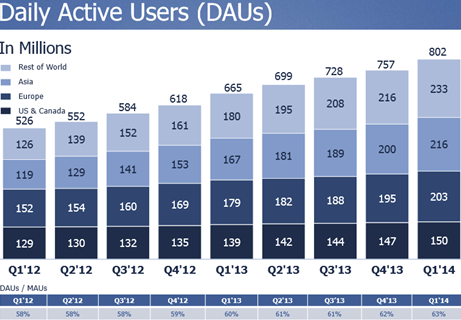 Facebook Friends - Facebook continues to gain friends at a very impressive rate. Daily active users (DAUs) for the quarter jumped to 802M from 665M over the same quarter last year for an increase of 21% year-over-year.
Mobile daily active users (DAUs) climbed up to 609M from 425M over the same quarter last year. This represents an increase of 43% year-over-year. This is one of the more impressive takeaways from the quarter as it shows that Facebook is making a nice transition into the smartphone/mobile world.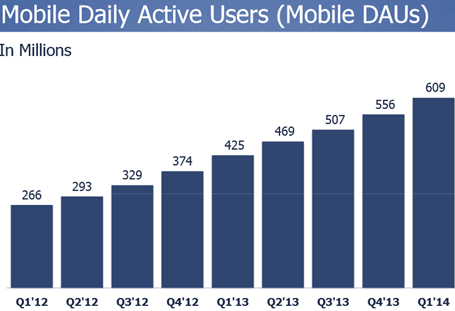 In the first time in its history, Facebook achieved 1 billion monthly active users (MAUs) as well as monthly active mobile users (MAMUs). Monthly active users grew 15% year-over-year to 1.28B and mobile active users grew 34% year-over-year to 1.08B.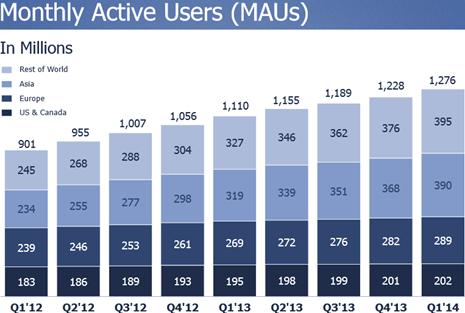 So what does the increase in users translate to investors? Cash, and a lot of it! As you can see in the graphic below, Facebook has become an absolute beast when it comes to advertising. In just the last year alone, Facebook more than doubled its revenues in the mobile ad market.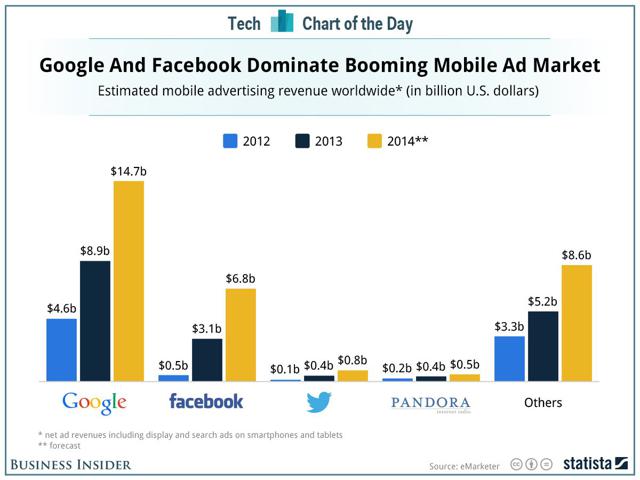 Facebook's growth especially in the mobile revenue stream will continue this year. Based on current past growth rates, Facebook will likely reach the $10B mark by the end of the year.
In another graphic below, Facebook's popularity will continue to benefit shareholders as advertisers are willing to spend more on Facebook's massive user base. Because of these reasons, I believe that shares are currently undervalued and offer investors great return heading over the next twelve months. I have a BUY rating and a $75 price target on Facebook.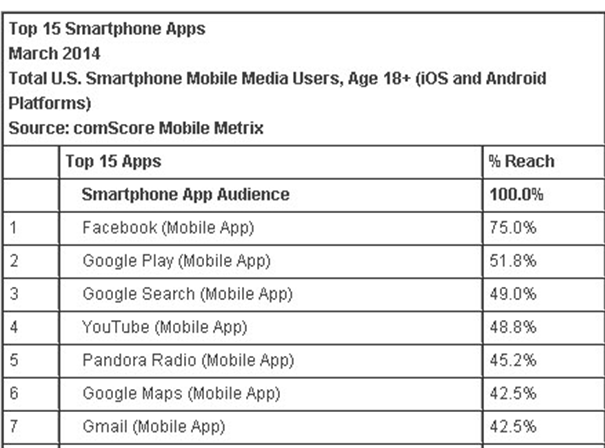 * Source
Google Incorporated
Google is a global technology leader focused on improving the ways people connect with information. Google's innovations in web search and advertising have made its website a top internet property and its brand one of the most recognized in the world. Google was founded in 1998 and is headquartered in Mountain View, California.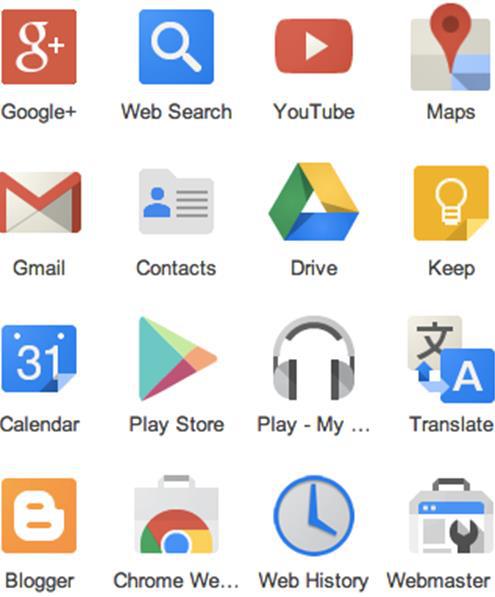 When you think about Google, what are some of the things that first come to mind? Is it the search engine aspect that you like the most, or as a business owner, is it the AdWords program that you use for advertising purposes? Last, but not least, what about the android ecosystem that Google has put together with all of its applications. As you can see on the graph on the right, Google offers clients all types of products and services.
More products equals more money and Google continues to keep pumping out products left and right. Just this year alone, Google is on track to bring in more than $66B in revenue. That growth is one of the many reasons why shares have been flying high over the last couple of years and the Company isn't done growing just yet.
| | | | |
| --- | --- | --- | --- |
|   | Google | Baidu | Yandex |
| P/S | 6.22 | 10.93 | 8.37 |
| P/B | 4.22 | 9.63 | 7.58 |
| PEG | 1.33 | 1.34 | 1.25 |
| P/E | 30.00 | 36.13 | 25.68 |
| Forward P/E | 18.08 | 24.45 | 21.90 |
When we compare Google to its other internet search engine peers, one can see that Google comes out smelling like a rose. Of course Baidu and Yandex are growing revenues at a phenomenal rate year-over-year to justify their valuations. Google on the other hand has shown that it can deliver and will continue to deliver.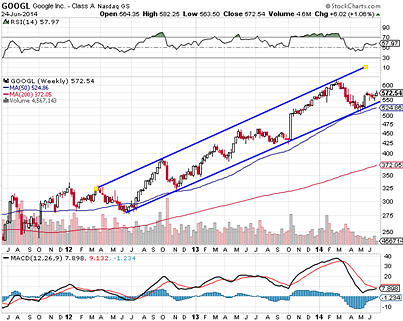 While past performance is not an indicator of future performance, it definitely helps to have history on your side. Looking at the growth, fundamentals, technicals, as well as the cash the Company currently has, and you have yourself another very attractive company. That is why I am assigning a BUY rating on Google with a $700 price target.
JetBlue Airways
JetBlue Airways is an airline company that provides transportation services in the United States, the Caribbean, and Latin America. JetBlue was founded in 1998 and is based in Long Island, New York.
In April, JetBlue scored the second highest rating among 15 U.S. airlines. A 2013 study by The national Airline Quality Rating ranked airlines in four different categories based on the U.S. Department of Transportation figures. With another stellar performance, JetBlue has now been ranked among the top three over the past decade. Quite an impressive performance! So why do I like JetBlue? Here are some of the reasons why.
Earnings & Upgrades
While many companies in my portfolio have posted great earning results, JetBlue had quite a different story as the Company missed analyst expectations on both the top and bottom lines. So why do I still like the Company after a such a bad quarter?
A closer look at the results shows just how far JetBlue has come and that things aren't as bad as they seem to be. The Company posted record sales during the quarter, despite cancelling more than 4,100 flights. To put that into perspective, JetBlue cancelled more flights this last quarter than it cancelled in all of 2013. Management believes the weather conditions accounted for more than $50M in lost revenue and $35M in operating income.
Earning Highlights
JetBlue reported its sixteenth consecutive quarter of profitability.
JetBlue reported record first quarter operating revenues
Revenue passenger miles for the first quarter increased 1.8% to 8.7 billion on a capacity increase of 2.7%.
Yield per passenger mile in the first quarter was 14.20 cents, up 1.8% compared to the first quarter of 2013.
Passenger revenue per available seat mile (PRASM) for the first quarter 2014 increased 0.9% year over year to 11.80 cents.
Operating revenue per available seat mile (RASM) increased 1.1% year over year to 12.95 cents.
So what do analysts think about JetBlue? Goldman Sachs upgraded the entire airlines sector to Attractive from Neutral based on a more bullish views on the cycle and improving demand. Goldman believes consensus estimates underestimate pricing, which will boost multiples.
After JetBlue's earning results, JPMorgan's Jamie Baker upgraded shares of JetBlue to Overweight from Neutral. He explains why:
"Our 2015 forecasted EPS of $0.90 seems readily achievable, meaning shares trade between [American Airlines and Delta Air Lines], but at a healthy discount to [United Continental Holdings and Southwest Airlines]. We aren't willing to pay more for [JetBlue] given its relative returns, but we do believe 5x EV/EBITDAR and 11x earnings would reflect fair value."
Superior Service / Shares Are Undervalued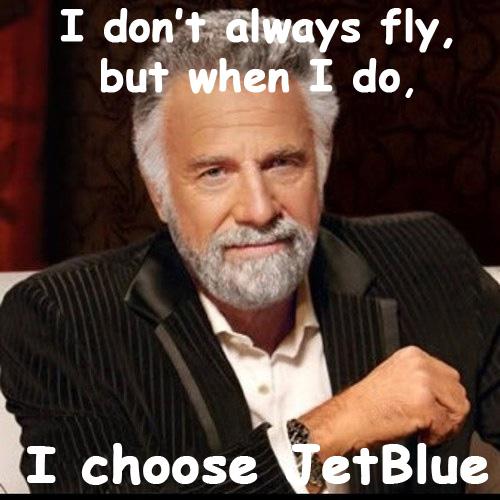 Even though JetBlue is a smaller company than most other carriers, the Company has developed a strong following and a loyal customer base.
I don't fly very often, however, out of all of the flights that I have taken, JetBlue has always provided me with the best airline experience. The picture on the right that I created sums up my experience nicely.
Because of these things among others, I believe shares of JetBlue are a great pick up at this point. When you compare JetBlue to other major airlines its not hard to see the value that JetBlue provides. I have a BUY rating on the stock with a price target of $12.00.
| | | | | | |
| --- | --- | --- | --- | --- | --- |
|   | JetBlue | Southwest | Delta | United Airlines | American Airlines |
| P/S | 0.57 | 1.05 | 0.88 | 0.43 | 1.01 |
| PEG | 0.71 | 0.63 | 1.30 | 0.32 | 0.20 |
| P/B | 1.45 | 2.61 | 2.87 | 6.32 | 25.55 |
| P/E | 21.51 | 22.29 | 3.08 | 41.42 | N/A |
| Fwd P/E | 12.10 | 14.80 | 10.77 | 7.63 | 7.06 |
MasterCard
MasterCard, is a technology company in the global payments industry. The Company operates the world's fastest payments processing network, connecting consumers, financial institutions, merchants, governments and businesses in more than 210 countries and territories. The company was founded in 1966 and is headquartered in New York.
MasterCard is one of the most dominant global payment companies in the entire world. The Company processes more than $34B in credit and debit transactions, and has a global market share of around 33%.
Last month, MasterCard posted earnings that beat analyst estimates on both the top and bottom lines. Revenue increased 14% to $2.18B, topping estimates of $2.14B. EPS came in at 0.73, beating the consensus of 0.72.
Ajay Banga, president and CEO of MasterCard, talked about the earnings results and the future of the company saying;
"We kicked off the year with a strong quarter, despite a mixed global economy. We secured several new agreements, including three of the largest retailers. Wal-Mart and Sam's Club will flip their co-brand portfolios to MasterCard. Target will also shift its co-brand to MasterCard and use our chip and PIN technology across all of its card products as part of a commitment to provide its customers with the most secure payment product. At the same time, we continue to invest in technology and acquisitions that will speed our development of mobile and online solutions."
The good news did not stop there as the Company boosted its dividends and continues to repurchase shares as part of its share repurchase program. The Company still has more than $1.5B remaining under the current repurchase program.
So what else do I like about this Company that warrants me to believe the Company has more than 22% upside over the next 12 months? Simply put, MasterCard will continue to benefit from the global shift of electronic forms of payment. The Company is proving this as it saw an increase in spending on credit and debit cards last quarter in Latin America, Asia and in the U.S.
While MasterCard has a lot of great things going for itself, the Company is not invisible to risks. This was evident when the U.S. imposed sanctions on Russian individuals and companies. MasterCard was ordered along with Visa to stop processing payments for some banks. Looking on the bright side at least, Russia only accounts for roughly 2% of MasterCard's total revenue.
During the conference call with investors, Banga mentioned that although the Company has it challenges with Russia and the European payments industry regulation, there are opportunities, too, around the world that give us balance.
Analysts at Pacific Crest believe that MasterCard's outlook has improved in Russia. The firm went on to say that the risks the company faced in Russia may be overstated. Pacific Crest went on to keep shares of MasterCard at a Sector Perform rating.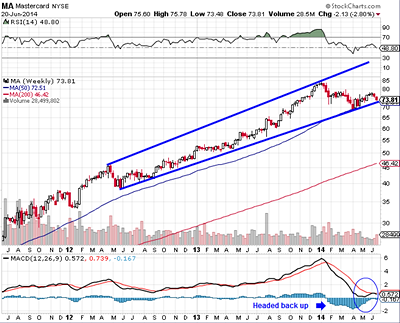 Since the financial crisis back in 2008-2009, MasterCard's revenue has grown close to 10.0% annually. On the bottom line, MasterCard has grown earnings per share at an annual rate of 18%.
Even with the situation in Russia, I don't see it stopping the Company from achieving strong results in the future. Because of these reasons that I have outlined above, I have a BUY rating on the stock with a price target of $90.
The Priceline Group
The Priceline Group operates as an online travel company. The company''s products include Booking.com, which provides online hotel reservation services on a worldwide basis. The Priceline Group was founded in 1997 and is headquartered in Norwalk, Connecticut.
What else is there to say about Priceline? The Company continues to grow at a tremendous rate, rewarding investors with magnificent gains year after year. In just the last five years, shares have climbed more than 1,200%. Now who wouldn't want a return like that?

When investors thought Priceline couldn't go any higher ($1,000), it did. When people thought they overspent for Kayak, they didn't. Pretty much everything that Priceline touched, turned into gold. So why should you continue holding or buying shares? Because Priceline is the global leader in the travel industry and no other company even comes close!
Look no further then what the Company delivered on earnings day. Revenues climbed 26% to $1.64B versus $1.63B that analysts expected. Earnings per share came in well above the consensus at $7.81, up 35.5% from last year. Analysts were expecting EPS around $6.92.
Just looking at the fundamentals right now, you can see how cheap Priceline is currently going for. The Company sports a forward P/E of 18 and is looking to grow revenues by 25% in 2014 and 22% in 2015. Based on past performances and the growth that is still ahead, how could you not own shares of this travel giant. I continue to have a BUY rating on Priceline with a price target of $1,520.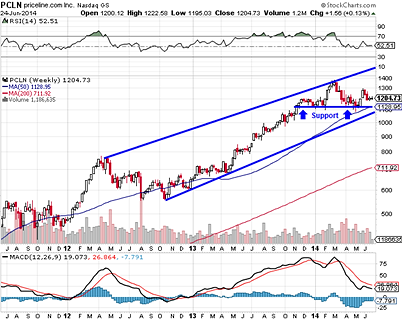 Qihoo 360
Qihoo 360 is a leading Internet company in China. The Company provides users with secure access points to the Internet via its market leading web browsers and application stores. The Company monetizes its massive user base primarily through online advertising and through Internet value-added services on its open platform.
Shares of Qihoo have been on quite the ride over the last two years, giving investors triple digit returns. So is this magnificent growth story going to continue, or are shares selling-off for good reason?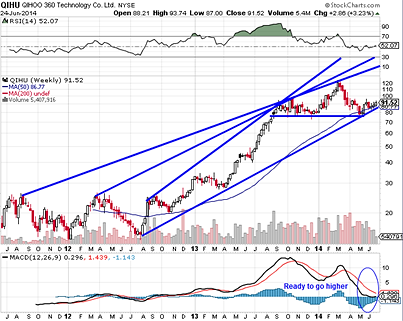 Rest assured that the growth story is still intact as revenue looks to grow more than 70% year-over-year this year. When looking at next years projections, Qihoo is looking to grow revenues 50% year-over-year.
Qihoo has shown tremendous penetration not only in the security software market, but in the search business as well. While Qihoo has quite the market share in China, investors have been more impressed with its search engine platform.
In just 18 months, the Company has close to 25% in market share in China. It will be interesting to see if Qihoo will be able to capture 30% by the end of the year as Baidu has significantly stepped up its game in the mobile business.
So why do I like Qihoo? Here are three reasons why:
1) Execution - Qihoo has a proven business model as has shown that it can innovate and expand with the very best of companies.
2) Market share - In just 18 months, Qihoo's market share in the search engine business has climbed to 25%. It looks like Baidu's dominating performance (80%-90%), won't be seen again.
3) Qihoo is undervalued - Going off of 2015 projections, Qihoo is currently selling for 22 times expected earnings. So why is this a problem? Because the Company will be growing its top line between 45%-50%. With that type of growth, Qihoo should have a multiple in the 30-40 range. This is why I have a BUY rating on the Company and feel comfortable with a price target of $145.
Vipshop Holdings
Vipshop Holdings is China's leading online discount retailer for brands. Vipshop offers high quality and popular branded products to consumers at a significant discount to retail prices. Vipshop was founded in 2008 and is headquartered in Guangzhou, China.
Vipshop is China's leading online discount retailer and has become a household name. Why? Look no further than the gains it has given investors over the last couple of years. As of yesterday, shares are up over 3,200% since its IPO in 2012. So why are investors so eager to put their money on Vipshop?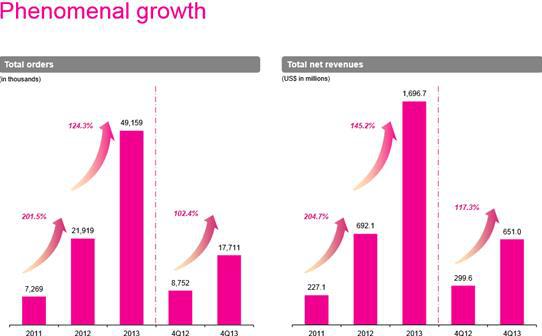 Growth, Growth, Growth! One of the biggest reasons why Vipshop has done so well is because the type of growth it has been able to produce year after year. With strong brand awareness, customer loyalty and the ability to attract new businesses and partners, Vipshop looks like it will keep on shining.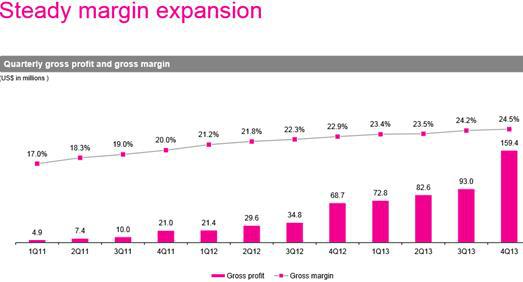 Not only is the Company growing by leaps and bounds, but the bottom line numbers continues to rise as well. So not only is Vipshop killing it on the top line, but is also crushing it on the bottom line as well.
Just last year, a number e-commerce sites started carving their way into the online deals space. Companies such as JD.com and Dangdang among many others, looked to take away those profits from Vipshop. So should investors be concerned? No, and here are a couple of reasons why:
1) Brand coverage - Vipshop has the largest brand coverage.
2) Low brand overlapping - Channel checks by analysts over the past year have shown there is low brand overlapping rates among flash sales platforms.
3) Pricing - Vipshop offers higher discounts compared to other online retailing prices. Although rivals such as Dangdang offer comparable number of on-sale brands, their prices are not as attractive.
4) Business model and user experience - Most of Vipshop's transactions are through a principal B2C business model. The principal B2C model generally offers a better and more consistent user experience.
Earnings, Earnings, Earnings - As usual, Vipshop delivered another stellar earnings report last month. The Company crushed analysts expectations on both the bottom and top lines as you can see in the table below.
| | | | |
| --- | --- | --- | --- |
| VIPS Earnings Results | Revenue | EPS | Guidance |
| Analyst Estimates: | $652.4M | $0.46 | $680.4M |
| Actual Results: | $701.9M | $0.63 | $785.0M* |
*VIPS Q2 guidance is between $780M and $790M
When crunching the numbers, Vipshop currently has a trailing P/E of 142. Yet, on a forward looking basis, Vipshop's P/E drops all the way down to 37. Quite a remarkable drop for a company that is currently and consistently growing revenues at phenomenal levels.
On a price/sales level, Vipshop is going for 2.92 times 2014 estimates. Looking ahead into 2015, Vipshop is trading at just 1.87 times estimates. Again, pretty cheap when compared to the growth (+100% yoy) that Vipshop has delivered and continues to deliver year after year. On a PEG level, Vipshop is trading at just 0.43 this year and 0.52 in 2015. Stocks that have a PEG under 1 are considered to be undervalued and those greater than 1 tend to be on the overvalued side. As you can see, VIPS is clearly on the undervalued side.
After such a huge quarter and with guidance coming in 15% higher than what analysts expected, analysts have had no choice but to adjust their models and up their current price targets. Because of these reasons that I've outlined, I believe Vipshop still has plenty of room to run and will be testing the $200 range very soon. Over the next twelve months, shares will most likely be trading in the $225-$250 range. I currently have a BUY rating on the stock with a price target of $245.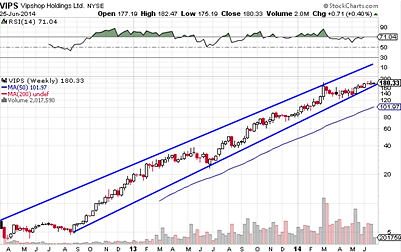 Vringo
Vringo is engaged in the innovation, development and monetization of intellectual property and mobile technologies. Vringo's intellectual property portfolio consists of over 500 patents and patent applications covering telecom infrastructure, internet search, and mobile technologies. The company is headquartered in New York, New York.
Because Vringo is a small company that operates in the IP industry, many investors have never even heard about the Company. But don't let market cap of the Company fool you as Vringo has steadily been putting together plenty of nice pieces over the last couple of years.
So why do I like Vringo and what are some catalysts over the next twelve months? Below are a couple of reasons why I believe Vringo is a must have over the next twelve months:
Vringo vs Google - A jury found Google liable for infringing on I/P Engine (Vringo's subsidiary) patents. A jury awarded Vringo damages as well as an ongoing royalty rate. Judge Jackson eventually doubled the rate (6.5%) which makes this case a billion dollar situation. If the laches decision is reversed in favor of Vringo, the case will be closer to $2B (7 times Vringo's market cap).
Vringo vs ZTE - Over the last couple of months, Vringo has been awarded multiple injunctions against ZTE. In case you haven't already noticed by now, Vringo is squeezing ZTE from every continent and country.
At this rate, ZTE is really starting to get limited to what it can and cannot do in a lot of countries. I believe this was Vringo's plan all along as the pressure will eventually force ZTE to come to the table with some sort of agreement, whether its a global licensing deal or not.
On April 28, 2014, Vringo announced that its hearing against ZTE, which was scheduled to take place on April 30, 2014 at the Mannheim Regional Court, has been postponed by mutual agreement of the parties. This mutual agreement has fueled speculation that ZTE will more than likely sign an agreement with Vringo.
Vringo vs ADT/TYCO - So far this year, Vringo has signed confidential agreements with both ADT and TYCO which now resolves all pending litigation between both parties. So now, not only are litigation costs now dropped, but revenues will start to hit Vringo's bottom line. While nobody knows for sure what the exact details of these confidential agreements are, the one thing we do know, is that Vringo is turning itself into a legitimate IP company that is to be reckoned with.
Vringo vs Microsoft - Last year, Microsoft agreed to a settlement with Vringo in which it paid an upfront payment of $1M, agreed to assign six patents related to telecommunications and data management as well as pay Vringo 5% of whatever amount Google ends up paying, up to a certain cap.
Looking at the current market cap of Vringo ($286M), even a billion dollar award would do wonders for the stock price. Because of these reasons and many more, I believe Vringo is on track to be one of the biggest gainers of the year. I currently have a BUY rating on the stock with a price target of $10.
WidePoint Corporation
WidePoint is a leading provider of secure, cloud-delivered, enterprise-wide information technology-based solutions that can enable enterprises and agencies to deploy fully compliant IT services in accordance with government mandated regulations and advanced system requirements. WidePoint has several major government and commercial contracts. WidePoint was founded in 1996 and is headquartered in McLean, Virginia.
Last December, WYY was officially awarded a $600M blanket purchase agreement with the Department of Homeland Security. The contract is for a base period of one year, and has four optional ordering periods. Translation = WYY stands to gain $120M a year on a gross basis. Management has repeatedly expressed that they expect to net between $75M-$100M a year from this agreement.
So why is this such a big deal? Well if you haven't noticed by now, WYY currently has a market cap that is just over $116M. Clearly this shows how undervalued WYY currently is and how much growth the Company stands to gain over the next couple of years.

During this time next year, WYY should have more than $1 per share just in net cash. If the 2015 option is picked up, WYY would have more than $2 in cash by the end of 2015. The table below shows the net cash value over the years.
| | | | | | | |
| --- | --- | --- | --- | --- | --- | --- |
|   | 2014 | 2015 | 2016 | 2017 | 2018 | Total |
| DHS Contract Revenues* | $65.5M+ | $87.5M+ | $87.5M+ | $87.5M+ | $87.5M+ | =$415.5M |
| Cash Per Share From DHS Contract** | $0.89+ | $1.20+ | $1.20+ | $1.20+ | $1.20+ | =$5.69 |
* Based on estimates management has mentioned
** Based on 72.9M shares outstanding
The market hasn't fully appreciated the value WYY, but that should all change over the next couple of quarters when the money starts hitting the books. One thing that I have learned and that has always stuck with me, is that Wall Street won't start to fully value a company until any sort of revenues start hitting the books. At the same time, this provides investors with a great opportunity to get shares on the cheap before the big run starts to come.
The fun doesn't just stop there as WYY has been awarded a couple of other government contracts. While the awards are not as big as the Homeland Security deal, it's still a significant asset to the Company and its shareholders. Because of the amount of consolidation that is taking place within the industry, I wouldn't be surprised to see companies looking to acquire WYY. For these reasons and many more, I have a BUY rating on the stock with a price target of $3.25.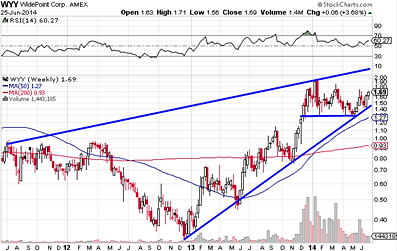 Yandex N.V.
Yandex operates an Internet search engine in Russia and internationally. The company offers a range of search, location-based, personalized, and mobile services that enable users to find information, and communicate and connect over the Internet. Yandex was founded in 2004 and is headquartered in the Netherlands.
Yandex is commonly known by many as the Baidu and Google of Russia. However, unlike some of its peers, Yandex not only serves the local people of Russia, but internationally as well.
Yandex has a market share of around 62% and continues to fight off Google in the quest of staying the search king of Russia and surrounding areas. Yandex has made some moves as of late to keep itself ahead of the curve.
Investments/Acquisitions
Over the years, Yandex has slowly built up its business to extend beyond the mainstream search engine business. At the start of the year, Yandex partnered up with Facebook in a non-cash deal that benefits both parties. Yandex will be able to better its search results while Facebook draws more traffic to its site. Yandex has also been busy investing and acquiring companies such as:
1) Auto.ru - The largest Russian catalog of online auto classifieds. Auto.ru will enable Yandex to provide more information and answers to users' questions as well as expanding its capabilities in the auto classifieds.
2) KitLocate - Location-based technology services. According to Yandex, "With KitLocate's technology, we'll be able to deliver search results, as well as product or service offers, on the user's mobile phone or tablet, relevant not only to a specific user, but also to their current location. This cloud solution looks especially promising for location-based recommendation apps."
3) MultiShip - An E-Commerce platform that will look to transform Yandex.Market into a powerful marketplace for online shoppers.
4) KinoPiosk - The IMDB of Russia. This platform along with several others (Auto.ru), will help online users find answers to their questions and will provide a stickier user base for Yandex and its advertisers.
Like Google and Baidu, the goal of Yandex is to widen the pool of services where ads can be placed and more revenue can be made. These acquisitions will continue to strengthen Yandex as the Company continues to grow and expand into different markets where advertisers can then target more of their ads.
With a PEG of 0.93 and a forward P/E under 22, I feel that Yandex is still undervalued for the type of growth that it offers investors. I have a BUY rating on Yandex with a price target of $42.00.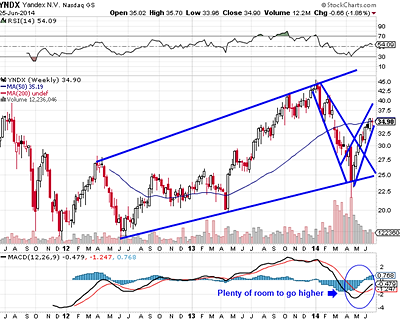 YY
YY Inc. is a social platform that engages users in real-time online group activities through voice, text and video. Launched in July 2008, YY Client, the Company's core product, empowers users to create and organize groups of varying sizes to discover and participate in a wide range of online activities, including online games, music concerts, education, and conference calls. YY was founded in 2005 and is headquartered in Guangzhou, China.
During the spring technology sector selloff, shares of many high profile companies (FB, AMZN, NFLX, etc.), dropped by double digit percentages. Many have since recovered, but YY is one of the few that has had a bit of trouble regaining the momentum it once had at the beginning of the year.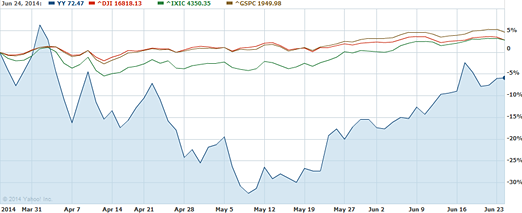 It begs the question then, is there something wrong with the stock, or has this become a major undervalued gem that has huge upside potential? I believe it's the latter and feel that shares will surprise a lot of people over the next couple of years because of these factors.
1) Strong growth and future revenue growth
2) Solid earnings/fundamentals
3) Share buyback program
4) Valuation, Valuation, Valuation
Earning highlights
Once again, YY beat analyst expectations on both the top and bottom lines. First quarter EPS came in at $0.56 versus the consensus of $0.50. Revenue for the quarter was $107.2M, more than $12M above estimates. The Company said that it expects Q2 revenues to between $119.2M and $120.8M, which easily tops the consensus of $113.6M.
YY's strong first-quarter earnings was largely due to strong sales in the music segment, which in turn was driven by both the increase in the number of paying users and the unit price per user.
Music sales surged 14% quarter-over-quarter (QoQ)over the last quarter and 228% year-over-year (YoY). Paying users jumped 12% QoQ and 103% YoY. Most importantly, almost 25% of paying music users paid via mobile, which shows the company continues to monetize in the mobile industry.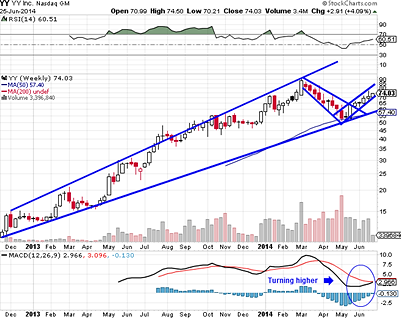 Looking at the current valuation right now, YY is selling at 31 times this year's expected earnings. Since we are halfway through the year, investors should be looking at 2015 expectations. Looking out next year, YY is currently selling for under 22 times earnings. Pretty cheap when you consider the Company is looking to grow revenues by more than 45% next year.
I believe the sell-off a few months ago has created a huge buying opportunity for investors looking to get into a high growth stock with strong fundamentals. Not only will YY benefit from strong growth of its business segments, but should continue to crush expectations as the internet growth in China continues to explode. I have a BUY rating on the stock with a price target of $105.
Conclusion
Since starting my portfolio at the start of the month, I am already up 3.97%, with another 50% that I am expecting over the next eleven months.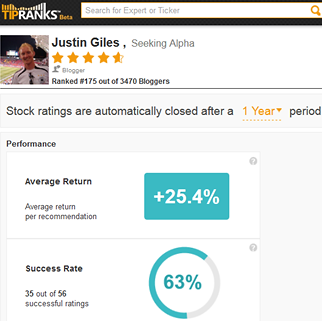 So what stocks do you like for 2014-2015? Do you have a top 10, 20, or 30 list? If so, I would love to hear what your portfolio currently looks like and what stocks you plan on adding in the near future.
As always, I'm providing you with my track record and other particular stocks that I recommend. The link provided will show you all of my picks, how they have fared, and where I think they will be going in the near future. I think you will find my track record to be very impressive as well as useful.
Stocks that missed the cut (in no particular order): BAC, YELP, V, T, VZ, DAL, UAL, CVX, CMCSA, FOXA, DTV, HD, DE, UAL, GRPN, SINA, JMEI, QUNR, YOKU, BCOV, VHC, SODA, DAL, WFC, JPM.
Disclaimer: Link
Disclosure: The author is long WYY, VRNG, VIPS, QIHU, YY. The author wrote this article themselves, and it expresses their own opinions. The author is not receiving compensation for it (other than from Seeking Alpha). The author has no business relationship with any company whose stock is mentioned in this article.