When you can't decide which commodity to buy, why not buy all 3 in one company? Freeport-McMoRan (NYSE:FCX) is engaged in mineral exploration and development, mining and milling of copper, gold, and silver in Indonesia, and the smelting and refining of copper concentrates in Spain and Indonesia. They are the world's lowest-cost copper producer and one of the world's largest producers of copper and gold. FCX's operations are conducted through its subsidiaries, P.T. Freeport Indonesia (PT-FI), P.T. IRJA Eastern Minerals Corporation (Eastern Mining) and through Atlantic Copper, S.A. (Atlantic).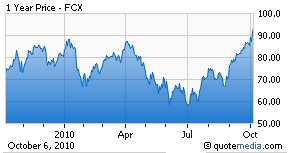 Wall Street has some great projections for this company. They estimate sales will be up 17.40% this year and 6.50% next year. Earnings are expected to be robust with an increase of 28.00% this year, 15.50% next year and continue at an annual rate of 10.60% for the next 5 years. Those projections have caused them to issue 13 buy, 7 hold and no negative recommendation to their clients.
The soaring prices of gold, silver and cooper have taken the company's stock along with it. The stock has a 100% Barchart technical buy signal and is up 18.59% in the last month alone. The company recently traded at 93.40, far above its 50 day moving average of 77.41. This stock hit 12 new highs in the last 20 sessions and has a 14 day Relative Strength Index that is 90.97%.
The great press has brought wide attention to this security and the CAPS members on Motley Fool think it will beat the market with a vote of 5,291 to 199 with the All Stars in agreement with their vote of 1,640 to 27. Fool notes that Wall Street columnists have written positive articles 19 to 0,
Points to consider:
The company is in all 3 of the commodities that are on the move
They are a very low cost producer of copper - A good place to be in a recovering economy
Wall Street has issued buy recommendations to their clients based on estimates of increases in sales and earnings
There is a very wide and positive following of the stock
Barchart's technical indicators say now is the time to be in this stock
Disclosure: Jim Van Meerten through Marketocracy Capital Management has an interest in the stocks mentioned in this blog.