I always wanted to invest in companies that give me the confidence that my investment is risk free and I do not need to follow the market or the company closely to make sure that my investment is in the right place (I am talking about long-term investment).
Yes, I know that there is nothing like a free lunch. Many investors invest in stocks with the goal of doubling their investment after careful thought and analysis. Do they achieve their goal? I believe that many investors end up being unsuccessful because of their failure to properly assess the company's and the stock's true potential in the long term. This is because companies fail to have the right things in the right place to face any kind of business or market environment.
A few companies have proved to be successful and to post consistent growth rates so their industry conditions or the economic growth of a country does not matter much. They structured things in such a manner that they seldom need to alter their growth strategy because of an industry crisis, economic crisis or growth related issues.
A company like this is HDFC Bank Limited (NYSE:HDB), founded in 1994 as a banking company, which provides banking and financial services. It has always been a consistent and stable growth performer.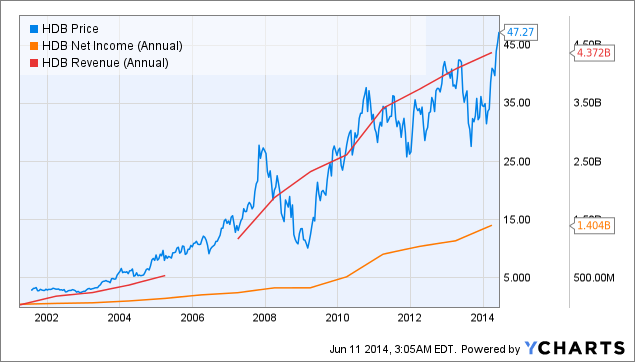 ICICI Bank Ltd (NYSE:IBN), which is the closest competitor of HDFC bank with a diversified financial services portfolio, has better options to increase earnings. However, the earnings and revenues of ICICI Bank have been inconsistent and its growth rates are not as alluring like HDFC's growth numbers.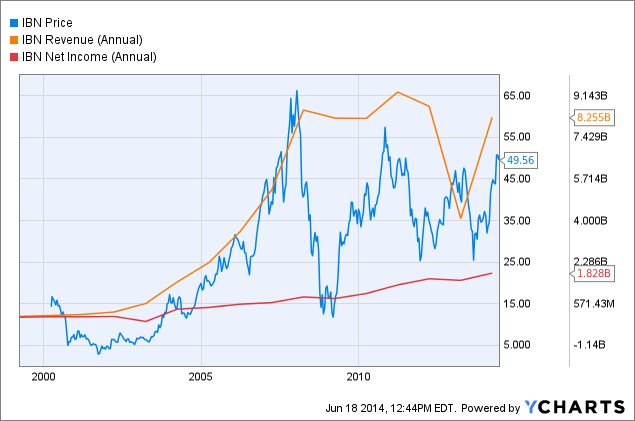 The Growth strategy of ICICI Bank is not consistent. At one point, it was focusing on improving cost efficiency and later it was focused on capitalizing on its growth opportunities.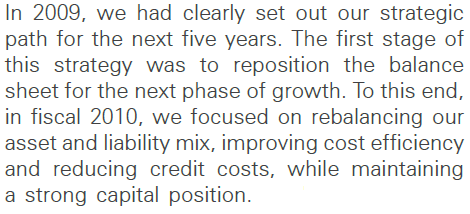 Source: ICICI Bank Annual Report 2010-2011
As the growth strategy of ICICI bank has been changing, it means that ICICI is altering its growth strategy based on the current economic conditions of the country and the industry it is part of.
As revealed by the research conducted by Professor Rita Gunther McGrath at Columbia Business School, consistent and stable growth does not come by changing growth strategy frequently. And the companies who performed with more consistency and stability haven't changed their growth strategy frequently.
The Research of Rita Gunther has the following to say.
"Through our research we learned that the values, cultural norms, strategies, capabilities, customer relationships, and leadership of the growth outliers remain consistent over time. These organizations invest seriously in corporate values, which their leaders back up through meaningful symbolic actions. Within this stable context, however, a tremendous amount of experimentation and innovation occurs."
Source: HBR
By falling prey to the economic and market conditions and changing their growth strategy as per that condition, ICICI bank is losing valuable time adjusting its balance sheet and income statement, which can be used to capture more existing opportunities available in the market. Why in the first place would you let your costs to grow up? Why in the first place would you do not have standard rules and regulations to maintain proper credit quality? Why are you compromising on credit quality for the sake of some growth and wasting valuable time correcting those mistakes after some time.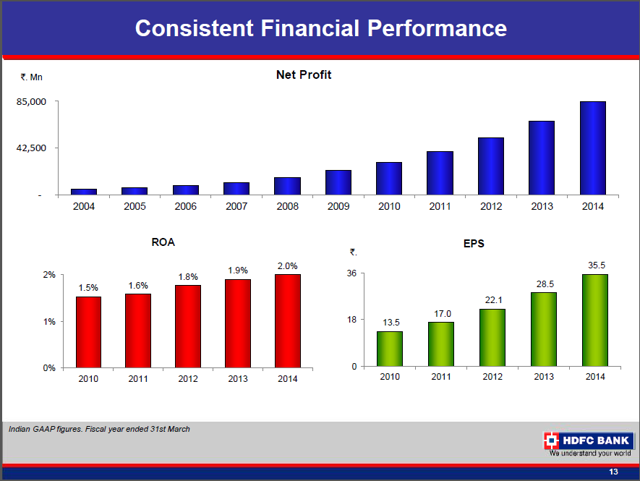 Another major problem that companies like ICICI face by changing growth strategy as per the industry and economic conditions is inviting outside volatility into the balance sheet and income statement. That is why the revenues, net income and various other numbers of ICICI bank are not consistent in the past few years (see the above chart).
Growth strategy of HDFC bank has not changed for many years; which made the bank focus more on the current environment rather than dwelling on the wrong steps of the past like ICICI bank.
In the current environment, the banking sector in India is focusing more on the rural market and unbanked portions of India. However, every bank in the sector is merely trying to provide financial services to the unbanked population, they are not trying to hit the ground on lack of opportunities that the unbanked population is facing, which makes providing financial services to the unbanked population disadvantageous to both the people living and the banks providing financial services in there. HDFC bank started Sustainable Livelihood targeting the rural unbanked population of India that focuses on providing opportunities for growth and financial services to the people in the unbanked localities of India.
Through Sustainable Livelihood initiative, the bank not only provides financial services to the unbanked population, but it also helps them hone their skills and gives them the opportunity to exploit their skills.

Source: Investment Standard
HDFC is trying to help the communities grow not just through the financial services but also through encouraging and helping them to better utilize their talents by converting them into skills. This initiative creates a good image and respect towards HDFC bank in the rural communities, which will bear fruits in the long term.
Things like how companies are managed, what are the priorities of growth and how they handle a new industry climate play a crucial role, in assessing the performance of the company, if we do not want to be caught in numbers game. Though this kind of information will not be available everywhere, we can know these kind of things by digging deeper into how the management is shifting their gears during different economic and industry environments, which might be helpful.
All the time we need to dig into more than just the numbers and the conference calls wherever possible to understand things, on which we invest, better. Do not fall prey to the numbers, which always hide many things underneath and does not give us the opportunity to be risk free and relaxed, particularly at the time of earnings season.
Disclosure: The author has no positions in any stocks mentioned, and no plans to initiate any positions within the next 72 hours. The author wrote this article themselves, and it expresses their own opinions. The author is not receiving compensation for it (other than from Seeking Alpha). The author has no business relationship with any company whose stock is mentioned in this article.