by Jason Simpkins
The world's wealthiest people are moving their money out of stocks and into gold bullion, sucking the yellow metal up by the ton in some instances.

Fears that the dollar will continue to lose value in the wake of the U.S. Federal Reserve's quantitative easing have boosted the appetite for physical bullion as well as for mining company shares and exchange-traded funds (ETFs), UBS AG (NYSE: UBS) executive Josef Stadler told the Reuters Global Private Banking Summit.

"They don't only buy ETFs or futures; they buy physical gold," said Stadler, who runs the Swiss bank's services for clients with assets of at least $50 million to invest. "We had a clear example of a couple buying over a ton of gold ... and carrying it to another place," Stadler said.
At today's prices, that shipment would be worth about $42 million, Reuters reported.
UBS is recommending top-tier clients hold 7% to 10% of their assets in precious metals like gold. The price of gold hit yet another record high on Wednesday, soaring as high as $1,351 an ounce. Gold is on track for its tenth consecutive yearly gain.
Money Morning Contributing Editor Martin Hutchinson first tipped investors off to the pending surge in gold prices three years ago in late October 2007. Since then he has suggested a number of potential investments for investors interested in jumping on the bandwagon.
The SPDR Gold Trust (NYSE: GLD) ETF is chief among Hutchinson's recommendations.
With a total value of $50 billion, GLD is now the largest physically backed gold ETF in the world, holding 1,300 metric tons (or 42 million ounces) of the yellow metal in a London vault. GLD shares, which represent one-tenth of a gold ounce, can easily be bought and sold by investors through their brokerage account.
But remember, ETFs don't give you gold, per se; they give you a claim on gold. It's not quite as safe as owning physical bullion, but it's a whole lot better than nothing - and you don't have to worry about shipping or storage.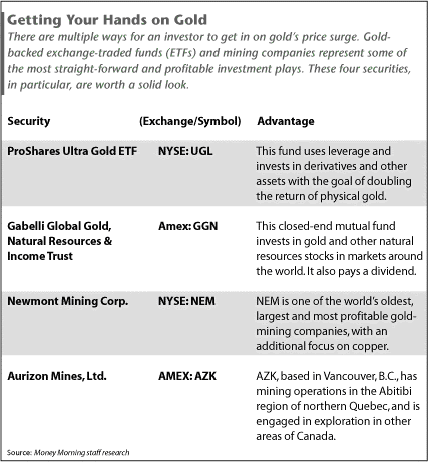 Investors who are determined to get their hands on something tangible must purchase bullion or coins through a dealer.
Disclosure: None
Disclaimer: Money Morning and Stansberry & Associates Investment Research are separate companies, and entirely distinct. Their only common thread is a shared parent company, Agora Inc. Agora Inc. was named in the suit by the SEC and was exonerated by the court, and thus dropped from the case. Stansberry & Associates was found civilly liable for a matter that dealt with one writer's report on a company. The action was not a criminal matter. The case is still on appeal, and no final decision has been made.