Twitter's (NYSE:TWTR) stock price was undoubtedly harmed by the flood of shares, following the lock-up expiration, at the beginning of May. In an article in March, I warned of this looming onslaught of shares when Twitter was trading at $47 a share. The company bottomed out a few days after the expiration and has been in a strong upward trend ever since. The selling pressure has come off, but the fundamentals remain weak and this uptick may be temporary.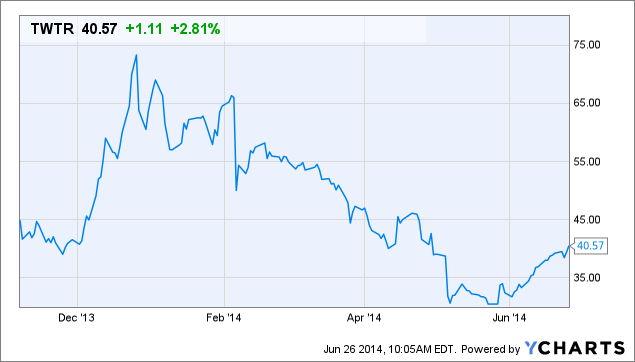 Facebook and Twitter Post Lock-up Expiration
Facebook (NASDAQ:FB) traded in a similar trend to Twitter after its share lock-up period. The shares bottomed out and surged a few months after. The difference between Facebook's results and Twitter's post lock-up outlook is that Facebook's business fundamentals are improving, while Twitter's are certainly not. The results of less engagement, slowing user growth and less ad revenue on mobile are alarming. The fact that management has been altering the platform is telling. Although it is true that they could successfully pivot, as Facebook did, I would rather bet on the likelihood of them failing to fulfill the huge expectations priced in to the stock.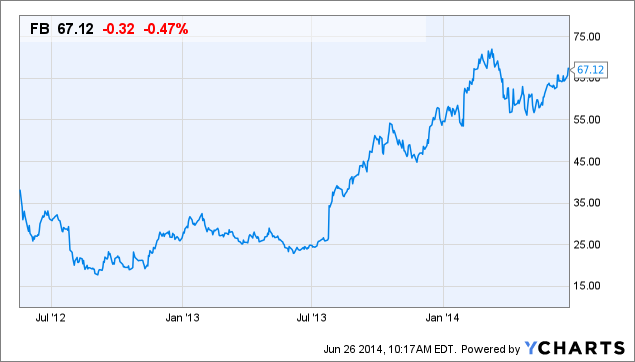 User Growth and Engagement Tapering
Facebook engagement has been tremendous in recent quarters based on daily and monthly user levels. Further, a recent Forrester Study found that teens are in fact not fleeing but are actually becoming more engaged with Facebook. Another telling result of the study was that Instagram was found to be adopted and used more by teenagers compared to Twitter. In the most recent quarterly filing, Twitter presented that its user engagement was, in fact, dropping with worldwide timeline views, declining a staggering 8% y/y. Facebook was able to overcome its increased supply of shares with higher engagements to drive revenue growth. This will prove difficult for Twitter to follow suit.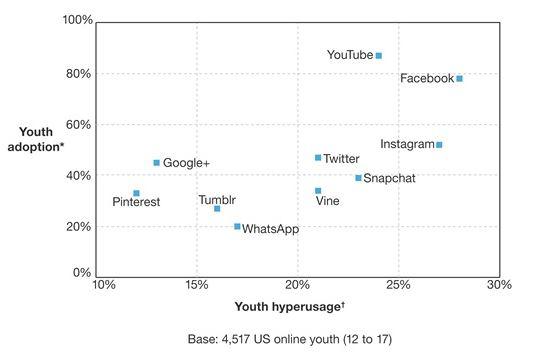 Source: Forrester Study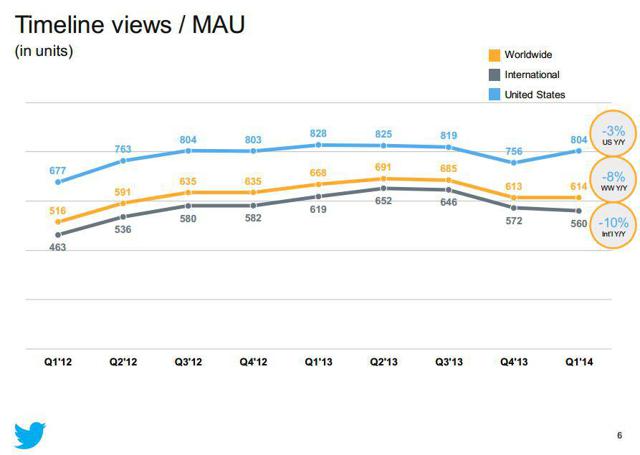 Source: Investor Presentation
User growth has been a problem for Twitter as well. Facebook has undoubtedly obtained critical mass with more than 1 billion monthly active users on its platform. Further it has 500 million users on Whatsapp and more than 200 million on Instagram. Twitter has, as of the last quarter filing, 255 million monthly active users. With such a small base of users and a slowing growth rate, it does not have the critical mass as a competitive advantage that Facebook has. The likelihood of it experiencing a similar fate to Myspace is much higher than the risk for Facebook. A new service that is similar, but with small improvements, could easily overtake its business.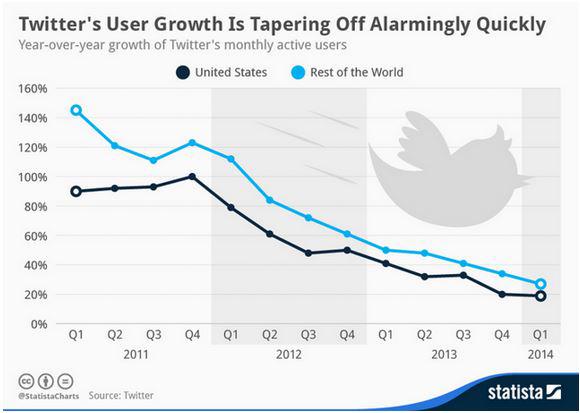 Shift to Mobile a Concern
Everyone is aware of the ubiquitous shift to mobile. Unfortunately, for Twitter investors, this represents a headwind. Advertising represents 89% of the revenue for Twitter and this revenue is increasingly coming from mobile. "Over 75% of our advertising revenue was generated from mobile devices." There are three forms of advertising: promoted tweets, promoted accounts and promoted trends. Twitter concedes that promoted trends and promoted accounts receive much less prominence on the mobile application vs. the desktop. Shifting away from two-thirds of its monetizing capabilities could temper growth.
New Initiatives
Removing The 140 Character Limit
The fact that Twitter is experimenting with new initiatives to its platform, such as expanding Twitter posts to 280 characters, is alarming. Although they could have success with these changes, another likely scenario is that they negatively impact the platform and face an exodus of users. The reason behind the initiative to expanding tweets is to get more user engagement. However, many use Twitter because it provides a succinct distillation of news. Overhauling its platform should concern investors.
Adding a Profile Page
Another alteration centered around spurring user engagement was to create a Twitter profile page, similar to Facebook's. This change again shows that it is desperate to staunch its lower user engagement rates. These profiles were launched prior to the last quarter and there has been no sign of an improvement in user engagement since. The Forrester study still found low rates of engagement.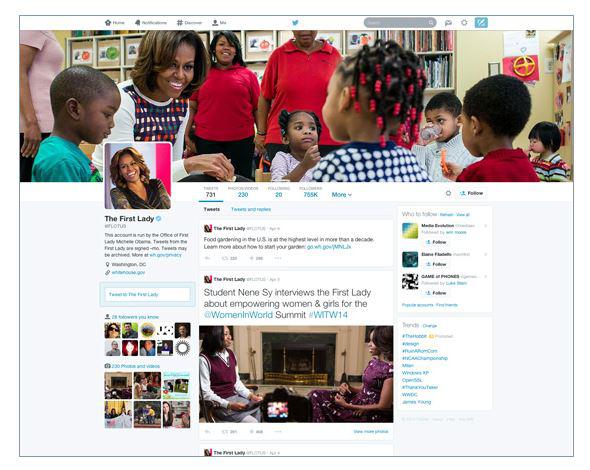 Source: Twitter.com
Current Valuation
The fact that Twitter trades at a premium to Facebook on a forward price to sales basis is ludicrous. Twitter is still operating at a loss ($132 million last quarter) and has deteriorating user engagement rates. On the contrary, Facebook has become a cash cow and its user growth and engagement rates have been superior. If you want exposure to this industry, there is no reason to choose Twitter over Facebook.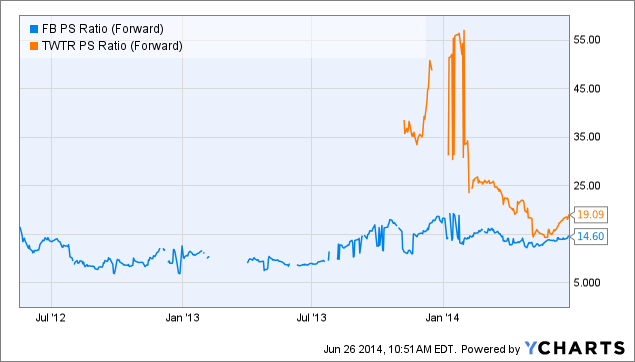 Concluding Remarks
The expectations priced into Twitter's value are overly-optimistic and unattainable with the current trajectory. Twitter needs a home run alteration in order to come close to living up to these expectations. The company is still unprofitable and lower user engagement is a negative signal. The first step to a major exodus of users is lower engagement rates. Twitter should be avoided and investors looking to gain social media stock exposure should instead turn to the steady, profit generating, Facebook.
Disclosure: The author is long FB. The author wrote this article themselves, and it expresses their own opinions. The author is not receiving compensation for it (other than from Seeking Alpha). The author has no business relationship with any company whose stock is mentioned in this article.
Additional disclosure: I also hold leap call options on FB.