Due to an earnings warning (and subsequent miss), ConAgra (NYSE:CAG) shares have taken a relatively large hit in the past few days. However, this appears to be a solid buying opportunity for contrarian and dividend investors. For the fiscal fourth quarter of 2014, ConAgra reported earnings of 55 cents per share, which was below consensus estimates of about 57 cents per share. While a slight earnings miss is a disappointment in the short term, the stock price now appears too cheap to ignore and investors who buy now could collect a solid dividend yield. Plus, ConAgra shares are at oversold levels which means a rebound could be likely soon. Based on the volume it also appears that capitulation has already occurred and that is one more reason why this stock looks due to rebound. Let's take a closer look at a few reasons why this stock now appears to be a bargain:
Reason #1: ConAgra owns many world famous food brands which includes:
Swiss Miss, Healthy Choice, Slim Jim, Hebrew National, Wesson, Hunt's, Orville Redenbacher's, Chef Boyardee, Libby's, Jiffy Pop, Bertolli Pasta, Dennison's Chili and many more. ConAgra also does a significant amount of business in private store brands with cereals, pastas, sauces, crackers, cookies and more. As most investors know, the food business is relatively recession-proof and also very stable in terms of cash flows. For this reason, food stocks can be less risky and an ideal sector for dividend investors who can take comfort in knowing that some new technology is not going to change what favorite foods people are buying every day.
Reason #2: ConAgra shares are now oversold and could be due for a solid rebound.
As the chart below shows, ConAgra shares are now trading below the 50 and 200-day moving averages, which are both just over $31 per share. This stock dropped on disappointing earnings news in February to nearly the same price it trades at today. But as the chart also shows, it was a mistake to be selling the stock at that time because it quickly shrugged off those short-term concerns and climbed right back up to nearly $33 per share. This shows that investors should have been buying on that "earnings miss" pullback below $29 and patiently waiting for the rebound. It looks like ConAgra is giving us another buying opportunity now, and it would not be surprising for history to repeat with the stock rebounding in the next few weeks.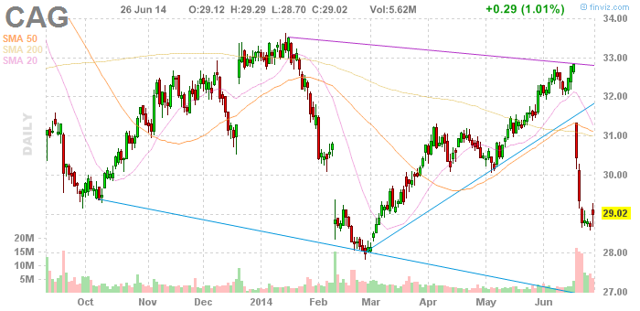 Reason #3: The recent trading volume suggests ConAgra shares have reached "capitulation" levels.
The data shown below from Yahoo Finance indicates that trading volumes surged to around 15 to 16 million shares per day between June 18 to the 20th. This heavy surge in volume coincides with the drop in the share price but in more recent days, the volume has started to decline. This means that the heavy selling pressure appears to be fading, and as a result, this could lead to a rebound in the share price. As the volume "normalizes" and as the market absorbs the extra supply of cheap shares, the stock price should rebound from oversold levels.
| Date | Open | High | Low | Close | Volume | Adj Close* |
| --- | --- | --- | --- | --- | --- | --- |
| Jun 24, 2014 | 28.80 | 28.88 | 28.69 | 28.82 | 6,570,000 | 28.82 |
| Jun 23, 2014 | 28.81 | 29.09 | 28.71 | 28.83 | 7,742,700 | 28.83 |
| Jun 20, 2014 | 29.14 | 29.20 | 28.67 | 28.81 | 14,740,600 | 28.81 |
| Jun 19, 2014 | 30.12 | 30.29 | 29.17 | 29.38 | 15,359,000 | 29.38 |
| Jun 18, 2014 | 31.34 | 31.35 | 30.18 | 30.47 | 16,804,900 | 30.47 |
| Jun 17, 2014 | 32.67 | 32.85 | 32.60 | 32.85 | 4,446,500 | 32.85 |
| Jun 16, 2014 | 32.43 | 32.79 | 32.22 | 32.79 | 2,443,800 | 32.79 |
Reason #4: Compared to other food stocks, ConAgra shares are trading at bargain levels.
Take a look at many other food stocks and it will make ConAgra shares look downright cheap. For example, General Mills (NYSE:GIS) recently missed earnings and it trades for about $52 per share. Analysts expect General Mills to earn about $3.08 per share in 2015, which puts the price to earnings ratio at about 17 times. The Hain Celestial Group, Inc. (NASDAQ:HAIN) is expected to earn $3.73 per share in 2015 and it trades for nearly $90. This puts the PE ratio at about 25 times. By contrast, analysts expect ConAgra to earn $2.28 per share in 2015, which puts the PE ratio at just about 12 times. Based on these valuations, ConAgra shares look cheap and the stock could rise due to PE multiple expansion, especially if the company focuses more on health and natural foods.
Reason #5: Merger & Acquisition in the food sector has been strong.
The food sector is seeing a recent wave of merger and acquisition deals and more could be coming. For example, Tyson Foods (NYSE:TSN) recently offered to buy Hillshire Brands (NYSE:HSH) for about $6.8 billion. Since ConAgra owns many well-known brands, it could also be a takeover target or a candidate for a spinoff. For example, it could sell or spin off its private store brand business. Or, it could sell one or more of its brands which could create more shareholder value. It seems that a sum of the parts valuation analysis on ConAgra would yield a much higher stock price. This could also lead to an activist investor like Carl Icahn or Nelson Peltz taking a stake. Nelson Peltz has been actively targeting food and beverage stocks. He is currently working on campaign to break up Pepsico (NYSE:PEP). As one of the cheapest food stocks, a spinoff, partial sale, takeover, or shareholder activism would not be surprising for ConAgra.
Reason #6: While some investors and analysts are bearish, others see long-term promise.
A recent Barron's article suggests that ConAgra shares could have a 33% upside due to the cheap valuation of this stock relative to the rest of the industry. Analysts at TheStreet.com also recently gave ConAgra shares a buy rating and pointed out a number of long-term positives:
"We rate ConAgra FOODS INC a BUY. This is driven by a number of strengths, which we believe should have a greater impact than any weaknesses, and should give investors a better performance opportunity than most stocks we cover. The company's strengths can be seen in multiple areas, such as its revenue growth, impressive record of earnings per share growth, compelling growth in net income, attractive valuation levels and good cash flow from operations. We feel these strengths outweigh the fact that the company has had generally high debt management risk by most measures that we evaluated."
Reason #7: Downside risks appear limited now.
With this stock trading at oversold levels and at a very cheap valuation when compared to its peers, the downside risks might be minimal at current levels. If I were to pick one issue as a potential downside concern for ConAgra, it would be the balance sheet which has about $244 million in cash and nearly $9.5 billion in debt. I always prefer to invest in companies with cash-rich balance sheets, however, because ConAgra is a food company with a very stable business model, many well-known brands, and because it has roughly $18 billion in revenues, the debt load appears manageable.
In conclusion: ConAgra shares are oversold and appear too cheap to ignore at current levels. While the company has clearly stumbled a little in the past two quarters, the longer-term future still looks bright and investors should not overlook the possibility of a spinoff, partial sale of the company, or shareholder activism as potential upside catalysts. The stock is probably due to rebound and potential downside risks could be low now as the 3.5% yield is likely to also provide support to the share price. For all these reasons, the pullback in this stock appears to be a solid buying opportunity for contrarians and income investors. For another contrarian pick read this article I wrote about a cheap silver stock that has significant upside potential due to a recent rebound in silver and the fact that it owns one of the largest silver deposits in North America.
Here are some key points for ConAgra Foods, Inc.:
Current share price: $28.73
The 52 week range is $28.09 to $37.28
Earnings estimates for fiscal year 2014: $2.15 per share
Earnings estimates for fiscal year 2015: $2.28 per share
Annual dividend: $1 per share which yields 3.5%
Data is sourced from Yahoo Finance. No guarantees or representations
are made. Hawkinvest is not a registered investment advisor and does
not provide specific investment advice. The information is for
informational purposes only. You should always consult a financial
advisor.
Disclosure: The author is long CAG. The author wrote this article themselves, and it expresses their own opinions. The author is not receiving compensation for it (other than from Seeking Alpha). The author has no business relationship with any company whose stock is mentioned in this article.