Since my previous bearish mention of Whole Foods Market (WFM) in a piece entitled Whole Foods Announces $2 Special Dividend: A Cautionary Note, published December 3, 2012, shares are down more than 15%. Over the same time period, shares of Kroger (NYSE:KR), the world's largest grocery store operator, are up more than 84% and the S&P 500 is up more than 38%.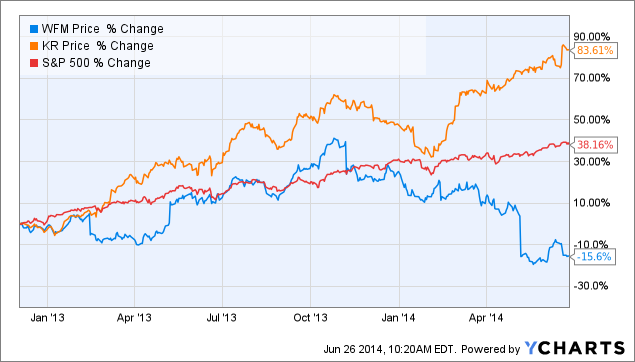 WFM data by YCharts
Valuation Improvement
In my previous mention, I argued that WFM's announcement of a $2 special dividend was a negative for the stock because it indicated that growth prospects were slowing for the company. At the time, as shown by the chart below, WFM had been trading at close to 40 times earnings. In my view, if growth opportunities are strong enough to warrant a valuation of 40 times earnings, then all money should be invested back into the business, not distributed to shareholders in the form of dividends. However, with the stock now trading at 26 times earnings I believe the stock is factoring in strong growth but not amazing growth.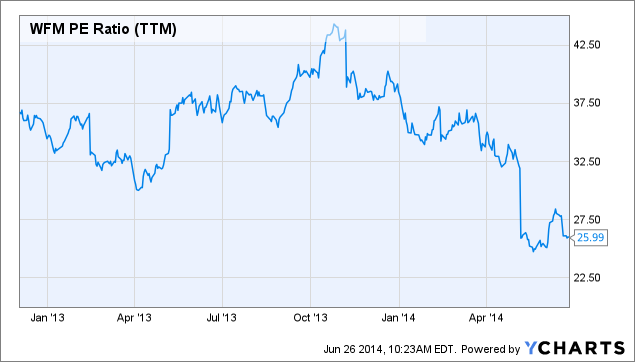 WFM PE Ratio (TTM) data by YCharts
Still A Growth Story
WFM most recently reported Q2 earnings which sent shares tumbling. While the numbers fell short of expectations, WFM still reported a 10% increase in quarterly sales to $3.3 billion including a 4.5% increase in same store sales. During the quarter, WFM generated $282 million in cash from operations. WFM invested $143 million into capital expenditures including $85 million related to new stores. WFM also used $45 million for shareholder dividends and repurchased $55 million worth of common stock. WFM currently has 379 stores and expects to cross the 500 store mark by 2017. Over the long term, WFM management expects the company to have 1,200 stores in the U.S. Even though I believe these estimates are a little too bullish, I believe WFM will continue to expand aggressively over the next few years.
Kroger Should Buy Whole Foods
One of the reasons why WFM results came in weaker than expected was increased competition from conventional supermarkets. Increasing competition has always been a characteristic of the traditional grocery business and it has now expanded to the high end natural foods segment. The largest grocery chain in the U.S., Kroger, has recently expanded aggressively into the organic and natural foods segment. I believe there is a strong case to be made for Kroger to acquire WFM. As previously mentioned, Kroger shares are trading at all-time highs so the company has a strong currency, its stock, to use to acquire WFM. Another factor that makes a deal possible is WFM's struggling stock price. Given the decline in WFM shares and valuation, a deal is now possible. Kroger has a long history of acquiring grocery companies and integrating them into the Kroger universe. Some examples include FreyMeyer, Dillons, and most recently Harris Teeter. It should be noted that Kroger continues to operate each of these brands under its own name. Kroger would be able to use the same strategy with WFM. Of course, the biggest advantage to merger between WFM and Kroger would be increased scale as both companies would benefit from better buying power and a reduction of costs due to synergies.
Conclusion
While I believe a merger between WFM and Kroger makes sense, I believe it is unlikely due to the size of WFM. Furthermore, I think WFM shareholders would demand an extremely high price given the recent fall in WFM shares. However, despite this, I believe WFM is a buy right now. The main reason why I believe WFM is a buy is the valuation. At 26 times past earnings and 22 times forward earnings, I believe WFM is reasonably valued relative to its growth prospects.
Disclosure: The author has no positions in any stocks mentioned, and no plans to initiate any positions within the next 72 hours. The author wrote this article themselves, and it expresses their own opinions. The author is not receiving compensation for it (other than from Seeking Alpha). The author has no business relationship with any company whose stock is mentioned in this article.