The technology sector was hit by downgrades and profit taking yesterday. The Morgan Stanley High-Tech index lost 1.6% as the cloud computing stocks were hit by a round of what was termed profit taking. Equinix, Inc (NASDAQ:EQIX) lost 33% on news they had cut prices to keep customers. That rippled into Citrix Systems (NASDAQ:CTXS) moving down 14%, F5 Networks (NASDAQ:FFIV) lost 12.2% and Rackspace Hosting (NYSE:RAX) gave up 11.1%. These stocks have seen a significant rise based on the outlook for the sector as well as merger and acquisition activity. Is this just a pullback on profit taking or is there more downside risk? Pullback is the initial response from analyst and investors and it is definitely worth watching.
Downgrades have been prevalent in the technology sector as well. Microsoft (NASDAQ:MSFT) was downgraded earlier in the week and Xilinix (NASDAQ:XLNX) and Altera (NASDAQ:ALTR) were hit yesterday with downgrades. Why the shift by analyst towards the tech stocks? Concerns over margins and inventory build up in the semiconductor space. The slowdown in the summer relative to the economy is the drag on the outlook according to analyst. Valid concerns obviously as the sector has continued to struggle over the last four months. The chart below of the Morgan Stanley High-Tech index shows the break from the trading range and the current test of the breakout in progress. A retracement back to the trading range would be a test, below that point would be a big negative short term.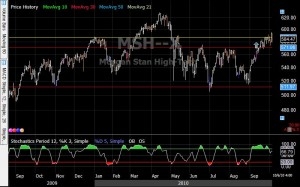 (Click to enlarge)
Fundamentally the sector has been improving with top line revenue and earnings growth. The downgrades by analysts are in expectations of the fundamental data changing. As we approach the peak of Q3 earnings the answers will come soon enough. As an investor our primary goal is to manage risk. With that in mind, adjust your stops accordingly as this plays out. Remember, you can always buy your positions back should the upside continue. As seen by yesterday's declines in the cloud computing stocks, stops are important as the impact of one stock can change the outlook for all overnight.
Scanning the sub-sectors we find there is strength worth watching. Networking (NYSEARCA:IGN), Software (NYSEARCA:IGV), Internet (NYSEARCA:FDN) and Hardware have all broken through the top line resistance of their respective trading ranges. Semiconductors (IGW) continue to be a laggard in the sector. Watch to see how each play out. If each of these sub-sectors move lower it will not be positive for the broader sector overall. Watch and play accordingly.
Tech has been one of the leaders for the broader market as well, a pullback or breakdown would have an impact on the broad markets. However this plays out, it will be an indicator that creates opportunity, we will either sell protecting principle and gains, or we will add to positions on the successful test of support and a new leg higher.
Disclosure: No positions