North American Palladium (PAL)
On June 23rd, 2014, the company had its annual and special meeting of shareholders, and released the June 2014 presentation as well.
I believe it is time to look at the company again and see if anything significant has changed the negative outlook that I have discussed several weeks ago?
I will try to be pragmatic and down to the facts because I understand that many shareholders are very sensitive on this subject.
Unfortunately, the company is keeping very silent on the two most important topics which are essential to its financial survival:
How can PAL survive its exorbitant debt level and how much more cash will it need to cover 2014?
What is the All-Cash Cost and at what price of palladium will the company be able to break-even?
We are often forced to guess what is going on, and the numbers presented are invariably elusive or incomplete.
In my long experience as an independent investor, I always noticed that struggling companies, which could not deliver their initial forecast, were also suppressing any negative comments that could trigger a disappointment and were flooding shareholders by an incredible amount of unnecessary data to "drown the fish." This is exactly what I noticed in the recent presentation.
Let's discussed these two topics now:
You can read here the November 2012 presentation as a reminder of how forecast and reality can be far apart.
We all remember the "250k oz at cash cost of the low $200/Oz range by 2015." How many think this forecast, old from only 20 months, will ever be reached?
The exorbitant debt:
What is the real amount of cash the company owes and at what interest? (Canadian dollar = 0.946 US dollars.)
The debt gets bigger,
1 - The bulk of the money owed comes from the Brookfield's (NYSE:BAM) loan (06/07/2013) and it is huge at an exorbitant cost. PAL owes now $180.8 million now at 19% (from 15%) due in June 2017 after amending the original loan on 11/12/2013. This amount is from the last presentation dated on March 31, 2014. One quarter has passed now, and we should add another $8.6 million (19%) or a total end of June at $189.4 million. (It will be an estimated $207 million by the end of 2014, $246 million by the end of 2015, $293 million by the end of 2016 and $319 by mid-June 2017.)
2 - C43M ($40.68 million) in debenture at 6.15% due September 2017.
3 - $36.4 million of a $60 million operating line of credit due July 4, 2014. From the 6K filing Q1 2014, results:
The Company has, subject to a borrowing base cap, a US$60.0 million credit facility that is secured by certain of the Company's accounts receivables and inventory and may be used for working capital liquidity and general corporate purposes and is due July 4, 2014. As at March 31, 2014, the borrowing base calculation limited the credit facility to a maximum of US$38.6 million of which US$36.4 million was utilized.
4 - $17.32 million in operating leases and finance leases (I presume at 10%?). (Finance lease obligations $11.646 million, Operating leases $4.137 million and Purchase obligations $1.534 million). These numbers are from the last 6K. In addition from the 6K:
In addition to the above, the Company also has asset retirement obligations at March 31, 2014 in the amount of $14.6 million for the LDI Mine.

The Company also has contractual obligations reflected in accounts payable and has obligations related to its credit facility and long-term debt.

The Company obtained letters of credit of $14.4 million as financial surety for these future outlays.
5 - $27.44 million in asset retirement obligations and letter of credit as financial surety for future outlays (see above.)
6 - $8 million estimated, left from the two convertible debentures at 7.5% due January 2019. The total cash was around $70 million in two separate offerings in Q1 and Q2 2014. Most of the amount has been converted to shares, and the full interest was paid immediately. Shares Outstanding after the conversion was 362,800,866 shares, however, it will be close to 400 million shares and a huge amount of warrants at around $0.547.
As of April 30, 2014, $31.7 million and $27.4 million of the Tranche 1 Debentures and Tranche 2 Debentures respectively had been converted into 164,462,733 common shares.
7 - ($2.27 million) which will be paid by the insurance related to a Class Action lawsuit that PAL lost recently. The amount will be paid by the insurance and will not be added to debt.
Subsequent to the quarter end, the Company entered into a proposed settlement for $2.4 million in respect of the previously disclosed potential class action lawsuit. The proposed settlement owing will be paid by the Company's insurer and there is no admission of wrongdoing on the part of the Company. The proposed settlement is subject to finalization of the settlement agreement and approval by the court.
8 - 4,200 oz palladium warrants (12,000 palladium warrants) still outstanding.
In conjunction with a $72.0 million term loan issued in 2011 and repaid in June 2013, a palladium warrant consisting of 0.35 of an ounce of palladium at a strike price of US$620 per ounce was issued with each $1,000 convertible debenture representing an aggregate of 25,200 ounces of palladium. As at April 30, 2014, 12,000 palladium warrants were outstanding representing 4,200 ounces. On the exercise of the palladium warrants, in certain circumstances the Company has the option of settling the warrants with either cash or common shares.
9 - Estimated 39 million share outstanding options and warrants.
- In addition, there were options outstanding pursuant to the Amended and Restated 2013 Corporate Stock Option Plan entitling holders thereof to acquire 3,110,086 common shares of the company at a weighted average exercise price of $1.78 per share.
- 16.8 million share warrants at $0.72 adjusted to 0.547 after tranche 2, which are related to Tranche 1.
- 18.9 million share warrant at 0.547 related to tranche 2.
Debt snapshot:
TOTAL Debt

$ Million

BAM debt at 19%
Debenture 6.15%
Credit facility

Finance lease

Operating lease

Purchase obligation

Asset retirement obligations
Debenture 7.5%
Palladium warrant still outstanding
 
319.24
189.4
40.68
36.4
17.32
27.44
8
4,200 oz
 
%
19
6.15
?10%
?10%
?
7.5
?
 
The total debt is $319.24 million at an estimated total of $43 million interest per annum. In addition PAL has a total of 35.7 million share warrants at $0.547 in connection with the recent debenture, tranche 1 and tranche 2.
Note: The operating line of credit is due by July 4th, 2014 or just barely a week from today, and the company has not indicated what has been decided between the bank and the company, yet?
Here is an excerpt from the 6K:
The Company's credit facility matures in July 2014, and while the Company is in discussions with the lender about extending the credit facility, the Company does not have any committed alternative available financing in place and, while it has been successful at doing so in the past, there is no certainty that the required financing will be available or, if available, on acceptable terms.
What is the All-Cash Cost?
1 - All-cash Empirical Cost:
This is a significant value that will show if the mine is really generating positive cash flow or not. Unfortunately, PAL has denied or been unable to provide this very important number and still indicates a "cash cost" that presents truly little financial meaning.
An easy and empiric way to look at the real cash cost of running a business like PAL is to take the palladium production for the quarter and calculate the cost per Troy Oz of palladium the company needs to realize to be able to break-even.
The last Q1 results are known and an All Empirical Cost can be calculated:
Production of Palladium in Q1 2014 was 42,641 Oz of Palladium
Revenue in Q1 2014 was $C48.736 million
Realized Palladium price around $739
Loss for Q1 2014 was $C26.666 million
What is the All Empirical Cost for Q1 2014?
All Empiric Cost = (Total Revenue + Gain/loss) / Production of palladium in Oz
All Empiric Cost = ($C48.736 million + $C26.666 million) / 42,641 Oz
*AEC = $C1,768 per Eoz ($1,646 per Eoz.)
* Including by-product amount. On average about 24% to 30%.
What does it mean?
It means that if PAL wanted to break-even for Q1 and to cover all expenses with the production for Q1, it would have needed a price of palladium at a minimum of $1,646 per Eoz (Equivalent oz which includes the by-product amount.)
This simple exercise is showing what kind of headwinds the company is facing. Of course, we can deduct this and that, and put aside "one time" expenses; however, the facts are that PAL needed palladium at over $1,646 Eoz to show $0.00 per share earnings in Q1 2014, and unfortunately palladium was averaging well under half of that.
I noticed that PAL indicated a reduced cash cost, excluding extra-cost of fuel for Q1, which was quite amazing. I did not know that Canada was enjoying an average tropical climate that did not require spending due to the harsh cold winter? You can look at the precedent filings and PAL cost of extra-rain and extra-cold is recurring regularly, yes; it is Canada after all.
Historical All Empiric Cost, AEC?
| | | | | |
| --- | --- | --- | --- | --- |
|   | E2014 | 2013 | 2012 | 2011 |
| Revenue $ Million | *178 | 153.2 | 160.704 | 143.659 |
| Loss $ Million | 76 | 46.186 | 66.037 | 65.154 |
| Production in Oz | 172,500 | 135,158 | 163,980 | 146,624 |
| AEC $ | 1,472 | 1,475 | 1,383 | 1,424 |
*Applying an average of $825 for Palladium and a 25% ratio for by-product.
AEC for the last four years is $C1,435/EOz ($1,336 Eoz)
Based on a ratio around 26% for by-product metals, it is $1,060/oz of palladium.
2 - All Cash Cost:
I advise all, to read this Agnico Eagle presentation May 2013. You will understand better the importance and the logic behind these ratios. The Gold mining industry has been trying to be honest about this situation.
Definition of the ACC ("The Cost"):
All Cash Cost = Total Cost (Net of by-product credits) indicated as Cash cost by PAL + Future exploration expense + G&A expense (Net of stock options) + total Interest cost. The whole amount divided by the palladium production forecast for 2014 in Troy oz.
We have all the data needed to calculate this cost:
First, we use the production forecast confirmed by Phillipus Du Toit, CEO, between 170koz to 175koz (I will take 172.5koz) which is quite a stretch, assuming another disappointment in production for the Q2 (Implied by the CEO comment and lack of early news. Be prepared for another bad quarter.)
| | | | | |
| --- | --- | --- | --- | --- |
| All cash cost | Cash cost | Total interest cost | G & A cost | Capex 2014 |
| 986 | *500 | 249 | 63 | 174 |
*Guidance for 2014 is between $550 to $450. It was $492 for Q1 2014.
The All cash cost is $986 per Oz, assuming a production for 2014 at 172,500 oz.
This All-cash cost is not actually the best ratio for PAL shareholders, because the company is now using equity as currency, and reduced the total debt by increasing exponentially the shares outstanding. The last two debentures at 7.5% were an excellent indicator of the negative dilution that cannot be quantified by an ACC, while acting as a very corrosive agent for shareholders' value. Shares Outstanding have probably doubled in a year (We are still waiting for the Q2 results and new outstanding numbers.)
This simple exercise is showing that the PAL business model is fundamentally flawed. The mine is not producing the minimum palladium required to survive.
Conclusion:
PAL is on a collision course with reality. No matter how we look at it, there is little chance that the company will be able to survive. The next earnings Q2 will be probably a wake-up call again.
Furthermore, a takeover is impossible because it is prevented by BAM debt covenants, unless PAL declares bankruptcy. No other company will be interested in this mine, which is losing money on a regular basis for years, and forced to pay twice the amount of BAM debt.
The recent bullishness in palladium has been helping the company to reduce its staggering loss, but unfortunately, PAL needs the price of palladium well above $1,200/oz, and this price is not likely to happen within three years, in my opinion. I am bullish on palladium for 2014-2016, however, not exuberantly optimistic. I do not think palladium will reach a level that will allow PAL to survive its debt burden. I have been raising my average for palladium from $770 to $825 and $850 for 2015. Palladium will be at $815 per oz for Q2: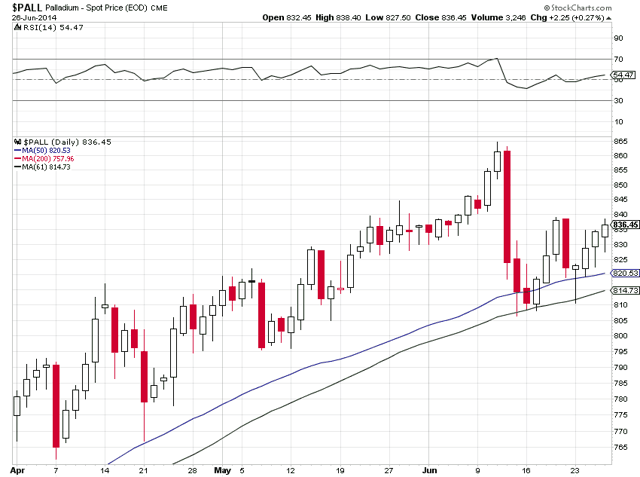 I am bullish on palladium, and I think it will trade around $770/$870 until the end of 2014, I advise investors to invest directly in the metal. PAL is to be avoided. An alternative that I have recommended recently has been Stillwater (SWC), which is the only profitable mine of palladium/platinum in North America.
It is difficult to time PAL stock price, and I will try to guess which direction it will take, for the traders who intend to trade PAL. Technically, this recent rebound from its all-time lows was expected (Triangle- Chart pattern.) A next all-time low can be around 0.15/0.16, where I see some potential for momentum trading. The risk is that if PAL drops too far down, it may be forced to do a reverse split by the Nyse Mkt? In some situation and low stock price, the Nyse MKT may force PAL to go this way.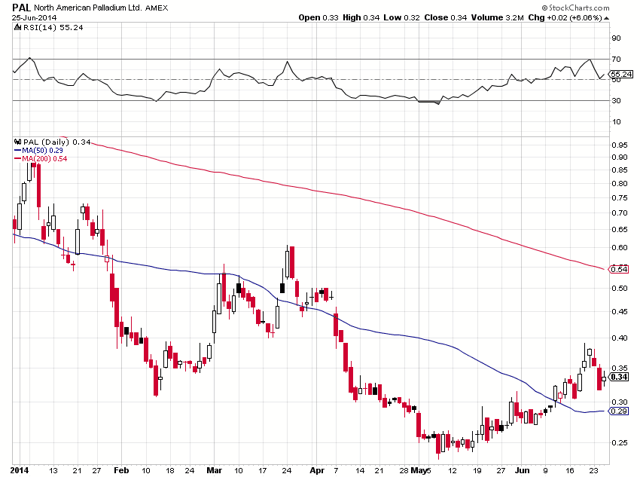 Recommendation: Sell.
Disclosure: The author has no positions in any stocks mentioned, and no plans to initiate any positions within the next 72 hours. The author wrote this article themselves, and it expresses their own opinions. The author is not receiving compensation for it (other than from Seeking Alpha). The author has no business relationship with any company whose stock is mentioned in this article.
Editor's Note: This article covers one or more stocks trading at less than $1 per share and/or with less than a $100 million market cap. Please be aware of the risks associated with these stocks.