As this bull market ages, we are seeing a separation of the best-run companies and the rest of the pack. This is most obvious within individual industries, and the one thing that is surprising us most is the lack of those companies excelling. As the economy improves, so too shall the outlook for those companies which are poor performers right now, but in our view, the easy money in the market has been made.
Looking at the financial sector, we think that US institutions might be nearing an end to their huge fines, which would allow more money to be reinvested in the business or returned to shareholders via stock buybacks and higher dividends. They have already paid out tens of billions, but the fact that US regulators appear to have shifted their focus to the overseas firms indicates to us that US firms may be out of the woods, while foreign firms could see increased pressure to pay fines in order to end the ongoing US probes.
Chart of the Day:
The 10-Year had been retreating over the past month, but with volatility having picked up earlier this week and some worry entering the market, we have seen prices perk back up and rates retreating again.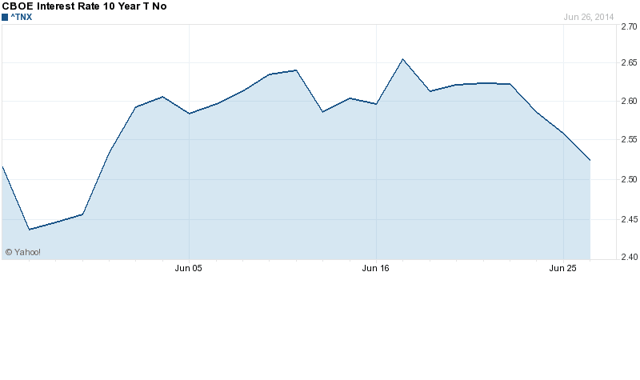 Source: Yahoo Finance
We have economic news today, and it is as follows:
Michigan Sentiment - Final (8:30 a.m. EST): Est: 81.7
The Asian markets are lower today:
All Ordinaries -- down 0.35%
Shanghai Composite -- down 0.11%
Nikkei 225 -- down 1.39%
NZSE 50 -- up 0.27%
Seoul Composite -- down 0.33%
In Europe, the markets are higher this morning:
CAC 40 -- down 0.02%
DAX -- up 0.07%
FTSE 100 -- up 0.08%
OSE -- up 0.28%
Unexpected Beat From Nike
Nike (NYSE:NKE) surprised investors by beating analysts' estimates and reporting a strong quarter, even though expenses rose due to the company's efforts leading up to the World Cup. North America and Western Europe were the two standouts in regards to regional performance, with the soccer, running wear and women's wear driving sales.
For investors, this is good news, especially as Nike appears to be succeeding in areas which it has labeled as key segments for future growth. Nike is a leader in running gear, but is playing catch-up in both soccer and certain areas of the women's wear market to rivals. With the troubles that Lululemon Athletica (NASDAQ:LULU) has had in recent quarters, it would appear that rivals are making inroads into its high-margin women's business, and after last night's news from Nike, we have to believe that the company is one of those benefiting from Lululemon's troubles.
Most of Lululemon's wounds have been self-inflicted, but with the latest results from Nike, it does appear that customers are spending their dollars elsewhere.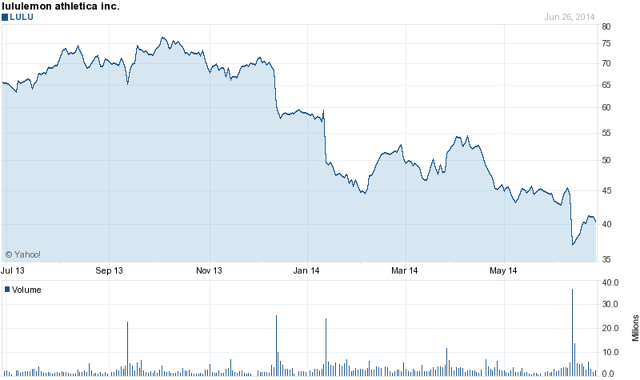 Source: Yahoo Finance
Dark Pool Under Scrutiny
Barclays PLC (NYSE:BCS) is once again under fire, after it was announced yesterday that the New York Attorney General was suing the company over misleading investors as to the participants within the dark pool that the bank ran. Investors were told by Barclays that the dark pool kept them safe from predatory traders, when in fact, the bank allowed high-frequency traders to place trades.
Not only is the bank getting sued, but reports are surfacing that brokerage clients are ceasing trading operations with the dark pool in question. Once again, this is a black eye for the company, and further damages the brand among consumers and business partners alike.
One has to question what this means moving forward for those who run dark pools. The trading systems have come under scrutiny amid media coverage and a book from a high-profile author in recent months, and it appears that regulators will be paying more attention to this area of the trading infrastructure moving forward. Although the major US exchanges, owned by IntercontinentalExchange (NYSE:ICE) and The Nasdaq OMX Group (NASDAQ:NDAQ), have lost a lot of business and trading volume to these new trading systems, we wonder whether recent regulatory scrutiny will force big brokers to migrate back to the exchanges. That could very well be a long-term result for the industry as a consequence of HFTs and their role in the dark pools, but right now, investors should remember not to throw the entire industry under the bus due to the actions by Barclays.
Disclosure: The author has no positions in any stocks mentioned, and no plans to initiate any positions within the next 72 hours. The author wrote this article themselves, and it expresses their own opinions. The author is not receiving compensation for it (other than from Seeking Alpha). The author has no business relationship with any company whose stock is mentioned in this article.