We find it interesting that the market has shifted so quickly from being worried about deflation to now focused on runaway inflation. The bulls and bears are always looking for some reason to push their trades, and as it pertains to the gold trade it appears that this thinking has come front and center.
If one is trying to trade inflation via commodities, we would recommend looking at the oil market as it is a play on the economy and inflation.
Chart of the Day:
Regardless of our views on which commodity to play, there are going to be those who insist that the SPDR Gold Trust (NYSEARCA:GLD) is the way to play a possible rise in inflation. We are not in that camp as we view gold as an insurance policy rather than the best inflation trade out there.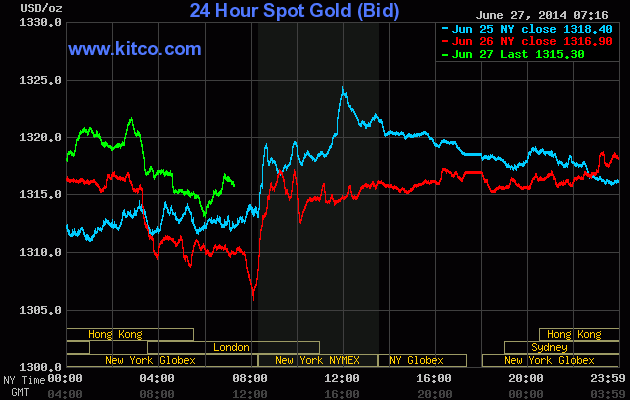 Source: Kitco
Commodity prices are as follows (at time of submission):
Gold: $1,316.50/ounce, down by $0.50/ounce
Silver: $21.00/ounce, down by $0.108/ounce
Oil: $105.87/barrel, up by $0.03/barrel
RBOB Gas: $3.0977/gallon, up by $0.0121/gallon
Natural Gas: $4.439/MMbtu, down by $0.002/MMbtu
Copper: $3.1695/pound, down by $0.0025/pound
Platinum: $1,464.50/ounce, down by $6.20/ounce
Tale of Two Companies
While Monsanto (NYSE:MON) has been on a tear recently it appears the same cannot be said for competitor DuPont (DD) which yesterday reported disappointing news to investors. The company has seen weakness in agriculture sales as the winter took an effect on DuPont's business and seems to have delayed some purchases by farmers in certain segments.
We are seeing another breakout in Monsanto shares and we are still bullish this name moving forward.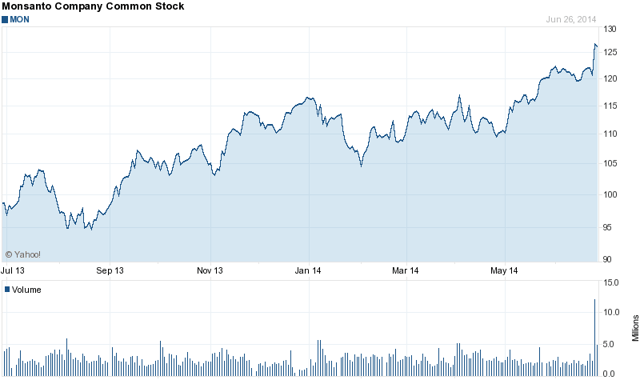 Source: Yahoo Finance
With the economy picking up worldwide and the expectation that the developing world will increase their protein intake with a better economy we suspect that the agriculture related names will do well in the next few years. Monsanto is one of the names we really like, but we see no reason why investors would not want to possibly add exposure to DuPont once their spin-off creates a more focused company with greater exposure to agriculture. We think it is difficult to not want to own a name with their asset portfolio and a yield that at times approaches 3%.
Refiners Oversold?
The day of the sell-off we discussed how the selling in some of the refinery names appeared overdone and looking at the situation now it certainly appears to be the case. Both Valero (NYSE:VLO) and Marathon Petroleum Corporation (NYSE:MPC) were hit hard after it was announced that the US government had moved to allow two producers of condensate in the Eagle Ford to export unrefined production for the first time in decades.
Although a change in the country's policy towards exporting oil and other similar products could have a big impact upon the business of the refiners the reaction to this news was overdone in our opinion. Our thinking is that this move will enable the energy boom in this country to continue as prices should remain elevated with more buyers in the market for US production. There are numerous markets around the country that have been flooded with production and seen pricing destroyed, causing producers to ship oil by truck and/or rail to get better pricing elsewhere in order to continue drilling their acreage.
With the increased production from the Eagle Ford and Permian Basin coming online in the next year, we suspect that any exports will be offset by production from new wells.
Disclosure: The author has no positions in any stocks mentioned, and no plans to initiate any positions within the next 72 hours. The author wrote this article themselves, and it expresses their own opinions. The author is not receiving compensation for it (other than from Seeking Alpha). The author has no business relationship with any company whose stock is mentioned in this article.