When Luis Suarez bit that guy on Italy a couple of days ago, all I could do was shake my head and say to myself, "Not again, Luis."
Similarly, when General Motors (NYSE:GM) came out and announced that more recalls were possible and that it wanted to stop selling the Chevy Cruze altogether, I shook my head again. I am so glad I'm no longer long this stock - and I mean that in the nicest way possible to those that hold the stock, because I do continue to believe it has long-term potential. I'm just not so sure about how my nerves would be holding up in this situation - which, I admit, has gotten far worse than I ever saw it getting at the beginning/middle of this mess. And, it's looking like from a criminal liability standpoint, the mess could just be beginning.
But, fear not. There's nary a fine or settlement out there that's going to cripple General Motors for the long term, even if the short term is going to be ugly to watch.
The stock has inched back up since bottoming out near the low $30s earlier this year. It appears that the $37.50 level is going to be the next resistance for GM, if it can make it there over the coming days. Additionally, GM could see a bullish flag in a golden cross in the coming days - as long as investors continue to bid the stock up. The MACD, RSI, and the sticks look to be suggesting a little bit of a pullback here today and maybe early next week.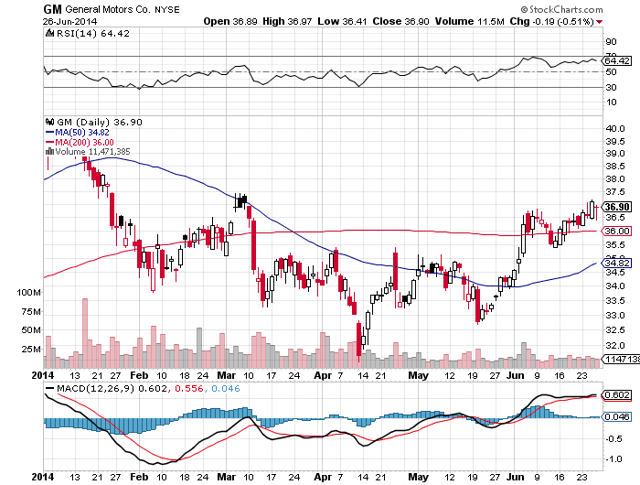 But, I wouldn't take any chances here. I'm calling GM a "sell" for the time being - for the first time since I've written about the automaker.
I don't know much about being a car salesman, but when you tell dealers to stop selling your vehicles, it's generally not good for the bottom line. That's exactly what has happened in this situation.
This was out this past Wednesday:
GM's safety woes continue: The auto giant has told North American dealers to stop selling 2013-2014 Chevy Cruze sedans due to an airbag issue.
There were about 33,000 vehicles that were identified to potentially have air bag defects, caused by supplier Takata.
"Certain vehicles may be equipped with a suspect driver's air bag inflator module that may have been assembled with an incorrect part. We are working diligently with the supplier of the defective part to identify specific vehicles affected and expect to resume deliveries by the end of this week once those vehicles are identified."

- Jim Cain, GM Spokesman, in a statement
This move is likely to have a serious adverse effect on June sales and sales going further as the company gets a game plan together for the potentially defective vehicles. The Cruze is GM's best-selling vehicle, and it's also the vehicle that has shown the most significant growth YOY for the company.
In the grand scheme of this whole ordeal, where GM sales have basically grown without paying mind to the recall mess, this is one step that is sure to affect the bottom line - freezing inventory at dealers will have an effect on June sales, no doubt.
On Wednesday, GM CEO Mary Barra told Bloomberg yesterday that the chance of further recalls is possible:

In addition to that, it was reported this morning that a Federal Grand Jury could also be involved. I wrote about the chance of this happening in my article "Not So Fast, GM Isn't Off The Hook Yet":
The fact that this fine marks the first time an automaker has been charged with the maximum fine level by the government tells me something - the severity of the issue with GM is trumping a lot of other cases.

Criminal liability still has to be looked at and dealt with in this issue - the forthcoming fines, if any, are going to be the heavy hitters. Even the above note reported by Seeking Alpha continues to note that further fines could be upcoming.

While I'm bullish on the stock, a $35 million settlement and a consent order would absolutely, in no way, be justice for the negligence that the company should be liable for in this case. And that's coming from a General Motors bull. As I've often noted in the past, there is a damn fine line here that the company and regulators are going to have to walk.
Seeking Alpha reported on the news early this morning:
A federal grand jury is now investigating General Motors' recall of 2.6M small cars tied to faulty ignition switches and has subpoenaed documents relating to the case, WSJ reports.
GM already has paid $35M to settle charges it violated federal auto safety regulations, but a criminal investigation by a federal grand jury could pose a much larger threat; in March, Toyota paid $1.2B to settle a Justice Department criminal investigation of its mishandling of safety problems.
Meanwhile, documents released yesterday by a House panel show that lead GM engineer Raymond DeGiorgio knew of the switch issues in 2005, and that some employees at supplier Delphi (NYSE:DLPH) knew DeGiorgio had signed off on an upgrade to the ignition switch in 2006 without recording the change with a new part number.
These two headlines shake off the small positive momentum GM got as part of the positive Cars.com data that was also out this week. These two items make GM a sell for the short term, with no questions asked.
Again:
1. We are absolutely positive that the Cruze sales halt is going to have an adverse effect on the bottom line for June sales. This is a rare case where we're offered up a little "3rd-party guidance" that we can extrapolate on our own. June numbers will likely fail to impress, and the stock could continue to stay mired in the quicksand it's been in the last couple of days.
2. Until we have a full understanding of what the potential coming legal ramifications/fines could be from a criminal case against the company, there is some risk overhead here. Avoid that risk by staying on the sidelines for the time being or taking your GM off the table - especially if you've pocketed profits from the low $30s.
Best of luck to all investors here.
Disclosure: The author has no positions in any stocks mentioned, and no plans to initiate any positions within the next 72 hours. The author wrote this article themselves, and it expresses their own opinions. The author is not receiving compensation for it (other than from Seeking Alpha). The author has no business relationship with any company whose stock is mentioned in this article.