The "build-it-yourself" model of fast casual food has proven to be hugely successful and is continuing to grow at a rapid pace. Brands like Subway and Chipotle (NYSE:CMG) have taught us the model works simply because it appeals to basic human pride. A meal where every ingredient is selected by the consumer, be it sandwich, burrito or pizza, will seldom be considered bad. You will repeatedly hear consumers telling their friends that their (sandwich, burrito, pizza) is the best, because of these specific items they themselves chose. What matters beyond the model itself is quality, freshness, and item uniqueness available for purchase. Case in point is the growth in Chipotle, who provided some of the highest quality ingredients in a fast food chain and heavily promoted the quality and freshness to consumers.
Pizza Inn (PZZI) is applying that same strategy to custom quick-bake pizzas with its Pie Five brand, and we believe the company is on track to see massive growth within the next few years due to this rapidly expanding market sector. According to Franchise Chatter, "Fast casual custom pizza evolved into the hottest franchise concept of 2014." The article also said the fast casual pizza market has "staying power" and isn't a food fad. An industry expert from Technomic said, "We expect to see a lot of opportunity for growth in the next five to eight years. It will likely attract more franchises and other investors to come into the market as it's still in the very early stage."
PZZI is currently traded on the NASDAQ at $6.11 per share, with a market capitalization of $54 million. The stock has good liquidity with more than 20,000 shares traded per day, so moving in and out of the shares with significant amounts of capital is not a problem. In the last year, share price has fluctuated between $5 and $9.
About Pie Five
The Pie Five division of Pizza Inn is a concept that enables consumers to build their own perfect pizza using only the freshest ingredients, and have it baked to order in less than five minutes. At Pie Five, guests can choose from more than 1 million combinations of ingredients to create handcrafted pizzas. Besides pizza, Pie Five offers customers freshly prepared entrée and side salads, made to order from the restaurant's stock recipes or at the customer's direction.
Pie Five is innovative with flavors and ingredients available for the build-it-yourself pizzas, and has creative stock recipes to choose from, including Chicken Carbonara, Athenian, and Pesto Chicken Alfredo. In addition, Pie Five introduces new flavors invented by professional chefs via limited-time specials, like the Jerk Chicken Pie. Both the quality and innovation are capturing consumers, as evidenced by strong sales.
Company-Owned Units
Besides franchising the Pie Five brand, Pizza Inn owns and operates 13 Pie Five locations itself. The fact that the company is focusing a huge amount of time and energy on owning their own Pie Five locations is because the model works, and the company-owned locations are working. In its most recent earnings report, the company stated that average weekly sales at those company-owned locations increased 16.9 percent year over year. You do not see Pizza Inn owning units with their other franchise opportunities (ie. the Express concept), because honestly, launching those are too risky compared to launching new Pie Five locations. The low risk, high revenue, and high success rate of Pie Five, thus far, has given Pizza Inn not only the confidence to franchise at a high volume, but the desire to possess and rapidly expand their own Pie Five locations.
Consumers are also happy with their experiences at Pie Five thus far. A Yelp (NYSE:YELP) analysis shows that the average consumer review for a Pie Five visit is 4 out of 5 stars.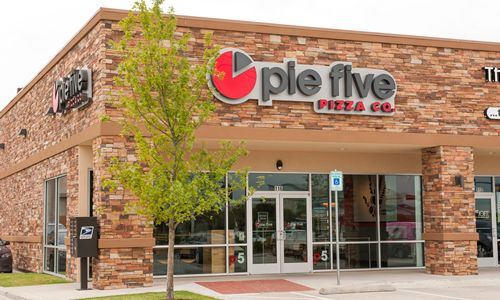 Pive Five Unit Front
Keys to Success
Pie Five has what it takes to make it in the fast-casual pizza segment:
More than 55 years of pizza industry experience
Leading product innovation
Trendy concept
Simple operating system
Low initial investment cost
Low operating cost
Recent Growth
In a recent quarterly report, the company stated, "We believe that the opening of 28 new domestic stores during the last nine months of fiscal 2014 reflects the beginning of an accelerated pace of growth in store openings, particularly for the Pie Five concept and Pizza Inn Express concept."
In addition, Pie Five has been named a 2013 Top 50 Restaurant Brand of the Year, a 2012 Hot Concepts winner by Nation's Restaurant News and one of "10 Hot New Restaurant Chains from Established Brands" by Forbes.com.
In the last six months, Pizza Inn Holdings has seen demand for its Pie Five brand grow exponentially with four new franchise deals that will bring the restaurants to seven states. Details of the franchise deals are as follows.
The growth and sales of the brand have been outstanding. Not only did company-owned locations see weekly sales increase 16.9 percent, but the eight newest stores saw huge growth as well. These new stores (four franchised, four company owned) saw sales that were 45 percent higher than the existing 11 stores. Pizza Inn CEO Randy Gier stated, "To fully capitalize on the momentum in the Pie Five concept we are also accelerating the development of Company-owned restaurants in multiple metropolitan areas. To prepare for this growth we recently added several strong, experienced members to our management team, including a new Chief Financial Officer and a Vice President of Real Estate Development."
Even with the existing franchise deals signed, Pie Five only has territory sold in 13 of the 50 states. We estimate the Pie Five maximum potential in the United States alone to be more than 1,000 restaurants.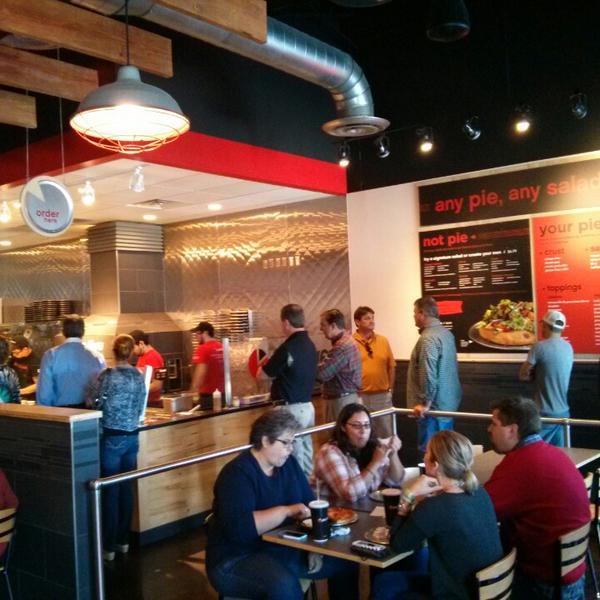 Stores are busy with good reviews
Peer Comparison Valuation

A look at peers in the sector illustrates the opportunity for potential investors in Pizza Inn stock. With a market cap of only $54 million, PZZI is deeply undervalued on a peer review basis. However, on a growth basis they are undervalued by an even greater amount, which we will review later in the article. One could argue that PZZI should be worth, on average, the same multiples as a group of peers and stop there, projecting a 48 percent upside to the stock, or a total market cap of $80 million. However, the peer comparison is not an apples to apples scenario, and in reality, Pizza Inn is faster growing and has a better product than most, if not all competitors in the group.
For example, the peer group includes Noble Romans (OTCQB:NROM), which is a company that makes cheaper pizzas, usually found in gas stations, and does not have a fast growing new concept. Papa Murphy (NASDAQ:FRSH) is a company that has been in a freefall, and investors and consumers are leaving in droves. Dominos (NYSE:DPZ) is a stale older company without much innovation, growth prospects or unique offerings. Similar traits can be found in Papa Johns (NASDAQ:PZZA) and other publicly traded peers. So, we argue that Pizza Inn should be trading at much higher multiples than those companies. A sexy new retail franchise and a proven business model with one of the fastest growing food concepts of 2014 should be examined closer by investors.
The only peer competitor that comes close to the growth opportunities of Pizza Inn is Zoe's Kitchen (NYSE:ZOES). Trading at 4.25 MC/Revenue and an incredible 197 EV/EBITDA shows that investors have fully priced in the growth prospects of Zoe's Kitchen, and yet overlooked the growth prospects of Pie Five from Pizza Inn. Once investors catch on to Pie Five's potential, the valuation could end up looking similar to Zoe's, which would equate to a $183 million market cap, or a 335 percent increase over today's share price. This is what PZZI could be worth right now, if valued using the multiples that Zoe's is currently trading at.
Reviewing Franchise Economics
The franchise economics for both entrepreneurs and the company are excellent. With lower development fees and average royalty rates, Pie Five fits right into the structure of a successful franchise.
| | |
| --- | --- |
| Development Fee | $5,000 |
| Franchise Fee | $20,000 |
| Franchise Term | 10 years |
| Renewal Period | 5 years |
| Royalty Rate | 6% |
| National Advertising Rate | 2% |
| Required Total Advertising Rate | 5% |
Each Franchise opening nets $25,000 in fees to Pizza Inn, and a 6 percent royalty rate going forward.
Average weekly revenue at a Pie Five is $11,372.
A 6 percent royalty rate brings in $35,000 in annual royalties per franchise to Pizza Inn.
A corporate owned Pie Five brings in $591,000 in annual revenue for Pizza Inn.
Past Franchise and Unit Growth
170 units are signed to franchise agreements.
Pizza Inn plans on opening 20 Pie Five stores by the end of 2014.
Fifteen of these could be franchise locations, and five company-owned locations.
Future Growth
For future growth we can use the management's expectation of 100 stores launched in two years (end of 2015), and then a conservative estimate of 75 additional stores in 2016 and 100 in 2017. We maintain the same ratio of company-owned to franchise locations. One could argue that in 2018 and beyond, Pie Five could open 150-200 units per year, however, we won't set our valuation that far into the future. The possibility of Pie Five becoming the next Chipotle or Subway, in other words, an $18 billion market cap company with thousands of domestic and international locations, is not unrealistic. To make 10,000 percent returns on an in investment, one must not only seek out these types of opportunities, but patiently hold the companies for many years, or even decades. Keep in mind that Chipotle opened its first store in 1993, more than 21 years ago.
For our model we will keep a conservative estimate and based on all current numbers available, we can realistically determine a valuation for today and over the next few years. By 2017, we can conservatively project revenues of more than $100 million for the company, with EBITDA being between 5-10 percent of revenue.

Let's look at the result on market cap for a company with this expected rate of growth, using a Zoe's and other high growth peers EV/EBITDA and EV/Revenue valuation.

Yes, we believe that as an investor in Pizza Inn, you have the potential of making a 250 percent return on your investment by the end of 2014, and a 720 percent return by 2017. This is because investors have not valued the Pie Five division at the growth rate it deserves.
These above numbers are assuming a premium valuation across the entire Pizza Inn enterprise, so instead let's apply the valuation here only to the Pie Five division of the company and see what type of returns result. This assumes no growth for other divisions within Pizza Inn.

So with a focus on only the Pive Five division for evaluation, investors have a potential 145 percent thru 2015 alone, and a 450+ percent opportunity over the next few years. Still outstanding.
Right now Zoe's Kitchen, the fast casual Mediterranean food concept, is only doing revenues of $130 million and yet has a market cap of more than $600 million. We believe Zoe's to be overvalued, but still, it shows that our valuation of a $300 million market cap for Pizza Inn at $100 million in revenue is not unrealistic. Investors have a chance at 10 times their investment if the market decides to heat up for Pizza Inn anytime between 2015 to 2017 and happens to apply a valuation similar to Zoe's to Pizza Inn.
We believe that if shareholders do not recognize the growth prospects of Pie Five, then the management team and board at Pizza Inn will seek to spin-off the Pie Five division into its own capital structure. This is similar to what many REIT's and pharmaceutical companies, such as Northstar Realty (NRF) and Theravance (THRX), have and are doing. The resulting spin-offs can create great value for shareholders, sometimes in excess of 50 percent or more within weeks of the spin-off.
Competitors
At first glance, it would appear there is lots of competition in the "build-your-own" pizza industry. However, when you look closely, most of the players are small, privately-owned concepts without the experience and marketing talent of Pizza Inn. For example, in southern California there is Pieology, which focuses on opening the concept near colleges. Pieology does not have 55 years of pizza experience and it shows. There is only one crust style to choose from, the stock recipes aren't very innovative, and efficiency at the store is highly lacking. Pie Five, on the other hand, goes above and beyond competitors with ingredient uniqueness, special recipes devised by professional chefs (ie. Jerk Chicken), and has four crusts available for customers to choose from, including a gluten-free crust. This focus on product quality will enable Pie Five to win with consumers.
In addition to Pieology, Chipotle and Buffalo Wild Wings (BWLD) have purchased pizza chains that have the build-it-yourself concepts (Pizzeria Locale and PizzaRev, respectively.) Both of these companies have the financial backing to build out large chains. However, they do not have the quick, nimble ability of Pizza Inn (being a small company) to move and get things done at the more aggressive speed necessary for a new concept to work. Pizza Inn can do faster build outs without the big corporate decision making, time-consuming, multi-layer veto process that takes place at Chipotle and Buffalo Wild Wings.
We see Blaze Pizza as being the only worthy competitor to Pie Five. However, their strict requirements for franchisers and high build out costs for each store (up to $850,000 per build out) will slow growth. As the franchise locations expand for both Pie Five and Blaze Pizza, we believe that there is room for both companies to co-exist in this high-volume, expanding food sector.
Giving Investors a 450 Percent Rate of Return
A combination of happy consumers, happy franchisers, and a great management team can make this happen. Let's review the recent growth of Pie Five:
170 units signed to franchise agreements
Store count will double in 2014
Expects 100 locations within 2 years
Only 13 U.S. states have minimal units, meaning the growth potential is massive.
For comparison, let's take a look at some of the facts about successful companies in this space.
Chipotle shares grew 537 percent in less than two years from 2009 - 2011.
It took Subway 13 years to open 100 stores; Pie Five predicts 2 years.
Potbelly Sandwich (NASDAQ:PBPB) does not have a unique product offering, and some franchises have closed due to poor performance. Yet, the company was valued at nearly $1 billion after its IPO, and still enjoys a $450 million market cap.
Conclusion
With the rapid growth of the Pie Five brand, there is the potential for great returns for current and new Pizza Inn investors. Pie Five is positioned well in the hot quick-bake custom pizza sector with lots of room to grow, even before it expands outside of the United States. If you're going to choose a "Foodie" stock, choose PZZI.
Disclosure: The author is long PZZI. The author wrote this article themselves, and it expresses their own opinions. The author is not receiving compensation for it (other than from Seeking Alpha). The author has no business relationship with any company whose stock is mentioned in this article.
Editor's Note: This article covers one or more stocks trading at less than $1 per share and/or with less than a $100 million market cap. Please be aware of the risks associated with these stocks.