Introduction
Last week at a keynote, AMD (NASDAQ:AMD) announced a commitment to improve its processor's efficiency by 25 times in less than six years. Called "25x20," the goal is set to make the 25-fold improvement happen by 2020. To put that into perspective, AMD only achieved a 10-fold improvement in the last six years. In addition, research indicates that efficiency doubles roughly every two years, similar to Moore's law on transistor density. For AMD to achieve this, it would have to be moving at a rate 70% faster than this trend. However, as power consumption from computers grows along with the demand for more efficient processors, AMD has decided to take the necessary efforts to boost efficiency at a rate beyond the norm.
Computers to consume more energy
AMD stated during the keynote that there are three billion personal computers worldwide that use more than 1% of all electricity consumed annually. In addition, there are 30 million servers that use an extra 1.5% and thanks to growth in the Cloud, Internet, and smartphone, these figures are expected to increase. With AMD's ability to provide consumers, businesses, and datacenters with efficient solutions, it is in a great position to take advantage of the need for efficiency improvement.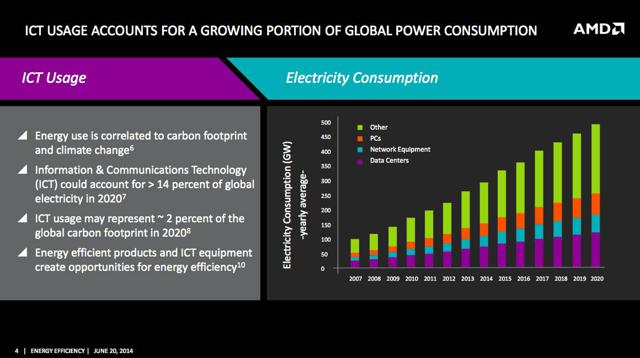 Source: AMD
Lower power computing has already been in AMD's strategy
When AMD announced its business restructure plan in 2012, it included five high-growth markets as a part of their plan to diversify. One of these markets, "ultra-low power clients" falls directly into this efficiency strategy. There is an undying need for efficient computing; low power computing has always been and always will be the winner and is exactly why AMD is incorporating it into their future business.
In AMD's latest launch of consumer APUs, Beema and Mullins, it demonstrated significant progress in their tactic to embrace low power, efficient computing. These processors show the biggest leap the company has made in efficiency for several years and only marks the beginning. The benchmarks below that AMD provided during their launch indicated that these chips offer more than double the performance-per-watt over the previous generation.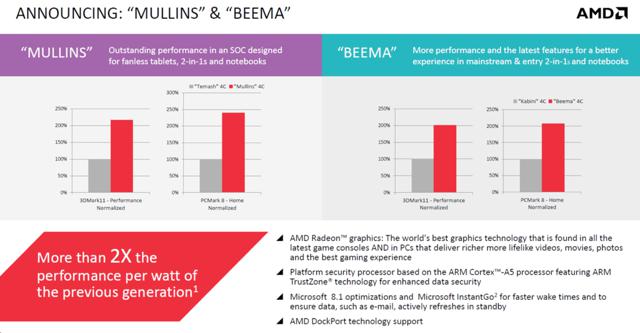 Source: AMD
AMD has also made significant progress in decreasing power consumption when idle as seen in the chart below. By lowering a processor's idle power consumption, users with basic usage like e-mail, web browsing and document editing can enjoy significantly improved battery life. However, even though Mullins and Beema are well under one watt, they still consume more energy than many mobile processors on the market indicating that there is still a ways to go. In fact, AMD calls this the "tip of the iceberg" and will use the various tactics shown next to the graph to make these improvements.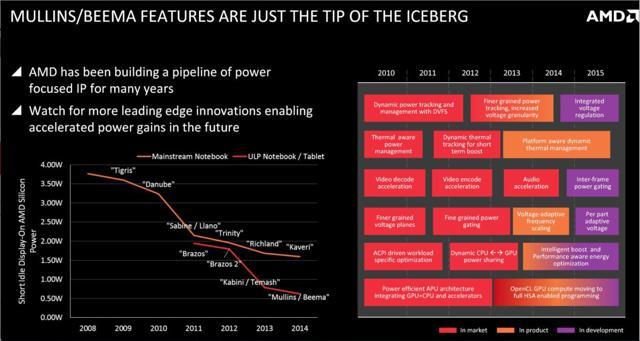 Source: AMD
AMD will outpace the historical trend of efficiency growth
According to research by Dr. Jonathan Koomey from Stanford University, computing efficiency doubles roughly every two years, similar to how Moore's law states that the amount of transistors in an area will double every two years. AMD added that its goal of improving its efficiency so quickly in a short time would mean outpacing historical trends by 70%.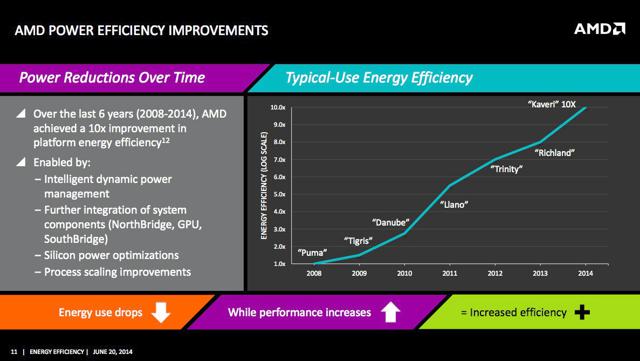 Source: AMD
Considering AMD's lagging position, this seems very possible. AMD's latest chips are manufactured on a traditional 28nm process that is significantly behind Intel's (NASDAQ:INTC) upcoming 14nm FinFET (3D) Broadwell processors. AMD should have similar chips ready by 2017 thanks to Global Foundries, which should provide massive gains in both performance and efficiency. This in combination with various other tactics will help AMD reach their goal.
How AMD will achieve their goal
In order for AMD to achieve its goal, AMD will have to make significant improvements in performance while making their chips consume less energy. Usually, these are gains as a result of transistors decreasing in size but as mentioned above, AMD isn't quite there yet. However, using an inferior manufacturing process, they have made incredible progress thanks to a variety of tactics that can be seen in the "tip of the iceberg" chart above. From this point, AMD plans to reach their 25x20 goal with the execution of three pillars:
Heterogeneous computing
Intelligent, real-time power management
Future innovations in power efficiency
Heterogeneous computing is the Holy Grail of AMD's APU and has been the foundation of the new architecture since even before the ATI acquisition in 2006. With HSA (heterogeneous system architecture), both the CPU and GPU can tackle tasks simultaneously at a significantly improved rate thanks to a shared memory bank. This unique architecture allows for giant leaps in performance and is available for APUs in the desktop and mobile Kaveri chip, gaming consoles, and AMD's latest launch of embedded processors.
The next pillar is involved around smarter processors with real-time power management. By having processors perform real-time analysis on applications, they can be geared to run at just the right clock speeds to complete tasks resulting in energy savings. In addition, these chips can also be ready to overclock themselves to complete tasks as quickly as possible with the goal of returning to idle faster than normal. As mentioned above, a processor in idle consumes a very small amount of energy and will result in extended battery life, especially for consumers with basic needs.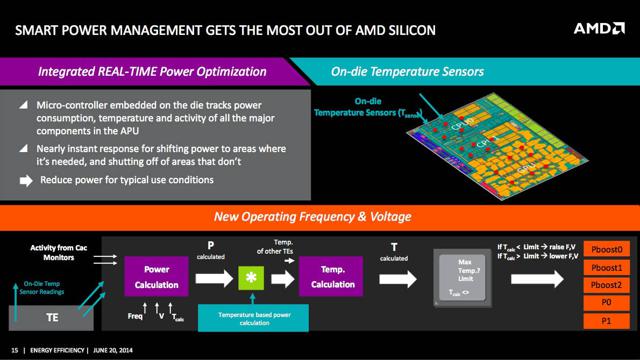 Source: AMD
Lastly, AMD has a big bag of innovation advancements that it will use in the next several years. In the "tip of the iceberg" chart above, the purple squares represent efforts that are currently in development that will help with efficiency in the future. In addition, AMD also discussed things like per-part adaptive voltage, voltage islands and stated that there will be more advances in the future that should yield significant improvements in efficiency.
Conclusion
AMD is a very interesting company in the round of making a serious comeback. AMD has delivered on a lot of promises lately and by setting the 25x20 goal, AMD is showing confidence in reaching their goals. This does mean catching up to Intel at first, but when you combine the power of HSA, smarter processors, and the potential of the APU, it seems very likely that AMD will meet this goal and may even surpass the competition.
Disclosure: The author is long AMD. The author wrote this article themselves, and it expresses their own opinions. The author is not receiving compensation for it (other than from Seeking Alpha). The author has no business relationship with any company whose stock is mentioned in this article.