I was VERY bearish on Majesco (NASDAQ:COOL) over a year ago and Majesco has looked like it has been circling the drain since then. Since that time, their cash has dwindled, Zumba is dead and earnings are so bad that the only analyst covering them suspended his price target. Majesco stock is trading at pretty much at cash value and has a Market Cap of about $10M. Things are bad, for now.
So why in the world would I say this is this a long term bet?! I believe Majesco has a chance to pull itself out of this tailspin, though I'm not going to say this with 100% certainty. There is a reason I'm calling this a bet, not a given. Majesco has a cash problem because they have not released any meaningful games recently (Bound By Flame did not sell like hotcakes).
Jesse Sutton, the CEO of Majesco, during the last conference call, outlined the main focus of the company going forward:
"...our strategy is focused on the business which we believe offer the best opportunities for growth during the ongoing industry transition and which positioned us to benefit from the market fragmentation into online mobile and social platforms. These businesses include Majesco's traditional retail console, publishing and distribution, digital publishing and distribution under our Midnight City label and our 50% ownership of Power Play, which focuses on online lottery and online gambling. We are particularly excited about our Power Play partnership in our online, social and casino gaming. We're currently focused on developing two areas in this segment, both on the B2B side of the business.

In the iGaming space, we announced important fields during the second quarter for branded content. These include a strategic partnership with Atari to launch their video game brands across real-money gambling including, iLottery, social, online, and mobile platforms. We also announced a similar partnership with Valiant Entertainment, a leading comic book publishing company within an award winning library of more than 1,700 characters. We are focused on building our product portfolio with 888 Games and others, and we expect these brands will play a significant role in that process.

We also plan on launching our real-money gambling or RMG Three Stooges game in the coming weeks as our first branded game together. In the iLottery space, our partner INTRALOT, the manufacturer of video lottery terminals or VLP's is still building its presences in the U.S. As we said on the last quarter call, we are live in Idaho since late January with four games and INTRALOT just announced their entry into Vermont. We expect other states to open up overtime as well."
Sutton gave the most lip service to online gambling, as he should, it is an untapped U.S. market right now. And if you read closely, Sutton just said that Majesco is already in U.S. online gambling ("we are live in Idaho"). This beats Glu Mobile (NASDAQ:GLUU) to the punch for online gambling. Majesco, without an actual gaming license, has found a way to gain revenue from U.S. online gambling (though how much is unknown) and are set to expand their footprint as Intralot (OTC:IRLTF) moves into more states. Here is how they did it and will continue to grow:
1) Intralot Inc is a worldwide gambling company with revenues in the billions. They are no startup. And the amount of coverage in the U.S. may surprise you.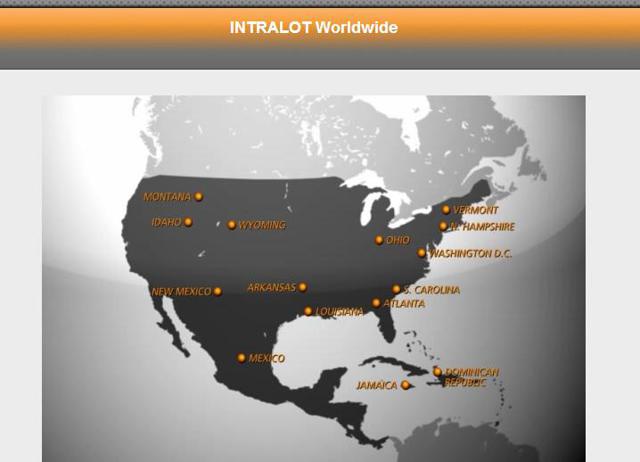 They run gaming and lotto machines in these states.
2) Pariplay (part of GMS Entertainment which is 50% owned by Majesco) was selected by Intralot Inc. to have gambling games included in machines in several states. Pariplay first put out PR on this and corrected it so here is the corrected version so there is no confusion. Of note here is an interesting quote:
"I am honored that INTRALOT chose our games to be included in their initial rollout of these types of games with Lottery customers in their marketplace. We are excited as well at the prospect of being included in a planned summer/fall implementation of this product with another of INTRALOT's customers."
This means that Pariplay was rolled out already (again - "We are live in Idaho") and will be a part of future rollouts.
3) Speaking of future rollouts, Intralot's plan is to sign on with more states and with more Intralot machines comes more Pariplay games. This is how Pariplay can piggy back on Intralot's successful signings with states. A summer or fall release, as mentioned above, will include Pariplay games with a new Intralot customer (perhaps a new state).
So Majesco, through Pariplay, as Sutton has said, is already in U.S. Gaming and will actually be expanding once Intralot gets into more states. Eat your heart out GLUU. It's not all rosy though, Pariplay made for a $200k loss last quarter for Majesco. But that is also because Pariplay is still just starting to become a bigger presence in U.S. gambling. Which leads me to another way Pariplay will be making money soon - Trada Casino.
Trada Casino is an Isle of Man casino that has been offline for quite some time. This is because the site is undergoing a complete overhaul. Trada Casino is about to become a Pariplay-powered casino. Trada was expected to open a while back and though I don't know why it hasn't come back online, progress can be seen at their testing site. It looks like they are in the outward facing testing phase which could mean it will go live at any time. The site is expansive and offers many different games like lotto, bingo, slots and more. Many of the games are Pariplay products. So when Trada Casino goes live, Pariplay should be adding some revenue which means Majesco will benefit.
Pariplay is also expanding their gaming offerings through licensed products with Atari and Valient Entertainment. These may help entice other online casinos to incorporate Pariplay's products individually instead of a full implementation of Pariplay's platform.
Pariplay currently has one other online casino - WinTingo. Trada Casino will bring Pariplay's casino count to two to go along with the U.S. presence through Intralot. So Pariplay isn't just collecting dust, they are trying to expand and become a revenue generator for Majesco. The actual revenue numbers may not be known until they pop up on a quarterly report. Another way Majesco will earn revenue going forward is Midnight City.
Midnight City is an independent publishing label owned by Majesco. They focus on smaller, indie games that won't be at Toys R Us for $60 but may be downloadable for your console for $10-$20 each. At this year's E3 expo, indies made the list of trends to watch from Mashable. Included in this article is the head of Midnight City, former editor-in-chief of IGN Casey Lynch:
"We're going to see a lot of indies that were only on Steam being elevated by first party publishers," said Casey Lynch, vice president of indie games publisher Midnight City and former editor-in-chief of IGN. "People want to see indie games. The footprint is expanding and there are far more than just a couple big name indie games."
Majesco, a first party publisher will release future Midnight City games on new consoles. For example, Costume Quest 2, a follow up to a cult hit, and Gone Home will be released on new consoles later this year. In fact, Midnight City hit the ground running and have many other games coming out soon. So while Majesco may not have Zumba anymore, they do have a smaller developer that is going to start churning out indie games with lower price tags which could lead to better market penetration. All it takes is one to catch fire and Midnight City could keep Majesco afloat until Pariplay catches up.
So with the one-two punch of online gambling and Midnight City, Majesco has a pulse. They might even come back to life if either of these takes off. If both succeed, Majesco might be a powerful "little guy" in the gaming space. With this approach, Majesco won't be anywhere near Activision (NASDAQ:ATVI) or EA (NASDAQ:EA), but they may just carve themselves out as a good, small, focused gaming company that is waiting for that one big hit but can survive while waiting for it.
A final word of caution, though. Majesco recently finished a reverse-split for a reason. But they are very close to getting out of Nasdaq's doghouse by keeping the share price above $1. Another problem will be keeping the market cap up. If it continues to decline, Nasdaq may still want a de-listing. And there are other problems.
Currently Majesco has no meaningful games being released until October (from Midnight City) and are living off of their catalog sales, of which are poor at best. They did not even pass $4m in revenue last quarter. If you take a chance on Majesco, also know that they have cash issues and had to issue a $15m mixed securities shelf. They need to stay alive long enough to get to Midnight City's releases which could help Majesco stay alive. More Pariplay games in the U.S. would also help.
But with all of that said, if you think they can hang on until those games are released and if you think Pariplay can start making inroads in more U.S states, as well as more overseas casino revenues, Majesco may just be a good bet.
Disclosure: The author has no positions in any stocks mentioned, and no plans to initiate any positions within the next 72 hours. The author wrote this article themselves, and it expresses their own opinions. The author is not receiving compensation for it (other than from Seeking Alpha). The author has no business relationship with any company whose stock is mentioned in this article.
Editor's Note: This article covers one or more stocks trading at less than $1 per share and/or with less than a $100 million market cap. Please be aware of the risks associated with these stocks.