I am going to do something I have rarely if ever done in my over three years writing here on Seeking Alpha or on Real Money Pro. I am going to recommend buying a homebuilder. The company in the sector I have purchased today and I believe will go substantially higher is KB Home (NYSE:KBH). There are myriad reasons I believe this homebuilder has significant upside. Some relate to the sector in general and some are company specific. Let's take a look at the investment case for KB Home.
Sector Catalysts:
Although weak for this point in a traditional post war recovery, job growth in the first half of the year is the strongest it has been in years. This should help accelerate household formation and increase demand for housing which has been much under pre-crisis levels by large margins since the financial crisis.
Surprisingly interest rates have actually declined so far in 2014, surprising pundits who almost universally predicted a rise this year. This has kept mortgage rates low.
May new home sales were at their highest monthly levels in six years.
Credit availability is slowing getting better allowing home purchases to a wider segment of buyers.
The horrid winter that fell across most of the country this year is unlikely to be repeated, which should help housing starts later in the year.
Finally, earnings are starting to beat consensus by a decent margin. Lennar (NYSE:LEN) just reported very solid earnings this week. Lennar beat both top and bottom line consensus. Impressively, average selling price (ASP) moved up 14% year-over-year (Y/Y).
KB Home just reported stellar quarterly results that should drive the stock forward and also result in numerous analyst upgrades to ratings and price targets.
The company posted earnings of 27 cents a share, seven cents above consensus. The company lost four cents a share in the same quarter last year.
Revenues rose almost eight percent year-over-year and beat expectations by some $2mm.
ASP was up 10% Y/Y to $319,700.
Gross profit margin was 18.9%. This is up 380 basis points (BPS) Y/Y, and the highest Q2 margin since 2006.
Backlog of 3,398 homes was up 9% Y/Y. Backlog value is currently $1.03 billion and up 24% Y/Y. This is the first time the company had a backlog of over $1 billion since August 2008.
Valuation:
KB Home has been the best performing home builder over the last month, gaining some 7.5% in the run up to its earnings release. A nice run, but the stock is still at a fraction of what it was selling at prior to the financial crisis (See Chart).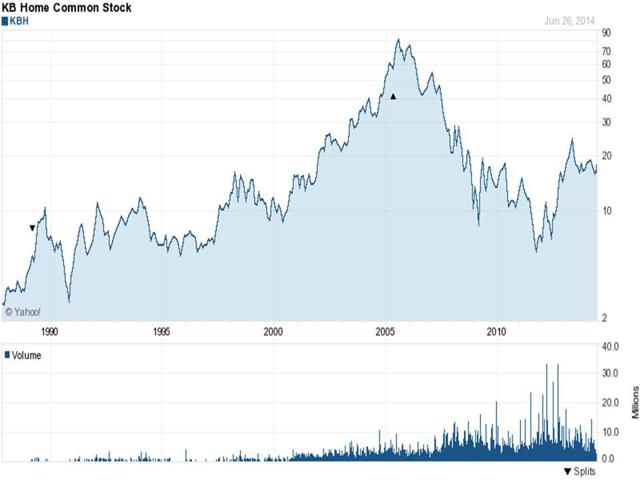 This was the second straight quarter the company has easily beat quarterly estimates. The only negative in earnings report was new orders only increased 5% during the quarter. I would pick up shares at these levels as the company's earnings power seems substantial. Earnings are tracking to a ~150% gain this year on back of a better than 15% increase in revenues Y/Y. Next year, the consensus has KB Home posting a ~25% gain in earnings on better than a 20% increase in sales. Given we are far below pre-crisis housing activity levels and the economy seems to be accelerating after the first quarter's negative GDP levels; KBH is a good value at 12.5 times projected FY2015's earnings per share.
Disclosure: The author is long KBH. The author wrote this article themselves, and it expresses their own opinions. The author is not receiving compensation for it (other than from Seeking Alpha). The author has no business relationship with any company whose stock is mentioned in this article.