Whole Foods Market Inc. (NASDAQ:WFM), the leading retailer of organic and natural foods in the United States, posted an EPS growth rate of more than 29% over the last five years on the back of double-digit sales growth partly due to strong increases in comparable sales since 2009. The stock reached a high of $65 in October 2013. However, in the last three quarters the company fell short on comparable sales growth due to heightened competition from other players in the market. The change in sentiment has caused the stock to fall by more than 40% but, as I will argue in this article, the company is far from dead and the stock is worth a look at these levels.
What Caused the Recent Decline?
The investors of Whole Foods are accustomed to seeing a comparable sales growth of more than 7% for the company and this has essentially been the case for the last four years. However, starting Q4 FY13 comparable growth declined to 5.9%, 5.4% and 5.0% sequentially compared to 7.5% for Q3 FY13.
The continuous decline in comparable growth caused investors to become concerned over whether Whole Foods would be able to sustain its market share considering food-only competitors like Sprouts Farmers Market (NASDAQ:SFM) and The Fresh Market (NASDAQ:TFM) are putting up considerably higher sales growth numbers and are also opening new stores at a rapid pace. Furthermore, national discount retailers including Wal-Mart (NYSE:WMT), Target (NYSE:TGT), and Costco (NASDAQ:COST) are increasing their line of organic and natural food offerings thus biting into Whole Foods Market's share.
How is Whole Foods Planning its Comeback?
A third consecutive quarter of decline in comparable growth has compelled management to share a 5-year "vision" of how they intend to tackle the issue going forward. Whole Foods is notorious for its higher than market average prices. So, the company plans to make their prices more competitive in order to drive sales. This will obviously dent the gross margins, but the company is ready to cut its operating expenses enough to absorb the impact of new prices. The company hopes it will be able to achieve increased operating margins despite reduced prices on the back of cost savings. Management's vision up until 2018 is shown below and the key areas are highlighted.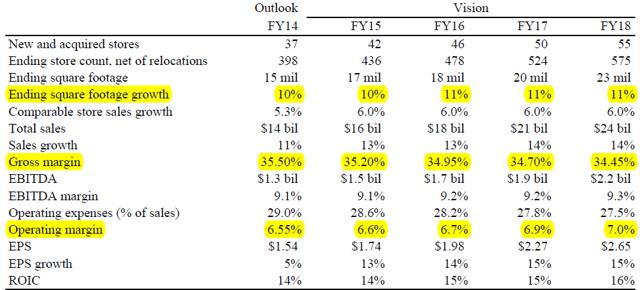 Source: Q2 FY14 Press Release
In addition, the company expects to make up for slowness in comparable sales by opening new stores more aggressively in the coming years. Whole Foods hopes to increase square footage by at least 10% in the next five years. The plan targets an EPS rise of about 14% beyond FY14.
Will the Plan Work?
The plan may not be a full-fledged guidance but will still work as a guideline for the company and provide them with a target to aim for going ahead. The plan highlights what investors should expect and what management should work towards. As far as implementation goes, Whole Foods has been increasing square footage at a rate of around 7% for the last five years so setting a goal of around 10% should be realistic considering the fact that the company sees enough demand to increase the number of stores in the US alone. Furthermore, comparable sales will benefit from the rapid 14% growth in the US organic food market.
However, balancing the dent in gross margins with expense cuts can be a real challenge. Whole Foods hopes to increase its operating margins from the current 6.55% to 7.0% by 2018 despite a 105 bps expected cut in gross margins. I think this is an area where the management is being a bit overly optimistic. The company plans to extend the price cuts to perishable foods which make up two-thirds of its total revenues. There is also a good chance that the company may need to further reduce prices to match the competition. This can press the gross margins further down - much more than anticipated. Remember, the bottom line is quite sensitive to gross margins so if prices see more pressure the anticipated EPS growth of around 13% may drop to high single digits.
On a positive note, the company realizes its brand as a market leader in quality, innovation, and service and does not want to get too entrenched in a price war with competition. Whole Foods' Co-CEO, Walter Robb, made it perfectly clear in the conference call saying, "We're never going to be a race to the bottom, chase it only on value, only on price. That's not who we are and that's not what we've been and that's not what we're going to be."
Summing it All Up
Three consecutive quarters of dismal comparable sales have forced management to share their plan of action to handle the competition in the coming years. While the plan sets ambitious targets, some of these -- including increasing the sales area -- are realistic, but others such as increasing the operating margins despite pressure on gross margins seem a bit too optimistic. But as they say, while plans seldom work planning does. My analysis of the plan concludes that the company may be able to show EPS growth of high single digits to low double digits in the next five years as opposed to the company's vision of more than 14%. Whole Foods' stock seems just about fairly priced for this growth at a forward P/E of 23.8x and the company gives out a dividend yield of 1.14%. The stock may not scream "buy" but those who already hold the stock can feel safe about keeping it due to the decent gains from future growth.
Disclosure: The author has no positions in any stocks mentioned, and no plans to initiate any positions within the next 72 hours.
Business relationship disclosure: The article has been written by APEX Financial Consultants. This article was written by one of our research analysts. APEX Financial Consultants is not receiving compensation for this article (other than from Seeking Alpha). APEX Financial Consultants has no business relationship with any company whose stock is mentioned in this article.