Depending on your perspective, Arena Pharmaceuticals (NASDAQ:ARNA) is either a company with great long-term potential or a company that is "growing up" from a more speculative play into a play that is based on fundamentals. It can be a frustrating time for investors as the street tries to figure out how to value Arena. For active traders, the equity can be a great score because of the volatility that this stock has. While it is tempting to try to separate the long-term from the short term and speculation from fundamentals, these things do indeed interrelate. The speculation about the pipeline and the longer term are impacted by the fundamental ability or inability of Belviq sales to finance the company and its initiatives. In simple terms, the level of speculation value on the longer-term items is fed from the ability of the company to develop the pipeline and/or commercialize more products.
What I see is that the street wants to see performance, and wants to try to gauge whether Arena will self-sustain or need a capital infusion. The valuation of the pipeline can differ dramatically, depending on the financial condition of Arena in the near term. It is far different to negotiate a deal (whether for finances or a partnership deal) when you need money than to negotiate a deal when you do not need money. When you have money people come to you with their best foot forward. When you need money people can push you around more.
While some readers are critical of tracking sales, it is a great gauge on where we are today and gives insight into where we may be in the future if you build realistic models and assumptions. It is now pretty clear that we are entering the seasonality phase of the weight loss sector, where sales start to decline for the remainder of the year. This will put a focus on the anticipated "re-launch" of Belviq that marketing partner Eisai said will start July 1st. Retail investors seem to be banking on a successful re-launch that encompasses some of these factors:
Sales reps will increase from the current 400 to 600 on July 1st
New television ads are anticipated
Insurance coverage should increase
Belviq will have been on the market for a year, a perceived threshold where more doctors will be willing to prescribe.
Minimal adverse events (the latest FDA data is through September of 2013, and shows 8 or 9 events for Belviq, though the data is raw, and an understanding of exactly what those events are is not yet established)
The possibility of a combination of Belviq and phentermine (it can already be scripted, but a 12-week safety study of 225 patients or 12 weeks should be finishing in the next month or so)
Can the items listed above overcome the seasonality of the weight loss segment? We will have to wait and see what the July re-launch brings. In most weight loss segments, June represents the peak month. Sales tend to trend downward in each month after June, with the worst month being December. As a newer product, the downward slope in the second half of the year may not be as pronounced, but we do need to recognize that bigger week-over-week and month-over-month sales increases are more challenging now. In simple terms, I anticipate growth, but I anticipating it being flatter than what we have seen in the first half of the year. There is indeed a lot hinging on the Eisai re-launch of Belviq. The street will be assessing progress in the weeks ahead. July 1st carries another importance in that it is the beginning of the "commercial year" for Belviq, and ties to certain possible payments. Readers can get more detail about that on my Instablog.
This week, according to IMS Health, the overall sales of Belviq were down about 0.75% to just under 9,700. My adjusted sales figure stands at a bit over 10,100 for the week. This week, the data for new scripts was down by about 0.5%. The current sales pace is still tracking to a $100 million 2014 gross sales figure. It is my opinion that we could see sales rise above the $100 million line and give an indication that $120 million in gross sales is achievable in 2014, however, we do need to see a distinct inflection in the sales figures by the end of July for that to happen. If $120 million in gross sales can be reached, it would bring about $21 million into Arena's coffers. If I had to place an estimate on 2014 gross sales today, I would say that $110 million to $115 million is in the cards. Sales flattening out now carries yet another hurdle for Arena investors. Getting above 10,000 scripts and showing growth beyond that level has been a very big issue for competitor Vivus (NASDAQ:VVUS) with its anti-obesity drug, Qsymia. In what can only be classified as very bad timing, Belviq gives the appearance of hitting a similar wall. Compounding the issue will be the 4th of July holiday that will be reflected in the numbers we will see in two weeks. In essence, we will likely see a pretty flat week next week, followed by a more substantial sales dip the week after. All of this will be happening as Eisai re-launches Belviq. The perception could well be that the re-launch will not deliver the type of traction the street wants to see. In fairness, the re-launch will take time to deliver its results, but how patient will the street be? As if that were not enough, Arena is at a very critical price point right now. Support at $5.82 is being tested, and if that support levels fails, the bears will have quite a bit to sink their proverbial teeth into. The next month could very well be frustrating for Arena bulls.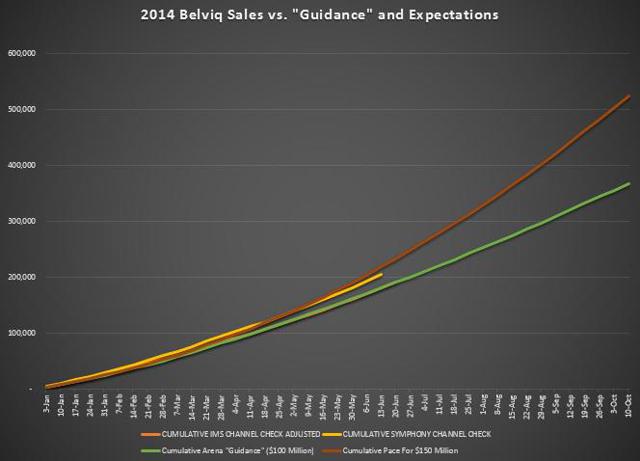 (Chart Source - Spencer Osborne)
The raw numbers show that a very modest growth over the remainder of the year makes overall gross sales of $100 possible. These same raw numbers show that gross sales of $150 million in 2014 is simply not likely.

(Chart Source - Spencer Osborne)
In looking at the quarter-over-quarter data, sales this week were 36% better than sales of the corresponding week in the previous quarter. Overall, Q2 is at a pace that is 44% better than Q1. This growth is very respectable, but as stated above, with seasonality coming into play, expecting similar growth in Q3 over Q2 is harder.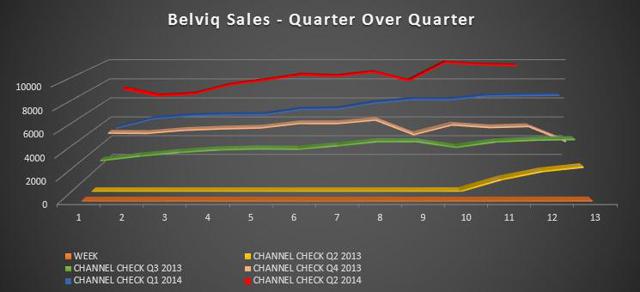 (Chart Source - Spencer Osborne)
As I have stated many times in the past, the data above is the basis for formulating the more important aspect of tracking sales. Scripts sold is simply a tool to arrive at revenue estimates. It is revenue that will drive equity valuation. One key element is if and when Belviq revenues can sustain operations and pipeline development. Gross sales allows us to assess the overall picture, but it is the net sales that triggers how much Arena is paid, milestones, purchase price adjustments, etc. I estimate that through June 20th, 2014, gross sales stand at about $38 million. My estimate for net sales in 2014 is about $21 million, and my estimate for the Arena share of net sales is at about $7 million. In my estimation, Arena passed the $20 million in net sales threshold for the first time in 2014 with this week's numbers. For perspective, purchase price adjustments, milestones, etc. trigger at $250 million in net sales during a commercial year.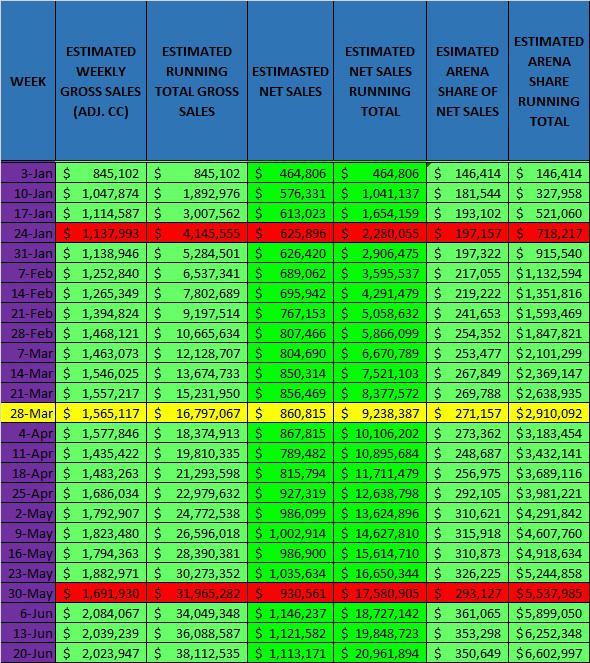 (Chart Source - Spencer Osborne)
The overall goal of all of this tracking is to be able to project. The chart below gives a decent picture of a baseline in sales. As you can see, the annualized gross sales are now over $100 million. This should mean that in the next 12 months, we can expect a minimum of $100 million in sales. Annualized net sales stand at $57 million, and the annualized Arena share stands at about $18 million. The importance here is that the street is actively assessing sales to determine valuation. Aside from "royalties", Arena does not get any bonuses until $250 million in net sales happens in a year. As things look right now, that is a 2016 event, at the earliest.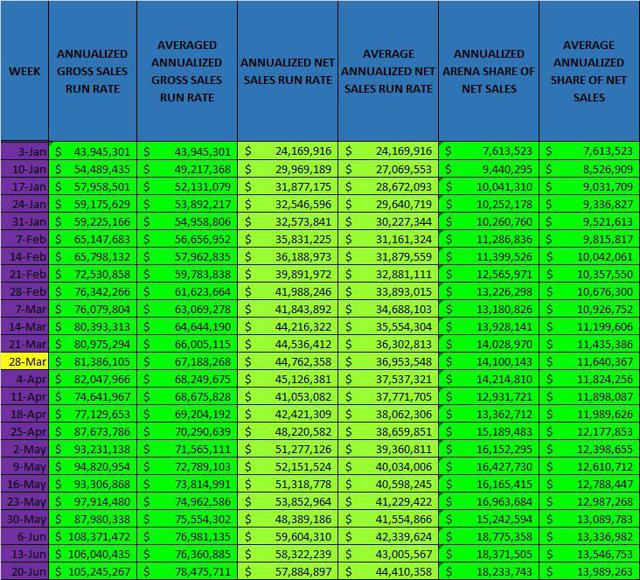 (Chart Source - Spencer Osborne)
Summary
The next few weeks will be very difficult on this equity, in my opinion. Seasonality is coming into play, we have a holiday week, and the stock is teetering on the edge of an important support point. The next two weeks are likely to bring more negative fundamental data than positive in terms of sales. There is a lot hinging on a re-launch, but determining the level of success or failure in the re-launch will be 6 weeks away. Seeing gross sales of $100 million in 2014 is a pretty safe bet, while $125 million in gross sales is achievable but needs the re-launch to be spot on. Seeing $150 million in gross sales is essentially off of the table. Active traders will carry the advantage in the next few weeks. While this news may not be popular with some readers, it is what my opinion is. My suggestion is to continuously assess your expectations, and even if you do not like the opinion of the street, understand that it is what will drive this equity. Stay Tuned!
Disclosure: The author is long ARNA. The author wrote this article themselves, and it expresses their own opinions. The author is not receiving compensation for it (other than from Seeking Alpha). The author has no business relationship with any company whose stock is mentioned in this article.
Additional disclosure: I have no position in Vivus